Chiang Mai | Chiang Mai Travel Guide
Bangkok Airways fly you to the Rose of the North of Thailand, Chiang Mai within just an hour. If you have an image what Bangkok is like then you can add those flavors to the downtown Chiang Mai today but in a less chaotic, fast-moving atmosphere. Having a pleasant scent of winter flowers, Chiang Mai is home to northern hills, elephant sanctuaries, sweat-inducing ziplines and urban Nimman area.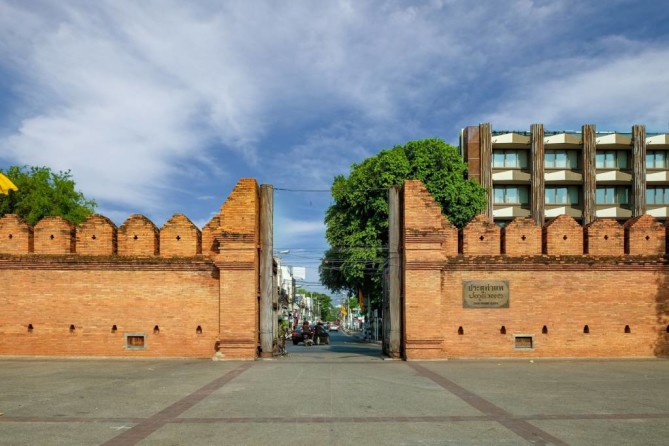 There are plenty of reasons why many vacation makers seeking for Chiang Mai Travel Guide. Many of the world's greatest natural wonders in Chiang Mai is one thing and it comes in many fantastic shapes which ranged from the most arduous ones to smooth journeys where one doesn't need to be in a good physical shape to join the trip. The bustling and hustling Chiang Mai nightlife also never pause a day for anyone from celebration. The ancient city walls around the old moat speak of how glorious the Lanna Kingdom once was when traced back to 700 years ago.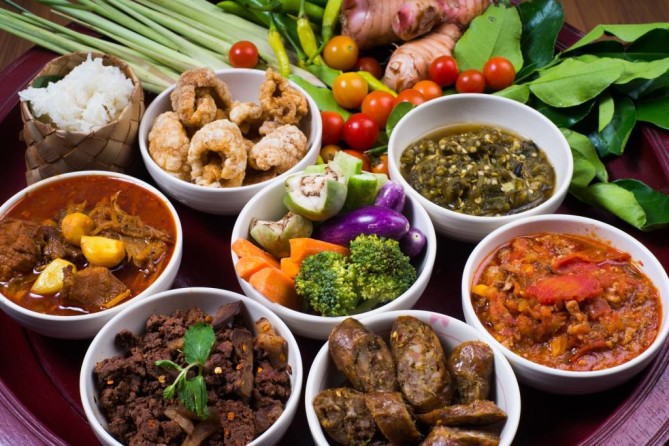 Such a long-standing history has shaped Chiang Mai around authentic Lanna Buddhist temples and Doi Suthep is just a perfect paradigm. Before exploring it all, make sure to refueling with authentic northern cuisines such as Khao Soi, Khan Toke, Sai Oua, Nam Prik Ong/Nam Prik Nume, and Gaeng Hang Lay. Chiang Mai's food fame goes beyond its territories throughout any areas of Thailand.
1.A Metropolis of the North | Chiang Mai Travel Guide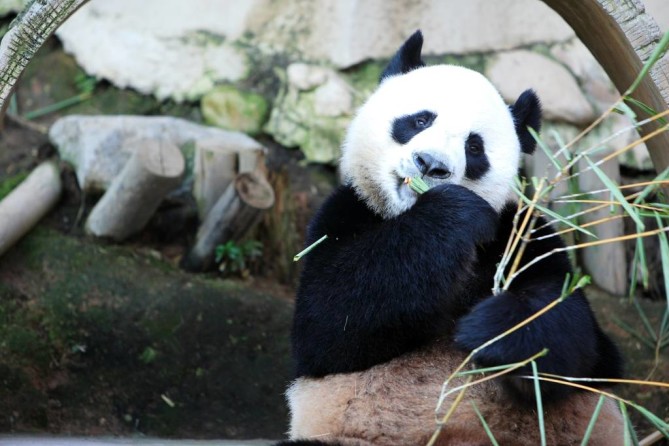 Despite 40 years of establishment, Chiang Mai Zoo never stays out of Chiang Mai Travel Guide for kids and kids at heart! Earlier known by its superstar brought from the mainland China, giant pandas named Chuang Chuang and Lin Hui unconsciously created a phenomenon in which it has become a destination for Chiang Mai travel.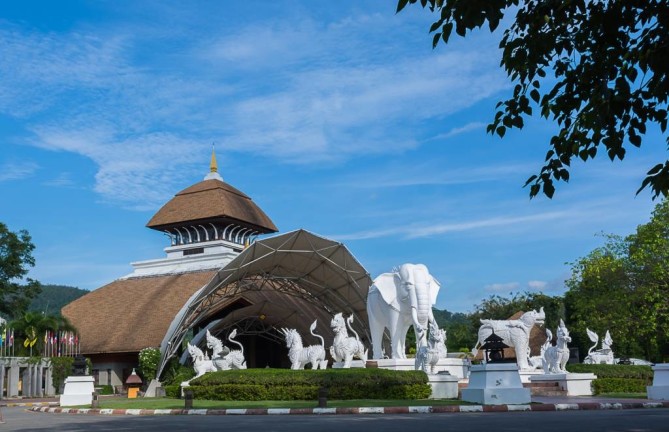 Since Chiang Mai Zoo is scheduled to be closed on 5 P.M. daily, that's why Chiang Mai Night Safari is something you should not dare to miss. Given that it is the world's largest nocturnal zoo, Night Safari keeps your eyes wide open for experiencing the zoo at nightfall with a variety of wildlife species.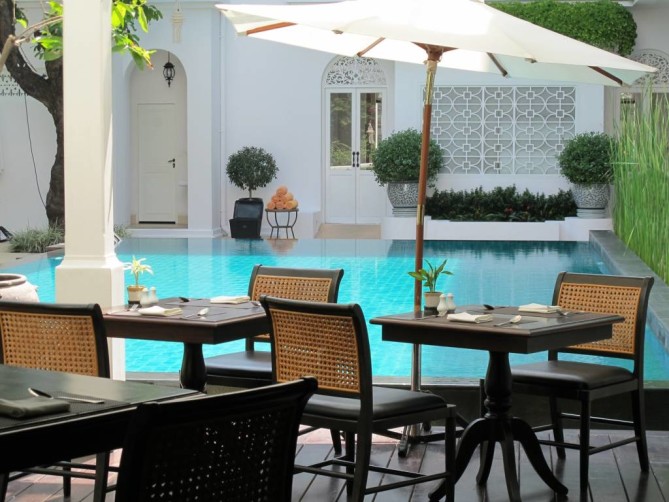 Outside of the animal theme park, any Chiang Mai Travel Guide always has Nimmanhaemin area in the list. If you happen to spot the road right from the get-go, the presence of nightclubs, local bars, coffee cafes and brasseries as well as some of the best restaurants in Chiang Mai is just countless. A myriad of venues rest assured that Nimman takes care of every need in details and you will always have things to do in Chiang Mai.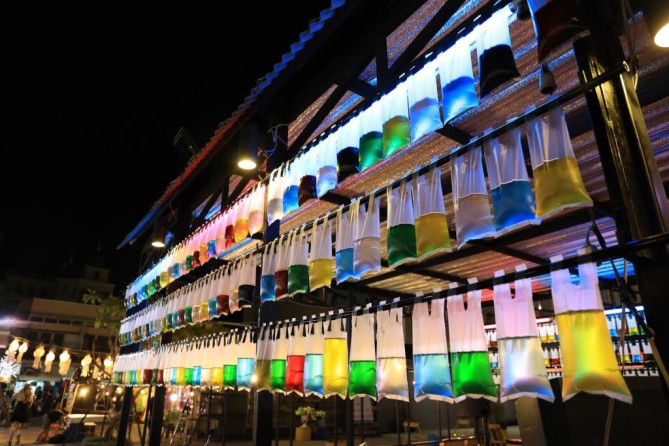 More than sitting at the table in complacent ambience of any coffee shops, Chiang Mai Night Market is a wonderland for exotic souvenirs and homegrown products made by the locals. As long as good things do not come often, so as the night market that is open only on weekend. Head to 'Wua Lai' on Saturday and 'Tha Pae' on Sunday just to make sure that you do not miss these places to visit in Chiang Mai.
2.Virgin Jungles and Hilltops | Chiang Mai Travel Guide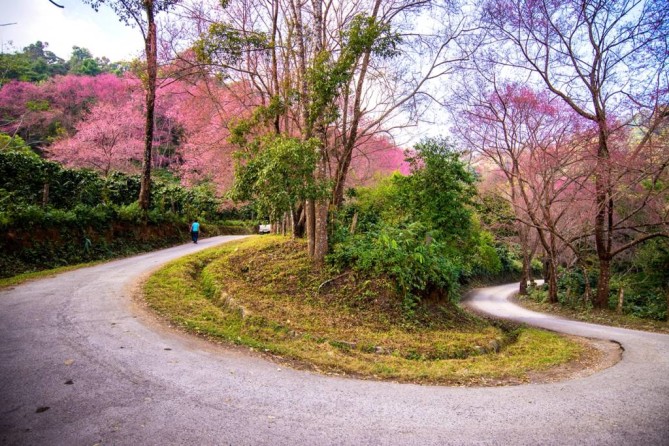 Out of all wonders, Chiang Mai's most talked-about tourist attractions are northern hills, green valleys, local homestays to sleep over for a memorable trip. And this Chiang Mai travel guide will not leave you staying behind the trends and not knowing where to go. So catch up with the following list and make sure that all will be ticked off in your Chiang Mai travel itinerary. 
As it is considered rare for Cherry Blossoms to be found in Thailand, the popularity of Khun Chang Kian becomes clear since it is home to the pink sakura blooming along the road. Chiang Mai is also where Thailand's highest peak sits at its South West. Hundreds of kilometers in distance from downtown is Doi Inthanon, metaphorically known as 'The Roof of Thailand' which is teeming with cloud forest trails and roaring waterfalls.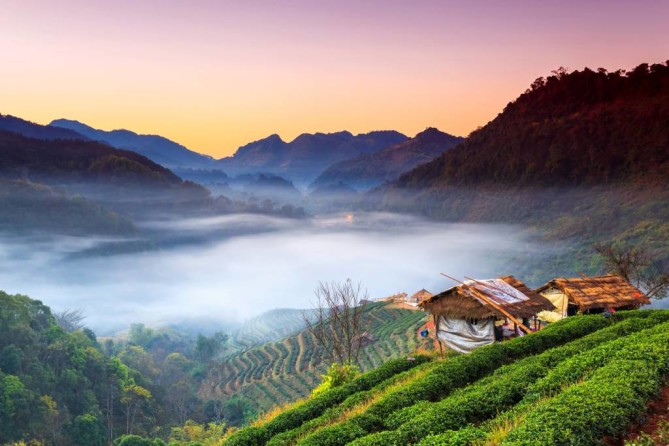 Not just one, Chiang Mai has dozens of hills and Doi Ang Khang is among them with the cool weather embraced all year round. Such a pleasant weather plays vital role in growing fresh strawberries at the Royal Agriculture Project in Ang Kang. So make sure that you include tasting fresh strawberries in Ang Kang for one of the things to do in Chiang Mai.
Places to visit in Chiang Mai  will never miss out Mon Cham, a mountain-top hideaway with breathtaking vista of fog-covered mountains in the wee hours of the morning while at night the sky is dotted with uncounted stars. While strawberry is something to expect in Ang Khang, Mon Cham in turn has the Royal Project farms which grow good varieties of cool-climate crops rarely grown elsewhere in Thailand.
3.Temples of the North (Lanna-style Architecture) | Chiang Mai Travel Guide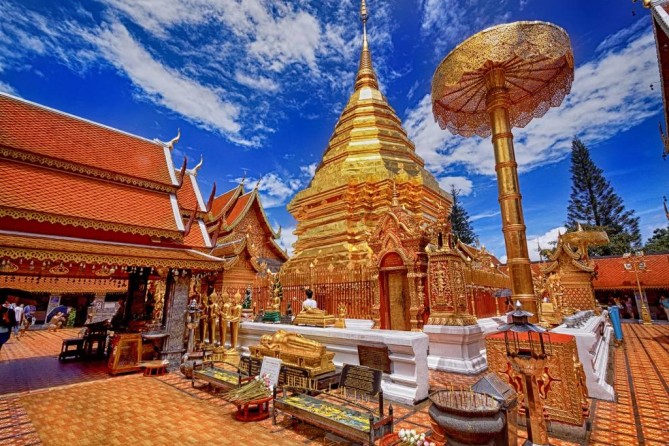 Being Chiang Mai's respectable religious landmark for over 600 years, Wat Phra That Doi Suthep is one for the books. Owing to the long history, the gleaming golden chedi, visiting Wat Phra That Doi Suthep allows you to kill two birds with one stone. Sitting 1,676 meters above sea level, standing on the terrace where the golden chedi sits can actually provide the view of Chiang Mai International Airport and to observe Chiang Mai's terrain with big mountains in background. Apparently, all of these compositions and the replica of the Emerald Buddha have harmonized in such a way that making Wat Phra That Doi Suthep a must for any Chiang Mai Travel Guide  and one of the places to visit in Chiang Mai.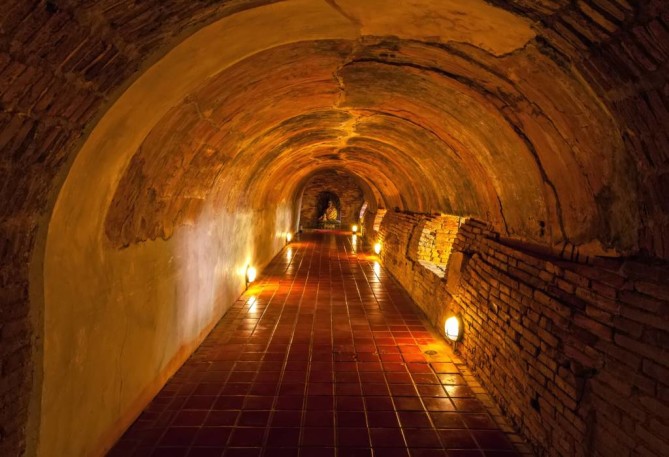 Moving to the foothill of Doi Suthep, thanks to the distinctive architecture of Wat Umong for showing the world another cultural legacy Chiang Mai has to offer. Wat Umong or 'Tunnel Temple' earns the name reflected its identity. The archaic tunnel-like structure built in 14th century is perfectly fit for meditation practitioners. The placid ambience of the temple is a result from nearby forest surrounds.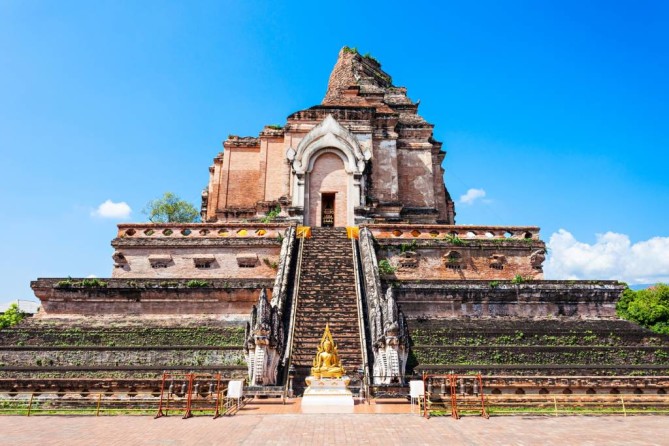 Not all that Chiang Mai temples are on hilltop, however. The Buddhist temple of Wat Chedi Luang is the case where it sits on a plain terrain within radius of city center. Although panorama is not to expect here, we cannot deny the wondrous wrecked Lanna-style chedi, which represents its signature distinguishable among a sea of Buddhist temples in this Chiang Mai Travel Guide.
4.Yee Peng Festival (Floating Lantern Festival) | Chiang Mai Travel Guide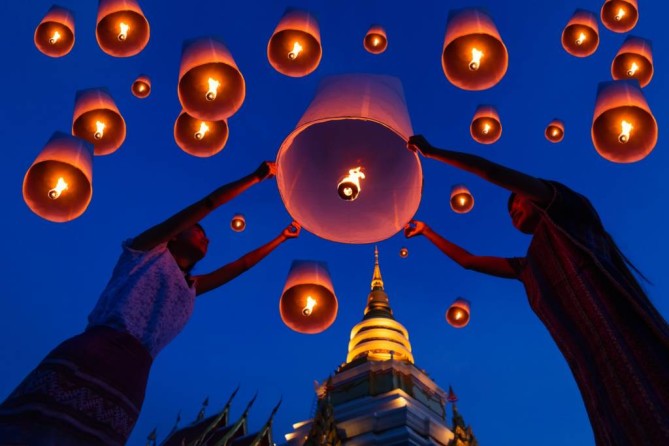 At the time you release floating lantern into the night sky, you are practically engaging in the Thai Lanna traditional festival that has been held for ages, Floating Lantern Festival also known as Yee Peng, one of things to do in Chiang Mai. This Lanna tradition coincides with that of Loi Krathong festival, purposing of letting away of bad luck and mainly to thank the Goddess of Water. And for this Chiang Mai Travel Guide, it is regrettable not to include it.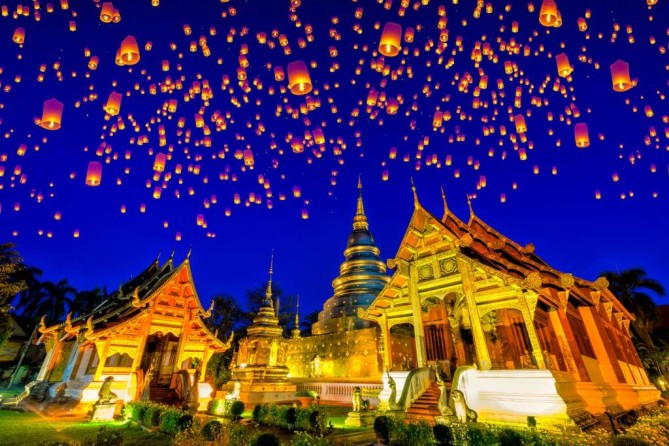 Elsewhere outside of Chiang Mai, Thais commonly make the Krathong or the floating raft made of banana leaves, incense and flowers. It is different though in Chiang Mai. The locals attend Yee Peng or the 'Festival of Light' by using floating lanterns. Its alternate name as the Festival of Light comes from the actual condition once these floating lanterns gradually soaring into the darkness, lit up luminously throughout Chiang Mai's air space. Chiang Mai promises you a memorable night of Yee Peng at where most of the locals go, Wat Phra Singh located inside the old city wall at the western end of  Ratchadamnoen Road and Tudong Kha Satan Lanna which is right behind Mae Jo University, San Sai district.  
5.Doi Luang Chiang Dao | Chiang Mai Travel Guide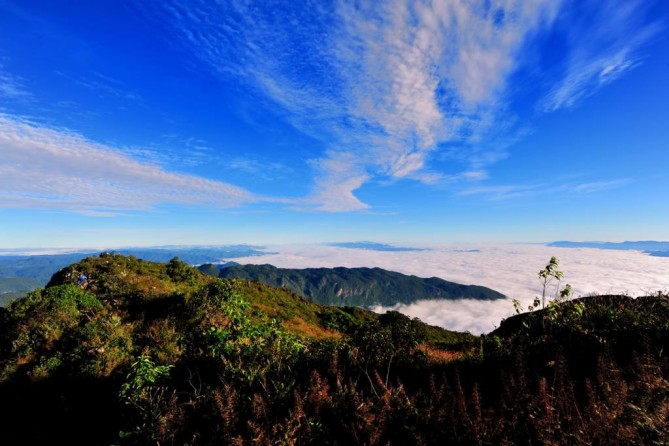 It is difficult to distinguish one outstanding hill from those long list of mountain ranges. But Doi Luang Chiang Dao conquers the rest with simple reason just like how tranquil and breathtaking view a hill can utterly have. Thanks to its third rank among the highest peak in Thailand after Doi Inthanon and Doi Pha Hom Pok, Doi Luang Chiang Dao rises splendidly above sea level at 2,225 meters.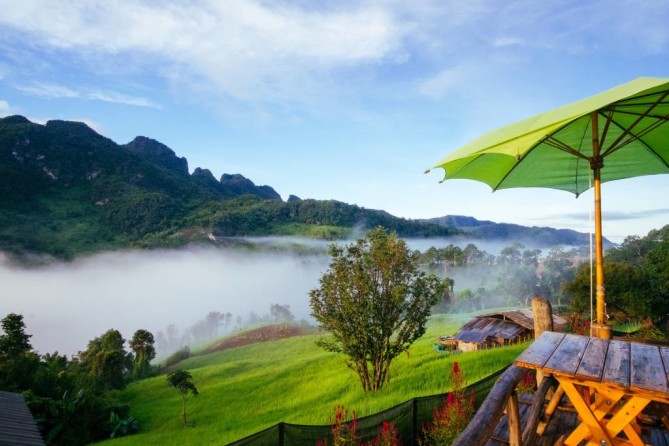 At its summit, overlooking nearby peaks almost tantamount to the sky line is not surreal. Good view pays off to all those conquerors heading to Doi Luang Chiang Dao after they've been through a long-distance journey from Chiang Mai International Airport (90 kilometers) and devious routes from foothill up to its apex. At Doi Luang Chiang Dao, local homestay is one of the things to do in Chiang Mai  to wake up in the morning then fronting panorama, and not to mention the hill tribes uniquely found at Doi Luang Chiang Dao, we'd say.
6.Grand Canyon Hang Dong Chiang Mai | Chiang Mai Travel Guide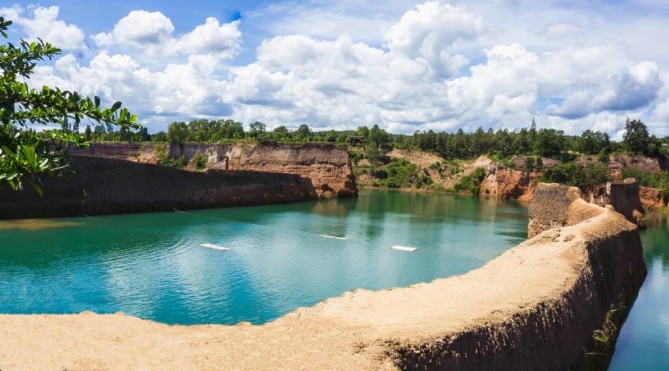 The name of Grand Canyon Hang Dong Chiang Mai  is similar to that of one of 'The Seven Natural Wonders of the World', Grand Canyon in Arizona, USA. Not just the name but its shape and appearance are identical. Those who did this 10 years ago would be surprised how it turned out to be a newly discovered tourist attraction listed in any Chiang Mai Travel Guide. This once well kept secret is a secret no more.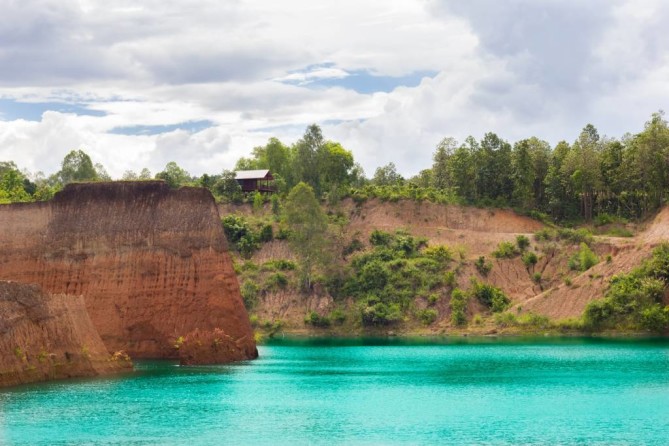 Traced back to a decade ago, 20-meter digging depth made the land became 30-rai hole. When it was no longer in use, the area was left swamp land until it became a huge reservoir colored in turquoise.  The brown of the cliffs and the emerald shade of water make this place a perfect haven for cliff jumping, which locals and foreigners alike come to play. As number of tourists tend to rise, the owner couldn't resist to transform the Grand Canyon from natural wonder into fun-filled water park with food zones and toilets on offer. However, the cliff is partly slippery not suitable for kids walking alone.
Book your flight to Chiang Mai today! Visit http://www.bangkokair.com/eng/flightdeals/view/chiang-mai to check flight availability.