Luang Prabang | Luang Prabang Travel Guide
Luang Prabang, an ancient city where almost everything stays still, sits on a peninsula formed by the Mekong River and the Nam Khan River. Urbanites whose routine are so overwhelmed by burdens may seek to escape tumult by leaving a footprint in this northern Laos city. To discover the authenticity of Laos, Luang Prabang will be your greatest find. It's not hyperbole to say that not so many cities can lay claim as a UNESCO World Heritage Site like it was in 1995.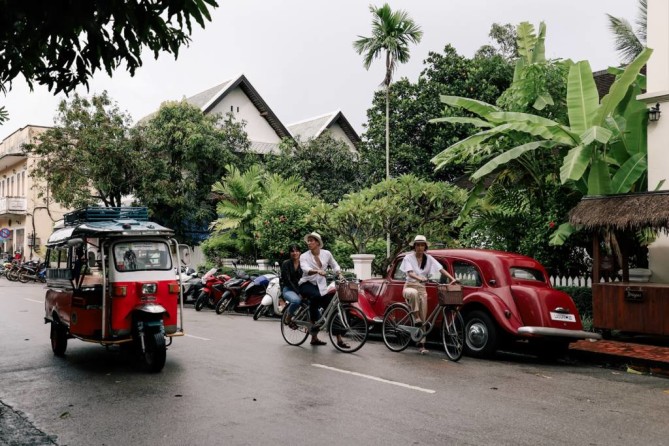 credit : http://wheredowego.in.th
Despite its reluctant recession to the French in the late 20th , Luang Prabang has a strong turnaround with French-inspired architecture of local shophouses and boutique hotels. The city yet retains pretty much quaint ambience that those who've been around understand greater of living the moment. Luang Prabang once appointed a former capital of the first Lao Kingdom (Lan Xang), and later lost its administrative functions to Vientiane in 1545. That being said, its richest cultures, great mountain ranges, unpolluted nature, warm and laid-back atmosphere, glistening temples, which it has so many, are what make Luang Prabang travel guide one of the most sought-after travel tips.
1.Wat Xieng Thong | Luang Prabang Travel Guide
Starting off this Luang Prabang travel guide with Wat Xieng Thong, a crowd-pleasing religious site surely that you'd want to visit anytime soon. It is the best-known and best looking monastery of this golden city. Wat Xieng Thong has always been one of the places to visit in Luang Prabang. Having built in 1560 under the command of King Setthathirath, Wat Xieng Thong holds many significant annual festivities including the coronation of Lao Kings. The temple was luckily survived through sabotage and invasion many times.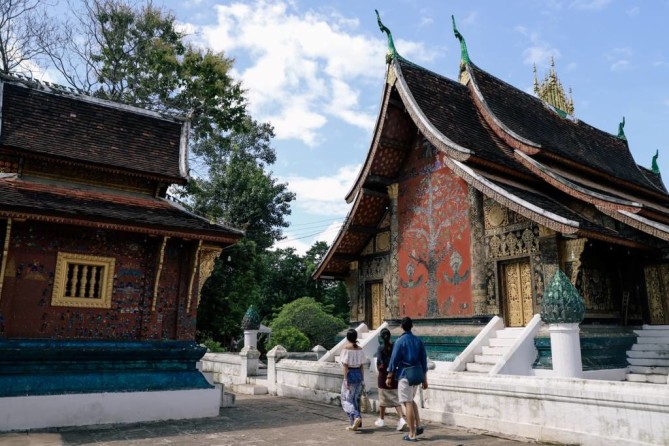 Even though Wat Xieng Thong gone through its remodeling in the 1960s, many parts of the temple still retain its authentic value. Such authenticity include the iconic three-tiered roof, elaborate mosaics, and the prominent 'Tree of Life' glass montage on the rear of temple wall. The tree has significant implication toward its origin. It depicts two hermits who meant to build a sanctuary near a giant flame tree on the confluence of the rivers. The temple also enshrined relics and the reclining black Buddha, which is one-of-a-kind. The Buddha image was once put on a show in Paris in 1931 before returning to its home safe and sound in 1964.
2.Kuang Si Waterfall | Luang Prabang Travel Guide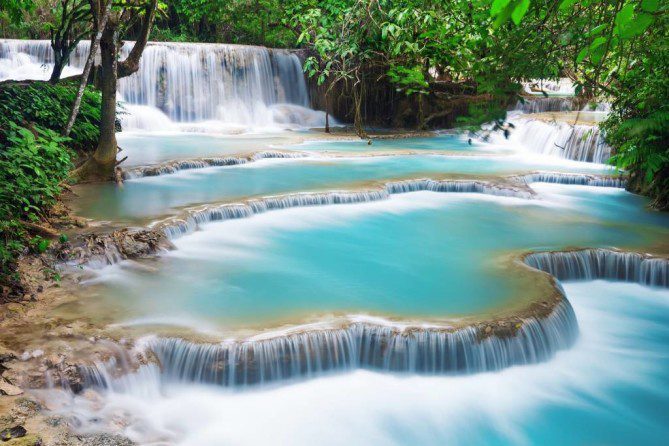 This Luang Prabang travel guide will not complete without talking about Kuang Si Waterfall, one of the places to visit in Luang Prabang. Featuring amazingly fresh and cool azure water, it is just a right refreshing temperature with perfect shade given by the green verdant jungle as its counterpart. The weather is pleasant perfect for escaping the heat and duties. Emerald three-tiered waterfall is a remarkable character of this, adding prominent impression and spellbinding atmosphere.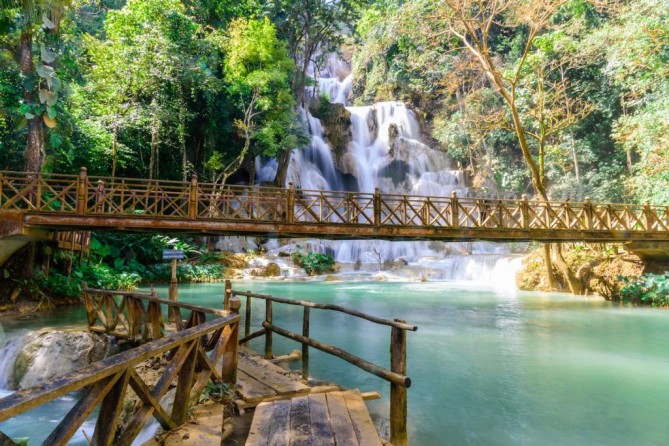 A sheer descent waterfall into natural pool is so enticing for an afternoon swim. There is no better place in Luang Prabang than Kuang Si waterfall to spend a day leisurely, whether it be a relaxing dip or a joyful water fight with your companions. Not only the waterfall that is stunning, but the path leading to it is well decked out with rice paddies and local villages. As one of the choices, visitors can take a short walking distance to Tat Kuang Si Bear Rescue Center to spot black bears saving from illegal wildlife trade.
3.Alms Giving Ceremony | Luang Prabang Travel Guide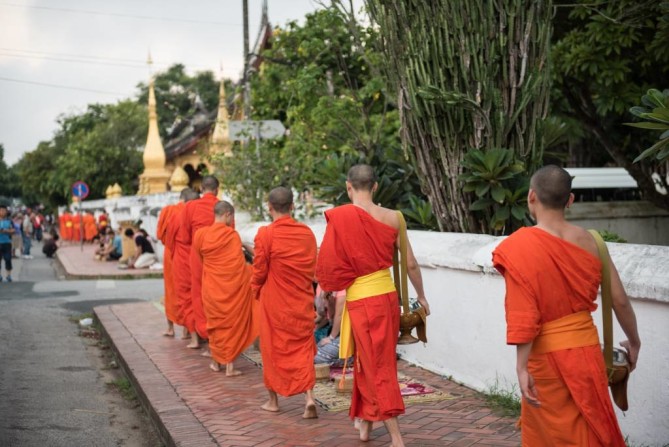 Partaking in Lao Alms Giving Ceremony is not just one of the things to do in Luang Prabang but a must for all reasons. Its renown goes beyond its territories to the regional most revered tradition and people from neighbors do acknowledge this religious significance of Laos and wish to taking part of the alms giving ceremony once in a lifetime. Taking place every early morning, the Alms Giving Ceremony requires an early wake of the attendees.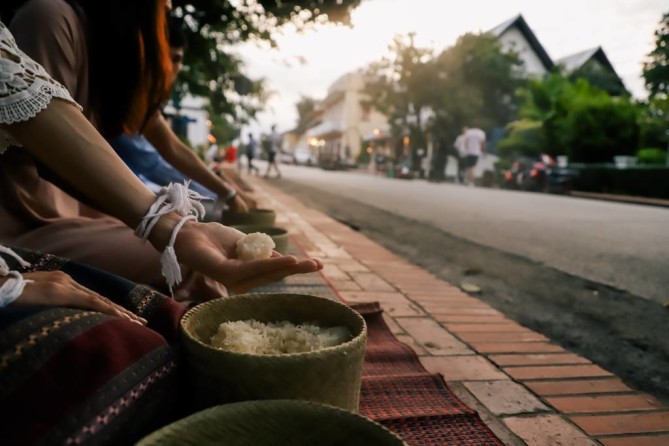 Those who want to give alms are needed to prepare for their offerings namely nutritious food, fresh fruits, fresh water or traditional Lao snacks. Then kneeling down to show respect and ready for the ceremony for almost 200 Buddhist monks walking silently one after another with alms bowl in hand. Attendees will then put offerings into the bowl to be used for that day. So don't leave Luang Prabang just yet if you do not follow this Luang Prabang travel guide to join in this alms giving ceremony.
Some Etiquettes You Should Follow:
– Wear appropriately especially women by dressing covered your shoulder, chest and legs.
– Remain silent as not to interrupt the atmosphere and the whole procession.
– Come early before the ritual begins otherwise it will be offensive to come in between when the ceremony has already started.
– Turn your camera flash off and keep the proper distance. Alms Giving is a holy ceremony here as long as you retain respect throughout.
4.The Living Land Company | Luang Prabang Travel Guide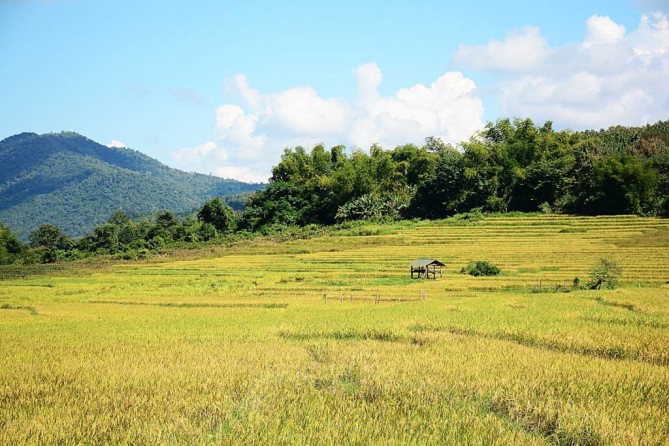 Stay healthy, stay like a local here at The Living Land Company, heaven among the rice paddies where the greenery is exuberant and the air can't be fresher. Today's Luang Prabang travel guide unveils one of the things to do in Luang Prabang : feasting your eyes on rice terraces and learn sustainable practices being a farmer and planting rice in traditional Lao farming method with your very own hands. Sitting only 5 kilometers away from city center, The Living Land Company is without doubt a big supplier to restaurants and hotels in Luang Prabang.
credit : http://www.livinglandlao.org/
This community-owned organic farm serves rice, herbs and fresh vegetable which allow visitors to take part in touring the farm as well as admiring traditional Lao wooden houses to look across rice terraces and the organic vegetable fields. Aside from rice harvesting technique, threshing and winnowing rice are also available to get you familiar with. Cooking class is a not-to-be-missed experience offering you a try to do some local Lao dishes such as clay pot soup, curry paste and sticky rice steamed in a huat kao basket. Interestingly, some classes are taught in open-air wooden pavilion among the verdant paddies. So you needn't hesitate to drop by a visit.
5.Mount Phousi | Luang Prabang Travel Guide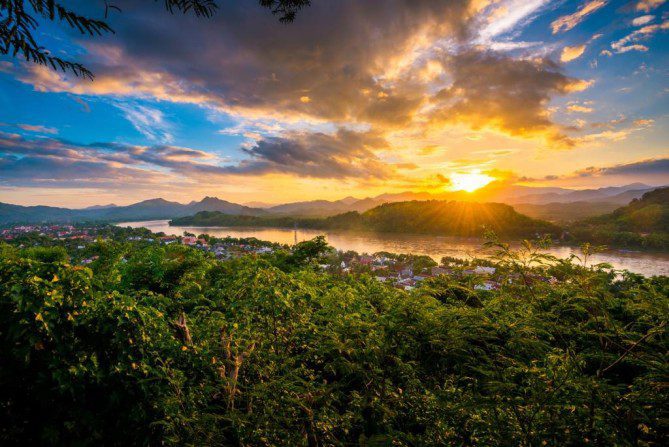 Despite the serenity of Luang Prabang, this does not mean travelers actually do very little. One of the things to do in Luang Prabang is to take a sweat-inducing walk up to Mount Phousi, a sacred mountain consisting of buddhist temples, the famous Wat Tham Phousi and Wat Chom Si for example. Rising 150 meters out of ground, Mount Phousi is a spiritual center of the city requiring a conquer of 328 stone steps. Once reached, a golden 20-meter-high stupa and the Buddha's footprint are something to expect for philanthropist.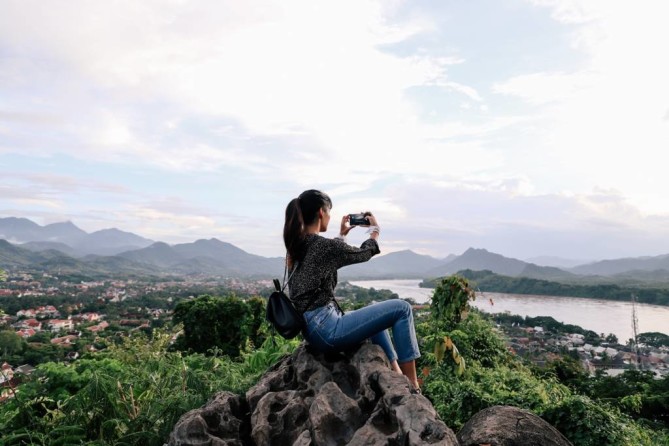 Sitting at the confluence of the Mekong and Nam Khan rivers, Mount Phousi rests assured the river view against sunset backdrop that travelers are able to appreciate. There are two entrances leading to the hilltop : one with 328 steps and the other with 355 steps. While the first option has fewer Buddhist images to spot along the way, it is where Luang Prabang night market takes place at its doorstep. The latter of 355 steps, which requires few more steps to go up, offers nicer sceneries before reaching the summit. Whichever is the path, follow today's Luang Prabang travel guide to take a trip at Mount Phousi.
6.The Luang Prabang Library – Luang Prabang Travel Guide
credit : https://www.tripadvisor.com
Another great moment is being shared here in Luang Prabang. It happens not so often when donation can be part of your vacation, but for today's Luang Prabang travel guide, that's feasible in Luang Prabang Library, one of the places to visit in Luang Prabang. Situated next to the Radio Station, the library runs by two supportive organizations: Laos Government and Foreign Charities. The library functions itself as a center giving away books to those schools in remote areas, if there is a school.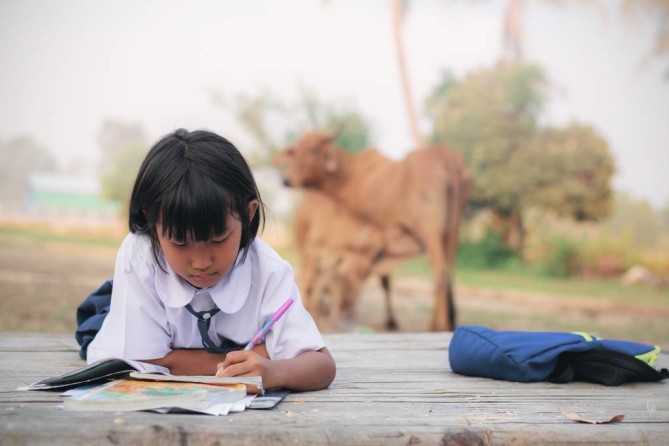 Books are rare and precious here since poverty limits some children from gaining knowledge due to its cost. For those who intend to donate, it's as easy as pie for a purchase of one book which costs you only $2. The two library boats then deliver those reading materials to children in remote areas. But if you want to see with your own eyes how your donation is being spent, you can pay some extra few hundred dollars to get on board for one-of-a-kind teaching experience for a few weeks. Not only does this provide books to the impoverished, but it also goes to book bags exchange to the children.
Tip : Before giving away your money, make sure you include a note that says 100% of your donation will go straight to the Luang Prabang Library.
Book your flight to Luang Prabang today! Visit http://www.bangkokair.com/eng/flightdeals/view/luang-prabang to check flight availability.