Maldives | Maldives Travel Guide
Far beyond one's imagination, a small island of 'Maldives' means dream destination one could ever wish to set foot in once in a lifetime. Today's comprehensive Maldives travel guide helps vacation planners get a glimpse of what to expect after a four-hour flight from Bangkok, including things to do and places to see under the strong Maldivian sun. But the mirrorlike seawater of the Indian Ocean is just the sheer refreshing temperature with another major draw of ocean-facing bungalows, velvet beaches and prolific undersea world. The indescribable beauty of Maldives can be seen from a very bird's eye view.
The teardrop-shaped island of Maldives is a testament of natural wonder naturally formed to perfect. Before started planning for a trip to Maldives, a visit between the months of November and April is the key. The sky by then is sure to be clear and the islands are free from monsoons. Maldives perhaps have been created for those looking forward to much-needed respite. A list goes on water sports, surfing, spa treatment, island hopping, snorkeling, scuba diving, dolphin watching and doing nothing on a beach. Every second spent here is a pinch-me moment where fish swim happily, the weather is dream and you can bask in the sun at noon for the most relaxing beach vacation ever.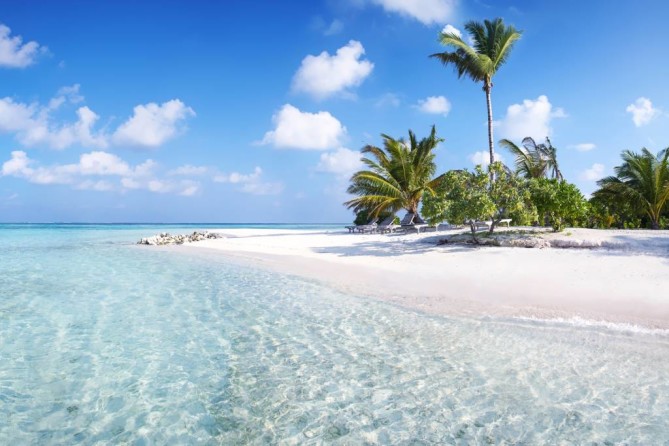 1.The Capital City of Malé | Maldives Travel Guide 
Malé is the capital city of the Republic of Maldives and runs as the center of several administrative functions. The city is a habitat for densely populated of the Maldivians and is one of the places to visit in Maldives. This sovereign archipelagic nation is positioned in the Indian Ocean. Greatly influenced by the Indians, Sri Lankans, Arabs and North Africans, the traditions and social practices of the Maldivians hence are affected by different cultural elements in such a way that it is so enriching and vigorous. Maldivians yet have built and preserved their own cultural identity, using their own language.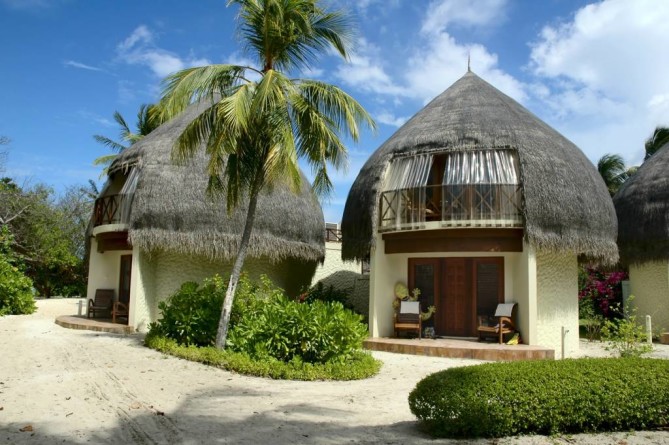 What is so special about the Maldivians is their professional craftsmanship. A quality example in particular is intricate stone carvings found in the Friday Mosque in Malé. That's not all, the expertise and creativeness of the Maldivians also express through traditional costumes, ornaments, lacquerware, mat weaving, coir rope making and calligraphy. Following this Maldives travel guide to Malé will not only all about a gateway to the great archipelago, but a culturally immersive experience.
2.Chill in the Villa's | Maldives Travel Guide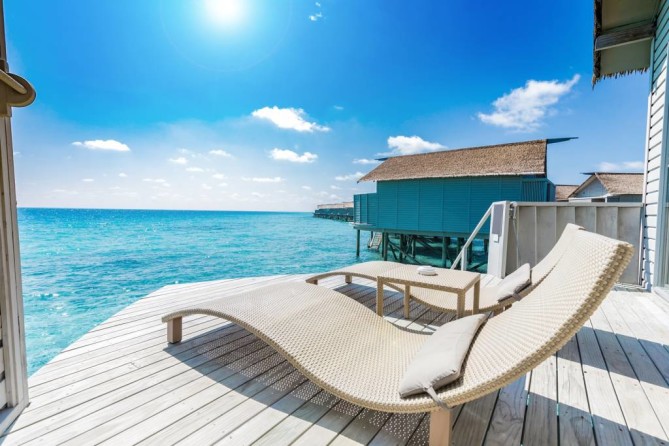 Generally a list of Must Do's seems to be superfluous in other destinations. But for this Maldives travel guide, all beach bums really don't need that long itinerary rather than enjoying themselves. One of the things to do in Maldives is reachable by easy walking distance from the villa's edge to the shallow sea. By all means, it is not necessary to travel very far in the Maldives to tick destinations off your travel bucket list you've seen in magazine's travel corner.
Overwater Bungalow takes the spotlight for this. Staying in an elevated room perched above the water is pleasurably worth spending a day. Reading a novel on the balcony can be unbelievably relaxing when you're in Maldives, as the only visitors who will come by are fish in the sea. Maldives are also the islands rarely littered with scrap to disturb the idyll and your picture-perfect vacation with fish swim right up to the water's edge.
3.Diving Destination | Maldives Travel Guide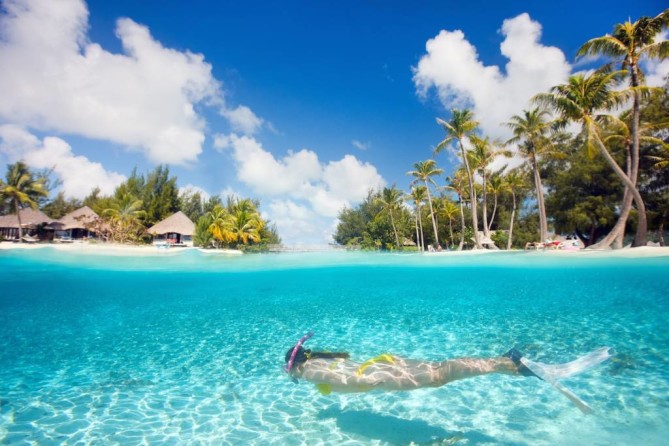 Even though staying under the roof is all that you need as guided by this Maldives travel guide, there's nothing wrong for discovering the waters of Maldives. Come on all full-blooded divers, Maldives is the place to be for dipping and exploring the underwater world. As the world's famous diving site with incredible ocean floor, it is life beneath the water's surface that matter and respected by scuba divers in the know. It is vivid coral reef and exuberant marine life throughout the archipelago that set it apart from other diving destinations.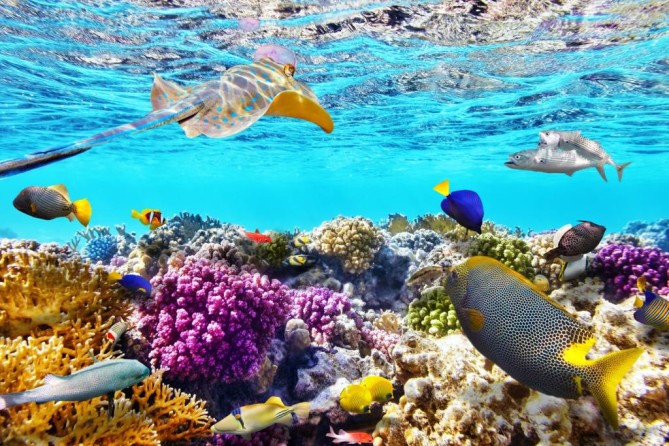 For those who have never been diving before, many of the resorts here do offer tailored programs for beginners with specialty courses taught by some of the country's most experienced instructors. So you don't need to worry! Apart from a true surfer's paradise, Maldives still keep you busy with kayaking, parasailing, and sailing to feel the breeze from the Indian Ocean and living an upscale life flying a seaplane to take a glance of the atolls. For those who still insist to find out about diving destinations, as one of the places to visit in Maldives, then jot down Ukulhas Thila (North Ari Atoll), Broken Rock (South Ari Atoll), Okobo Thila (North Male Atoll) and to name a few.
4.Surfing the Perfect Wave & Enjoy Paddle Boarding | Maldives Travel Guide 
Surfing in Maldives is world-class. Just to know where and when to surf can assure you perfect surfing experience. Typically, the waves in Maldives aren't that strong which it swell up to only your shoulder to head allowing you to enjoy long fun waves for intermediate and advanced surfers. Follow this Maldives travel guide when you plan your vacation to visit during surfing season which lies from April to October when the weather and surroundings are nice. The surfing areas are divided into three different zones: Malé Atolls, Central Atolls and South Atolls, three of which differ in wave consistency and swell size and surfers can choose any areas that match their surfing style.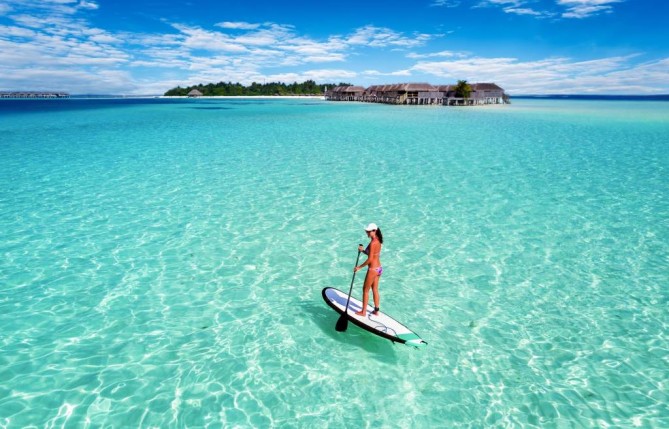 The perfect waves along with no crowd in the water make surfing so addictive activity for some people as they will be able to control the surfboard as well as the waves. But, as for the ladies, paddle boarding is one of the things to do in Maldives too to take a look at the underwater world in shallow sea. Alternatively known as Stand-up Paddle Boarding (SUP), this has become the latest trend in water sports that you can control your board along the water at your own pace and observe living creatures beneath the calm water.
5.Exploring the Atolls and Spotting Dolphins | Maldives Travel Guide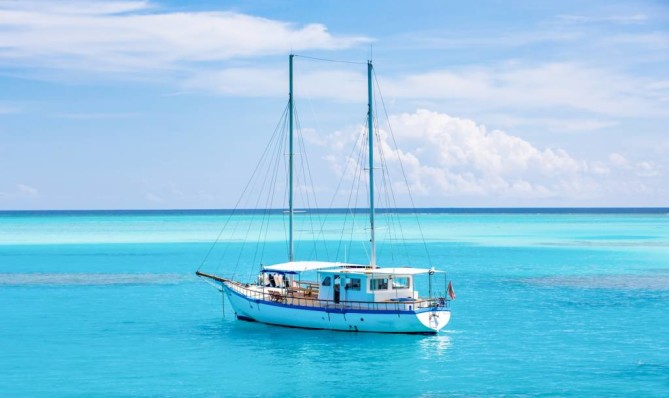 Exploring the atolls on board a luxury yacht will surely give you spellbinding experience besides lying down on the perch of your villa. For today's Maldives travel guide, spending a day affluently in a catamaran and witness the marvel of many atolls of Maldives can be an utterly relaxing vacation. Outside of sunbathing on boat deck, surprisingly some of the world's loveliest creatures, Dolphins, will jump out of water and say hello to you. Dolphins are everywhere in Maldives, we'd say.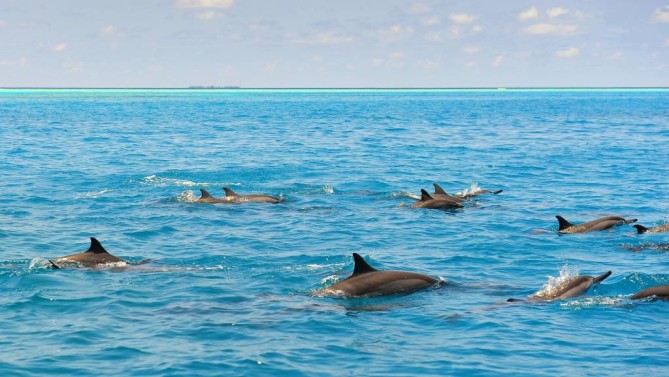 These pods of dolphins are very playful and visitor-friendly. They flipped and twirled out of water like they're making a show to impress all holidaymakers. Such spectacular natural show impacts the rank of Maldives as the world's top 5 destinations for whale and dolphins watching opportunities such as Meemu Atolls, which is one of the places to visit in Maldives but rarely talked about. Whether you are searching for exploring the atolls of Maldives or spotting adorable dolphins in their natural habitats, it all serves one-of-a-kind travel experience like never before.
6.Romantic Dinner | Maldives Travel Guide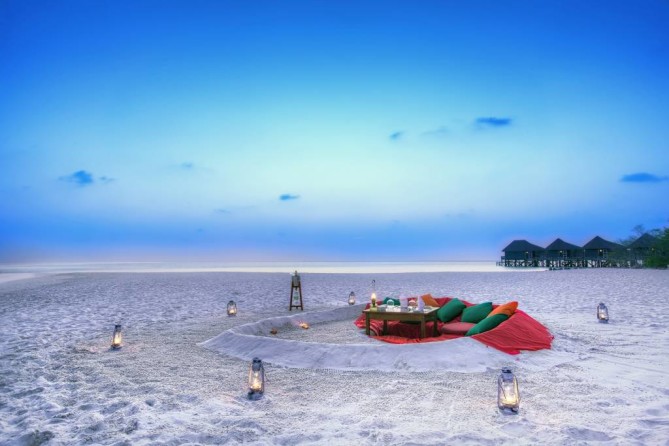 Dine on the most romantic island ever is incomparable to anywhere in the world and it is one of the things to do in Maldives and shown in any Maldives travel guide. Dining options could range from barefoot dinner, candle-lit dinner next to a jungle to dining pavilion over water. Dining in one of these choices is all you need for a sweet evening with your special someone. Feasting your eyes with the view and feasting your tummy with palatable cuisines. Such romantic moment accompanied by the sea breeze and sundowner is just perfect exactly as it is.
You will be spoiled by choices of a romance set up on pearly-white sand, alfresco dining, and a jungle dinner lit by fire pit. Other than typical options, since you are in Maldives, you can even have your own private dinner at your overwater villa with 24-hour service right to your table. And even dining in Maldives maybe a bit expensive, the view, well-prepared cuisine and five-star service are worth fighting for a seat. Don't you think?
Book your flight to Maldives today! Visit  http://www.bangkokair.com/eng/flightdeals/view/male  to check flight availability.