Phuket is the largest island in Thailand situated at the Southwest coast.  The island is mainly known for their crystal water and a wide stretch of white sand beaches. Phuket is also a home to cultural heritage that makes it as one of Thailand's tourist places. Aside from the beaches and heritage, one of the places to visit in Phuket are the night markets. As the name suggests, they usually open after the sun goes down. If you want to know more, continue reading to know why paying a visit to these famous night markets in Phuket is something you shouldn't miss!
PHUKET WEEKEND MARKET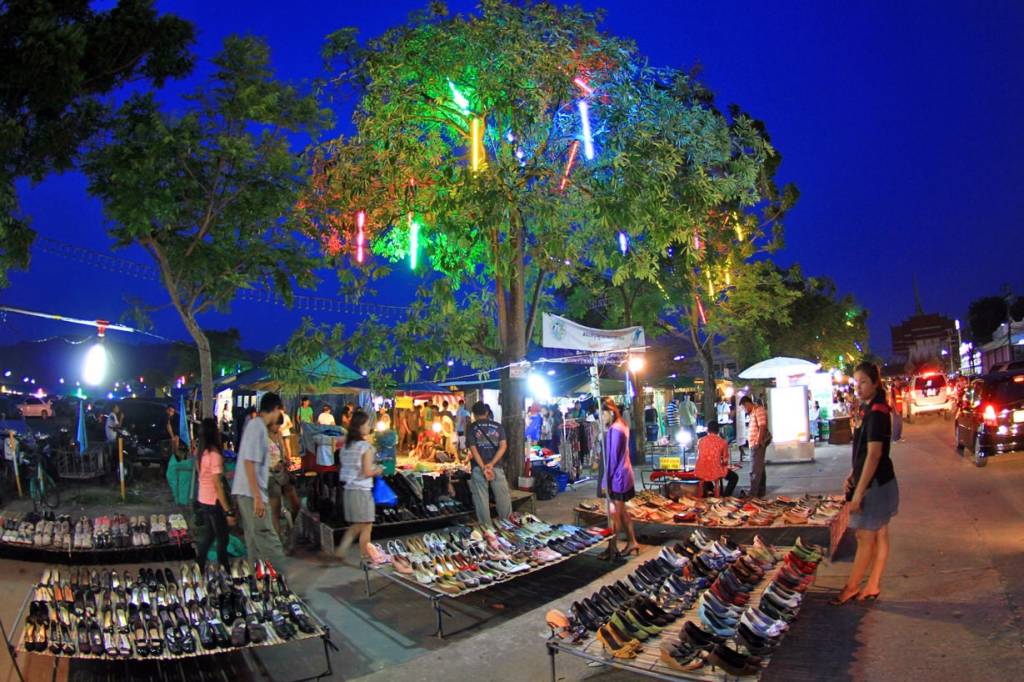 Phuket Weekend Market, locally known as 'Naka Market' is the largest market in the island. It is a home to a wide selection of products that you can choose from. They basically sell everything ranging from second hand devices, adorable stuff toys, electronic items, and even animals. Divided into two sections, the open and covered – Phuket Weekend Market has an endless list of goods. It doesn't end there yet because it is also a gastronomical paradise where you can select from various food stalls.
Operating Hours: Sat-Sun 4:00pm-9:00pm
Location: Chao Fa West Road, Phuket Town
PHUKET WALKING STREET MARKET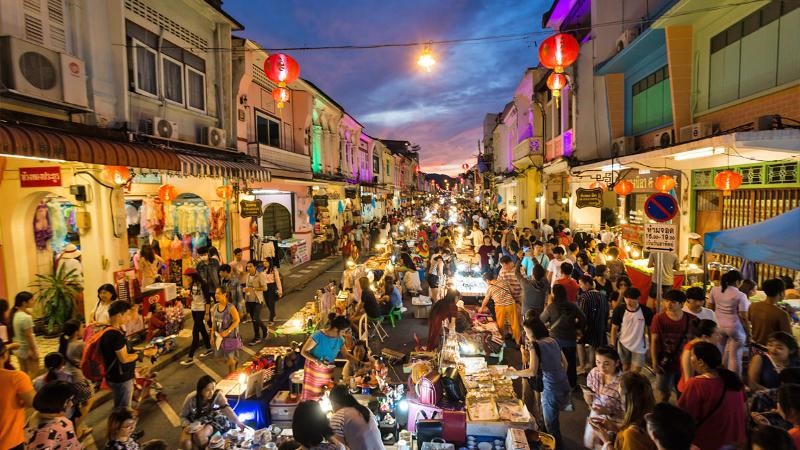 Phuket Walking street market referred as 'Lard Yai' by the Locals. This weekly market started in October 2003 and can be found at Thalang Road, one of the places to visit in Phuket too. What makes Phuket Walking Street Market unique is the presence of the stalls and the historical buildings give you a feeling of where past meets the present. Two items are mainly sold in the market – food and souvenirs. You can also buy traditional Thai medicines and customized flip-flops. Spoil yourself too from food like barbequed squid, chicken, and pork. There are also cocktails to freshen up yourself.
Operating Hours: Sun 4:00pm-10:00pm
Location: Thalang Road, Phuket Town
CHILLVA MARKET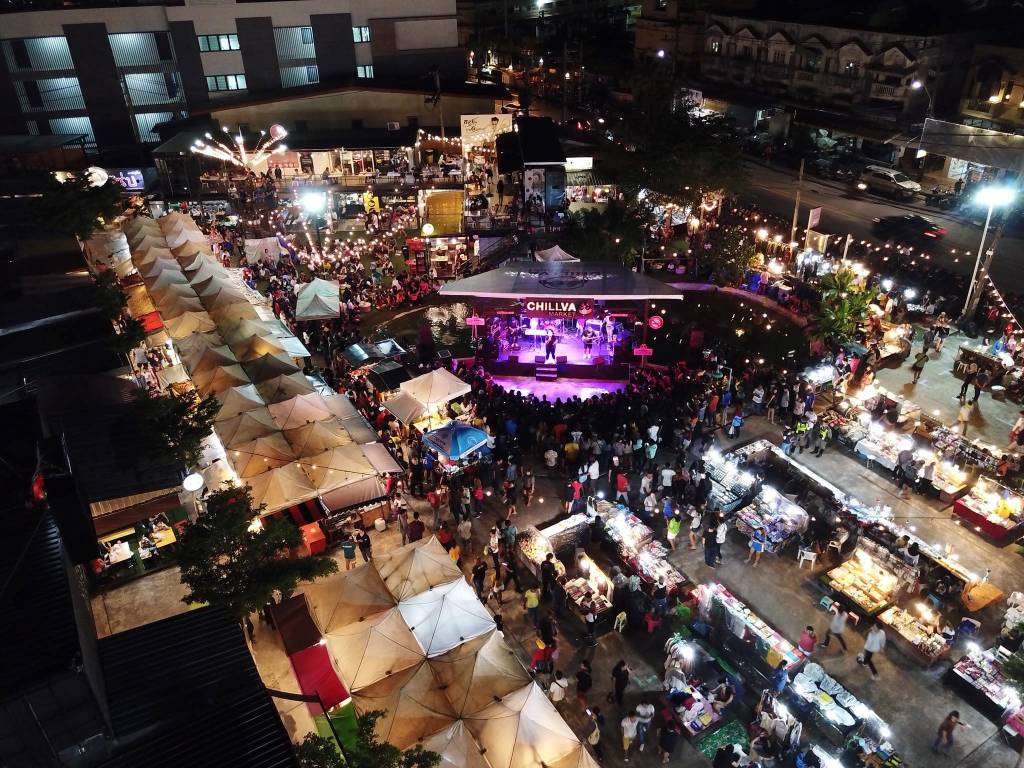 If you are looking for a market that sells cool and trendy stuff, Chillva market is what you are looking for! The entire market's set-up gives you a Bohemian vibe that has trendy pieces that are being sold. Also, most of the stalls are being rented by food vendors which will surely satisfy your cravings. Found at the center of the market is a stage where performances are being held. This is definitely a market that is hard to miss on your Phuket vacation!
Operating Hours: Container shops: Daily 4:00pm-10:00pm | Full market: Thu-Sat 4:00pm-11:00pm
Location: 141/2 Yaowarat Road, Phuket Town
MALIN PLAZA PATONG
Malin Plaza Patong located in the south part of Patong beach is a market that keeps in mind that food is a way to attract customers. Needless to say, this market has a wide array of food which is considered as the highlight of the market. Malin Plaza Patong is much like any other market that sells goods but what makes it different from the others is that their souvenirs are a little better in terms of quality, shirt designs are a little uncommon and some of the local markets have a tailor shop. It will be a good idea to add up this market which serves as a good experience for newcomers to try Thai food.
Operating Hours: 2:00pm-12mn
Location: Prachanukhro Road, South Patong Beach
PHUKET INDY MARKET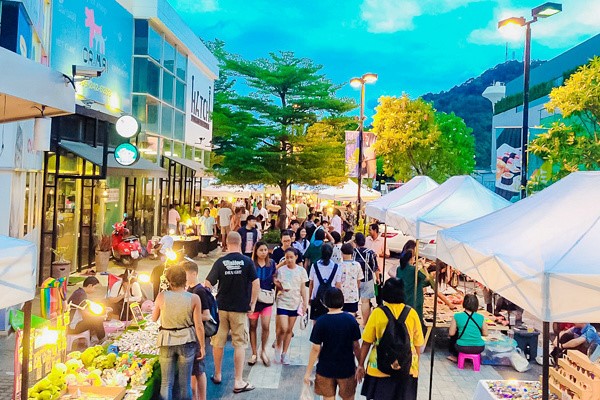 Phuket Indy Market opens twice weekly. It is called by locals as 'laadploykong' which means 'a market to let go of your goods'. It takes about only 15-20 minutes to explore the whole market because of its small size. Like any other markets, Phuket Indy Market has a lot of delicious and cheap snacks available. Aside from bags, flip-flops, and shoes, they also sell customized souvenirs. If you are looking for other type of souvenirs, check out the artist booth – they do portraits and caricatures. This is one of the places to visit in Phuket that you won't regret.
Operating Hours: Thu-Fri 4:00pm-10:00pm
Location: Limelight Avenue, Dibuk Road, Phuket Town
If you are planning to have a Thailand holiday, make sure to visit Phuket and not miss the night markets in your travel itinerary. Pack your bags and get ready to go! Also, if you want to book a ticket, you can check flight booking offers and direct flights available at Bangkok Airways