Siem Reap | Siem Reap Travel Guide
Having been one of Cambodia's best kept secrets for centuries, Siem Reap has emerged lately to be destination wish list among cultural tourism drawing millions of globetrotters. This Siem Reap travel guide shows the world another cultural legacy with its largest religious complex known regionally, perhaps worldwide. Siem Reap, as the closest city to the Temples of Angkor, has become a boomtown awakened Cambodians from stagnant economy into lucrative tourism industry.  
Tucked away in northwest Cambodia, Siem Reap still reserves its provincial ambience with pleasant, quiet and laid-back places to take a rest. It is pretty amazing that once the abandoned city has now turned into one of the ASEAN hidden gems. Many expat-owned cafes and traditional restaurants are mushroomed all over the area and most are walkable from hotels in the urban area. Aside from warm hospitality, Siem Reap has combined the glamors of Khmer wooden house and French colonial buildings just perfectly.
1.Temples of Angkor | Siem Reap Travel Guide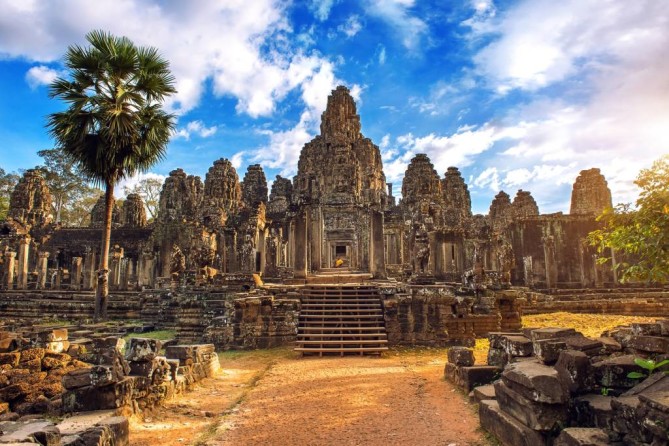 The stories behind Angkor are worth writing for. Its significance is equivalent to the Great Wall of China, the delicacy of the Taj Mahal, and the symmetry of the Pyramids of Giza. That's why this Siem Reap travel guide bears witness Temples of Angkor, one of the places to visit in Siem Reap. It is advisable that Angkor is a place to be relished not rushed even if it takes at least 3 days to imbue the sites thoroughly. No travelers to this region will want to miss its amazing beauty, we'd say.
All of those devotees in the past might be surprised to see that Angkor has today become the UNESCO World Heritage site very essential to Cambodia. Temples of Angkor was originally built with a purpose of representing Mount Meru, the Mount Olympus of the Hindu Faith. It is not surprising to see that all Cambodians take pride in their cultural heritage as it exchanged with their spirit during the years of adversity before recovered themselves to former liveliness.
2.Phnom Bakheng | Siem Reap Travel Guide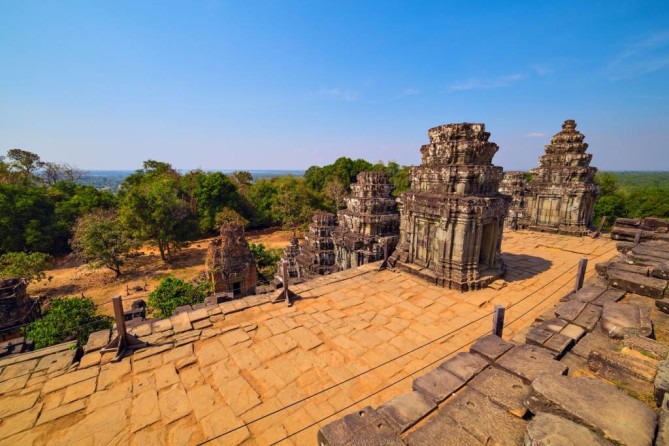 We believe everybody knows how legendary and ancient Temples of Angkor are. However, there is another Hindu & Buddhist temple where it was constructed more than two centuries before the great Angkor and it is not hyperbole to say that Phnom Bakheng is the quintessence of all Khmer temples to the Angkor region. How significant was it in the past can be defined that it was here where the King Yasovarman I relocated the capital from Roluos and laid the infrastructure of Angkor itself called 'Yasodharapura'.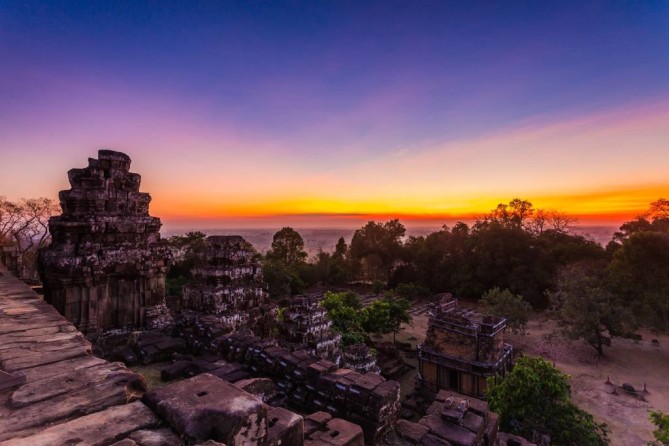 Thanks to its wonderful location on a 60-meter high hill, Phnom Bakheng positioned itself different from other Cambodia's destinations allowing for a perfect sunset viewing spot and unbelievable photo opportunities. Despite being one of the lesser-known places to visit in Siem Reap, Phnom Bakheng is the pleasantest where watching sunset from its summit cannot be forgotten and is a must-do recommended in any Siem Reap travel guide.
3.Tonle Sap Lake | Siem Reap Travel Guide 
Like a lifeblood of Cambodians, Tonle Sap is a river where three millions of its people have revolved their lives around and is where the majority fish for a living. Stretching across the Northwest of Cambodia, visit Tonle Sap Lake and the floating village around its neighborhood is a must in this Siem Reap travel guide if you want to experience a true Cambodian lifestyle behind the scenes. Located  just the outskirts of Siem Reap, the Tonle Sap Lake, as one of the places to visit in Siem Reap, is not too far to reach for sightseeing the fishing village.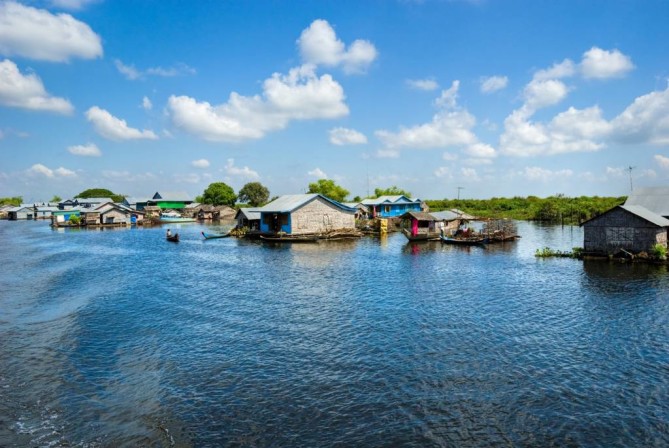 The Tonle Sap Lake pampers all its guests with options of half-day tour of floating village by boat, sunset dinner on Tonle Sap, small-group tour cruising along the lake, as one of the things to do in Siem Reap. Those who prefer to add some thrilling experience to the trip, there is a crocodile farm situated on the road to the lake with 300 crocodiles. But those who would like to opt for a romantic sunset moment, you're allowed to do just that too by overlooking water birds enjoy swooping down over the lake.
4.Les Artisans d'Angkor | Siem Reap Travel Guide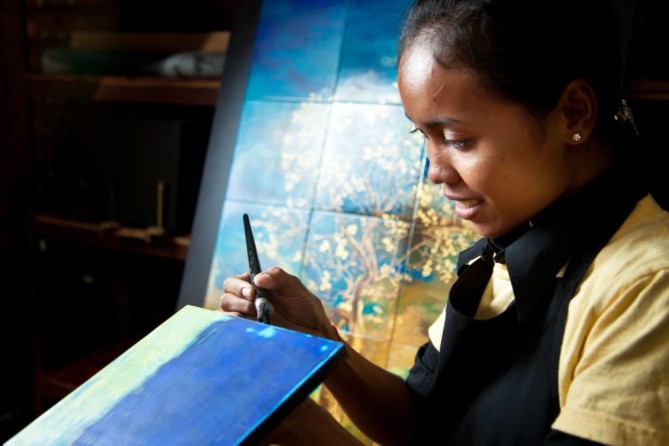 credit : http://www.artisansdangkor.com/find-us.php
Nowhere else will you find such authentic Khmer souvenirs like in Les Artisans d'Angkor, one of the places to visit in Siem Reap. Many people have superficial assumption about skilled craftsmanship and traditional handicrafts, thinking it isn't worth spending a day with. But this Siem Reap travel guide shows another marvelous facet of getting a deep insight into the Khmer cultural heritage of Cambodian arts & crafts. With its prime objective, Les Artisans d'Angkor founded in 1999 aims to help impoverished young people finding work in their home village.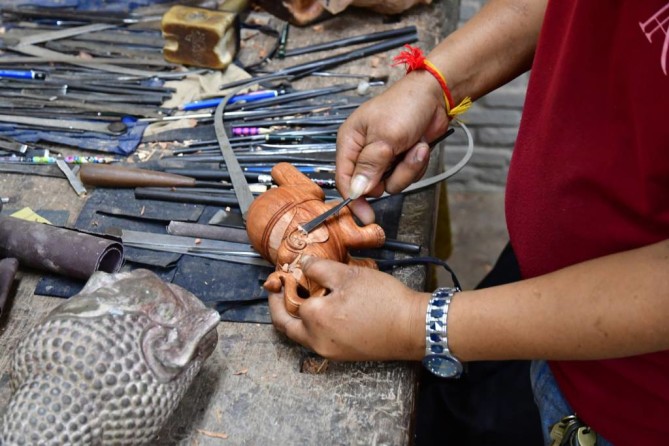 During a tour at the workshops, the opportunity to see traditional Khmer techniques for stone and wood carving is totally an eye-opening experience. More than that, a collection of special items vie for the visitors' eyes to get some back home such as wood carving, lacquerware, silk fabrics, and more importantly silk painting which created by young deaf women. Foreign tourists will have no worry for language difficulty since 7 languages are available for the tour including Khmer, English, German, French, Japanese, Chinese and Thai.
5.Landmine Museum | Siem Reap Travel Guide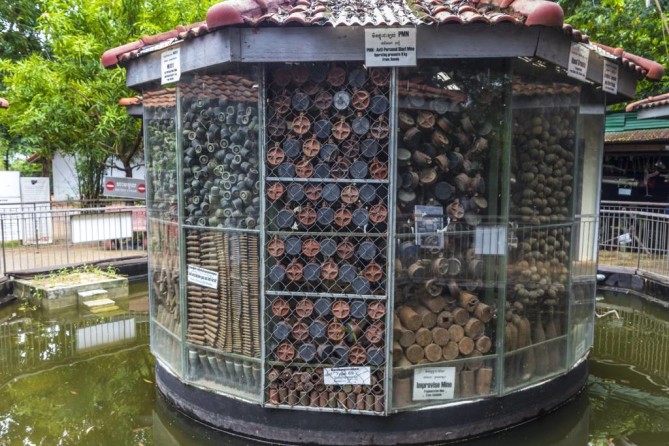 Talking about the Landmine Museum in this Siem Reap travel guide, it may quite bizarre to say that six million landmines were embedded in the nation while mortars, guns and weaponry are on display inside the museum. Visiting Landmine Museum is totally a thought provoking experience and one of the exclusive things to do in Siem Reap. Giving a round of applause to Aki Ra, the founder and curator of the museum with determination to make the country safe by clearing out as much landmines as possible. And he did so with 50,000 landmines removal.
Then why should I visit here may arise as a question. The answer is all about to get to know Cambodia's history and walk through the site what it's actually like even the place seems odd. The Landmine Museum is most visited after Temples of Angkor and is the first of its kind in the world. Apart from that, the donations and profits given to the museum aren't for granted since it go to support a Relief Center where survivors and disadvantaged local children from landmines are in need. Don't be put off by the name since tourists are assured that the museum is completely safe.
6.Pub Street | Siem Reap Travel Guide 
You want to taste it all, but you know that's impossible. So save the best for last as this Siem Reap travel guide will take you to explore nightlife in Siem Reap. Pub Street or Street 8, as known on everyone's lip,  is a stream of all kinds of entertainment for local and international travelers alike. Sipping alcoholic drink all night long and talking to awesome people is also one of the things to do in Siem Reap. Pub Street allow party-goers to dance the night away after a long tiring day with trendy bars and clubs stretching near dawn.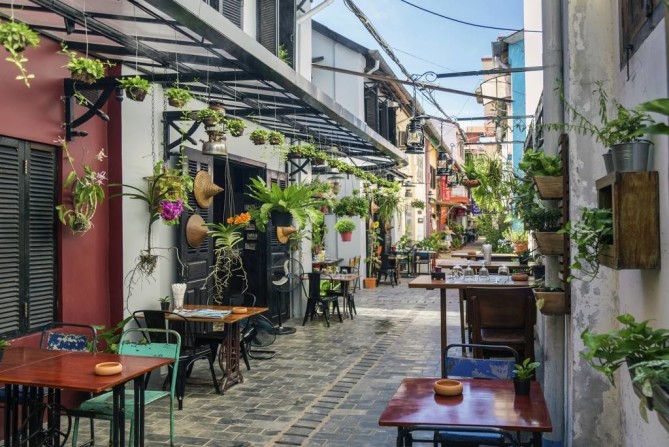 Out in the street, drinking venues are lined end to end ranging from restaurants, local bars, chic clubs and some of its best local scenes such as fish pedicure, street performance, night market, fried ice cream and even fried scorpion. Pub Street together with Old Market have now converted into a lively district comprising of several crowd-pleasing stores such as Angkor What?, Barcode, YOLO Bar, while some of the places to grab a bite are Banana Leaf, Café Latino, Le Tigre de Papier, The Red Piano and to name a few.
Book your flight to Siem Reap today! Visit  http://www.bangkokair.com/eng/flightdeals/view/siem-reap  to check flight availability.