Trat | Trat Travel Guide
Considering your mileage of discovering beach destinations worldwide including ones in southern Thailand, somehow your travel itinerary is missing the true gem on the Gulf of Thailand. Trat is geographically settled at the edge of the country's southeastern region bordering Cambodia. Thanks to 52 islands including the largest Koh Chang for making up the land of Trat renowned for the archipelago, Trat travel guide is now ready to climb up the rank!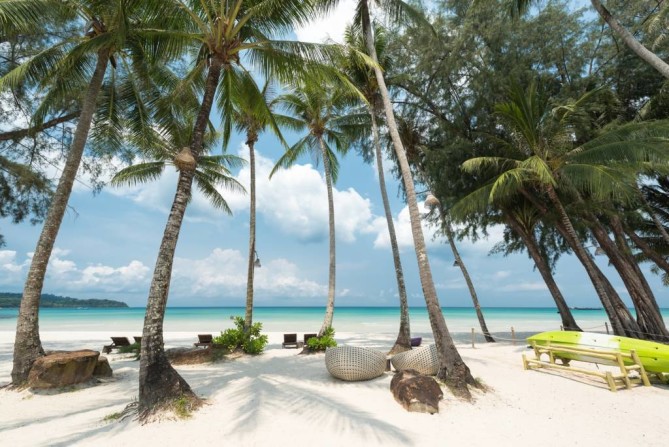 No natural beauty here is less than the ones in the Andaman Sea of the South, we'd say. Sun-kissed beaches, aquamarine waters, impeccable nature, whichever is the case, Trat does not only possess but overwhelm with it. With a great number of small islets, which are inhabited at most, Trat is booming with accommodations as a consequence such as secluded hideaways, beachfront resorts, 5-star hotels and budget-friendly local lodges. The significant increase in resorts and hotels guarantees that places to visit in Trat  won't make your vacation wasted.
1.Koh Chang National Park | Trat Travel Guide 
There might be something wrong for not putting Koh Chang National Park in the limelight, and in this Trat travel guide. Since a number of tourists go as much as the number of tropical jungles, velvet-like beaches, idyllic undersea world, it implied so many things to do in Trat that can occupy you for a week-long vacation. For that reason, it is deplorable if you come to Trat but doesn't bother making the effort to visit Koh Chang National Park.
How big is Koh Chang can be measured by its name. The word 'Chang' in Thai refers to an elephant and a creature's size needs no further explanation. Given that the island's figure looks resembling a horde of elephants walking after another, there is no doubt why it is named so. On the whole, Koh Chang is all about silky beaches, blue waters, vivid coral reefs, marvelous sea creatures, limestone mountains, cascading waterfalls, evergreen jungles and anything that Koh Chang can wear as Thailand's second largest island after Phuket.
2.Koh Kood, Koh Mak and Koh Kham | Trat Travel Guide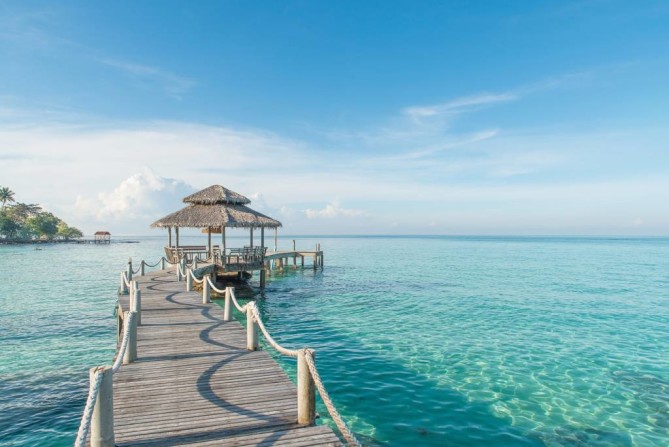 The second largest of its kind on the Gulf of Thailand is Koh Kood, the Andaman Sea of the East. Before it gets the nickname and is considered as not-to-be-missed destination for this Trat travel guide, what elements do it take to be equal to that of the ideal beaches of the Andaman? Maybe not just aquamarine waters, but golden sand, prolific marine life, and unspoiled natural resources that are making up a picture-perfect destination for beach vacation.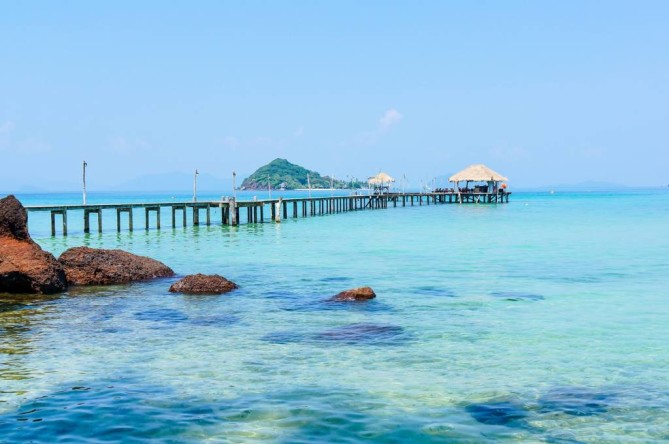 The third largest island of Trat goes to Koh Mak. Its third rank, however, does not mean being second for its beauty. And did you know that 'The Sunday Times' newspaper once voted Koh Mak as one of the World's Top 10 Secret Beaches. And this secret will lead you to clear sand, clean beach and crystal-like waters. With a wooden bridge stretching into the sea close enough to see coral reefs, it already touts itself as a landmark of Koh Mak and one of the places to visit in Trat.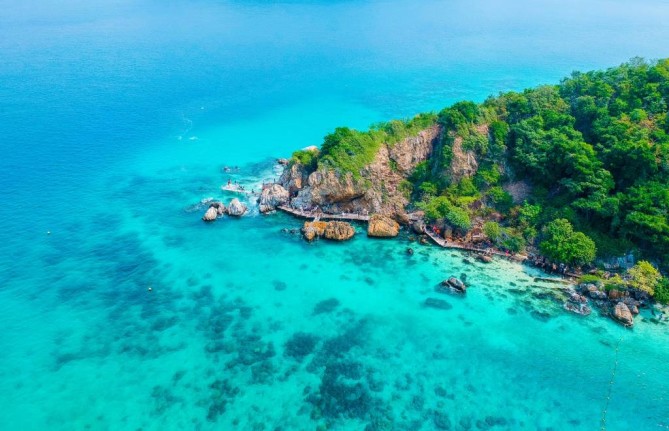 Moving to its neighbor where Koh Kham is settled. Though it is being a lesser-known place in this Trat travel guide, the pristine of the sea and things that come with it are no less than the two islands mentioned earlier. Koh Kham is proud itself to be 'The Emerald Pearl of Trat'. The privacy, quiet, serene of the island make it one for the books, especially if you are looking for a secluded hideaway. A sandbar spanning 300 meters into the sea is a wonderful spectacle to behold. Volcanic rocks lined with vivid coral reefs unitedly painted the underwater world lively than ever. 
3.The Black Sand Beach | Trat Travel Guide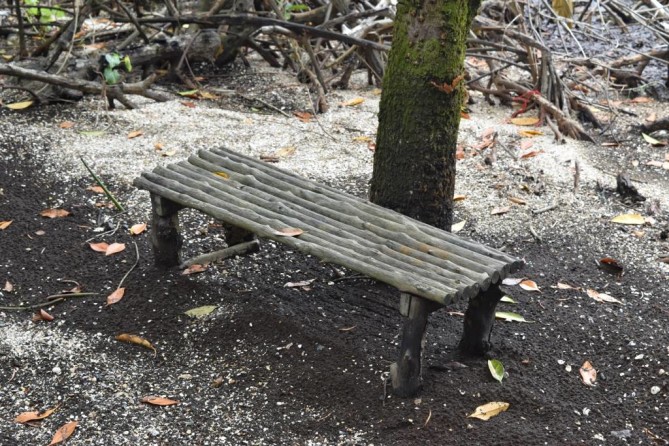 Out of only 5 black sand beaches worldwide, one of them is here in Trat, Thailand. This Trat travel guide reveals 'The Black Sand Beach' in Lam Ngop which is unusual, yet this unusual appearance makes it a distinct one and not to be forgotten. As part of national preserved forest Lam Mahkam area, the beach is inevitably home to diverse endangered species living in harmony under the shadow of mangrove trees.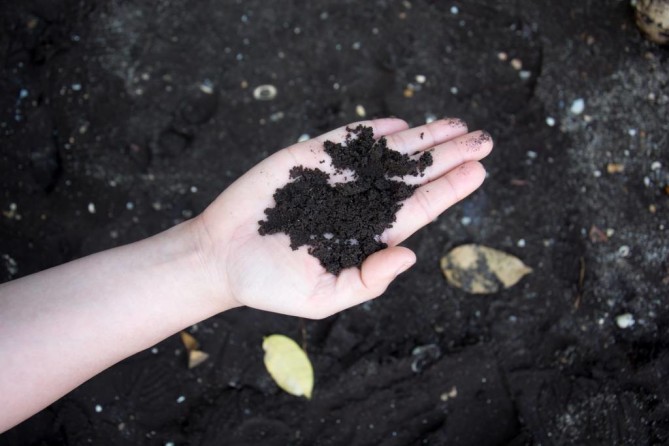 It is believed that the black sand is capable of healing diseases, aches and for beauty therapy purpose. The famous black sand leads to Black Sand Spa which is the one and only of its kind in the middle of mangrove forest. Prolific and rich in natural resources, it brought a construction of 1-kilometer-long nature trail built upon the wooden bridge that stretching into the mangrove forest. The odd feature of the Black Sand Beach draws all its guests to come – taking a walk, be amazed and getting the perfect shot as one of the things to do in Trat during your stay. 
4.Koh Kradad | Trat Travel Guide
Almost every island in Trat has its nickname and Koh Kradad is not exempt. By its alternate title as 'The Safari of the Gulf of Thailand' being influenced by some adorable creature living there, there is not just one but a large herd of lovely deer. For that reason, it may not be typical for beach enthusiasts to spot a herd of deer while enjoying their vacation. And it makes all senses to include Koh Kradad one of the places to visit in Trat.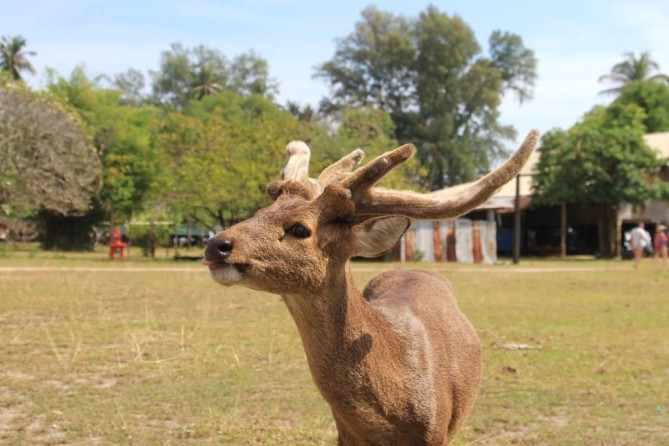 Koh Kradad is derived its name from the landscape that is so flat and looks resembling a floating sheet of paper in the sea (the term Kradad refers to paper in Thai). The 2-kilometer-long flat island seems like an uninhabited except for one family, folk lodges, a few fishermen and most importantly swaying coconut trees which blown away by the wind. The open grassland allows for clear vista of those coconut trees which is the quaint charm of nature. For this, Koh Kradad is unquestionably chosen as one of UNSEEN THAILAND.
5.The Hat Lek Border Market | Trat Travel Guide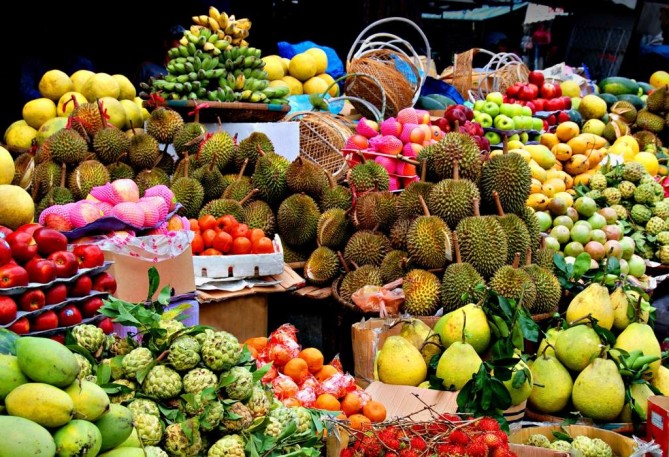 If it happens to you that you are lost in Trat and out of things in stock, perhaps you may need to store those travel accessories at Hat Lek Border Market. Let this Trat travel guide navigate you where to get those accessories in need, or else allow yourself for new shopping opportunity at the edge of the southeastern Thailand bordering to Cambodia. You can take a stroll along the two-sided road which lined shophouses and some of recommended restaurants while the the area around Immigration Checkpoint near Trat border is where most tourists flock.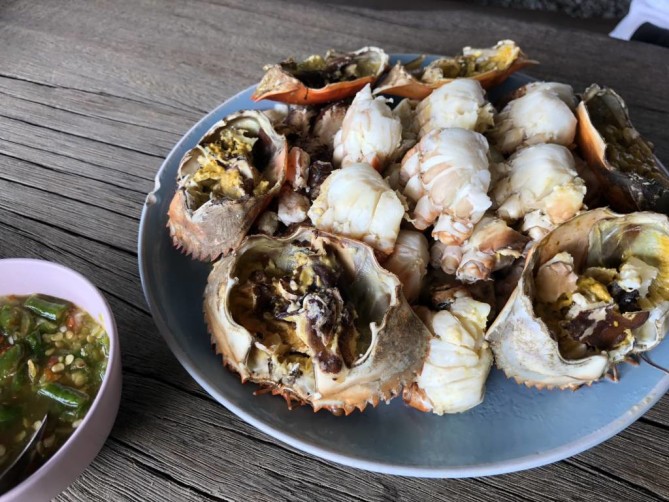 Before heading to Hat Lek Border Market, you need to wake up early since the market is open at 7 o'clock in the morning and will be closed 1.30 hrs after. Such temporary period is only for makeshift market zone where you will be spoiled by choices of accessories, apparel, wristwatch, glasses, perfume, many-sized bags, even camping equipment. Surprisingly, if you are a big fan of durian, you've come to the right place considering that Ban Hat Lek is the leading exporter of durian, King of Thai fruits. Apart from lying down on the beach, go on a shopping spree is one of things to do in Trat. 
6.Ban Nam Chiao | Trat Travel Guide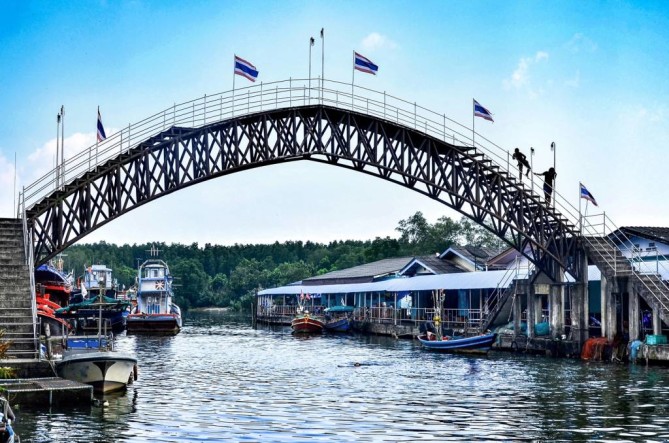 Cultural tourism has been at the forefront of travel ever since travelers started to realize not to just visit but absorb the community, experience local life and imbue in the charm of each community in particular. This Trat travel guide  will give you a glimpse of Ban Nam Chiao, a community located 8 kilometers south west of Trat town.
Being chosen as OTOP Village Champion, the award does not only guarantee the outstanding community-based tourism but it explains how important a community is to the local. By hopping on a long-tail boat, you'll get to see undamaged mangrove forest. With its abundant natural resource and as home to endangered species, it enables a greater chance for bird watching, one of the things to do in Trat , which is rare elsewhere.
Sleeping over at some local homestay here can be as pleasant as much as joining in fireflies boat trip. Ban Nam Chiao villagers are specialized in making Thai farmer's hat or locally referred to as 'Ngob'. So do not miss a single chance for Thai farmer's hat demonstration.
Book your flight to Trat today! Visit  http://www.bangkokair.com/eng/flightdeals/view/trat  to check flight availability.