Yangon | Yangon Travel Guide
Yangon has so much history, and some of which is today's reality. This Yangon travel guide uncovers Southeast Asia's new boomtown where Burmese life revolve around a golden pinnacle of Shwedagon Pagoda. Yangon is by far the biggest city, commercial hub, and cultural center of Myanmar. Despite it is no longer Myanmar's capital, Yangon is a trailhead and a finish line for vacationers and pilgrims. The city has gone through dramatic tears and huge wounds before what it is today.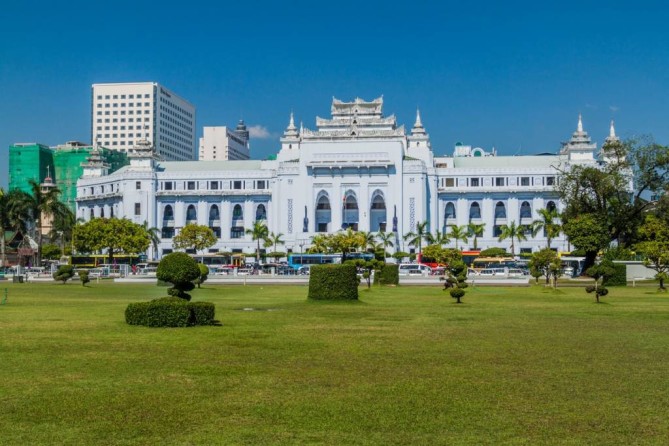 Those wounds are still fresh and regretfully to speak that it is a result from the dark days of military Junta and house-imprisoned Aung San Suu Kyi, which the stories later came to light worldwide. Myanmar has made a strong comeback however, and it is catching up to be one of the Southeast Asia's dream destinations. Even though being British colony once, Yangon's skyline is now set to rise with many soon-to-be-built high-rises as they popped up to steal the gold pagodas' thunder.
1.Shwedagon Pagoda | Yangon Travel Guide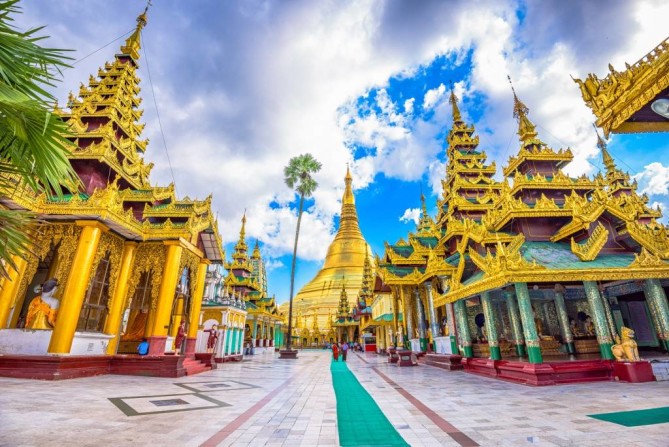 How important is Shwedagon Pagoda to Yangon can be considered Burmese's veritable lifeblood. It is the true star of the show that must be featured in any Yangon travel guide. A testament to this reveals in the shimmering 99-meter tall stupa, making it one of the places to visit in Yangon without question. Having been around for 2,500 years, the Shwedagon Pagoda forms the focus of  Buddhism enshrined the strands of Buddha's hair and other divine relics.
Nestled in the Singuttara Hill on the West of the Royal Lake, the golden pagoda is noticeable from a distance thanks to the finest architecture gilded with hundreds of gold plates to date and its summit gleams around the clock due to the 4,531 diamonds in amount of decoration. The solidity of the pagoda is not under its beauty since the huge earthquake in 1930 caused only minor damage. No visit to Yangon is complete without paying homage to this Yangon's cultural landmark, we'd say.
2.Kandawgyi Nature Park | Yangon Travel Guide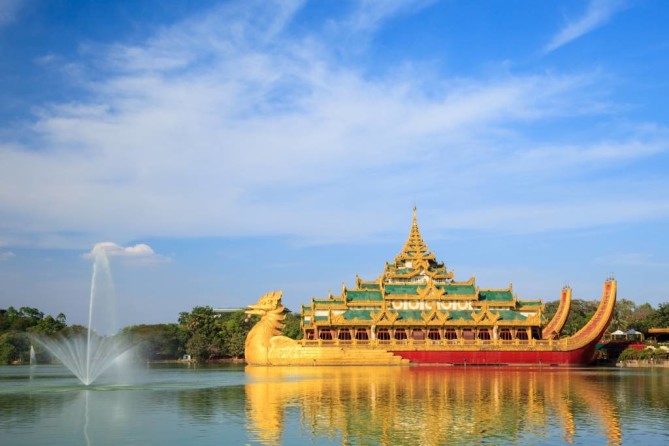 The Kandawgyi Lake is so glassy calm that it holds the colors of the morning sky on its surface. The reflection of the light of the day creates mesmerizing visuals and energy. Follow this Yangon travel guide to witness the grace of Myanmar as described, travelers need to head to this crowd-pleasing recreational park of Yangon which is known as Kandawgyi Nature Park. Besides locating at Yangon's most pleasant open space, the park combines two things at a time : the serenity of the lake and the exquisite beauty of the Burmese royal barge replica.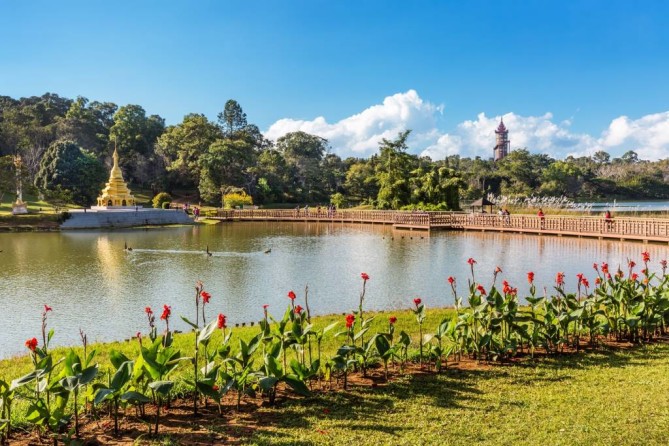 Out in the lake, sometimes it is hard not to give a royal barge glance. Look resembling a mythical bird, the royal barge was built in 1972 as a showcase of Myanmar architecture. The royal barge has always been a complement to the lake's beauty accompanied by colorful orchids and fragrant flowers in the garden. A little playground and a mini zoo are also there to please your kids. The Kandawgyi Park is carefully cared by the committee thanks to the flow of tourists who wish to take a break from stressful environment, one of the things to do in Yangon.
Tips: The Entrance Fee is Kyats 300 per person
            The lake is open from 4 a.m. – 10 p.m. daily
3.Sule Pagoda | Yangon Travel Guide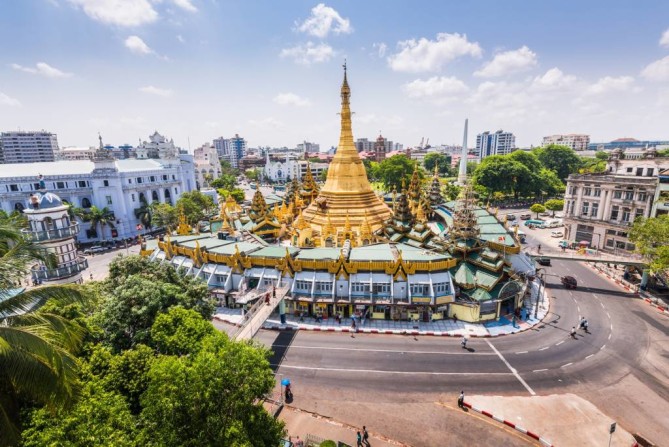 Talking about buddhist temples in Myanmar, Yangon holds many more significant sites beyond the prominent Shwedagon Pagoda. At the heart of Yangon where two important roads: Sule Pagoda Road and Mahabandoola Road, are intersected, it lies the Sule Pagoda one of the places to visit in Yangon shining all day long from its golden chedi. Encircled by smaller glittering pagodas, the Sule keeps informing tourists that it has been around for 2,600 years even before the Shwedagon Pagoda was built.
Literally the word 'Sule' in Myanmar refers to 'meeting' and it just describes where it stands on. The golden pagoda is constructed in octagonal shape enshrined a sacred hair relic of the Buddha. Trust this Yangon travel guide that visiting the Sule Pagoda will never complete without paying respect to the eight Buddha images. Each of the Buddha image represents the seventh days in a week plus an extra day on Wednesday. All pilgrims can pay homage to the one corresponding to their Birthday Buddha.
4.Bogyoke Aung San Market | Yangon Travel Guide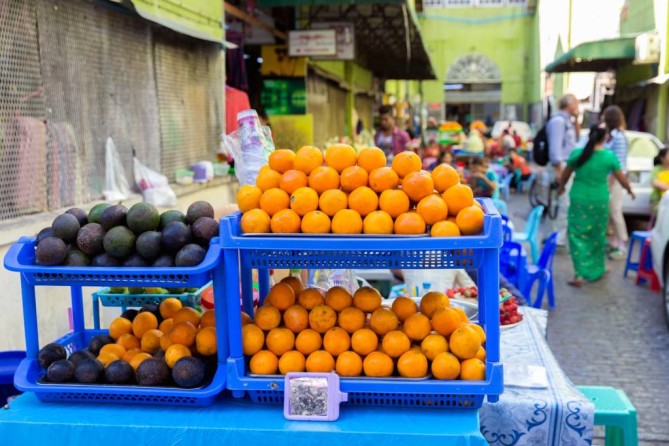 After a day of touring all splendid religious sites, a little extra side trip to the popular market in Myanmar is required as one of the things to do in Yangon. So follow this Yangon travel guide for a visit to Bogyoke Aung San Market which will surely bring you some souvenirs back home, more or less. Right at the heart of Yangon, a colonial-era building greets visitors with its western-style shopping mall. It is believed to have been built in 1926 and was named Scott Market after Mr. C Scott.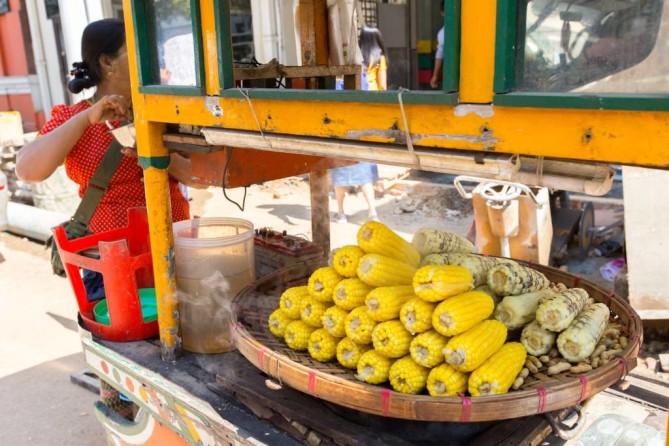 Today, it has been renamed to Bogyoke Aung San Market in recognition of the great national leader, General Aung San who was executed in 1947. As a consequence, the Bogyoke Aung San Road was also named after the market as well. The market is proportionally divided into 4 sections: North wing, East wing, West wing, and South wing.  The four wings tremendously cover over 2,000 shops with a vast selection of items put up for sale such as fashions, food corners, handicrafts, utilities, jewelry and special traditional Myanmar and Chinese food stalls.
5.Tea Shops by Roadside | Yangon Travel Guide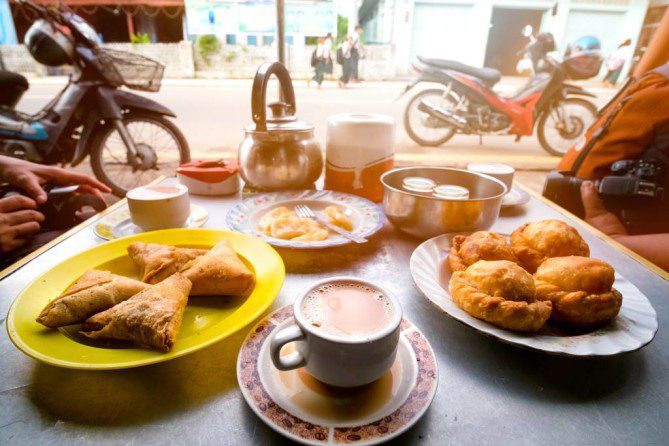 On Sundays, sitting in a tea shop by the roadside is a sought-after activity to many travelers' radar, and is one of the things to do in Yangon. Traditional tea shop in Myanmar is all about sipping the sweet Indian tea or Burma coffee. Do not look down on the humble tea shop since a true Burmese life can be experienced through this way. Suitable for multiple kinds of the Afternoon's activities, a humble tea shop is where conversations are hardly muted and political discussion are barely avoided.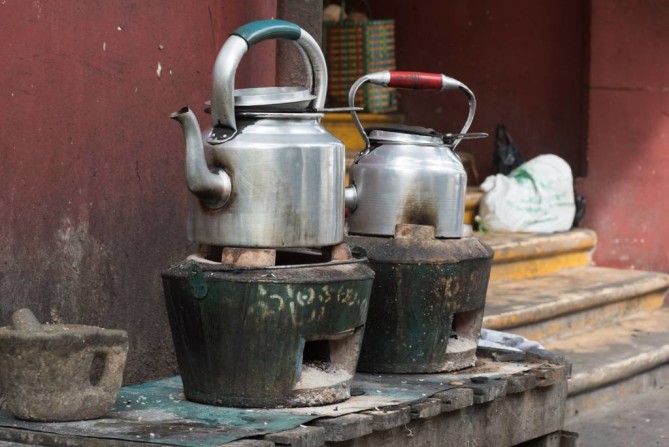 Tea shops are everywhere in every street in Myanmar, and it claims to be a signature of life in Myanmar that nowhere in Southeast Asia would you find such a large number of tea shops. The tea shops by roadside fall into pattern of small low table on the sidewalk with small stools. It is today's trend that Burmese city dwellers having first meal of the day here, that causes for a reason most tea shops serve breakfast besides snacks and free flow of plain tea. So don't leave Yangon just yet if you haven't followed this Yangon travel guide to take the seat!
6.Swe Taw Myat Pagoda | Yangon Travel Guide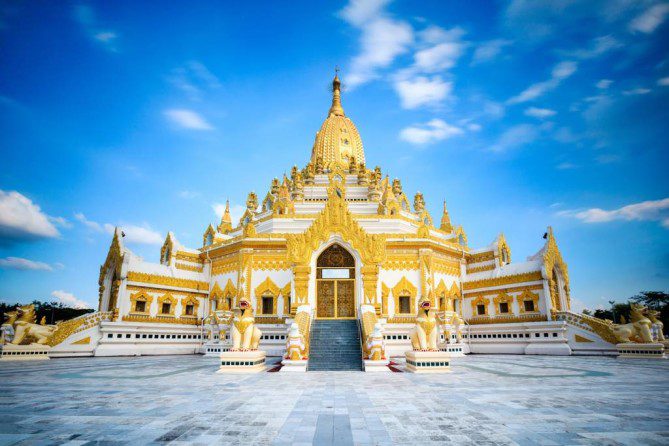 With strong faith, the gold shining pagoda was able to set on the ground of Yangon. Situated on the high hill, Swe Taw Myat Paya is enshrined a tooth of the Buddha given it another notable status as 'Buddha Tooth Relic Pagoda', one of the places to visit in Yangon. Unlike any other places where the tooth relic is hidden deep in the pagoda, the Swe Taw Myat rather allows the public to view. The relic is kept in a tiny cylinder-shaped glass case topped with a small multi-tiered Pyatthat.
The exterior of the temple is dressed in gold decorations. The pagoda stands prominently with four entrance portals protruding out of the main structure resembling the ancient Ananda Pagoda in Bagan. At each portal, there is a pair of mythical lion-like creature, Chinthe, guarding the temple. Having fewer tourists than the Shwedagon Pagoda, trust this Yangon travel guide that visiting Swe Taw Myat Pagoda gives travelers a calm ambience and more intimate to the site than its sister. The pagoda is very close to the airport, so take it first or else save the best for last!
Book your flight to Yangon today! Visit  http://www.bangkokair.com/eng/flightdeals/view/yangon  to check flight availability.