Siem Reap located in northwestern Cambodia is an Asia destination known as the gateway to the famous Angkor Wat. It's a thriving provincial capital known for its beautiful temples, unique cultural villages, museums and vast natural spaces. If you're planning to spend a holiday in this historic town, here's our Cambodia travel blog for a list of places to stay in Siem Reap!
Siem Reap Riverside
For first-time travelers to Siem Reap, know that deciding which area you'll stay depends on what type of holiday experience you want in this historic Cambodia attraction.
To those who are looking forward to a relaxing trip, it is best to stay at the Siem Reap riverside area which boasts colonial buildings, riverfront bars and restaurants, as well as popular places to visit in Siem Reap such as Wat Bo Pagoda, Wat Dam, and the Siem Reap Art Center. Accommodation choices in this area vary from mid-range hostels, villas, and guesthouses.
Lynnaya Urban River Resort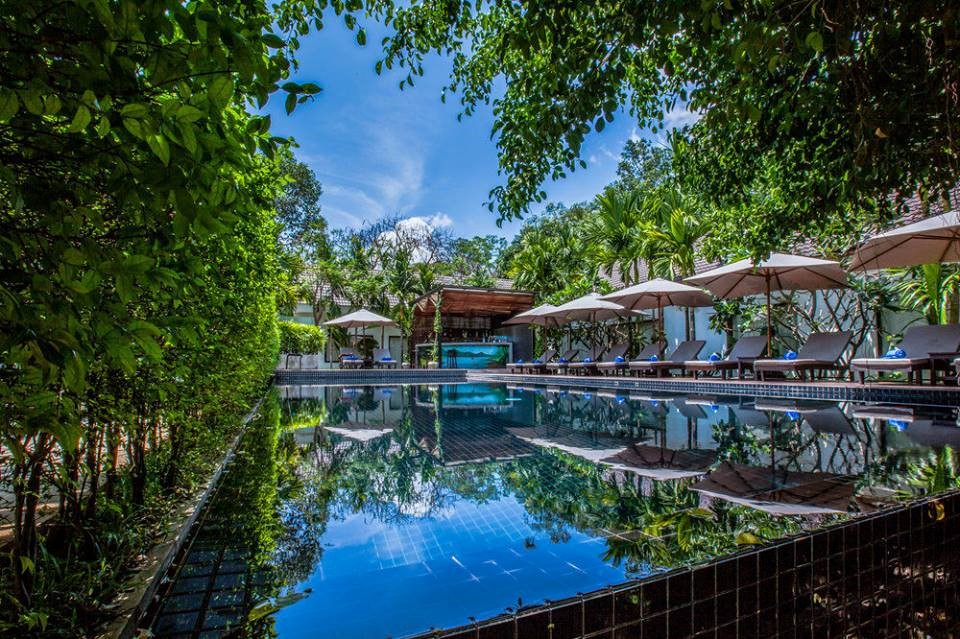 Photo from Lynnaya Urban River Resort
Find tranquility in the heart of Siem Reap's township with the beautifully designed Lynnaya Urban River Resort located just 15 minutes from Angkor Wat. It's an upscale hotel that has 46 contemporary rooms all decked in a Khmer design. The leafy setting of the hotel helps to add to the serene and peaceful atmosphere, making sure all guests can enjoy a tranquil holiday experience in Siem Reap.
Riversoul Residence Hotel
Photo from Riversoul Residence Hotel
If you book your stay at Riversoul Residence Hotel, you are within walking distance to Preah Ang Check, Preah Ang Chom and the Siem Reap Royal Residences, some of the places to visit in Siem Reap. Hotel facilities include a 24-hour front desk, express check-in, dry cleaning and laundry services, as well as an airport shuttle service to the hotel (upon request).
Charles de Gaulle Boulevard
For wealthy travelers who want to stay close to the Angkor Archaeological Park, Charles de Gaulle Boulevard is a great place to choose your accommodation. From 5-star resorts to boutique hotels, as well as an expansive choice of restaurants and quaint shops, it is an area that is great to experience some local culture.
Sofitel Angkor Phokeethra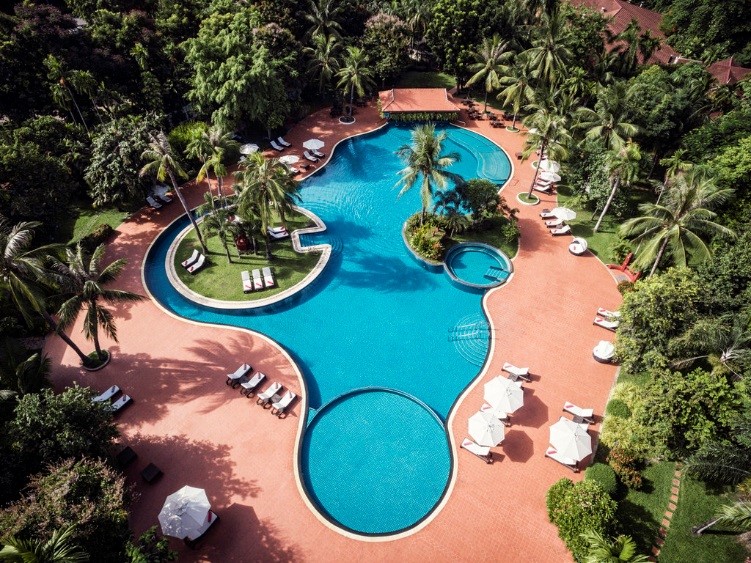 Photo from Sofitel
The Sofitel Angkor Phokeethra is a 5-star hotel that boasts both Khmer and French architecture. Expect nothing but luxury when you book your stay in this hotel where you can guarantee quality service, lush resort-like features and facilities you can enjoy during your holiday. Aside from 5 in-house restaurants, 2 bars, a spa and swimming pool, Sofitel Angkor Phokeethra also has an 18-hole golf course in the Phokeethra Country Club.
Raffles Grand Hotel d'Angkor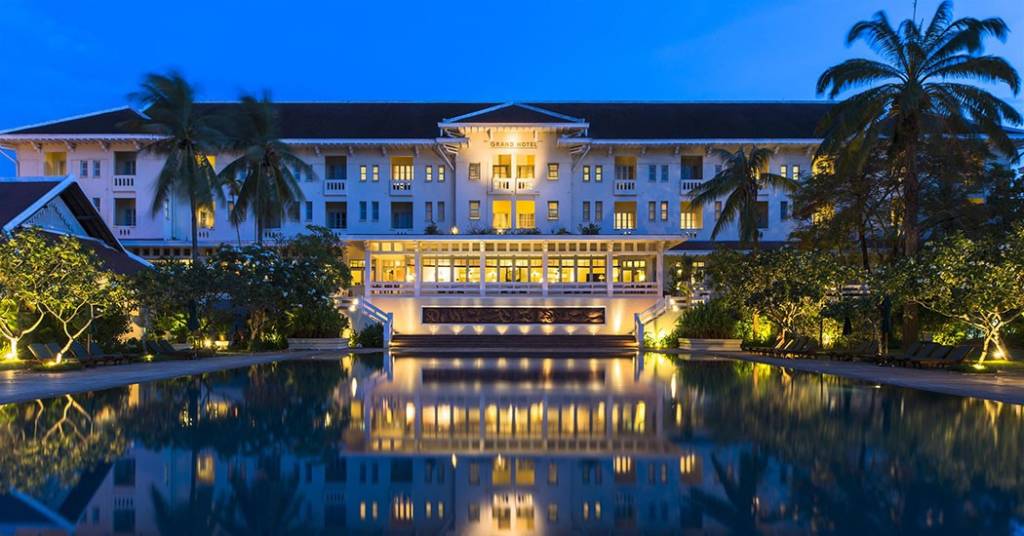 Photo from Raffles Website
Right across the Royal Palace stands Raffles Grand Hotel d'Angkor, a 3-star hotel surrounded by beautifully landscaped gardens. The 86-year-old hotel was built in 1932 but has seen recent renovations last 2012. Furnished with Art Deco country style, all its 199 rooms embody the Cambodian charm and elegance. What's nice about this hotel is that aside from its beautiful historic structure, it is only 10 minutes away from Siem Reap International Airport and Angkor Wat.
Angkor Night Market
As the central area of Siem Reap, Angkor Night Market sees a wave of tourists thanks to its variety of accommodation options, restaurants, bars, shopping options and other entertainment choices. It is known primarily for its bustling nightlife and no Cambodia travel blog will be complete without mentioning that it is the perfect destination for travelers who want to stay busy and enjoy Pub Street.
Central Suite Residence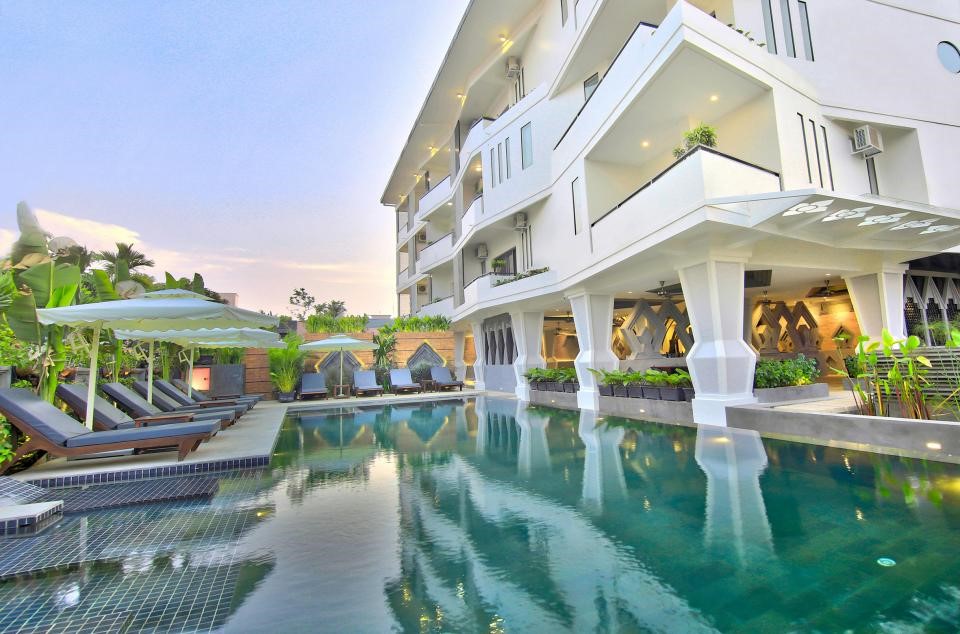 Photo from Central Suites Residence
When you book your stay at Central Suite Residence, you have a complimentary airport shuttle service, limo/car service, access to a 24/7 business center, an express check-in and other amenities to make your holiday more relaxing. Since Central Suite Residence is located at the Angkor Night Market area, you are close to Pub Street, Siem Reap's well-known nightlife hub. You are also just steps away from Old Market Area.
Chronicle Angkor Hotel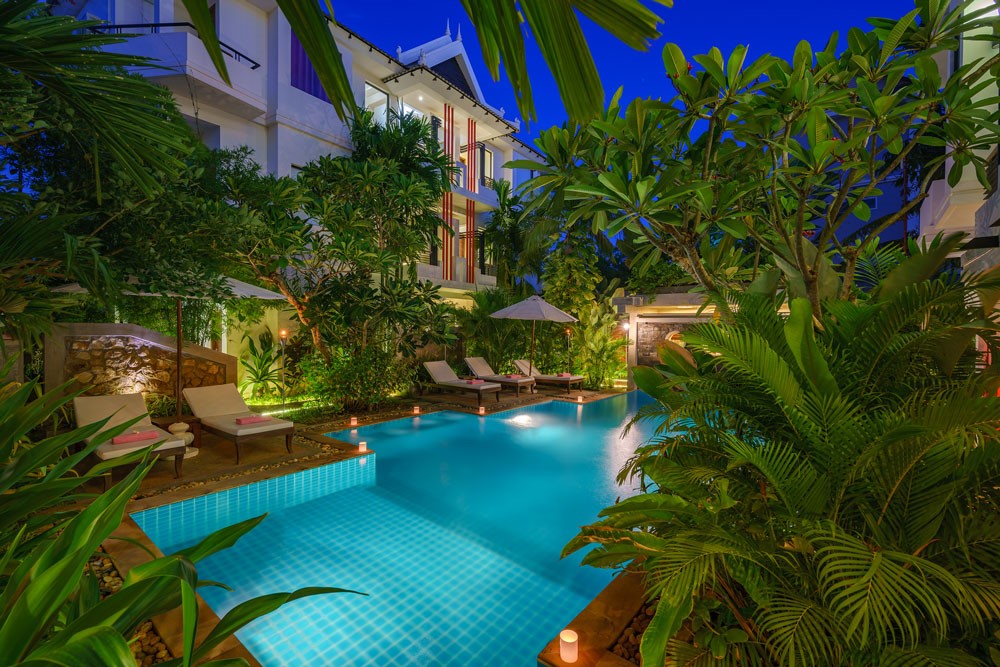 Photo from Chronicle Angkor Website
Although it is close to Pub Street, once you're inside Chronicle Angkor Hotel, you will feel like you're worlds away from the noisy crowd as you take in the peace and serenity of the hotel. Kick off your Cambodia holiday experience and stay at Chronicle Angkor Hotel where you can relax after a day of exploring the different places to visit in Siem Reap. Look forward to a relaxing massage at the hotel's in-house spa or cool yourself and take a dip at the pool for a quick night swim. Chronicle Angkor Hotel's in-house bar and restaurant offer you a mouth-watering dining experience and the perfect cocktails to end your day.
Know more about Siem Reap and Cambodia by reading our Cambodia travel blogs here. Can't wait to start your holiday? Visit Bangkok Airways, check for direct flights to Cambodia and fly to Siem Reap soon! To inspire you to travel more, explore other holiday destinations at Bangkok Airways blog.