Shopping at night has its advantages. For one, it frees up more of your day time for leisure and other activities; also, it's better to wander around a busy market at night when the weather is much more friendly than in the day when the sun is blazing and any little exertion may leave you in a sweat.
Night markets in the famous city of Phuket can be quite exciting, with bright lights glowing everywhere, an interesting collection of wares to browse through, food vendors selling a variety of authentic Thai food for dinner, etc.; but you probably won't be able to visit them all.
Here are some of our favorite night markets in Phuket, with their exact location and open times included.
Phuket Walking Street
Also called "Lard Yai" by the locals, the Phuket Walking Street is not just a weekend night market, but also a cultural attraction.
Located in a picturesque part of Phuket Old Town, this market is right between a 350-metre-long street lined with old Sino-Portuguese houses, and features lots of stalls with Thai handicrafts, modern fashion, souvenirs, traditional local foods, etc., on sale.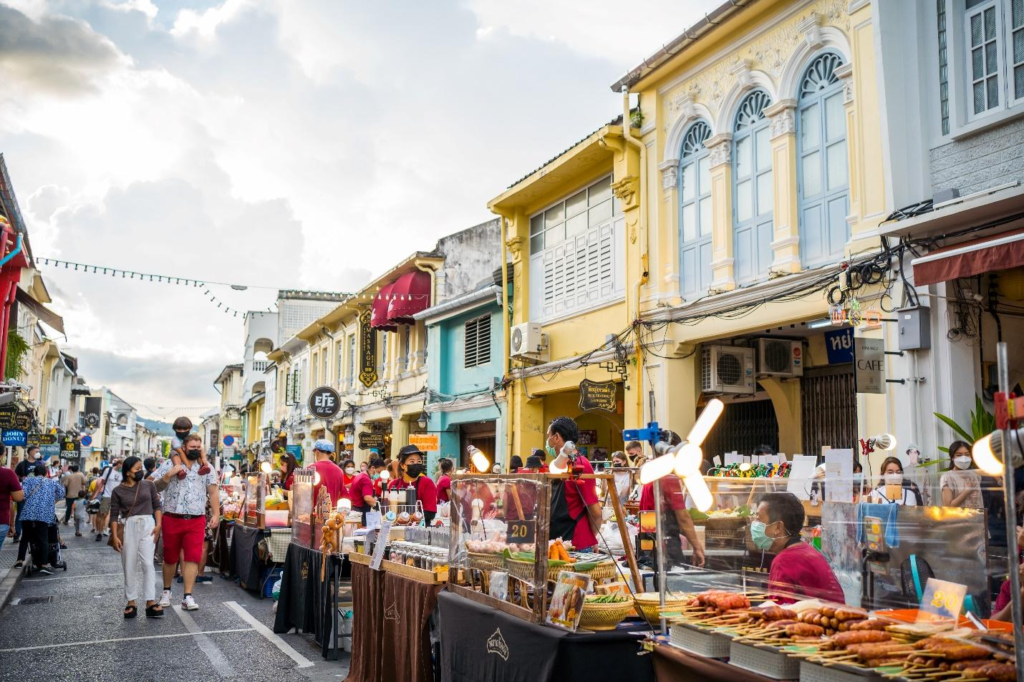 In addition to items for sale, you can also find some entertainment at Phuket Walking Street in form of buskers and other performers.
Market Location: Thalang Road, Talat Yai, Muang – View on map
Business Day(s): Sundays 4 p.m. to 10 p.m.
Phuket Indy Market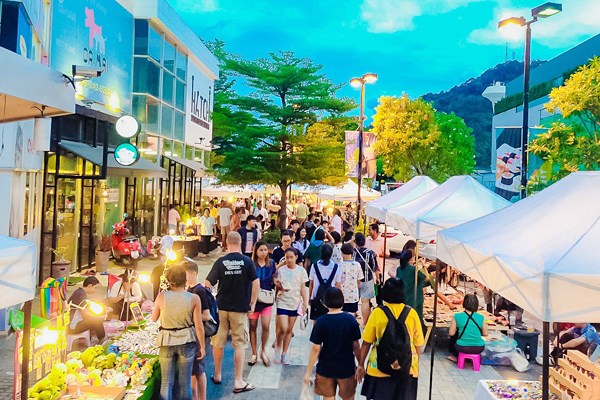 Though it's small and relatively quiet, Phuket Indy Market is unique and beautiful, with an atmosphere that is somewhat artistic.
Independent traders are predominant in this market – in fact, the locals call it a place to "sell personal goods," as majority of the wares being offered are one-of-a-kind, home-made items such as clothes and handicrafts.
Indy is the favorite of young locals, including students, and shopping here can be quite a pleasant experience given that tasty snacks, drinks and other entertainment like live music are also available.
Market Location: Limelight Avenue Phuket, Dibuk Road, Talat Yai, Muang
Facebook Page: Phuket Indy Market
Business Day(s): Wednesdays to Fridays (4 p.m. to 10.30 p.m.)
Chillva Market
Like Phuket Indy, Chillva Market with its colorful shipping container shopfronts, noticeable local feel, and what may be called a bohemian vibe, is popular with the young.
In addition to trendy container shops, Chillva features little hawker tent stalls, and at this night market you can find an impressive variety of food, souvenirs, as well as fashionable apparel and accessories on sale.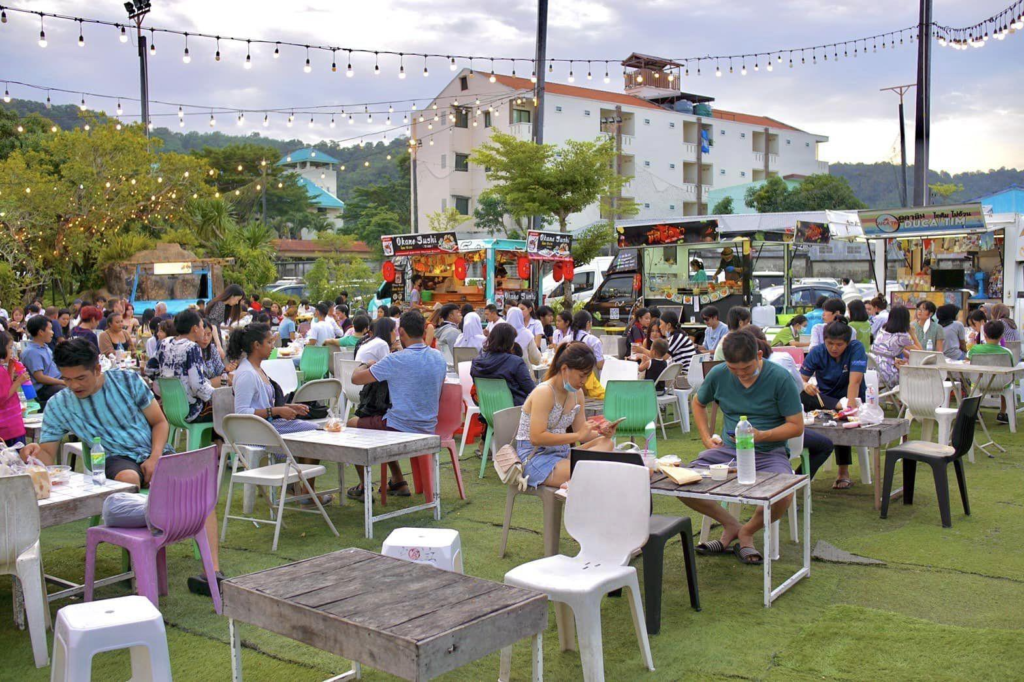 Pubs and cafés are also available here, and in the center of the small market there's even a small stage for awesome live shows.
Market Location: 141/2 Yaowarat Road, Phuket Town – View on Map
Facebook Page : Chilvadi Market
Business Day(s): Mondays to Saturdays (5 p.m. to 11 p.m.)
Malin Plaza Patong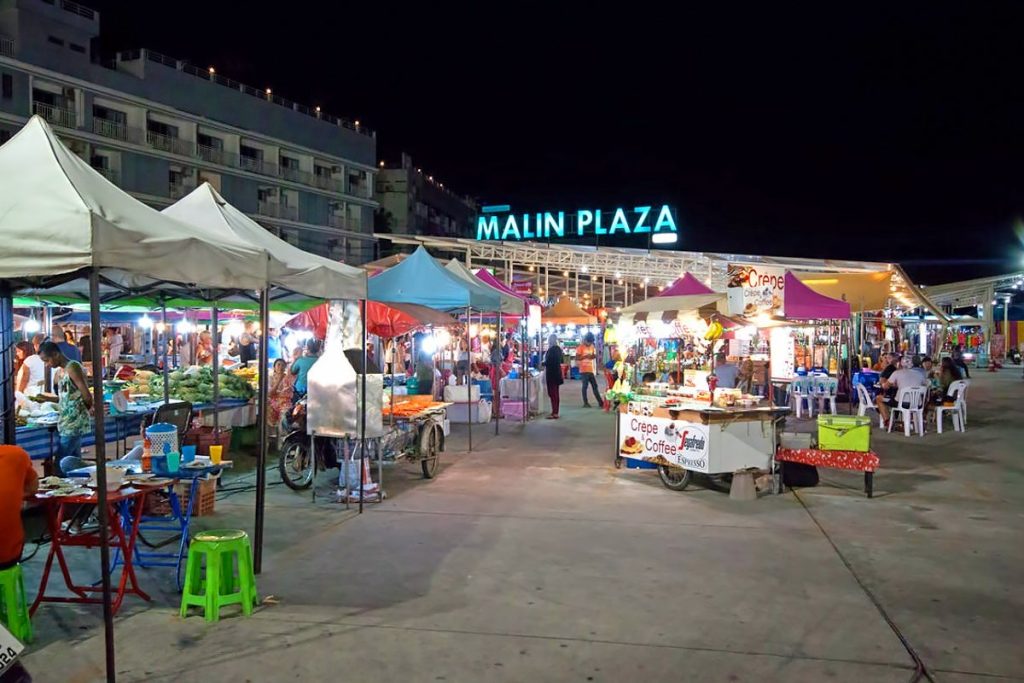 If food is the major reason you want to visit a night market in Phuket, Malin Plaza Patong is the place you want to be.
Situated at the Southern end of Patong Beach, Malin Plaza is known for the mouthwatering variety of food it offers, including fried chicken, chips, pancakes, sushi, ice cream, crepes, 90-baht cocktails, fresh tropical fruits, local dishes like pad Thai, seafood, and even halal food.
But food isn't the only thing this night market offers. You can also buy all sorts of souvenirs, trinkets, mobile phone accessories, handbags, and clothes including beachwear.
Market Location: Prachanukhro Road, Patong, Kathu – View on Map
Facebook Page: Malin Plaza Patong
Business Day(s): Every day – 11 a.m. to midnight
Karon Temple Market
The Karon Temple Market is a popular night shopping destination situated on the land surrounding the temple at the back of Karon Beach.
Vendors here offer a wide assortment of mostly cheap items, from handmade handicrafts, scarves, sarongs, swimsuits, trinkets, souvenirs, beauty products, colorful dresses, and T-shirts with funny stuff printed on them, to fresh fruits, grilled meat, local snacks and desserts like the famous mango sticky rice.
The souvenirs, such as the superbly carved, beautiful soaps, make great gift items.
Market Location: Patak Road, Karon, Mueang Phuket District – View on Map
Business Day(s): Tuesdays and Fridays – 6 p.m. to 11 p.m
Phuket Weekend Market
When it comes to size and range of goods being sold, Phuket Weekend Market (or Naka Night Market) tops the list.
As the island's biggest night market, Naka gets quite crowded, so be prepared to weave your way around other shoppers/tourists as you check out the impressive collection of second hand goods, souvenirs, antiques, curios, bags, clothes, shoes, toys, DVD copies, electronics, etc., on sale.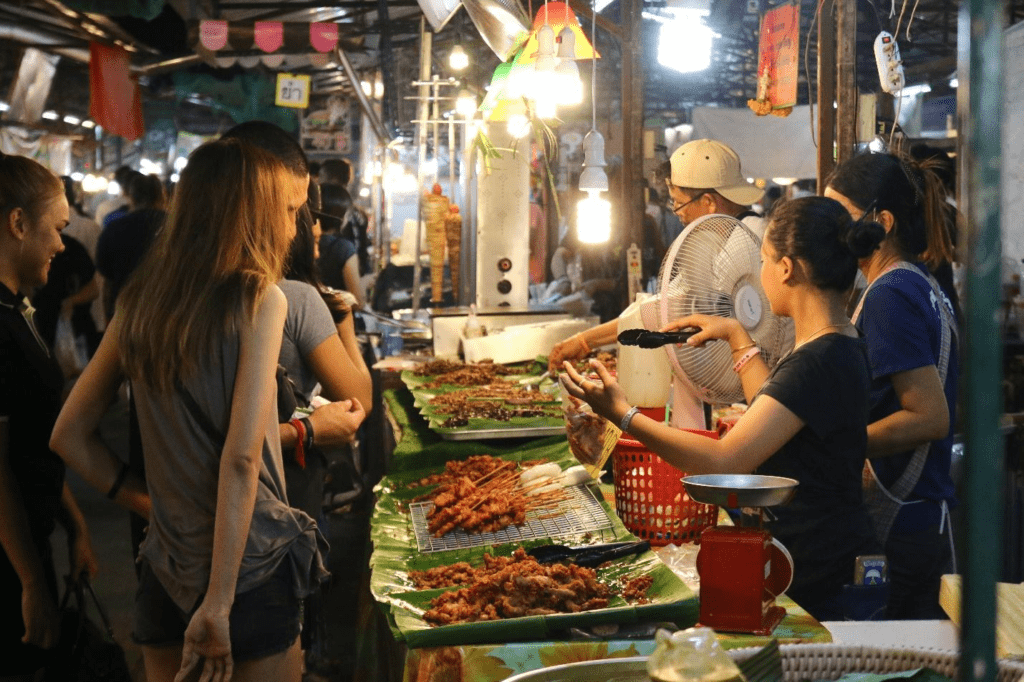 A variety of local delicacies are also available at this market for you to sample.
Market Location: 7 Wirat Hong Yok Road, Phuket Town, Muang – View on Map
Business Day(s): Saturdays and Sundays – 4 p.m. to 11 p.m.
OTOP Night Market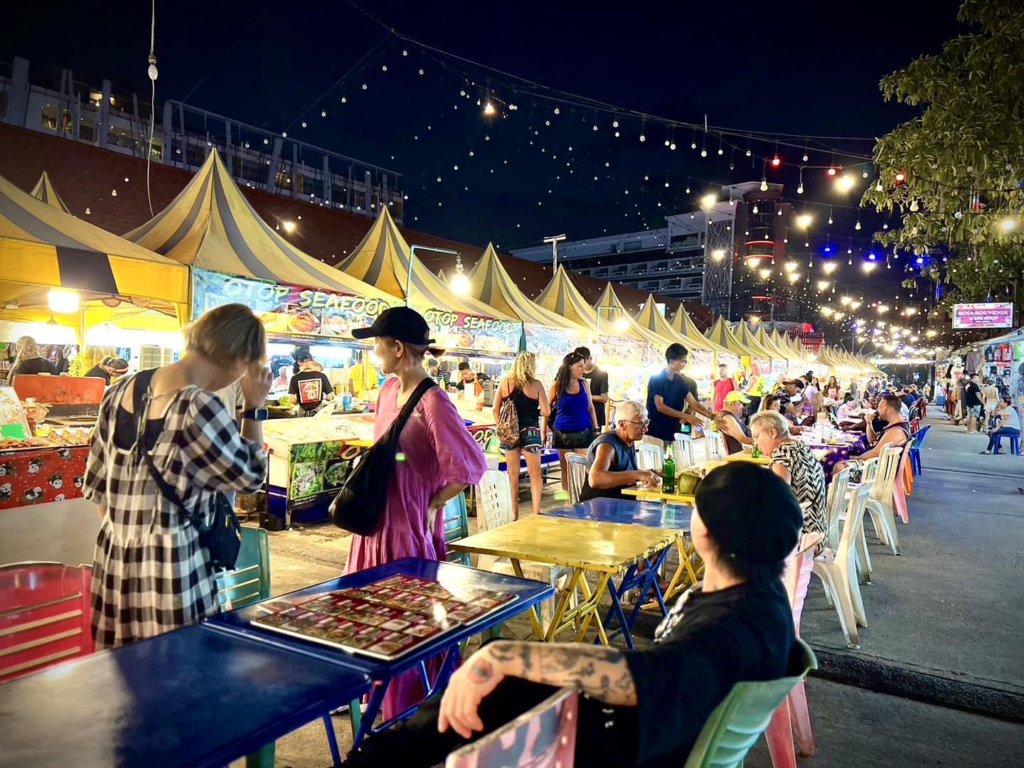 Though it was originally meant to be a market where handicrafts from each province or district of Thailand is promoted, OTOP (One Province, One Product) Night Market currently does not offer many authentic handicrafts.
What you can now find in abundance at this market are electronics, accessories, footwear, clothing, and different types of dishes at the Food Street. For something to drink, you can check out the beer bars behind this market which is near Patong Beach.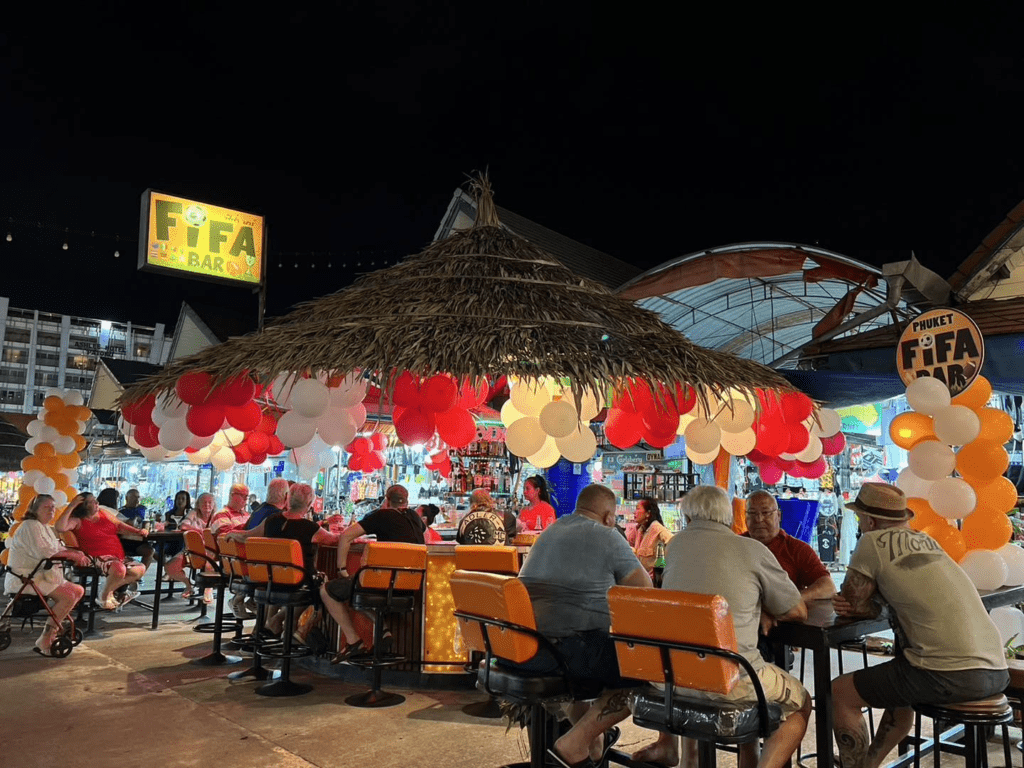 Market Location: 237/15–20 Patong Beach, Rat Uthit, 200 Kathu – View on map
Business Day(s): Every day -10 a.m. till late; Food Street: 5 p.m. till late
Website: OTOP Market Patong
Fun Friday Avenue Market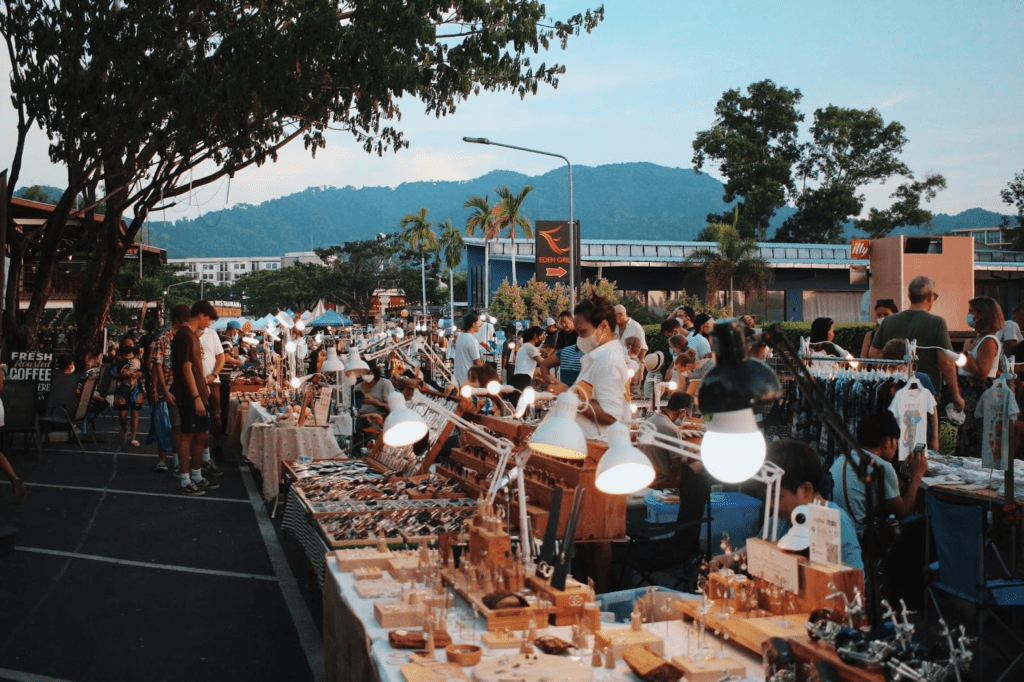 Somewhat small in size, yet fun to explore like its name implies, this night market in the vicinity of Bang Tao Beach comes alive every Friday evening.
At the Fun Friday Avenue Market, there are a collection of handmade items and souvenirs which you can buy as gifts for friends and family. The night market also features a significant number of cocktail bars you can check out before or after sampling some of the appetizing Thai food on offer, and the entertainment includes a live music zone where different artists perform every week.
Market Location: Boat Avenue, Bandon-Cherngtalay Road – View on map
Business Day(s): Fridays 4 p.m. to 11 p.m.
So these are a few of the top Phuket night markets to visit for an exciting night of shopping. And remember that shopping is just one out of several things you could do for a fun night on the island.
Book your flight to Phuket with Bangkok Airways at bangkokair.com