When it comes to exciting and entertaining places to spend a night, Koh Samui does not disappoint. It's not for nothing that this tropical island is one of the most preferred vacation destinations in Southern Thailand, well-known for its lively nightlife scene and impressive amount of popular nighttime spots.
For some, Samui's nighttime activities are even just as popular as daytime ones.
So you don't have to spend a single boring night during your stay on the island; below are some of the best places to visit for a fun night out in Koh Samui.
Top Koh Samui Nightlife Spots
Whether you want to spend the night relaxed, or on your feet, the following popular spots are worth checking out:
1. Chaweng Beach
Chaweng is widely regarded as the most popular area for exciting nightlife on the island, which is not surprising given the impressive variety of lounge clubs, regular and naughty bars, beach bars, discos and restaurants that can be found in the vicinity.
You can start by checking out the On Street Bar, a really cool cocktail bar with friendly owners and awesome cocktails.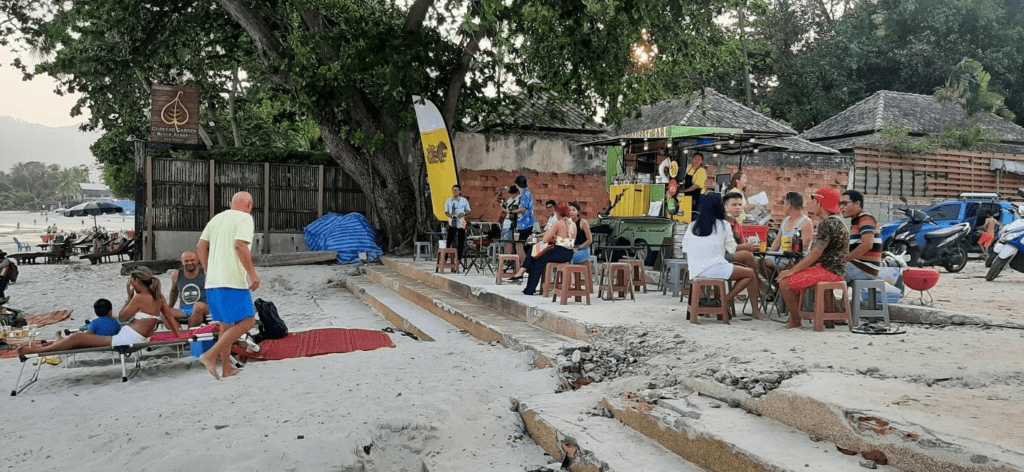 Photo Credit: https://www.facebook.com/onstreetbar
There's also the Hush Bar where you can dance away downstairs, or go upstairs to relax in the lounge area while viewing activities downstairs; the Beer Masons offering quality craft beer and lovely wine; the Sweet Soul Café with very reasonably priced drinks and some great dance music; Cha Cha Moon Beach Club for those who love beachside partying, great food and beverages; Chica Loca where you can enjoy amazing live music plus cocktails, and even get a tattoo for memories; as well as Jimmy Woo's if you want to watch live matches and other TV programs, or play many free games including pool.
Read on for more of our recommended nightlife venues in Chaweng.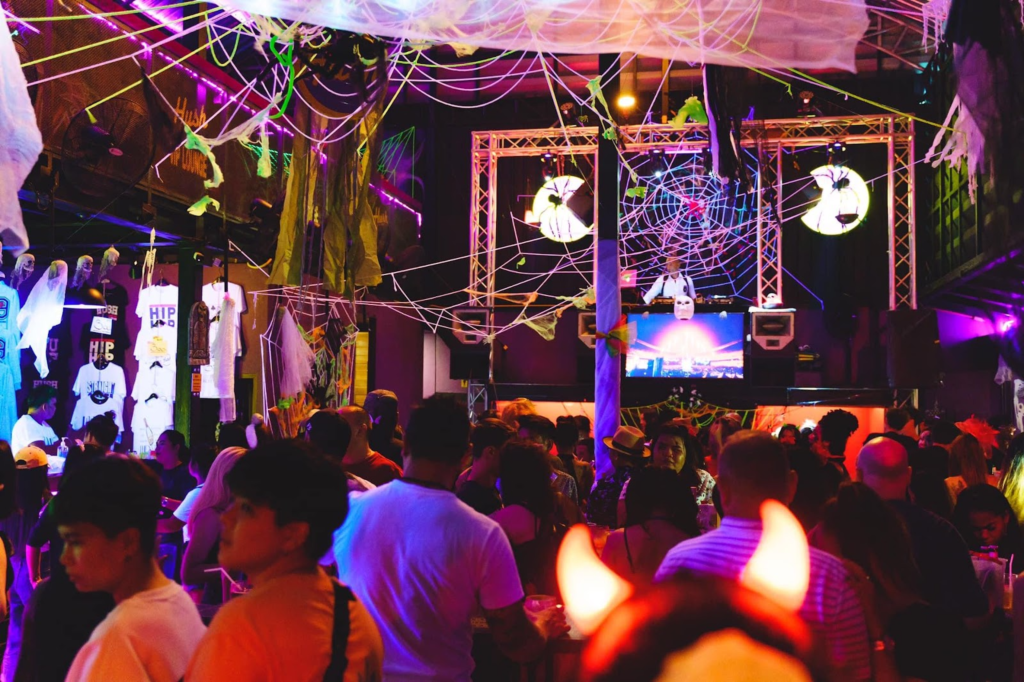 Photo Credit: https://www.facebook.com/hushbarkohsamui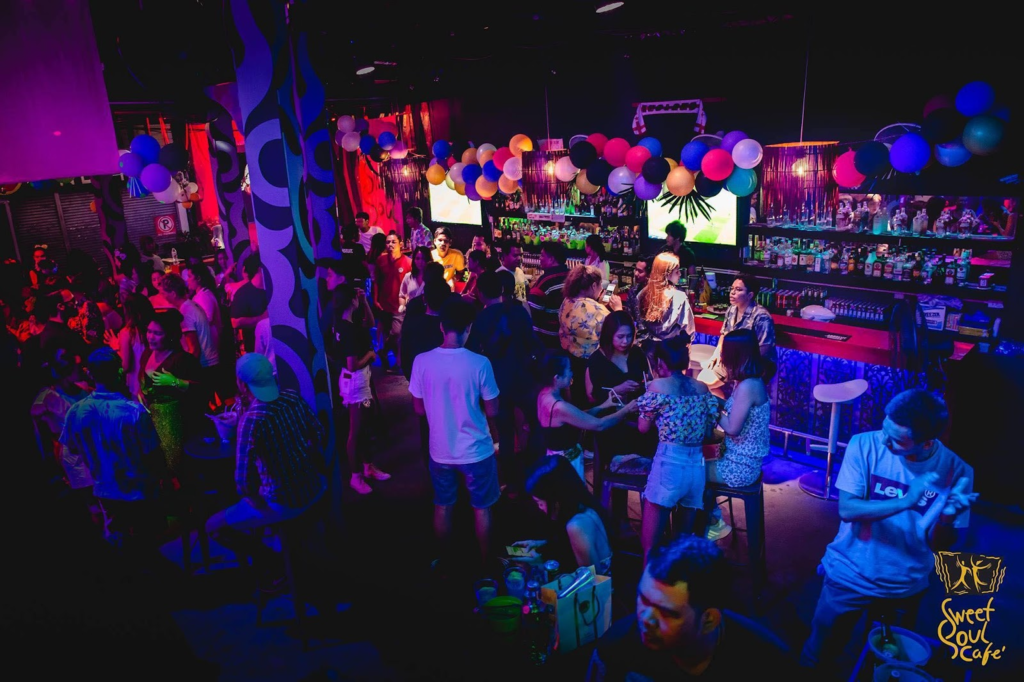 Photo Credit: https://www.facebook.com/SweetSoulCafeSamui
Photo Credit: https://www.facebook.com/ChachamoonBeachClub
Photo Credit: https://www.facebook.com/chicalocasamui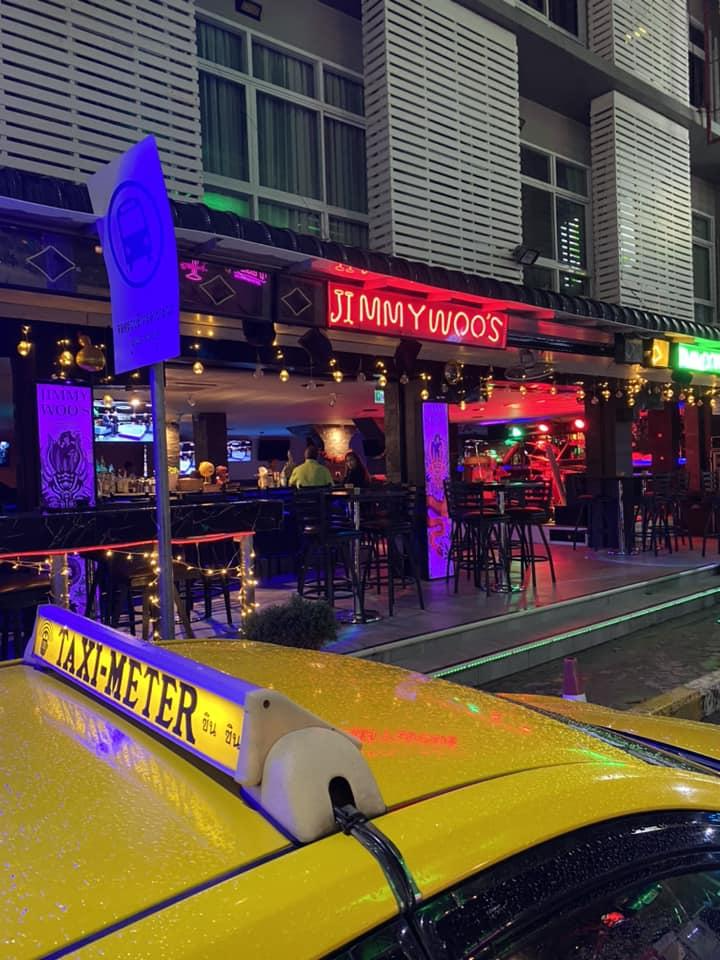 Photo Credit: https://www.facebook.com/jimmywooskohsamui
2. Green Mango Club
Located in the center of the buzzing beach district of Chaweng, the Green Mango with its lively ambience and great music is one of the most popular nightclubs in Koh Samui, and the star attraction of Chaweng Beach's nightlife.
This big (2,000+ capacity) super-club is a place where everyone can have a good evening, the heart and soul of upbeat, party-all-night entertainment with no shortage of cool tunes delivered both by local and international DJs. The music here switches around, so while some may not be your style, the type of music you vibe to is sure to come on frequently.
While in the mega-party atmosphere of the iconic Green Mango Club, you can also meet and interact with a variety of interesting and beautiful people. It's indeed a prime venue for a happy night.
Photo Credit: https://www.facebook.com/TheGreenMangoClub
3. Ark Bar Beach Club
The Ark Bar is a one-stop party destination in the heart of Chaweng Beach.
A popular beachfront venue for dancing, drinking, and socializing, this club entertains visitors and resort guests every single night, with international DJ's playing a variety of great music from 12:30 p.m. around their party pool, and then on to the beach until 2 a.m.
At Ark Bar, you can also enjoy an amazing fire show that starts from 08:00 p.m. each night and runs till midnight.
For refreshments, a beachside restaurant with an indoor and outdoor dining is available, offering Thai and Western dishes, as well as fresh seafood specialties, to satisfy your appetite. Ark Bar even provides comfortable rooms within the resort which you can book for a more complete experience. It's always nice to have a place nearby where you can just walk in and relax completely after a night of hard partying and drinking.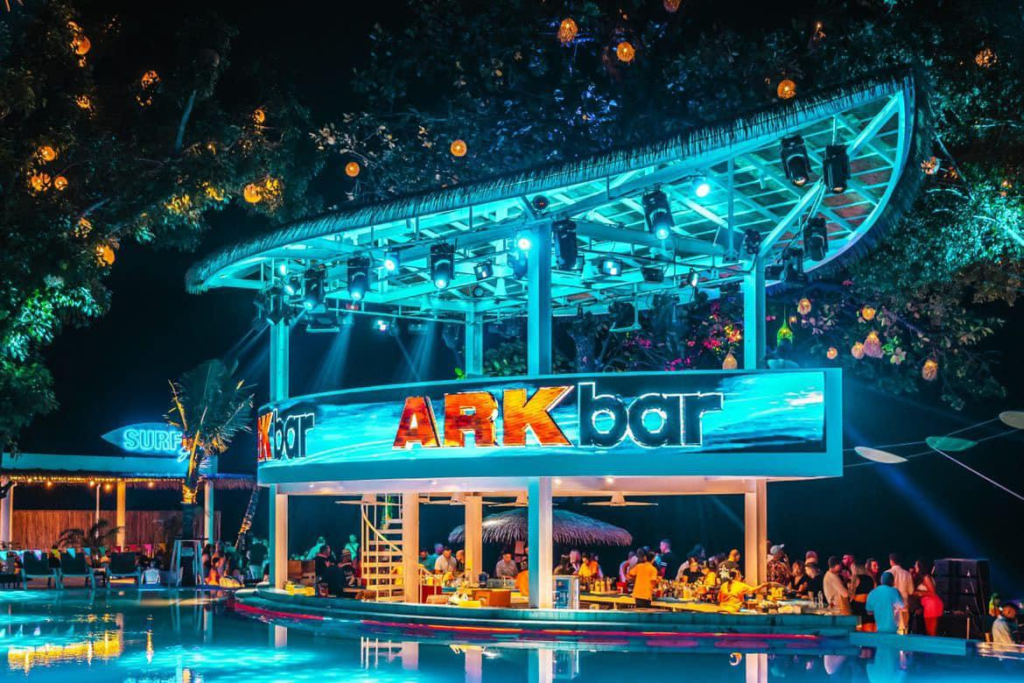 Photo Credit: https://www.facebook.com/ArkBarBeachResort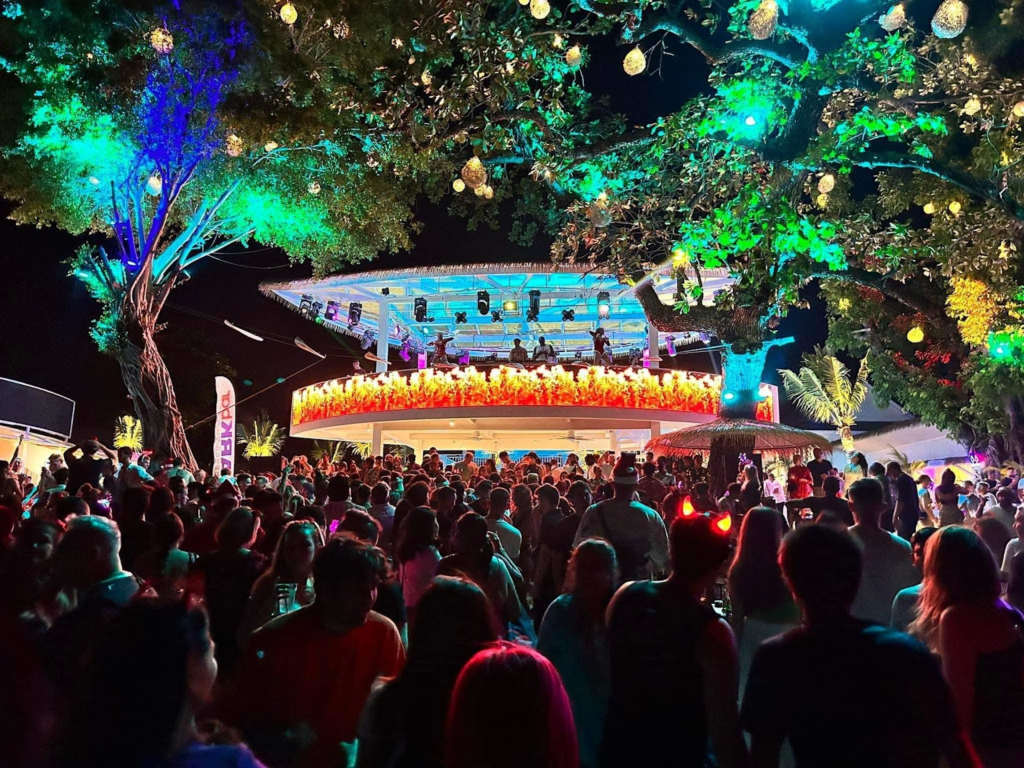 Photo Credit: https://www.facebook.com/ArkBarBeachResort
4. Coco Tam's
If you're looking not just for a place to have a fun, relaxing night, but also a great spot to watch the sunset even before the night gets started, Coco Tam's is your best bet.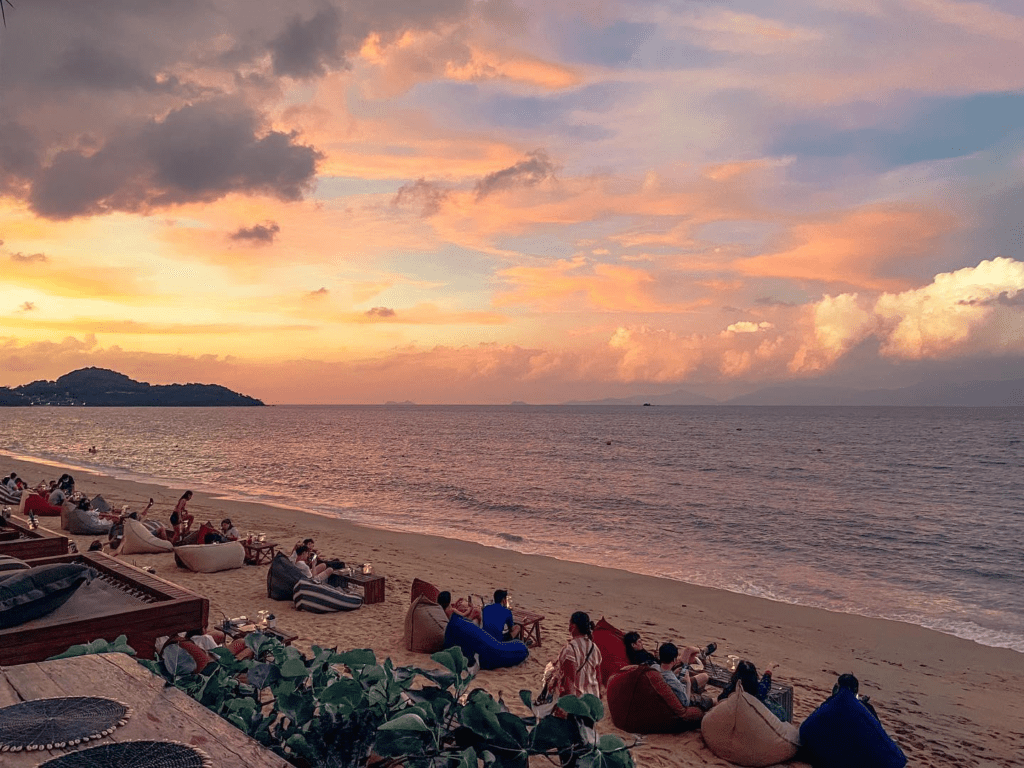 Photo Credit: https://www.facebook.com/CoCoTams
Situated right on the beach, with a neat little garden separating it from Bo Phut Beach Road, this bar and restaurant is one of the most popular nightlife attractions in Fisherman's Village. Mostly an open-air arrangement, it features just a couple of palm-thatch buildings, and has an easy-going, rustic look and feel.
At Coco Tam's, you can relax on a beanbag by the beach while smoking some shisha and gazing at the sky, or a swing seat by the bar while enjoying a refreshing beverage. There's also a large projector screen available if you'd rather watch something.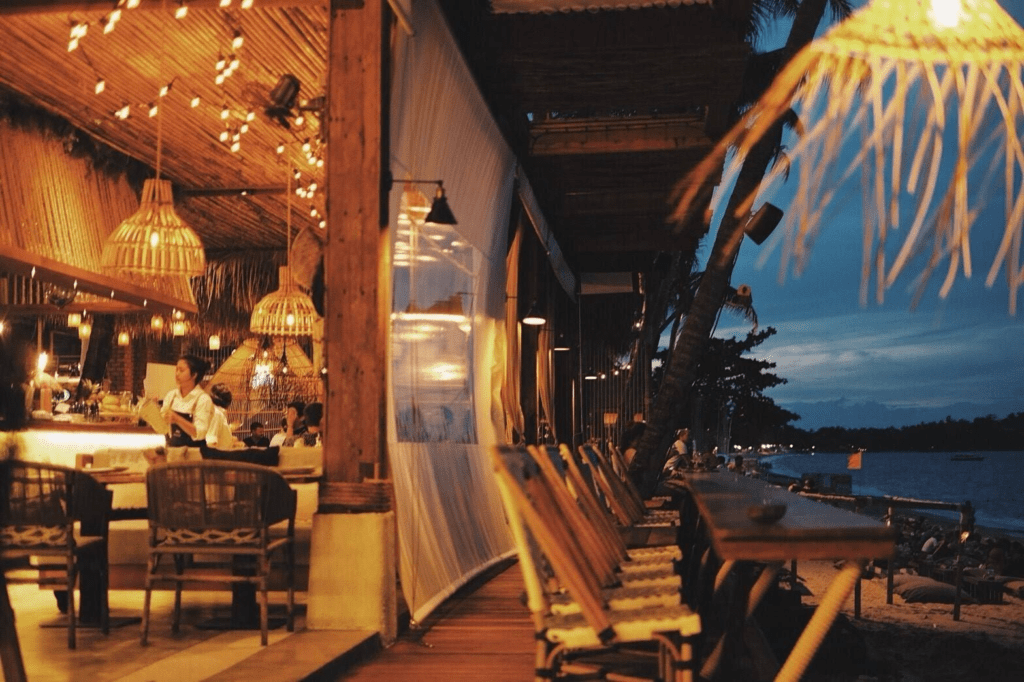 Photo Credit: https://www.facebook.com/CoCoTams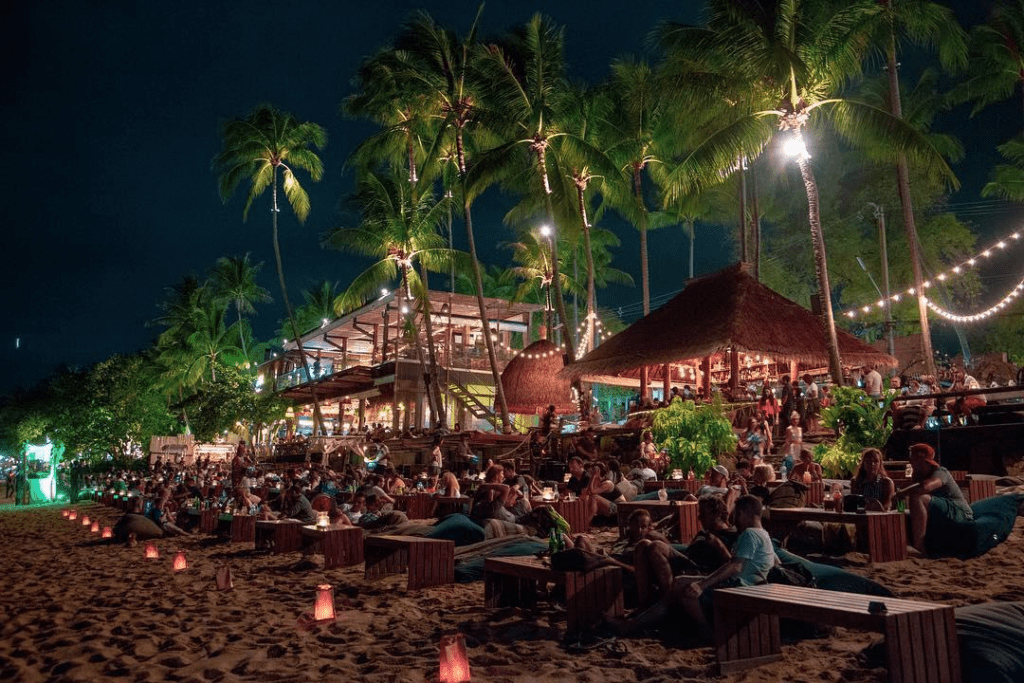 Photo Credit: https://www.facebook.com/CoCoTams
5. Nikki Beach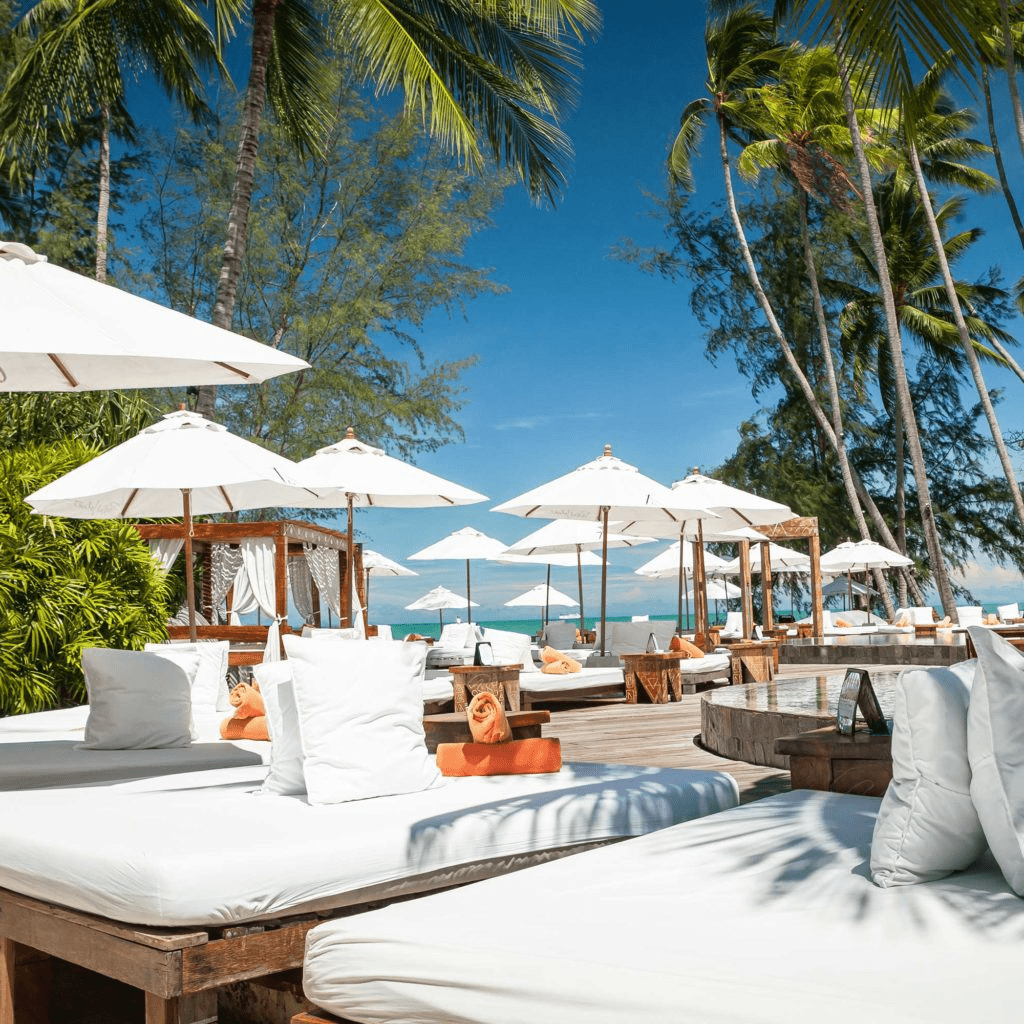 Photo Credit: https://koh-samui.nikkibeach.com/
In Lipa Noi, on the western coast of Samui, there's a trendy beach club and state-of-the-art resort called Nikki Beach. Many regard it as one of the sexiest places on earth, and if you're in the city with your significant other, this is where you want to take them.
With its atmosphere always festive, and the settings always chic, this cool tropical beachfront offers to the expectant visitor, various live performances and film screenings. Of course, the staff here also care about satisfying thirsts and appetites; so get ready to enjoy deliciously potent cocktails, beach barbecues, and expansive buffets which are a result of top-notch catering.
Only some of the world's most renowned performers and DJs show up to entertain visitors at this nightlife spot, so there's never a dull moment. It may also interest you to know that Nikki Beach boasts a curated fashion collection offered through Nikki Beach Boutiques and an online shop, and has become known for impressive pop-ups during the Cannes International Film Festival.
6. The Islander
Another place where you can watch the sunset and enjoy excellent refreshments through the night is the Islander.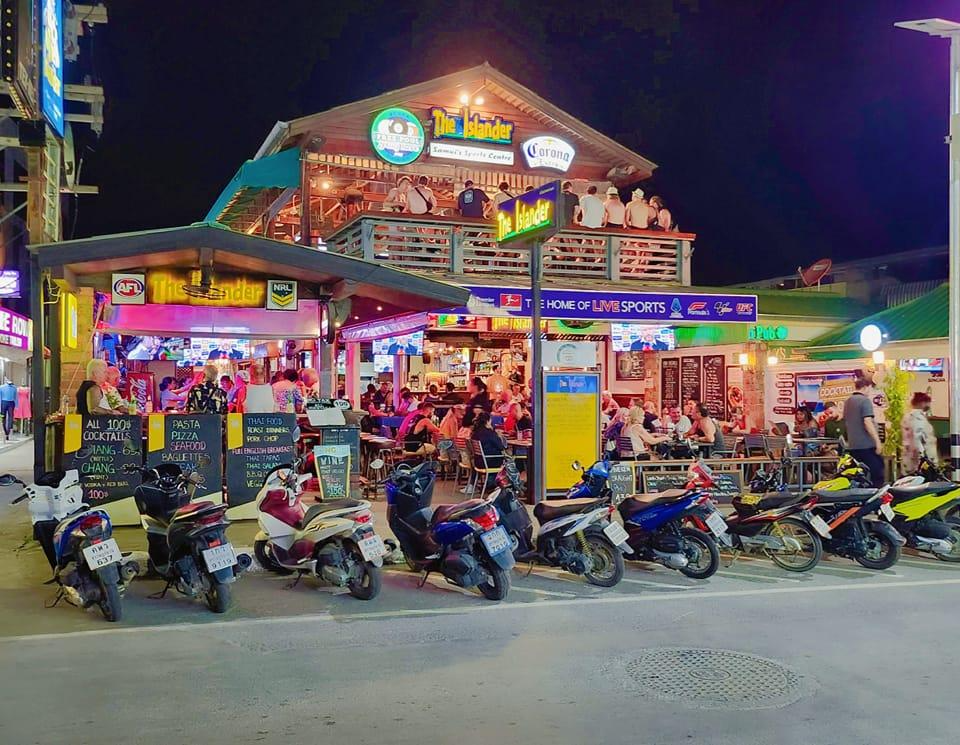 Photo Credit: https://www.facebook.com/Islander1995/?ref=page_internal
In existence since 1995, this bar and restaurant is also located on Chaweng Beach and features a cheerful aura; 24/7 live sports; free Wi-Fi; and of course, delicious, plentiful food and drinks that are reasonably priced.
The cuisine varies from Thai to Western, and ice-cold beers, ciders as well as amazing cocktails are available to wash the food down with; thus you can satisfy your appetite with tasty dishes, then grab a drink afterwards and relax for the night at this great spot.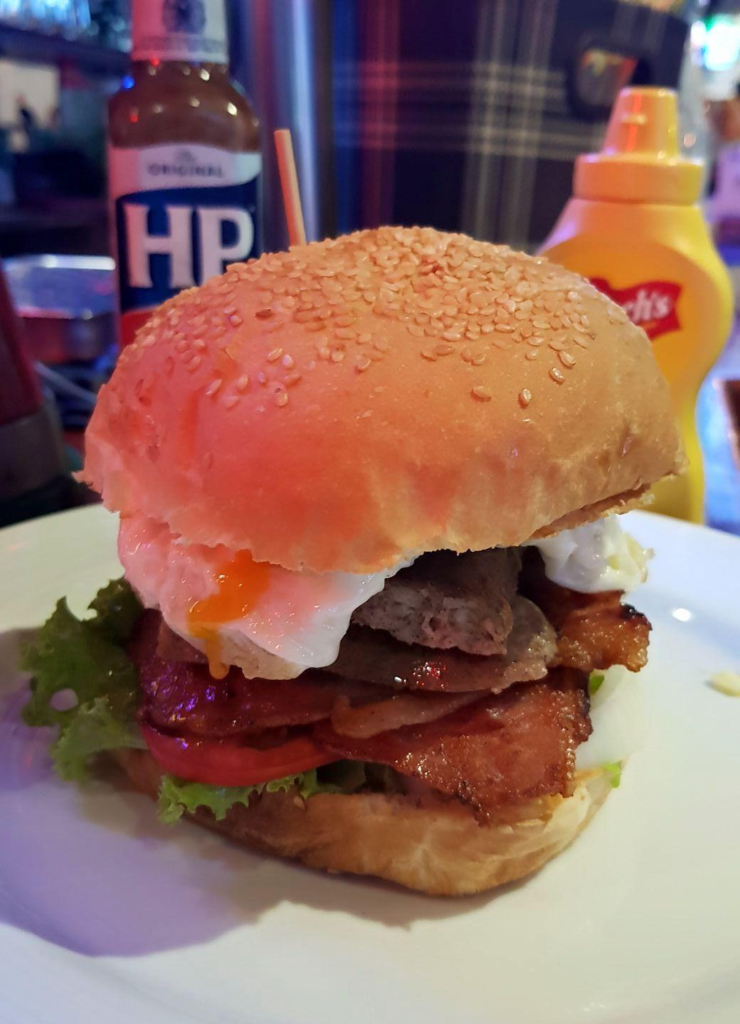 Photo Credit: https://www.facebook.com/Islander1995/?ref=page_internal
So there you have it – the best places to spend the night in Koh Samui. Now you have no reason not to make your nights on this island memorable.