Phuket | Phuket Travel Blog
Some places on earth seem to have it all, and Phuket is one of them. Being the largest island in Thailand, Phuket is an island for which the term wonderland seems to have been invented. Phuket travel blog is nothing more so than amazing natural wonders that are ready to heal you spiritually and physically. Amazing nature trails, deep blue sea, golden sand, extreme nightlife explain why adventurers, thrill-seekers and globetrotters flock to stay.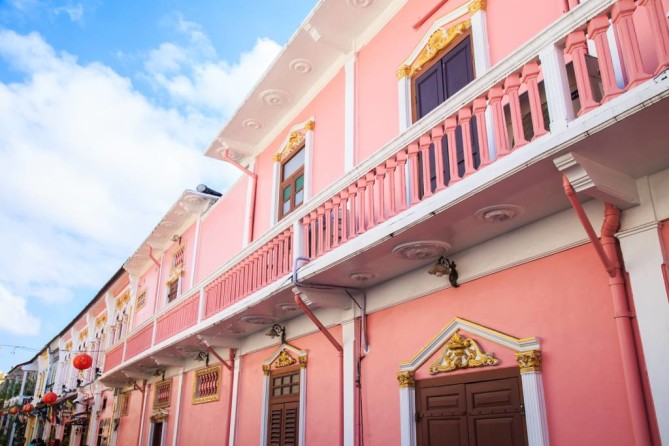 Excellently positioned on the western shore of the Andaman Sea, Phuket is so huge that those dwellers rarely get a sense that the city is being surrounded by the sea. On the other hand, one can not underestimate the charm of Phuket town since it comes with character and nowhere else in Thailand characterized Sino-Portuguese architecture like this. Phuket is culturally rich still as such pagodas, Buddhist and Chinese temples are dispersed throughout the town while well-adorned and well-preserved shophouses, pretty-pretty cafes are still a lot sights to see.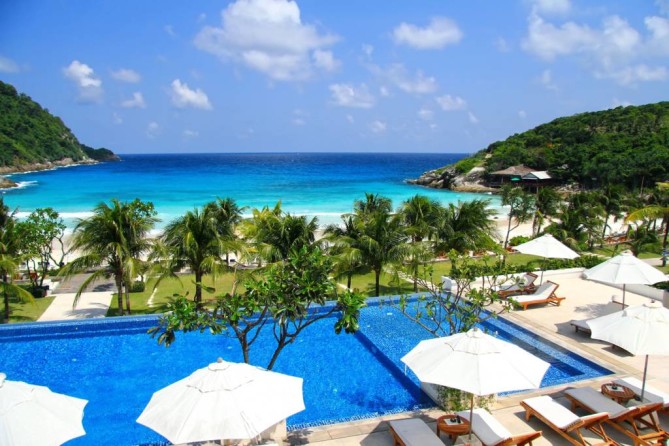 This Pearl of the Andaman city is never-ending full of joy. Even when you need no particular activities, you will still have well-earned rest at one of the many accommodation choices ranging from on-a-budget to five-star hotels that allow your toes to be only  few steps away from the sand and allow your eyes to overlooking stunning turquoise of the sea. In Phuket, you can make this spellbinding beach your view!
1.Patong Beach | Phuket Travel Blog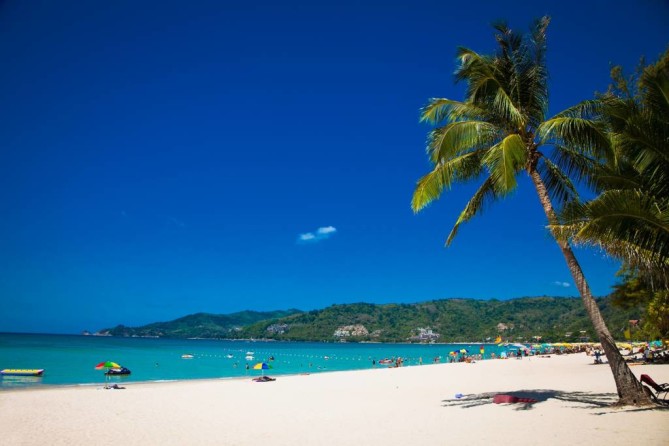 More than 9 million vacation makers fly to Phuket every year to visit the most famed beach of the island, Patong Beach. As one of the top places to visit in Phuket, Patong beach brags about crescent golden, sun-kissed beach drawing first-time and frequent travelers alike to spend more time in Patong than the town itself. Those who expect for things to do in Phuket, besides getting your skin tanned on its west coast, can take a walk to the most celebrated shopping complex at Jungceylon department store.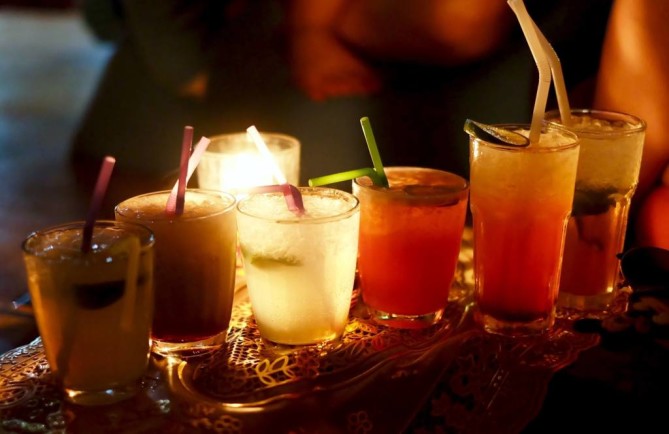 Patong Beach as a wishlist in any Phuket Travel Blog manages itself to be all-inclusive destination covering nightclubs, go-go bars, street cafes, massage parlors, seafood restaurants, cabaret shows, hotels and hostels that are all aligned along this west coast of Phuket. The neon-lit signs of Bangla Road beginning from dusk hints the amazing night after beach time has ended.
2.Koh Khai & Koh Mai Thon | Phuket Travel Blog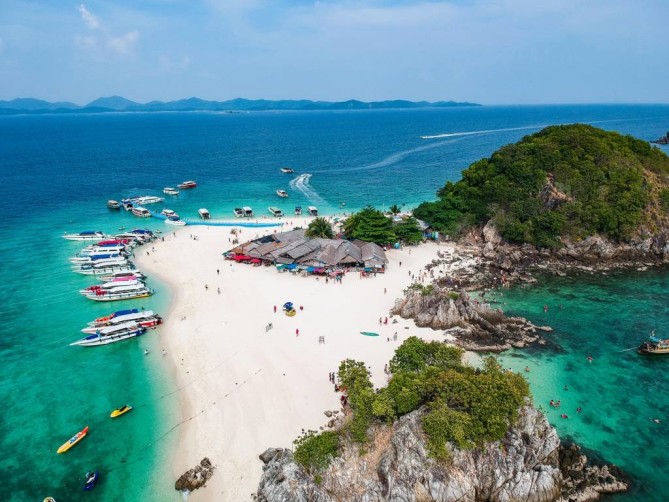 Idyllic underwater world is irresistible for all diving aficionados. One of the best diving destinations is Koh Khai thanks to all of its aspects like pearly sand, crystal clear water, tiny scale which allows all vacation makers explore it thoroughly. This egg-shaped island is entitled Koh Khai as the term 'Khai' in Thai is referred to egg. Koh Khai abounds with incredible staghorn coral reefs to dive or snorkel around the island with the only access by speedboat.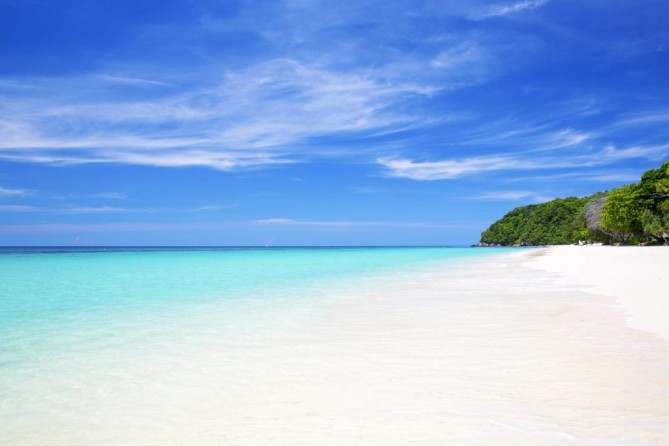 Apart from Koh Khai, there is another one of the places to visit in Phuket which touts itself to be 'the Maldives of Thailand', Koh Mai Thon. A long stretch of white clean beach is home to exotic fish, azure water, vivid coral reefs. The serenity of Koh Mai Thon is like nowhere else which is why your vacation will be away from hustle and bustle. Similar to Koh Khai, Koh Mai Thon is accessible only by speedboat.
3.Promthep Cape | Phuket Travel Blog 
Where else could be a better place to end your day blissfully with your special someone, if not Promthep Cape in Phuket? Sunset is a natural phenomenon symbol marked the day has come to an end. Watching sunset in Promthep Cape is like nowhere else and is one of things to do in Phuket when setting foot in this island. That's why this Phuket Travel Blog navigates you to the southern tip of Phuket for classic sunset photographs.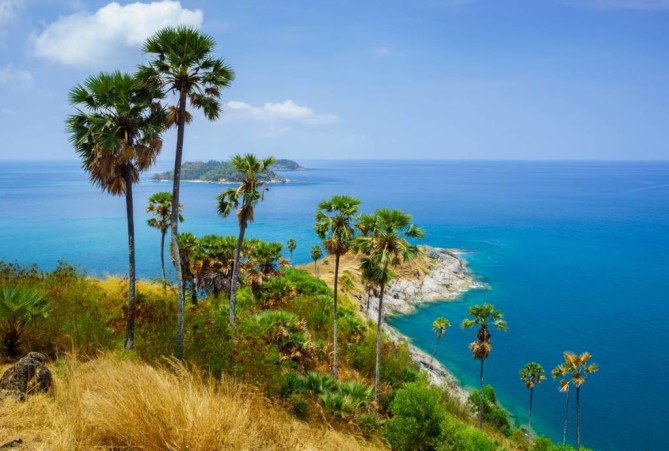 When the sky turn shades of pink, yellow and orange, it's almost time the sun dips into the ocean. Thai and international tourists alike have cameras ready for once-in-a-day shot and then the flash come from all directions to record the beautiful moments of breathtaking view. Not to mention the surrounding scenery, from the field of grass and group of trees, to the beach and the wave, all at once are perfect combination.
4.Phuket Nightlife | Phuket Travel Blog 
After the sun has set, it is time to hit the town. Phuket has more than a handful of night attractions which can fit into a month-long vacation for this Phuket Travel Blog. The heart of Patong Beach has been awoken from sleep, from being innocent in daytime then transformed into vibrant and well-recognized Phuket nightlife. Bangla Road shuts itself off traffic and begins the night with entertainment complex loaded with night clubs, pubs, cool and quirky bars full of beautiful Thai girls.
credit: https://phuket-simoncabaret.com/
Not just beautiful Thai women, but Ladyboys too. Thailand is second to none for its world-renowned amazing transgenders. If you want to see how far they can go, then head over to watch one of the greatest shows at Phuket FantaSea and Phuket Simon Cabaret, one of the places to visit in Phuket. With the musical present, the stage, light display, fantastic costumes and special effects, it will capture your imagination and deliver you into the realm of dreams.
5.Vegetarian Festival (Jia Chai) | Phuket Travel Blog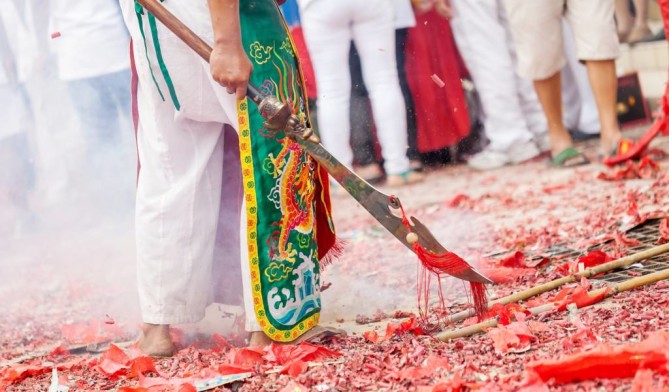 One of the soul-stirring events and things to do in Phuket is Jia Chai, or Vegetarian Festival. If you are ready to see some risky event then you could be thrilled (or unnerved) by this religious event which is held annually around October. Tradition has it that locals abstain from meats and various stimulation and stay clean from the inside out, which also to behave well, think positive and establish goodwill.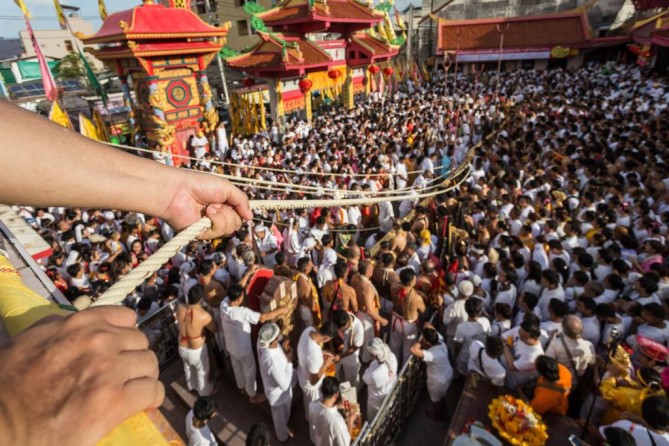 Locals participate in sacred rituals such as walking on hot coals, climbing ladders made of sharp blades, and becoming mediums for benevolent spirits. Once occupied by the spirits, the mediums will undergo painful self-mutilation to express their strong faith. For all that, no tips advised in this Phuket Travel Blog unless to bring your courageous mind along the way!
6.Phuket Old Town | Phuket Travel Blog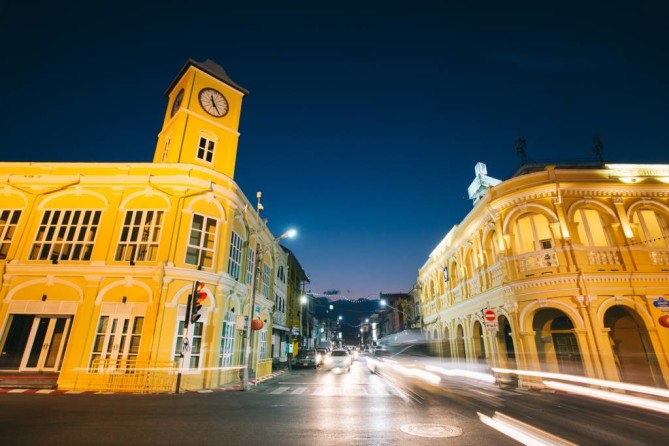 The sino-portuguese architecture in Phuket along Thalang road speaks for itself as Phuket Old Town. The prosperity during the tin boom days allow some reflection toward the old town by embodying a mix of European and Chinese art or the so-called 'Colonial Architecture'. The indigenous people of Phuket flock to live in this area more so than the areas of tourist destinations like in Patong.
The quaint streetscape and uniqueness of its style give it a personality in which travelers can recognize Phuket Old Town and distinguish it from the rest. Those locals in the old days would never have thought that one day Phuket old town would make it one for the books and for all Phuket Travel Blog considered it as a wishlist destination.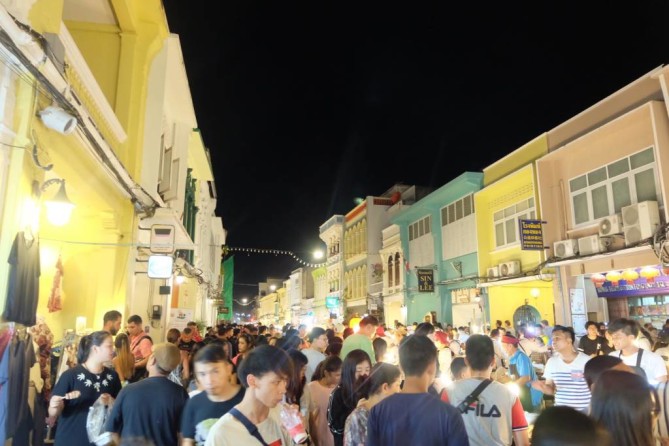 After the day has lost the heat, it signifies no better time to explore the old town thoroughly because it is compact enough. Phuket Old Town is photogenic as it is unconsciously painted all over with mural paintings and street arts. Tourism industry has shaped Phuket municipality to bury all electric cables underground which came to surprise when you consider how messy these cables are for the rest of Thailand. Wandering around Phuket Old Town will never get you hungry since there are plenty of restaurants and pretty-pretty cafes to take a break and allow for crowd watching.
Book your flight to Phuket today! Visit  http://www.bangkokair.com/eng/flightdeals/view/phuket  to check flight availability.