If there's only one reason Phuket is famous, it's because of its beaches. They're remarkable to say the least, and there are quite a good number of them surrounding the main island, with each having its own unique scenery, atmosphere, sand texture, and facilities.
Since your vacation plans appear to include beach hopping, we can't help but recommend some of the top beaches in Phuket mainland, to save you some time, and ensure you start your tour on a more pleasant note.
That said, the following are the top beaches to explore in Phuket without leaving the mainland.
Patong Beach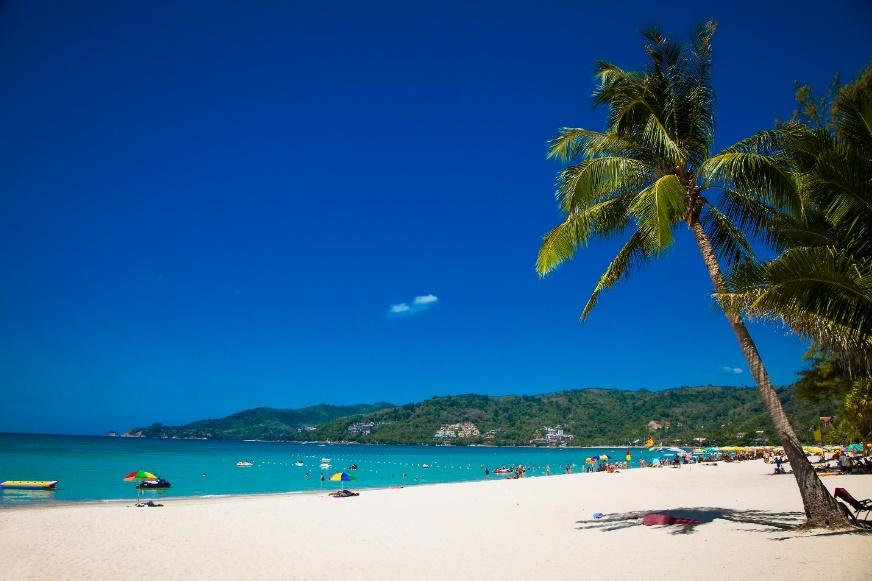 Regarded by many as the most popular stretch of coastline on the island, Patong Beach boasts a super lively atmosphere, nice and soft sand that feels great to walk on, and lots of other attractions.
Bear in mind that Patong is usually not that bustling during the day, but at night it comes alive and turns into a wild party scene. It's simply the ideal beach for those who love to party. To experience most of the action, head to Bangla Road where you can find many quirky nightclubs and bars.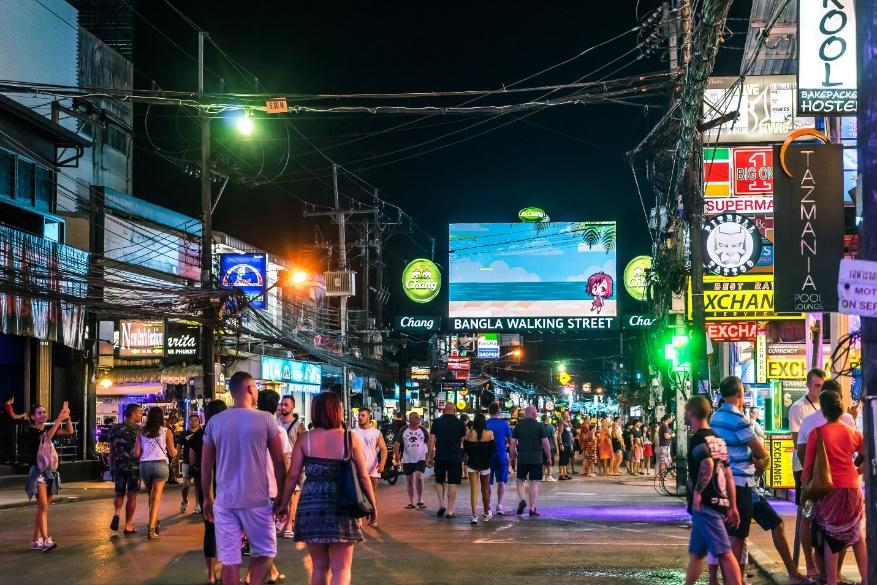 Lots of cool restaurants and hotels are also situated in the town right behind the beach, and you might also want to check out some of those.
Kata Beach
Unlike Patong, Kata Beach has an atmosphere that is more laid-back. The waters are sparkling clean, especially around November to April; the nodding palm trees stir up lots of refreshing breeze; and the sand is, of course, soft and beautiful.
At the northern end of the beach, colorful boats are moored, and these add to the nice scenery. In terms of facilities, Kata offers an array of restaurants, guest houses, beachfront hotels and shops at the southern end – there's even a flow rider park at Surf House, and things can get quite exciting here.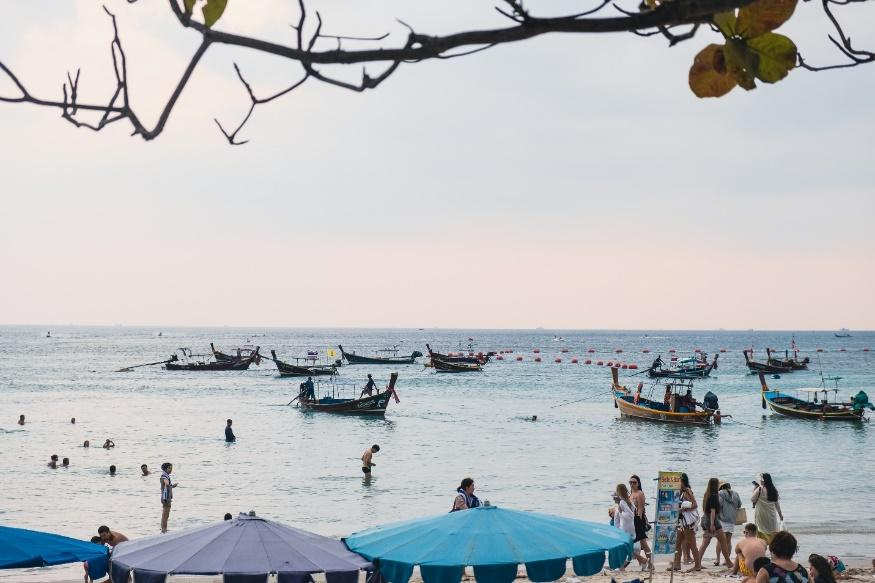 Should you require any of them, you can also buy beachwear, sunglasses, sarongs and light refreshments from vendors wandering the area.
Surin Beach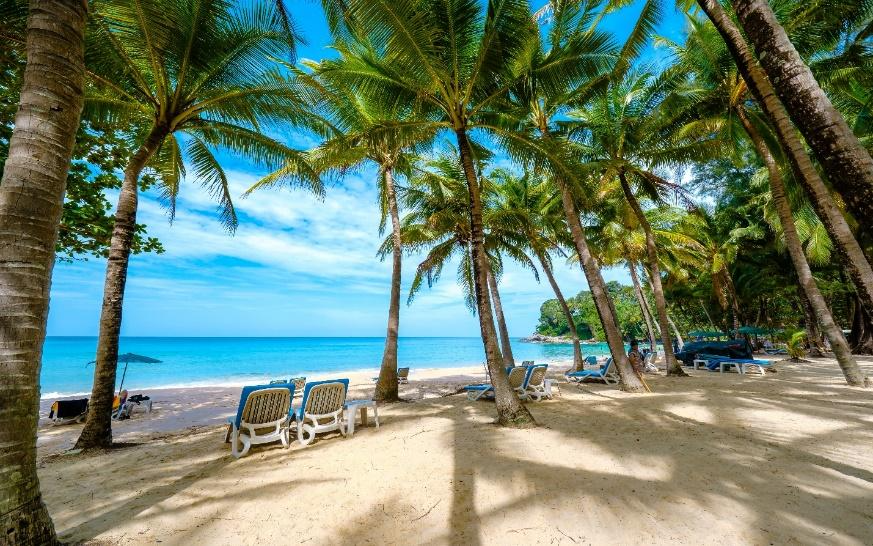 Along Millionaire's Row on Phuket's west coast lies Surin Beach. If sunbathing on fine, white sand, or lounging on a beach chair while sipping a beverage and gazing at the sea, sounds like your thing, this beach is for you.
As its waters are usually clear and calm, you'll also love Surin if you're into watersports like surfing, kayaking, snorkeling and swimming; but bear in mind that during the low season (July to October), the water often produces strong currents which can be unfriendly to swimmers.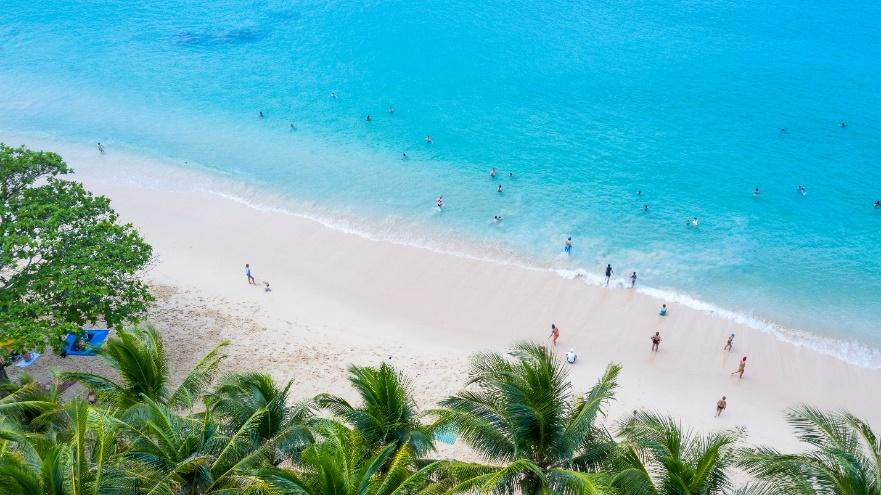 In the vicinity there are boutique shops; convenience stores; luxury resorts; fruit, snack and drink vendors; and ATMs at your service.
Ya Nui Beach
One of the liveliest with compatible backgrounds representing Southeast Asia's balmy climate is Ya Nui Beach. Small in scale but great in property, visiting Ya Nui has finally become a rising trend among Thais and foreign vacationers alike.
Located at the foot of Windmill Viewpoint with its left side adjacent to Promthep Cape, Ya Nui Beach sits in a sweet location that unintentionally provides a view of two prominent capes of Phuket all at once.
Naturally formed a triangular-shaped beach where the tip pointed to little rock formation, somehow people love to take photographs there as much as they enjoy doing so at the right side of the beach, which boasts a yellow mustard mountain behind with a field of sturdy sugar palms. Apart from getting a tan, kayaking is a must-do around Ya Nui Beach thanks to the clear turquoise sea that allows you to see what lies beneath the water's surface.
Kata Noi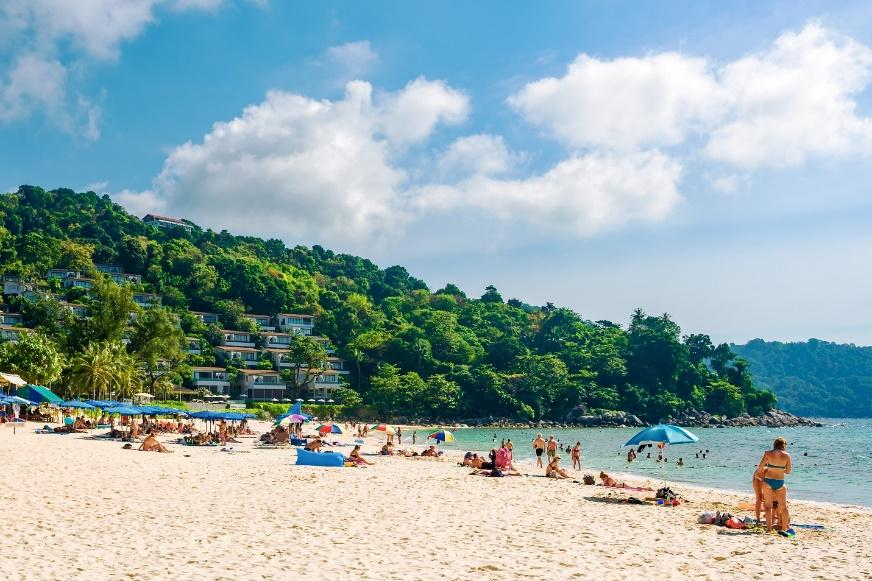 As the name may suggest, Kata Noi, or "little Kata Beach", is the neighbor to Kata Beach which we discussed earlier.
While it's one of the smallest beaches on our list, Kata Noi is hands down one of the best, if not the absolute best beach in Phuket, in terms of the sand, the sea, the facilities including restaurants and few hotels, the surfing and snorkeling opportunities, etc.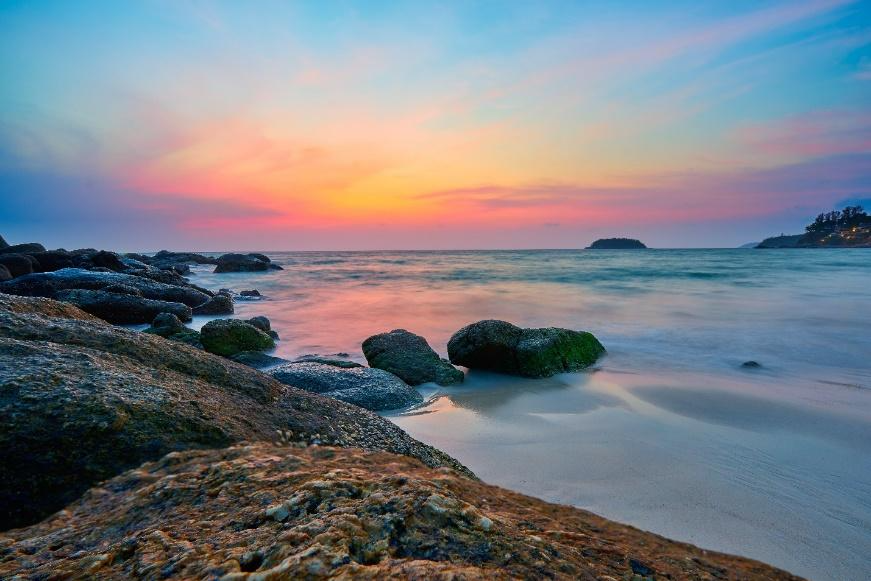 Unlike its big brother just around the corner to the north, Kata Noi also boasts an atmosphere that is noticeably peaceful and relaxing for most of the day. Watching the sunset here can be quite the experience.
Karon Beach
One very unique feature of Karon Beach is the squeakiness of the sand – you can literally hear it make funny sounds as you walk on it! But the fine, soft sand isn't the only thing that makes Karon one of Phuket's best beaches.
Most of the southern end of the beach features a line of trees with rich foliage, while the northern end features volleyball nets for those who'd like to work up some sweat before taking a cool dip in the sea which is approachable, except in the low season.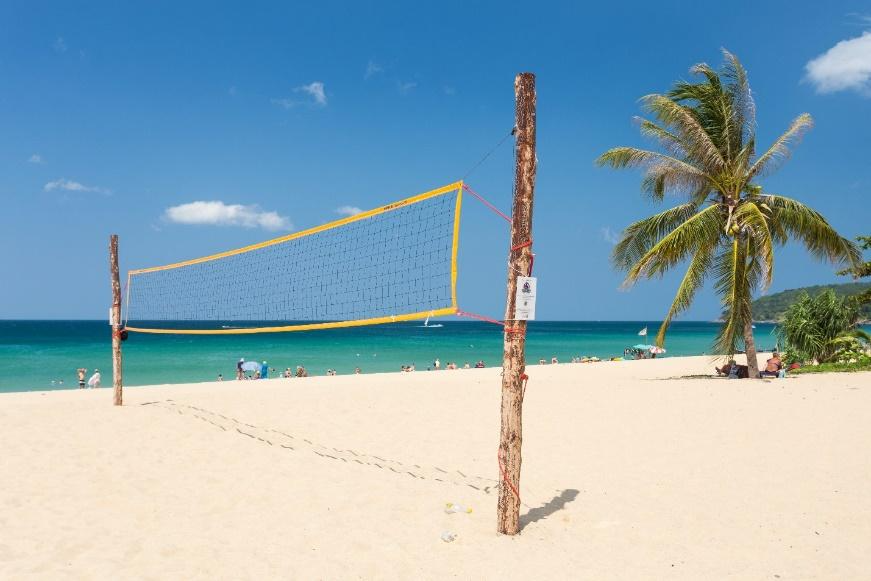 The northern half also hosts a number of beachfront restaurants, while, all along the road, luxury hotels are available in case you require a cool place to lodge, too.
Freedom Beach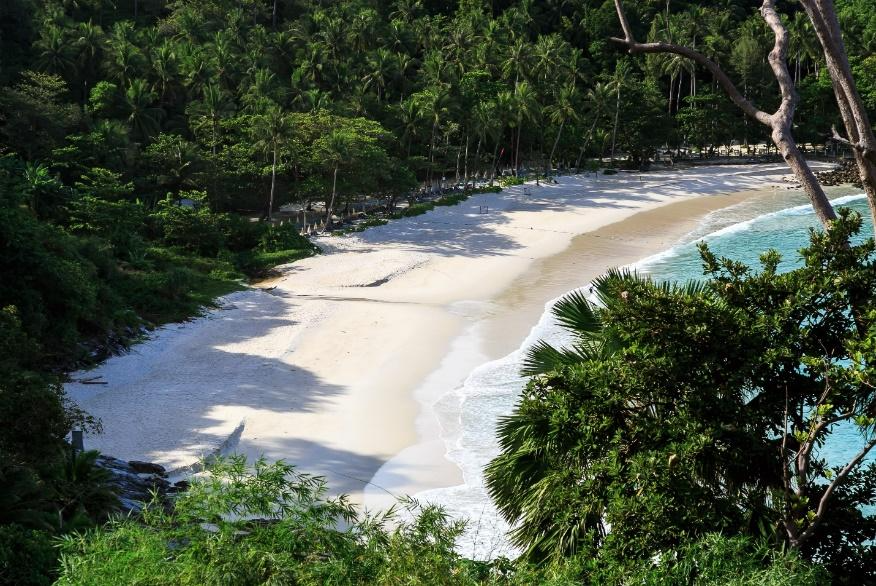 Another beach that is relatively quiet and peaceful – no jet skiing, parasailing or other noisy leisure activities – most of the time is Freedom Beach, and the main reason for this is that it's somewhat isolated and not that easily accessed.
Set in an excellent bay dotted with granite rocks, and ringed by hills which are covered in thick jungle, Freedom boasts some of the finest white sand in Phuket. The northern side is ideal for sunbathing on the sand, and at both ends of the beach you can enjoy the spectacle of underwater life in the shallow waters.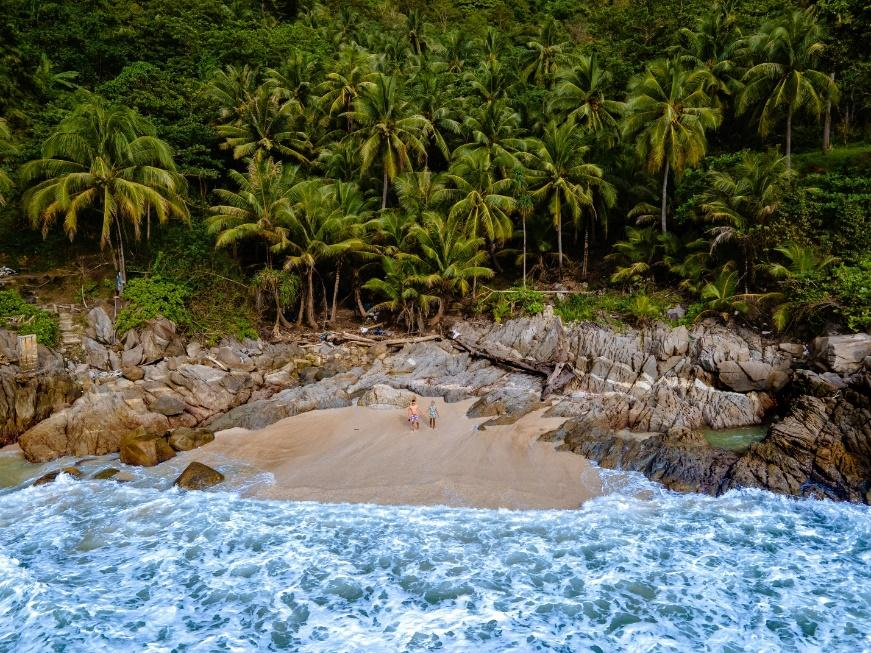 At Freedom, there are lots of beach chairs available for you to chill on; there's also a restaurant and parking lot.
Paradise Beach
Located not far from Patong, Paradise Beach is favored by those who love to party under the full moon, as it's the home of Phuket's only Koh Phangan-style beach parties.
This little cove with an exclusive air about it features the usual pretty white sand, attractive palm trees which provide shade, and calm waters with a seabed that is almost always soft.
When it comes to facilities, Paradise impresses. There are beach chairs, bars, restaurants and shops, plus sea kayaks, stand-up paddleboards (SUPs), snorkeling equipment, and lifejackets, in the activities station on the beach. There's even a volleyball court right on the sand.
Nai Harn Beach
The number of locals and tourists go is virtually in the same ratio. Contrary to most beaches where the surroundings are 5-star resorts, Nai Harn Beach's seaside area is occupied by groups of tall trees in a flat landscape, providing a shady public area for residents to bring their own mat and lie down for a warm Sunday afternoon.
Although Nai Harn Beach does not stand tall and proud for its clean beach, you wouldn't believe that the water and all its surroundings look dazzlingly astonishing when looking from afar, especially en route to the Krating Cape. Some soon-to-be-married couples even opt for this place as their pre-wedding outdoor venue.
Nai Harn Beach also outperforms its neighbors with chill bars and hippy restaurants serving seafood, fusion, international and Thai food. Sit and eat the day away at some of these local eateries in Nai Harn could bring you simple delight to your life 🙂
Rawai Beach
How abundant Thai marine life is can be witnessed yourself at Rawai Beach, a seafood culinary destination for those on the lookout of the most mouth-watering seafood dishes in Phuket. Whether by search or through the mouths of locals, Rawai has always on top of the list.
A seaside lined seafood restaurants and local fresh seafood stalls are expecting you in Rawai. If you make it there before the market is closed, and hope to get those at a fair price, we recommend taking a stroll through the market and do some shopping then get it cooked by stores in the opposite.
The price will be much cheaper. And for those who can't make it during the opening hours, another seafood restaurants also offer low-priced meals where you can sit, feed your tummy and hear the relaxing sounds of waves in one of the well-known Phuket beaches.
Laem Ka Beach
Any travel guide will never introduce you to this…Laem Ka Beach, meaning that if not natives, you may not find a true jewel of Phuket beaches for your peaceful vacation ever. What's beautiful in the eyes of locals hints us that this beach still retains charms of virgin nature.
Dated back many decades, Laem Ka coexists with Phuket from a very humble beginning, but during the tourism boom in this Southern Thailand's island, surprisingly but true that not many tourists have left their footprints on Laem Ka Beach, leaving it a vacation spot where those locals in the know gathering here for some quality family time.
'Laem Ka is the calmest beach among all Phuket beaches' is not an exaggeration given that you won't come across any restaurant, wellness & spa, shopping center, including pick-up & drop off service. It's advisable to rent a car or motorcycle and get a direction from google map. Laem Ka Beach is only 500 meters away from Rawai Beach so it's not that hard to find.
Layan Beach
As if you were in the island off shore Phuket, Layan Beach is one of the Phuket beaches that cuts above the rest with its shockingly serene beach vibes. Within the boundaries of Sirinat Marine National Park, Layan Beach is still far away from being occupied by private-owned construction. When such things did not happen to Layan, needless to say, the beach is much cleaner and quieter for a greater vacation. Appearing to be a curved beach with tall pine trees fringed it, Layan Beach provides capacious space for a picnic favored among natives.
Adjoining to Kala Island on its northern part, no activity is more enjoyable than renting a kayak to take you on a short voyage around Kala Island and the nearby lagoon. Rowing to the small pier behind the beach, here is where long-tail and fishing boats docked during monsoon. Here too is a reflection of Thai traditional fishing way of life.
Despite enviably owning peaceful atmosphere with not much development in the area, Layan is not that isolated. Quite the opposite, one of Phuket's illustrious beach clubs is located within walking distance, offering fair-priced Thai and Western dishes, plus a sundowner to end the day beautifully with the sinking sun.
Bang Tao Beach
Bang Tao may not be as scenic as the other beaches we've seen so far, but what it lacks in scenery, it makes up for in size, tranquility, and the variety of attractions in its vicinity.
Lining the southern end of this impressively long beach are some of the island's best restaurants, hotels, beach clubs and bars. If swimming is your thing, the sea is clear and calm enough between November and April for you to have a refreshing dip.
Due to its size, you can always find a quiet spot – especially at the northern end – to relax all by yourself and read a book, or have some private moments with your partner or family.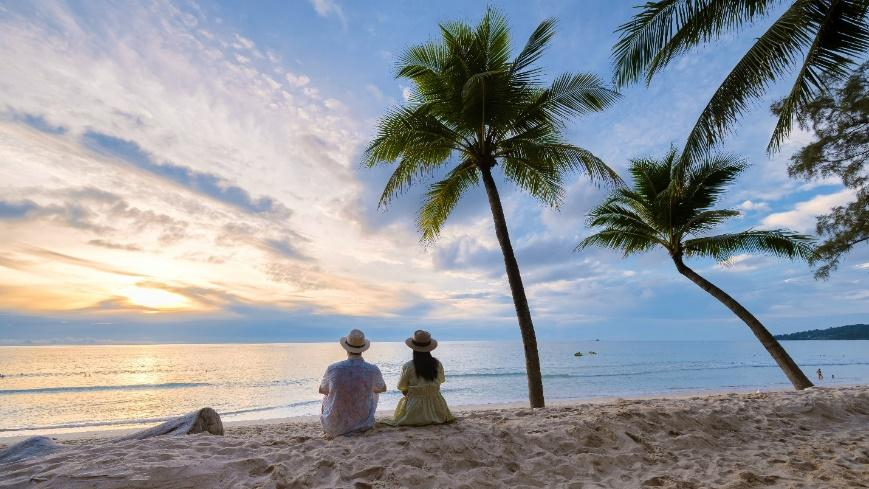 On the whole, there are more than 30 great beaches you can explore on this wonderful tropical island, so our short list of the best Phuket beaches is only meant to get you started. Enjoy!