Whether you're on vacation in Phuket, or you just arrived for a quick tour, your experience cannot be complete if you don't try out as many of the local dishes as you can. Authentic Thai food in this city is a blend of sweet, salty, hot and sour flavors, and it's more than likely you'll get to fall in love with the unique cuisine.
So if you're set to head out and satisfy your appetite, here are some of the best local dishes to try in Phuket. Bear in mind that you can find and enjoy all the dishes listed here at Lock Tien (a semi open-air food court) and its vicinity, as well as many street stalls and shops in Phuket Town.
Top Phuket Dishes
Som Tam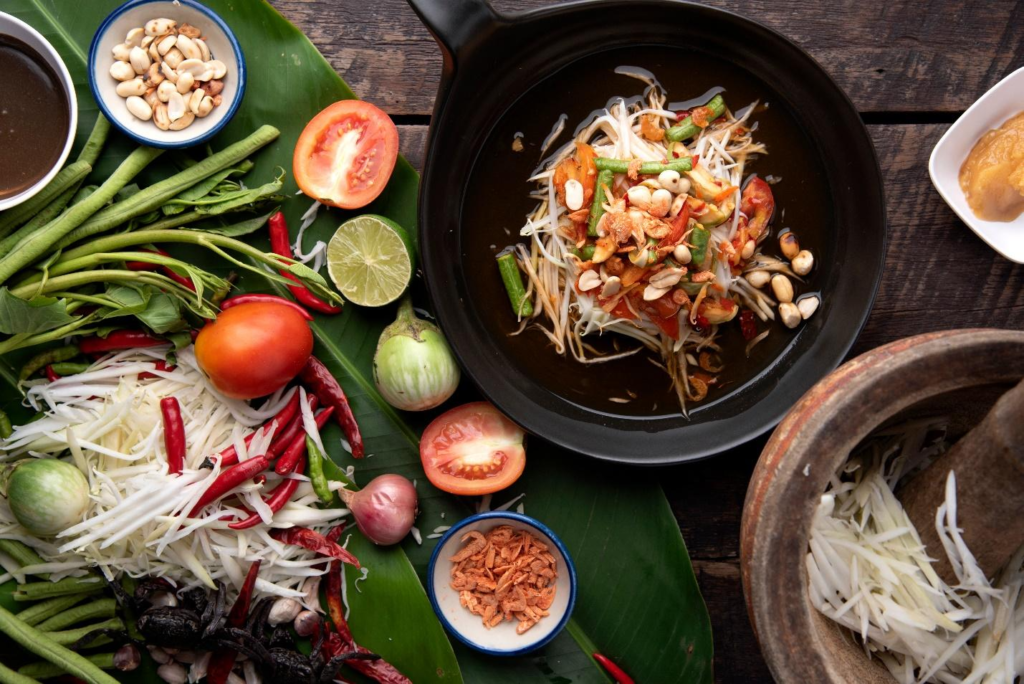 Though it originated in northeast Thailand, som tam (spicy papaya salad) is extremely popular all around the country, with different regions like Phuket having their own version with slightly varied ingredients.
The typical som tam dish contains the base ingredient: grated or chopped, green (unripe) papaya which taste is somewhat similar to that of cucumber; in addition to freshly roasted peanuts, garlic, chilies, and other seasonings, all mashed and mixed together, then topped off with dressings such as palm sugar and sour lime juice.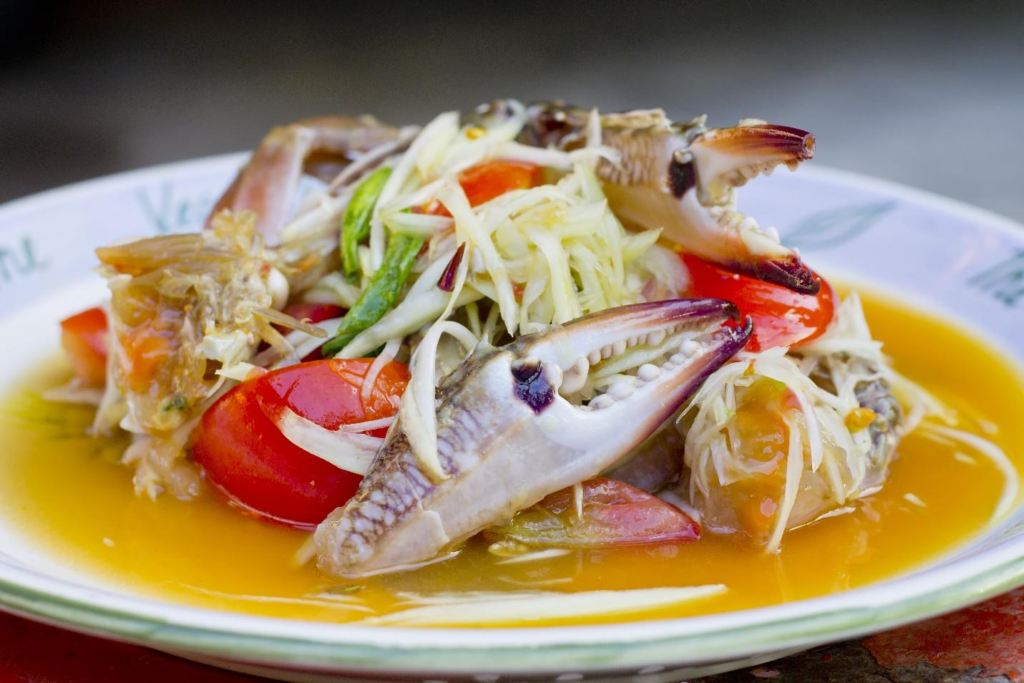 Depending on the restaurant offering it, and the ingredients or dressings used, this fresh and crisp salad can have flavors ranging from spicy to sour and sweet. Eaten alone, the som tam dish makes a great appetizer.
O-Tao
If you've ever eaten the fried mussel pancake that is famous in Thailand, you already have a bit of an idea what o-tao is like.
This dish is composed of deep fried pork rinds (pork is well liked in Phuket, by the way), eggs, tiny oysters, plus cubes of taro root and flour, all fried together in a garlicky batter that is both spicy and sticky. The result is simply amazing.
Chinese miners are thought to be the inventors of the rich o-tao dish, but most people are much more interested in eating it, than in its origin.
Mee Hokkien
Mee Hokkien is a dish of flash-fried, thick, yellow wheat noodles served with squids, vegetables and slices of red pork, all in brown broth/sauce that is similar to gravy.
Offered by vendors everywhere in Phuket, this food which is also known as "Hokkien-style noodles" is mild and quite savory, with a sweet salty flavor that comes from the sauce containing dark soy and sweet soy.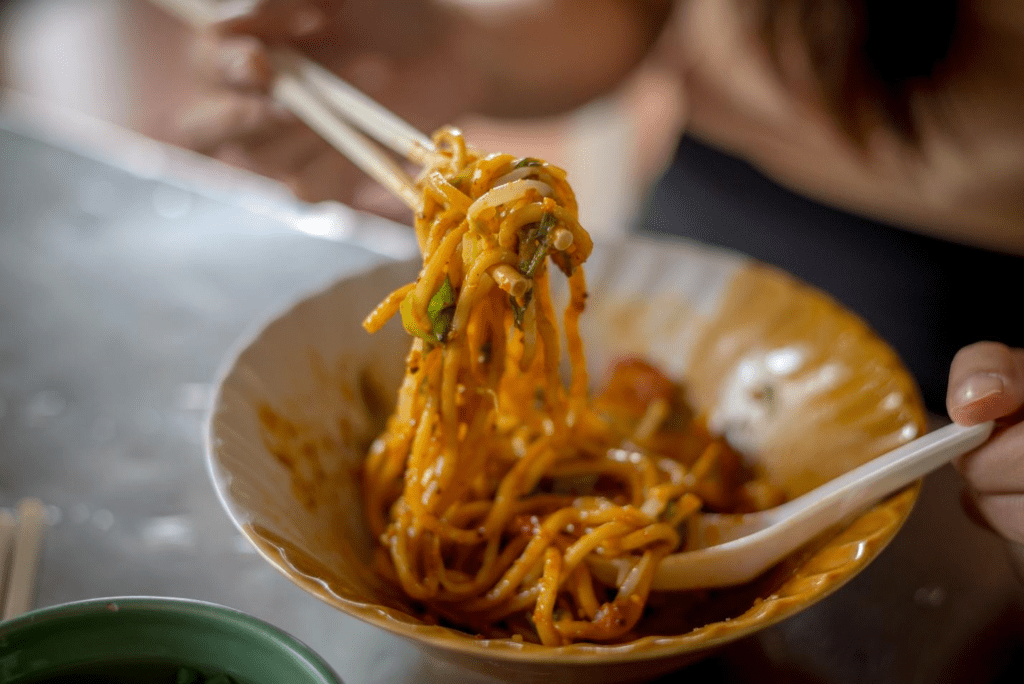 Other kinds of seafood, such as prawns that are really chewy, are sometimes also used to garnish the mee Hokkien dish, and you can even request for a lightly boiled egg to be added to your bowl if you're in a self-indulgent mood.
Loba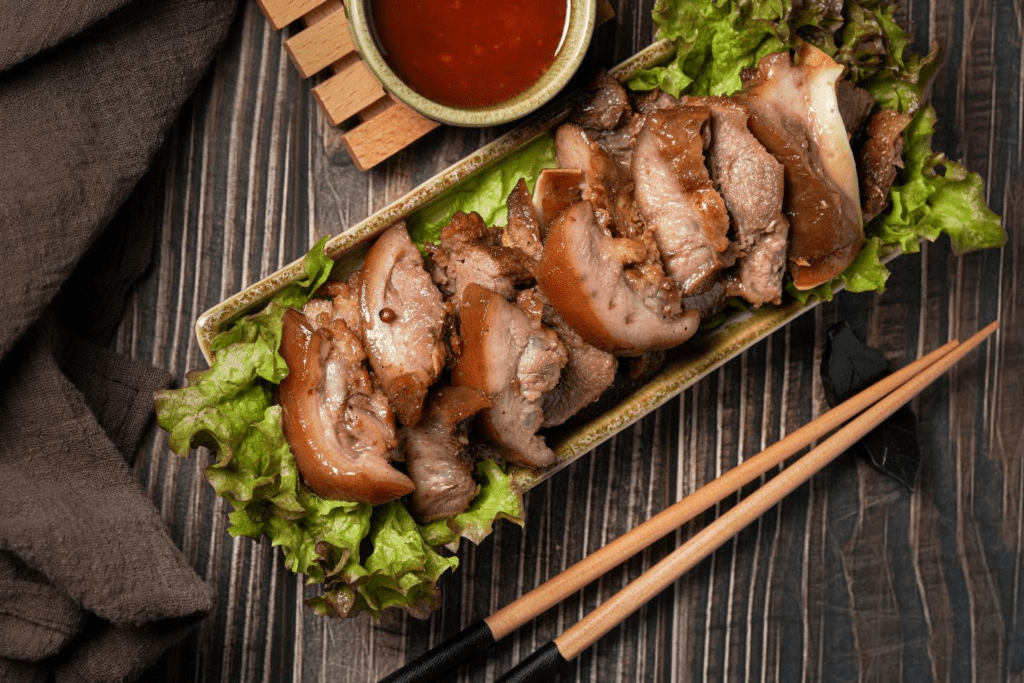 Loba is one dish foreigners may find a bit weird, but which is actually among the most loved by Phuket locals.
This savory dish is a combination of pork offal or giblets, including the ears, tongue, heart, lungs and intestines; these are usually deep-fried, garnished with other food items such as shrimp fritters, stuffed tofu and spring rolls, then braised in select spice powders and served with a sweet brown sauce/dip.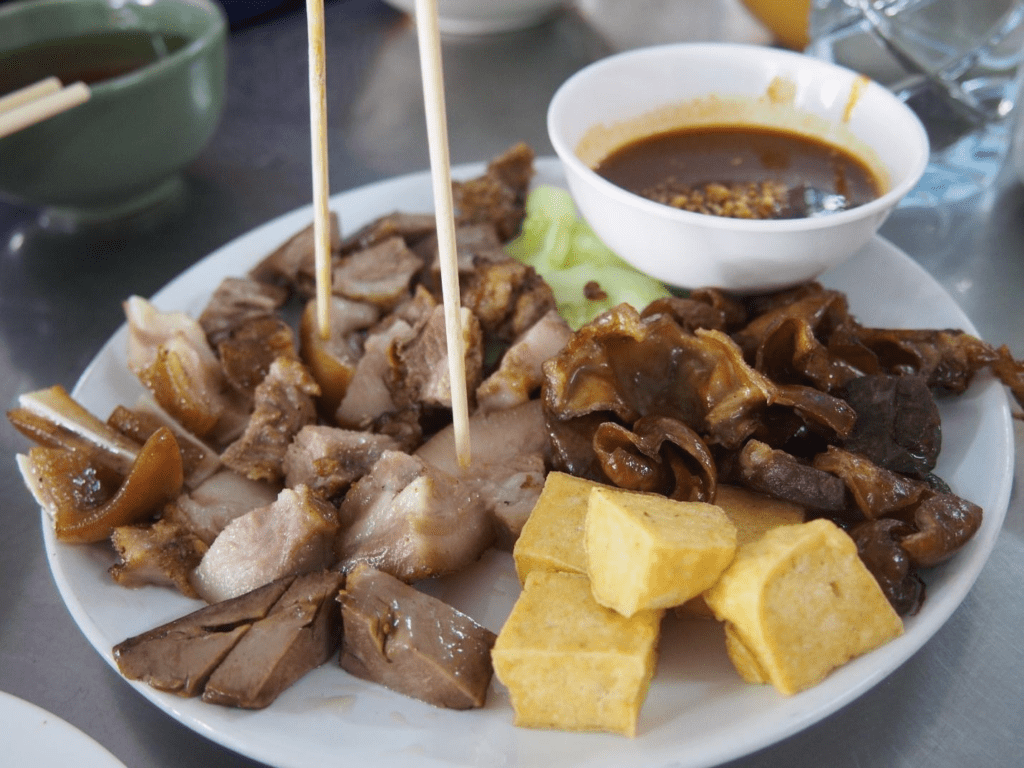 Many vendors also serve loba with a spicy dip if that's what you'd prefer, and the dish goes down well with beer.
Tom Yum Goong
Another dish you absolutely have to try in Phuket is tom yum goong (hot & sour shrimp soup), the national dish of Thailand which not only tastes great, but also smells wonderful.
As you'd expect, a major feature of this soup is jumbo shrimp (goong); this is supplemented with mushrooms, fish sauce and chilies, all of which contribute to the spicy hot and sour flavor of the dish that many find pleasant.
The unforgettable aroma of tom yum goong comes from the fragrant herbs – think lime leaves, lemongrass, shallots and galangal – which are also added in significant quantities. You can enjoy this dish alone as an appetizer, or pair it with rice for a more satisfying experience.
Gai Pad Med Ma Muang
Photo Credit: https://asianinspirations.com.au/
We guess you won't even think of cashew nuts if asked to mention five food items that go well with chicken, and that's understandable because you haven't tasted gai pad med ma muang.
True to its name, this unique dish contains stir-fried chicken with some of the world's best cashew nuts, in addition to a few dried chilies, garlic, honey and sweet soy sauce. Gai pad med ma muang is nothing short of superb, especially for those who are not into food that is very spicy; it's also another dish that can be eaten with steamed rice for lunch or dinner.
Kao Phad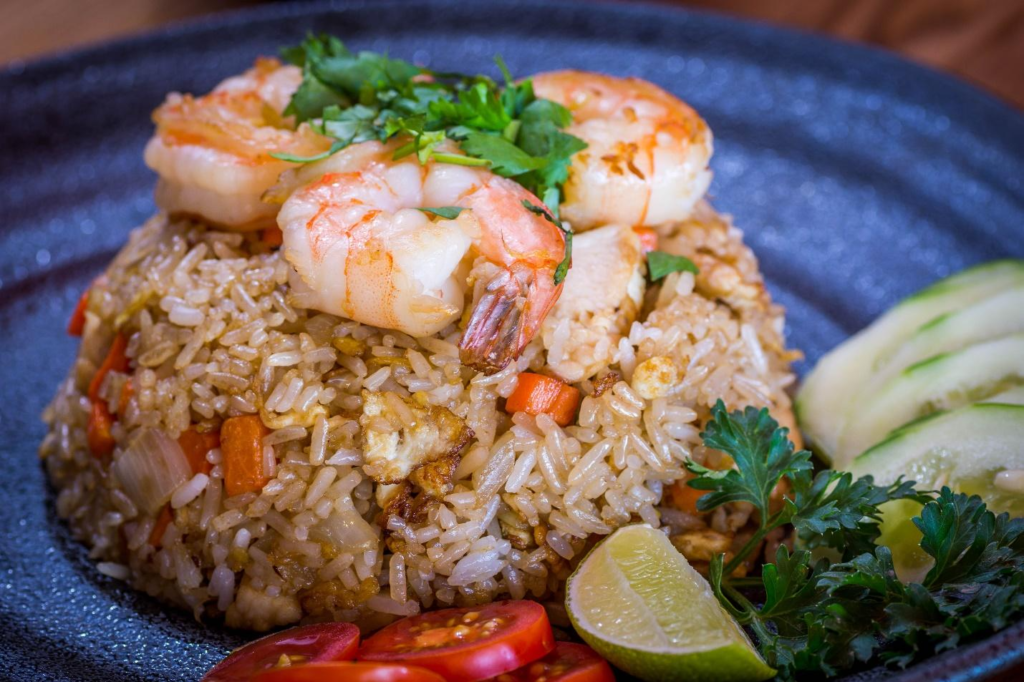 Kao Phad simply means "fried rice", but this appetizing Thai dish is more than just a heap of rice.
The rice is supplemented with a variety of garnishments, such as onion, garlic, tomatoes, cilantro, eggs, as well as the meat of your choosing – chicken and shrimp being the most popular options.
If you'd prefer it hot or spicier, you can also request for a side of chili to be served with the dish.
Massaman Curry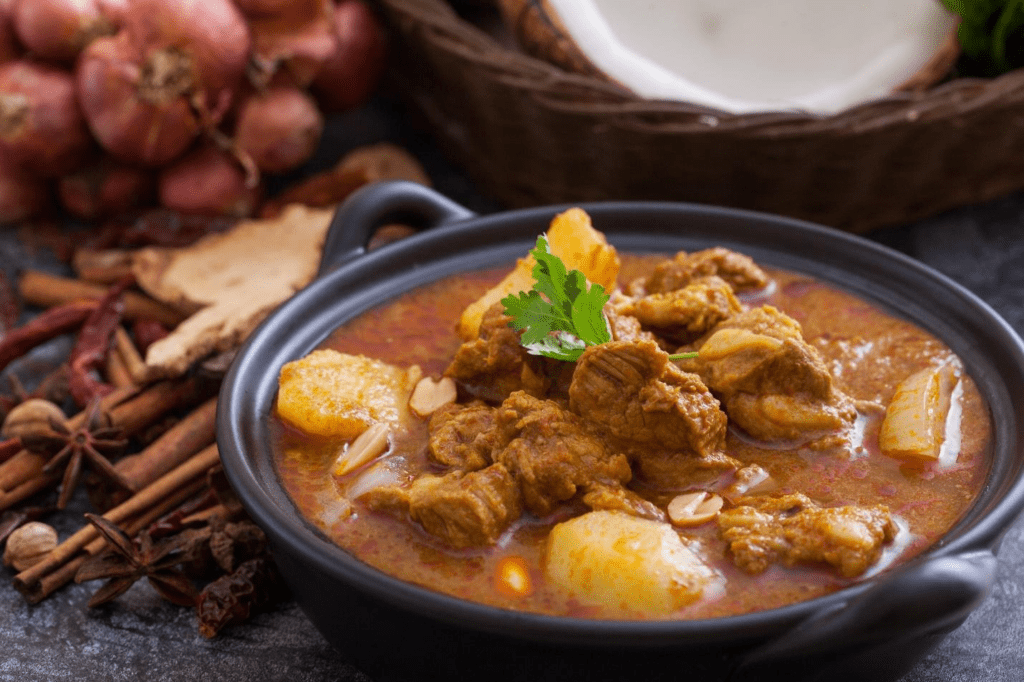 Named after the community that came up with it, Massaman (Thai word for Muslim) is as unique as its deliciousness.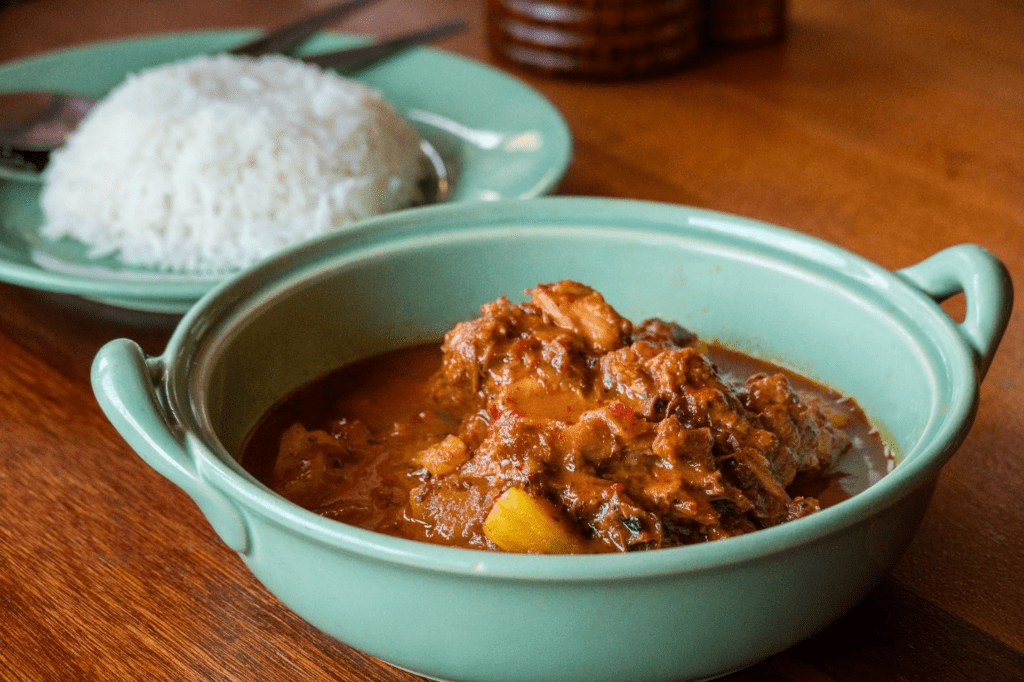 This dish is a mouth-watering blend of potatoes, roasted peanuts, sugar, bay leaves, and cinnamon, all soaked in coconut milk and tamarind sauce. But that's not all. Meat is also included, and this is usually chicken or beef, but could also be pork, depending on the restaurant serving the dish.
O-Aew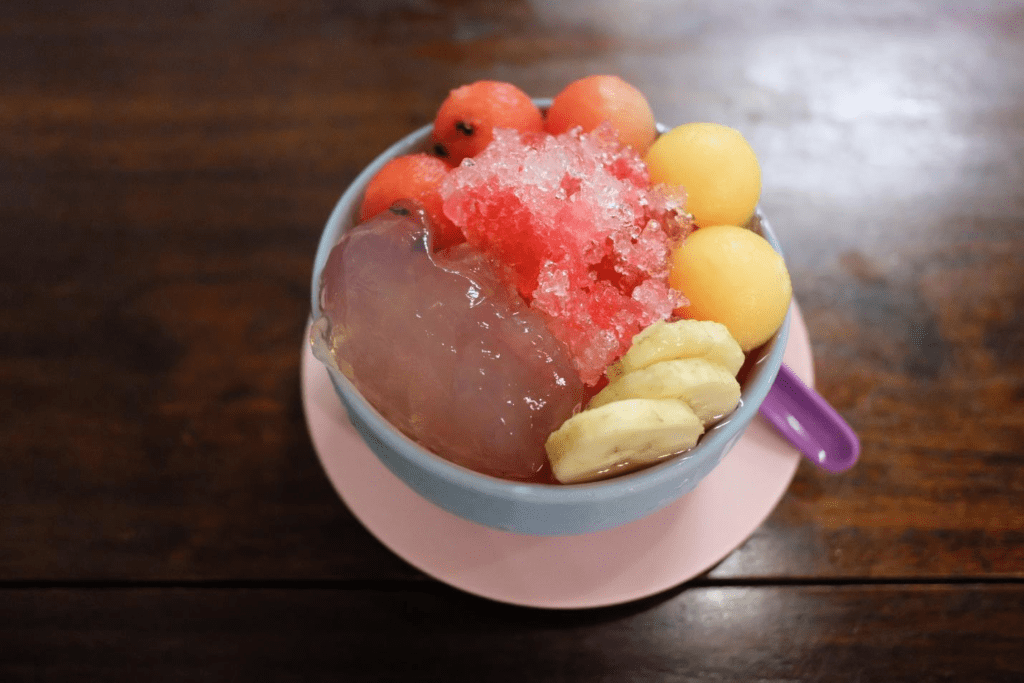 When you've had your fill of any of the dishes we've so far talked about, and are thinking of something cool to take as dessert, consider o-aew.
Phuket's local twist on shaved ice dessert, o-aew, which gets its name from the main ingredient, seeds of the o-aew plant, is a gelatinous, brightly colored and super-sweet dish.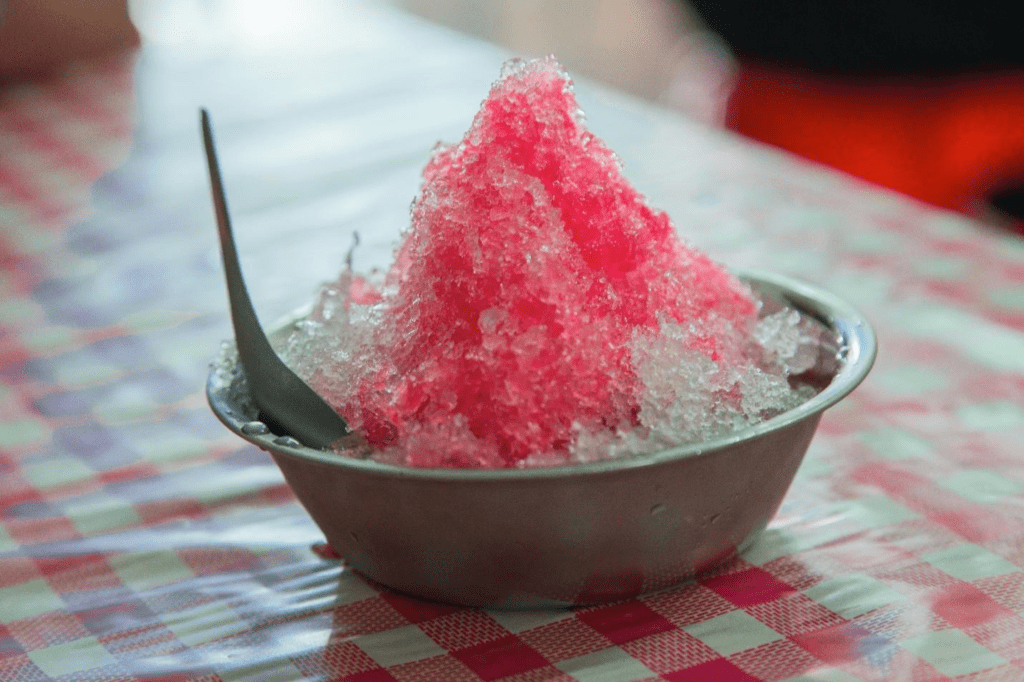 In addition to shaved ice, and the jelly squeezed out when the seeds of the plant are soaked in water, this dessert also contains banana starch, grass jelly and red kidney beans, with sweet syrup drizzled in to top it all off.
What you've seen so far are just a few, out of many, top local dishes to try in Phuket. It's now left for you to go out there and spice up your stay in this town with delicious food.
Book your flight to Phuket with Bangkok Airways at bangkokair.com