Singapore | Places to visit in Singapore
Big things come in small packages, like this small city comes with great treasures. Then how small is Singapore? By size, it is half the size of Los Angeles, London is even two times larger than Singapore. Given that the size has nothing to do with this one of the most livable cities in Southeast Asia, Singapore is the independent and sovereign state and is able to efficiently administer its infrastructure throughout the country.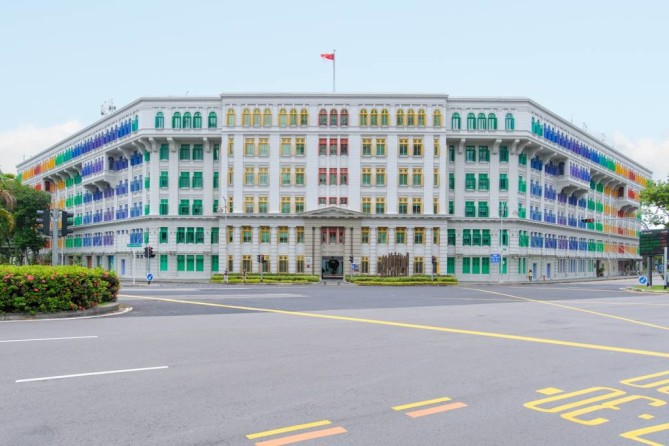 The clear evidence to this is expressed through futuristic high-rises, incredible man-made tourist attractions. Places to visit in Singapore are unbelievable, so do the people. Singaporean is surprisingly way much friendlier than outsiders might think. Their English language skill make it hassle-free for traveling in Singapore since English is widely spoken here.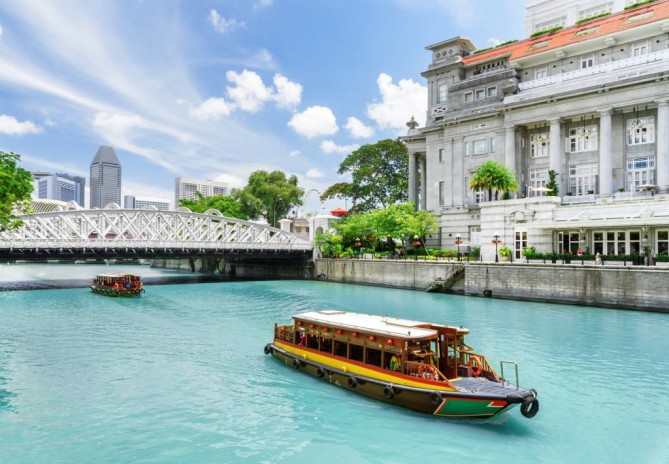 Singapore population of over 5.7 million residents is considered to make a city quite crowded after the Monaco. That being said, the greening policy much supports the city by covering more than 50% of its area with flora and botanical gardens. Singapore yet cannot be truly identified as one ethnicity since the city prides itself to be made up from various citizens of Malays, Chinese, Indians and expatriates around the globe. Singapore is currently gearing its prosperity toward commerce, technology, administration, education and leaving neighbors behind.
1.Flower Dome & Cloud Forest | Places to visit in Singapore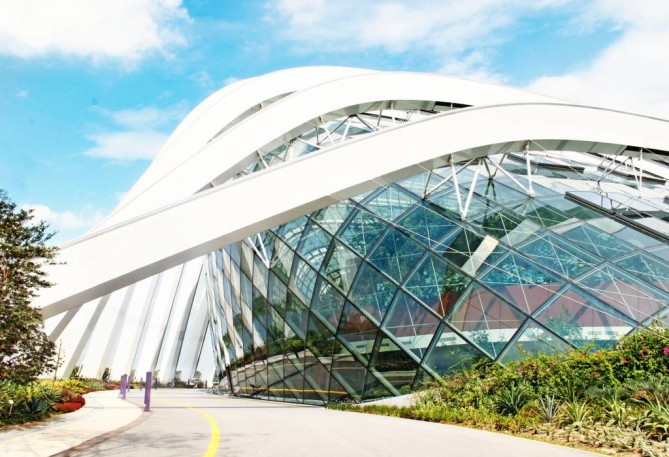 Singapore has nothing short of amazing thanks to this freshest tourist attraction in town. Flower Dome & Cloud Forest have always been primary places to visit in Singapore. By actually doing just nothing else than taking a stroll, Flower Dome and Cloud Forest follow the examples of a garden paradise, boasting myriad floras from five continents around the world such as South Africa, Mediterranean, Semi-Arid Regions and just to name a few.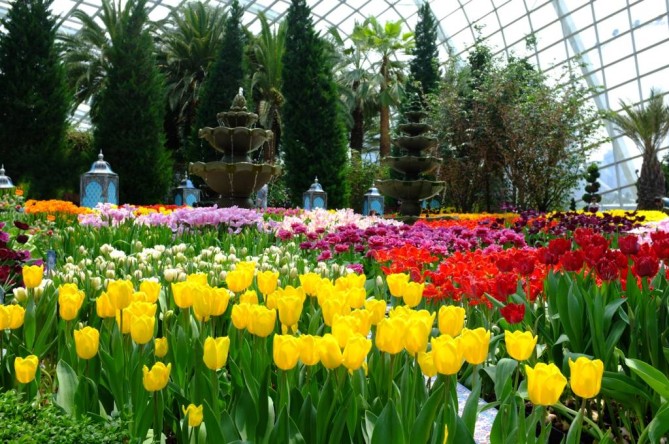 The Flower Dome and the Cloud Forest are totally two separate theme parks. For the Flower Dome, it's the world's largest columnless greenhouse. Such translucent dome is open only during daytime, allowing for plants to bloom shiningly against the luminous sun. The Flower Dome is a sure thing for places to visit in Singapore to experience the perfect replica of the cool and dry Mediterranean climate.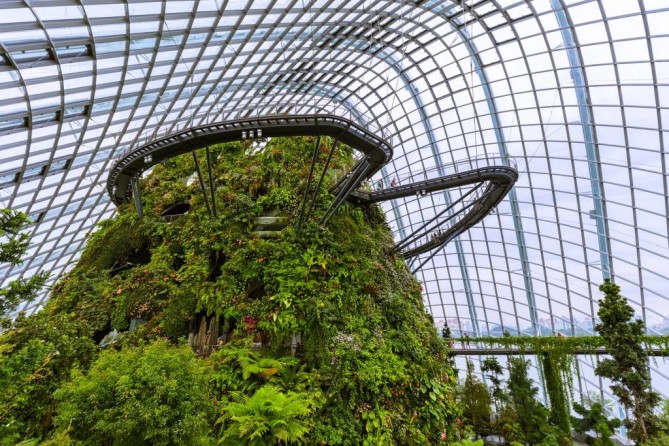 While the Flower Dome has the largest columnless greenhouse, the Cloud Forest also features the world's tallest indoor waterfall, descending at the height of 35 meters down the mist-filled treetop walk. The glasshouse will embrace you with the atmosphere of humidity and precipitation since the time you set foot in. To explore, tourists can take the elevator up to the 6th floor and begin your journey of discovering little cloud forest by walking down the treetop walk til leading to the ground.
2.Gardens by the Bay | Places to visit in Singapore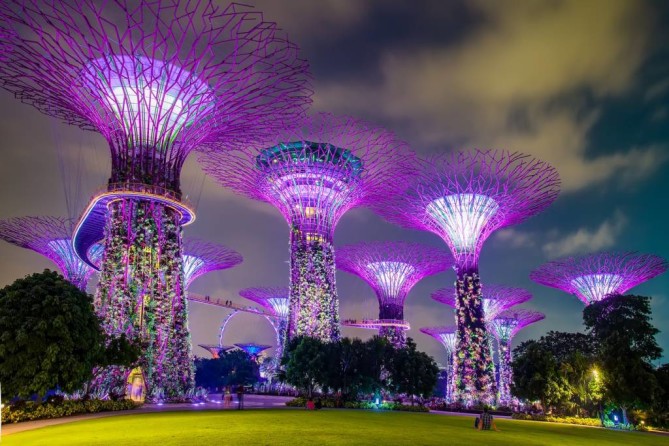 Talking about places to visit in Singapore earlier does not mean that traveling the garden is limited to a daytime activity. Gardens by the Bay, as spanning 250 acre in central Singapore, has been turned the spotlight on after the sun sets. Dubbed as the world's top 20 most checked-in places on Facebook, Gardens by the Bay have been welcoming over 30 million visitors. The iconic tree-shaped vertical gardens stand stunningly up to 50 meters tall, or equally 16-storey building in size.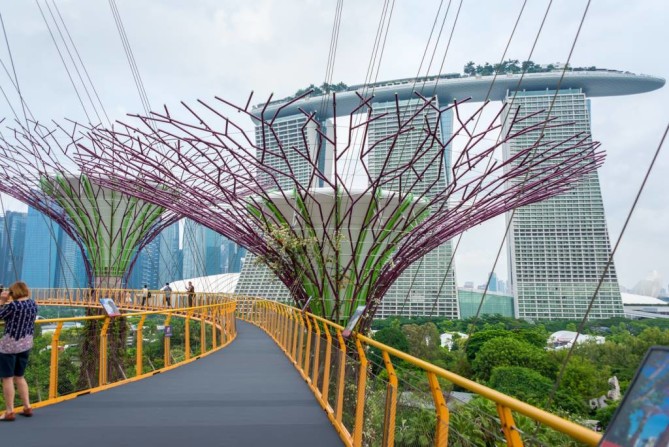 Supertree Grove looks fantastic especially at night thanks to the spectacular light shows that bright up the sky over Singapore. As a top-notch destination in Singapore, sustainability, as a concept of the Garden, is a core fundamental in making Gardens by the Bay an eco-friendly tourist attraction. The Supertrees are so huge and robust that the 'OCBC Skyway' (a 128-meter long aerial walkway) could be built to connect those mighty Supertrees. A visit in the Gardens by the Bay is free of charge, however, anyone wish to take a walk on the aerial walkway should keep in mind that small fee will apply as well.
3.Marina Bay Sands | Places to visit in Singapore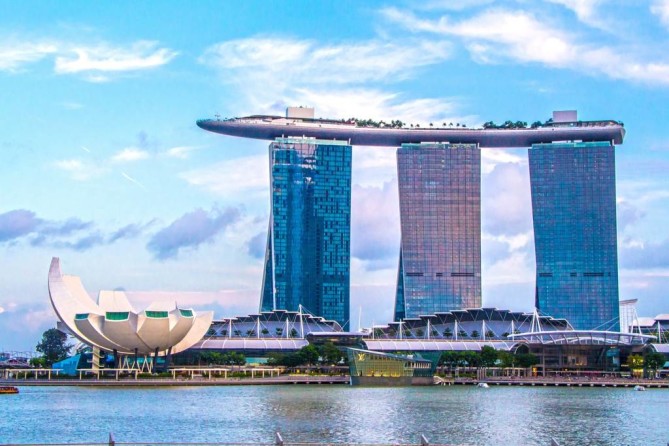 A boat on top of three buildings is the unofficial landmark of one of the places to visit in Singapore. They call it Marina Bay Sands, the latest iconic creation after the Merlion that represents Singapore in recent years. Marina Bay Sands has been accredited for the world's most expensive standalone casino and an integrated resort fronting Marina Bay. The three gigantic buildings which bear the boat-shaped top floor shows the cutting edge in design and pride of the Singaporean.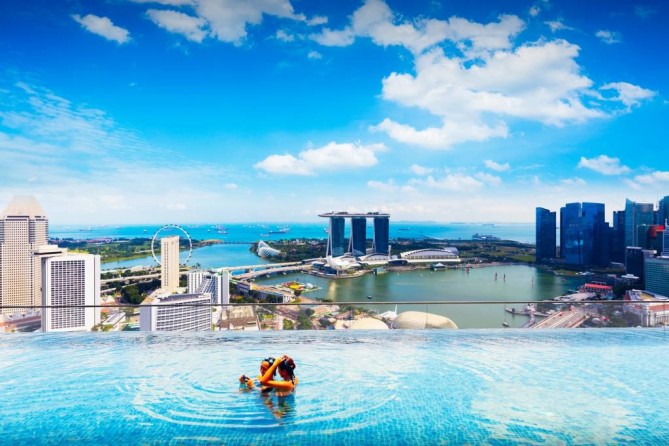 Favorited by luxury fanatics, Marina Bay Sands is jammed with five-star hotels, upscale restaurants, and high-end shopping venues. Living up to the standard of the best viewing spot in town, the infinity pool (the world's largest elevated swimming pool) offers a pleasant swim that is parallel to the skyline, and the public observation deck allows for photo opportunities. With highly sophisticated technologies, Marina Bay Sands meets the standard of Singapore's economy and tourism industry for the next decade!
4.Chinatown | Places to visit in Singapore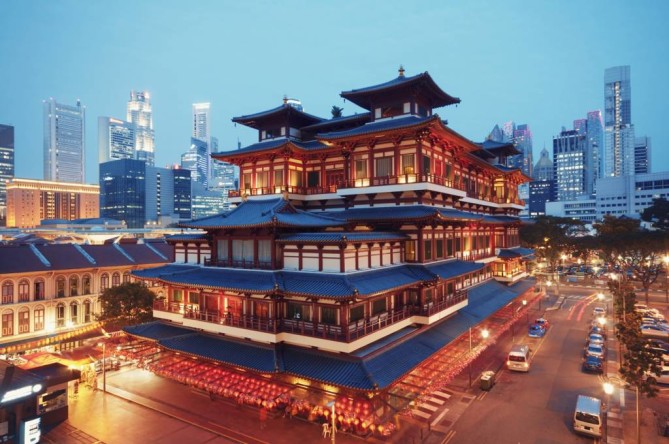 Red houses with windblown Chinese paper lantern is typical example of Chinatown. However, the one in Singapore blends smoothly with famous 'Painted Ladies' or candy-colored San Francisco Victorian style houses.  As a result, Chinatown in Singapore looks more modern and attractive while still preserving its traditional Chinese ambience through overhanging Chinese lanterns and the famous 'Buddha Tooth Relic Temple' located at its gateway.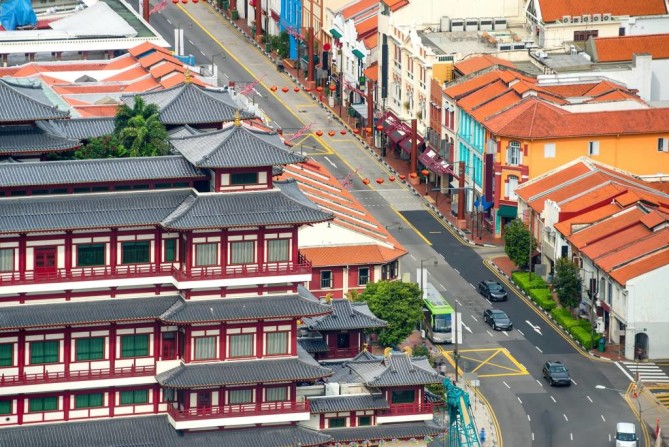 Chinese, the largest ethnic group in Singapore, has made a subzone forming restored shophouses in Outram District, Singapore. A well-liked part of Chinatown, apart from the ambience and architecture, is exclusive souvenirs. It offers a plethora of fabrics, accessories, tiny furniture, plastic Buddha statue, dried seahorses as well as several boutique cafés suitable for people watching. Typically, Chinatown is extra busy and very active a month before the Chinese New Year, which range from January – February. The street will be turned into a joyful carnival with Chinese New Year theme decorations and the town will be especially brought to life by a number of tourists and fantastic shows.
5.Universal Studio Singapore | Places to visit in Singapore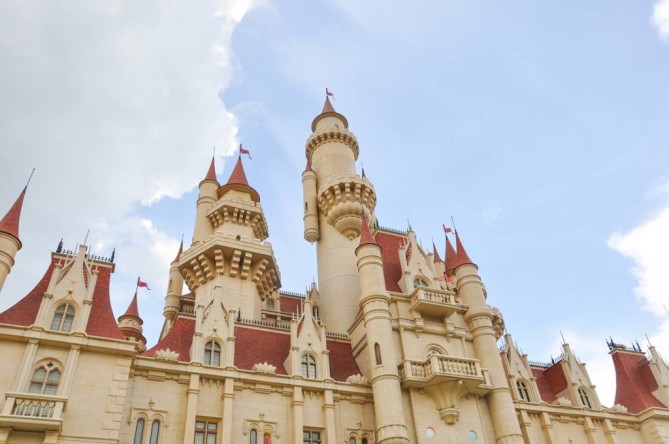 Leave it up to us to schedule your travel itinerary in Universal Studio Singapore (USS). Before setting foot in this theme park, you should plan a full day trip to finish exploring given that the size of the park is 25 times larger than a football field. This includes one of the two grand-scale hotels that was marked in the plan of the Singapore's next decade objective.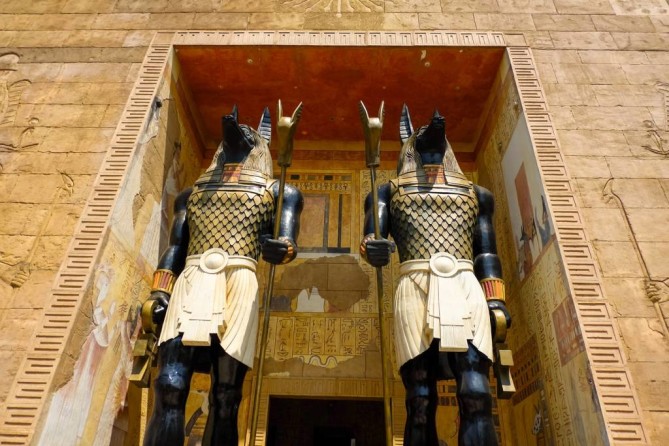 Thanks to the movie-themed park, the Universal Studio Singapore has been marked the only Universal Studio theme park in Southeast Asia. No more just sitting in front of the screen, the USS lets kids and kids at heart soak in the virtual ambience of your favorite blockbuster films such as Hollywood, New York, Sci-Fi city, Ancient Egypt, Lost World, Far Far Away, and Madagascar. Each theme has its own should-not-missed rides: Puss in Boots' Giant Journey, TRANSFORMERS The Ride, Jurassic Park Rapids Adventure and just to name a few.
The USS follows the standard of the American version with branding and quality on a par. It follows the rules strictly how professionally the park should be carried out. The USS beats out its competitors as the only English-speaking theme park in Southeast Asia meaning that it is reachable by English-speaking tourists. Anyone wishing to enjoy the theme park but can't go far to the United States, Universal Studio Singapore as its twin is the place to be.
6.Merlion | Places to visit in Singapore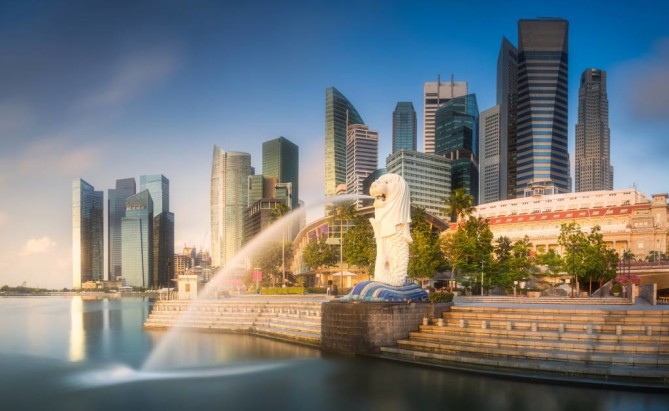 Don't leave Singapore just yet if you fail to visit Merlion. As an official mascot of Singapore, the mythical creature with a lion's head and a fish's body acts as a guardian of prosperity. The symbol tells the story of Singapore as a key seaport with its half fish symbolized Singapore's humble beginning as a fishing village called 'Temasek', whereas its half lion signified the Singapore's former name as Singapura or 'Lion City' in Malay.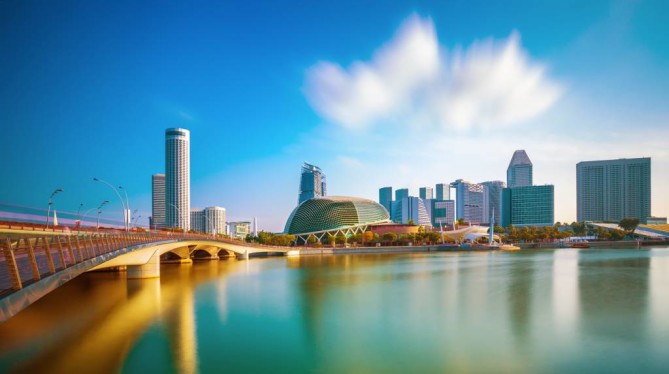 Dating back to 1964, when the Merlion was first erected, this period marked a milestone in the Singapore history as it had been emancipated from being a British colony. Merlion sits right at the perfect viewing spot in town, One Fullerton. All passers-by can take in the sight of the mighty Merlion spurting water from its mouth which standing elegantly 8.6 meters tall. Standing on terrace on the Merlion edge, it is very enjoyable by just taking photos, watching light shows at Marina Bay Sands, and overlooking the Marina bay.
Book your flight to Singapore today! Visit  http://www.bangkokair.com/eng/flightdeals/view/samui-singapore  to check flight availability.