Samui  | Samui Travel Guide
If Phuket is the Pearl of the Andaman Sea, Koh Samui would then be the Gem of the Gulf of Thailand. Samui, as interpreted in this Samui travel guide, is veritable lifeblood of Thai sea. How important it is to beach seekers defines by nearly 20 flights Bangkok Airways fly to Samui daily. Koh Samui responds to the needs quickly ever since all its guests have touched down at tropical-inspired Samui International Airport. Some of the characters that Samui possesses are swaying coconut trees that go forever on the coastline, smooth golden sand, aquamarine waters, marvelous sea creatures, and marine merriment.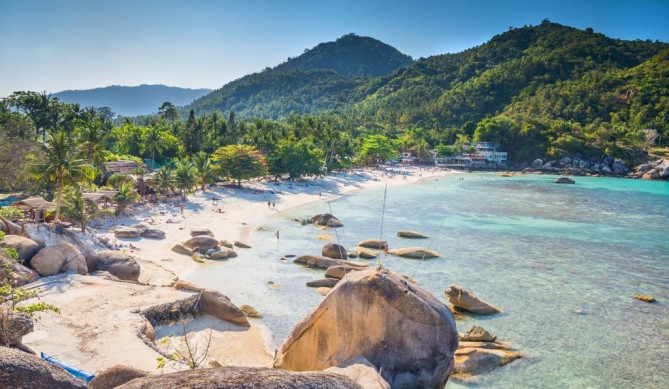 Places to visit in Samui are quite tailored to travelers' needs from boisterous scenes to tranquil ambience, from luxury hotels to affordable lodges. While Chaweng beach is famous for hustle and bustle, Lamai beach sitting across offers a quiet, secluded getaway. It is also too humble not to give credit to Samui nightlife since some people keeping an eye on Samui nightlife more so than beach therapy. Walking streets full of clubs, pubs and bars are in similar comparison to the famous Phuket and Pattaya walking street. A list of things to do in Samui goes as far as a list of must-see attractions, which Samui never fails to impress. The best way to explore the island thoroughly and freely is by way of riding a motorcycle to any parts of the island as you wish.

1.Na Muang Waterfall | Samui Travel Guide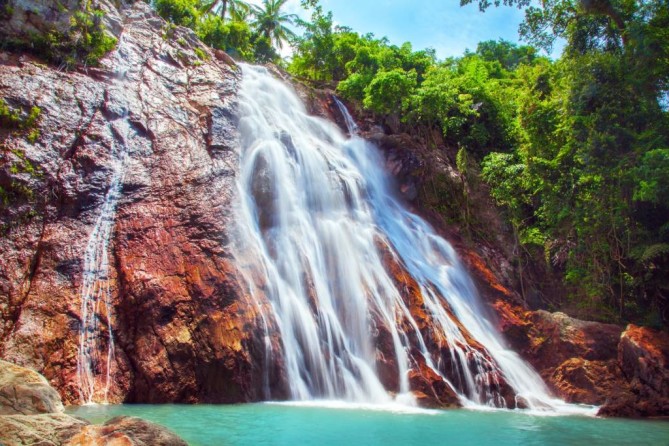 A marvelous set of two cascades of Na Muang refers to the highest waterfall in Koh Samui and is in the forefront of places to visit in Samui in this Samui Travel Guide. Only 14 kilometers from Samui pier on the 4169 Ring Road, Na Muang waterfalls and the sound of stream ensure all its guests for a laid-back vacation. Before exploring it, make sure to wear some sturdy sneaker as the path leading to it can be steep or slippery in places.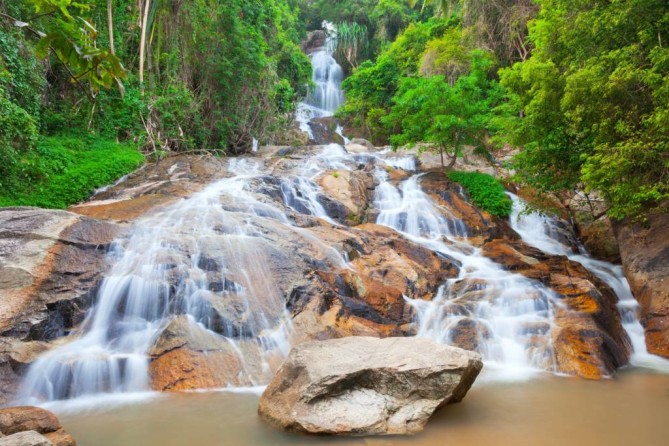 A short distance of walking path from the entrance leads travelers to the Na Muang waterfall 1, a 15-meter-tall cascade in which the stream flows down into a large refreshing pond suitable for swimming and cooling the body down on a hot day. For those who prefer to have the experience requiring a little bit adventurous, then take a trail through an elephant camp and jungle route leading to the Na Muang waterfall 2, which is the highest waterfall in Koh Samui and embraces beautiful vista around every corner!
2.Wat Phra Yai (The Big Buddha Temple) | Samui Travel Guide
As the airplane descending to Samui International Airport from the North, it is hard not to notice the imposing sparkling golden Buddha statue. Given that the Big Buddha statue is 12 meters tall, it makes no surprise that the size is big enough to call it so. The Big Buddha Temple is an alternate name of 'Wat Phra Yai' known by locals. Built in 1972, the Big Buddha is actually inside the grounds of Wat Phra Yai that is again situated on a small island called 'Koh Farn' which connected to Samui mainland via a causeway.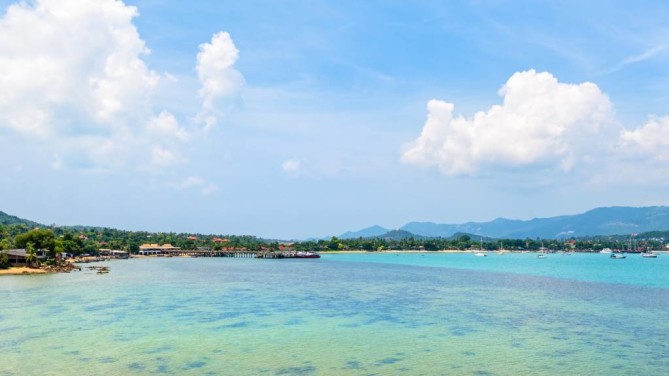 Stop by the Big Buddha Temple is to kill two birds with one stone. Aside from paying respect to the most prominent religious landmark in Samui, one is able to find the best viewpoint in Samui from the terrace where the seated Buddha statue located. From the terrace looking toward the north, it is a sight of northern coastline of Samui, whereas the view to the south allows for the landscape of Samui International Airport as to witness aircraft taking off and landing.
3.Hin Ta Hin Yai (Grandfather and Grandmother Rocks) | Samui Travel Guide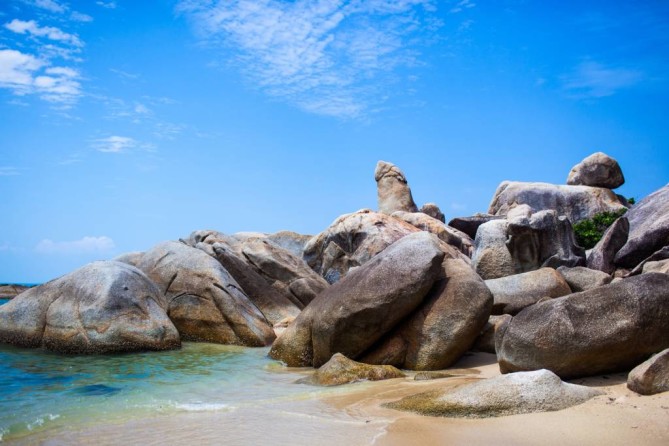 Legend has it that centuries ago, an elderly couple drowned at sea, got washed up on the shore and then miraculously turned into a couple of interesting-looking rock formations resembling male & female genitalia. Today, that rock formations are known as Hin Ta Hin Yai, one of the places to visit in Samui. Owing to its bizarre shapes, Hin Ta Hin Yai has been one of the instagrammable places for Samui travel guide. Hin Ta Hin Yai is your best bet in case you want to setting foot in where tourists outnumber locals.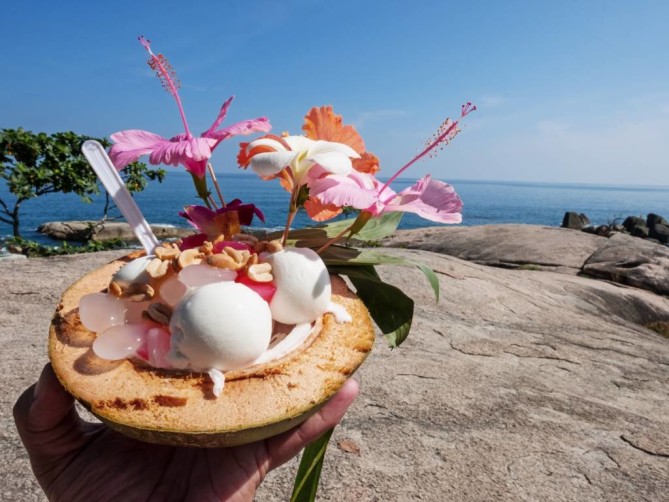 We're pretty sure that most, if not all, head to Lamai Beach to witness this themselves. The best time of the day to visit is during the evening when the sky turn shades of color before the sun sets. Hin Ta Hin Yai could then be of interest for photograph fanatics to get some stunning shot. Before leaving, make sure that you get your hands on some coconut caramel candies or freshly made coconut ice cream as your sweet confection stimulating more of your appetite!
4.Ang Thong National Marine Park | Samui Travel Guide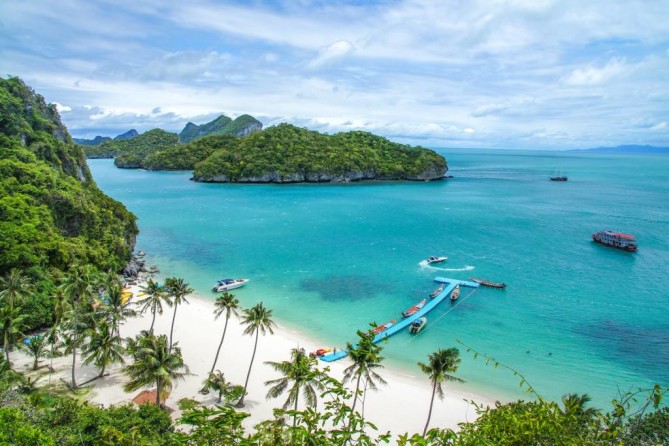 One-day trip to Ang Thong National Marine Park ensures that it is not a wasted vacation. To all diving aficionados, Ang Thong was first shown in the novel 'The Beach' by Alex Garland. Unquestionably, Angthong National Marine Park appears in all that Samui Travel Guide and continuously rises in popularity as a diving haven where marine enthusiasts flock to set up camp and explore the underwater world, one of the things to do in Samui.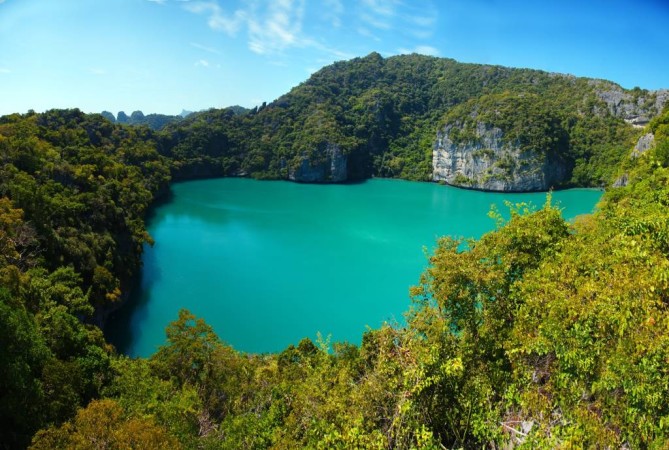 When visualize the landscape of Ang Thong National Marine Park, count 42 islets, add thousands of square kilometers of shimmering water and towering limestone mountains as well as plentiful mangroves, majestic waterfall, isolated coves and emerald lake. Ang Thong is anything near pristine archipelago. When go with a tour, most of them, if not all, can complete within a day by dropping by at different locations based on time schedule. In a day, Ang Thong National Marine Park has got you covered from snorkeling, scuba diving, sea kayaking, hiking, sailing and simply taking it easy on the beach.
5.Bophut Fisherman's Village | Samui Travel Guide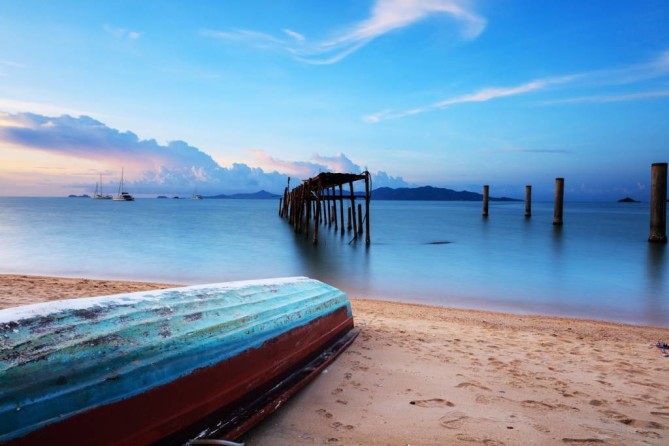 The quiet, sleepy town of Bophut keeps Samui pace slow. The age-old, traditional Fisherman's Village is one of the places to visit in Samui for all Samui Travel Guide. Perhaps, the oldest place on the island, Fisherman's Village wants the world to know that there really exists a local fisherman community which is the origin of the island before Samui is taken away by development and investment that come with hustle and bustle.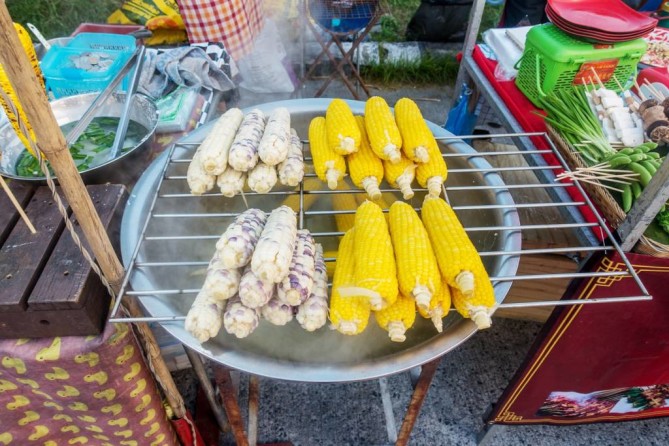 Some parts of the village are still well-preserved while the rest have turned into boutique shophouses selling fashion, jewelry, souvenirs, and mouthwatering seafood. Save the date on every friday in your Samui travel itinerary for a shopping carnival at Fisherman's Village Walking Street beginning from 05:00 p.m. – 11:00 p.m. The placid, undisturbed atmosphere of Bophut Fisherman's Village thus serves an easy breezy mode rather vivacious vibes that spread in other Samui destinations.  
6.Chaweng Beach | Samui Travel Guide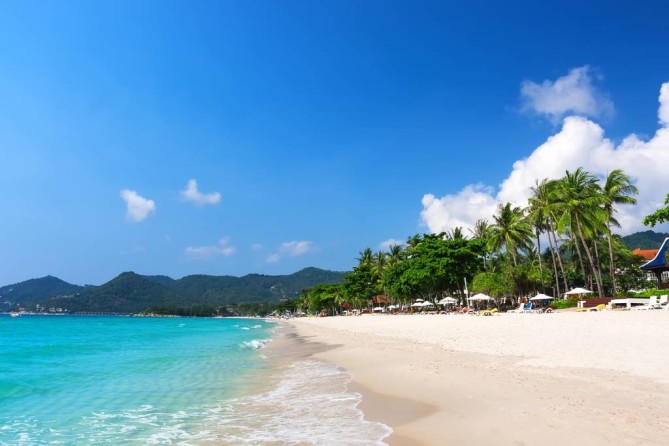 Dig your toes into the sun-kissed sand of 7-kilometer stretch of Chaweng Beach, does this fulfill your desire for the ultimate vacation getaway Samui has to offer? For today's Samui Travel Guide, it's almost impossible not to explore Chaweng Beach that extending along the East Coast of Koh Samui. Love it or loathe it, Chaweng Beach is the quintessence for all things to do in Samui from water merriment to bustling entertainment area, from classy restaurants serving Asian and Western dishes, seaview resorts, night markets, spa therapy, to shopping venues.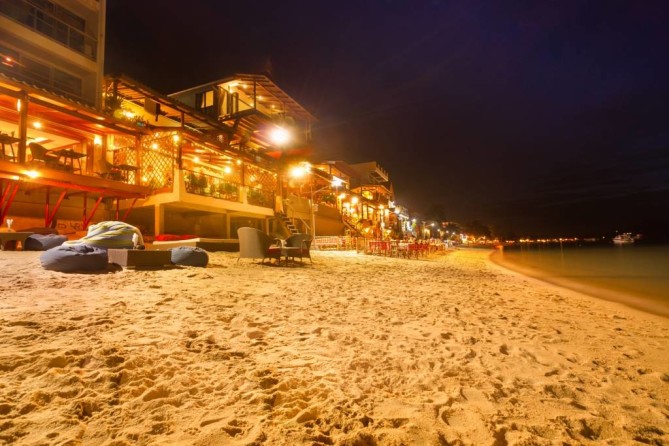 Chaweng is awaken more at night. As it comes with neon signs, wild and diverse, Chaweng has been converted into cool bars with cool beer, clubs and pubs and live music ranging from low-budget local clubs to luxurious pool bars. It is a meeting point where locals, Thai tourists, expatriates come to join the party and make new friends. Chaweng offers just one of many sensory experiences making all its guests hard to leave!
Book your flight to Samui today! Visit  http://www.bangkokair.com/eng/flightdeals/view/samui  to check flight availability.