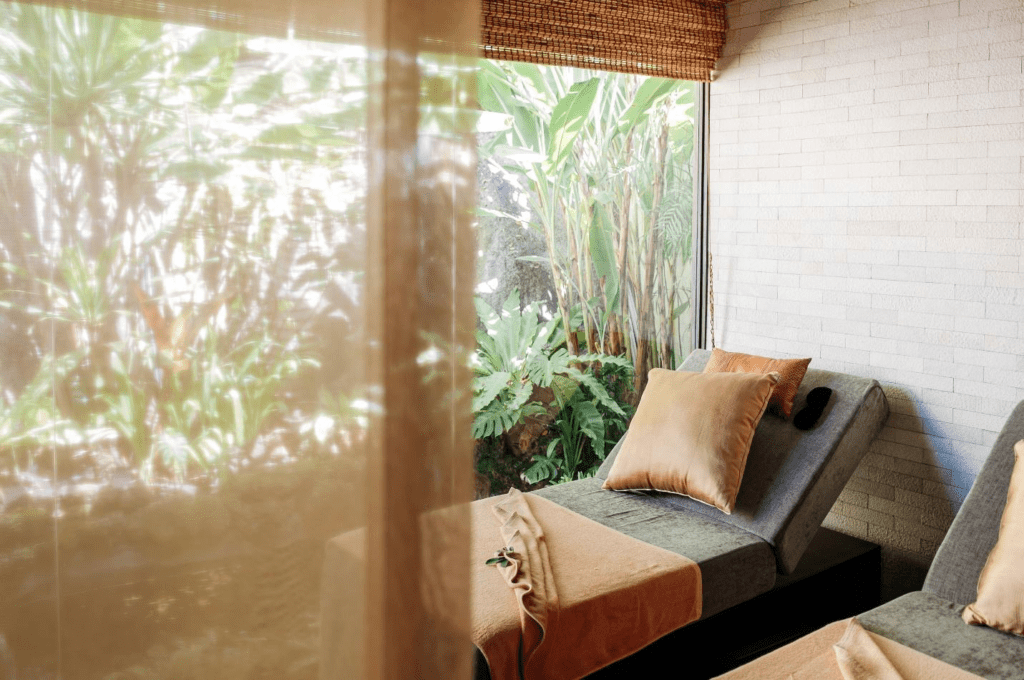 Koh Samui with its beautiful beaches, lush tropical scenery, and vibrant nightlife is a popular tourist destination in Thailand. However, during the rainy season, which typically runs from September to November, the island can experience heavy rains and thunderstorms which tend to dampen some tourist activities. But that doesn't mean you can't have a nice time if you choose to visit during this period.
Despite the weather, there are still plenty of activities to enjoy on the island. Here are some of the top things to do in Koh Samui during the rainy season:
1. Visit a Spa
Rainy days in Samui provide an ideal opportunity to relax, unwind and pamper yourself at any of the many luxurious spas and wellness resorts offering an all-encompassing choice of treatments on the island.
You can indulge in a massage, a body scrub, or a facial, while relaxing in the comfort of a warm and dry environment. You can also enjoy herbal steam, Jacuzzi, as well as mineral and milk baths.
Regardless of your tastes or preferences, you're sure to find the perfect spa for you, as spas on the island are set up to suit a range of different needs and budgets. A few of the cool Koh Samui spas that come to mind are Tamarind Springs Forest Spa at Lamai, Six Senses Spa close to the island's airport, and Peace Tropical Spa on the edge of Fisherman's Village.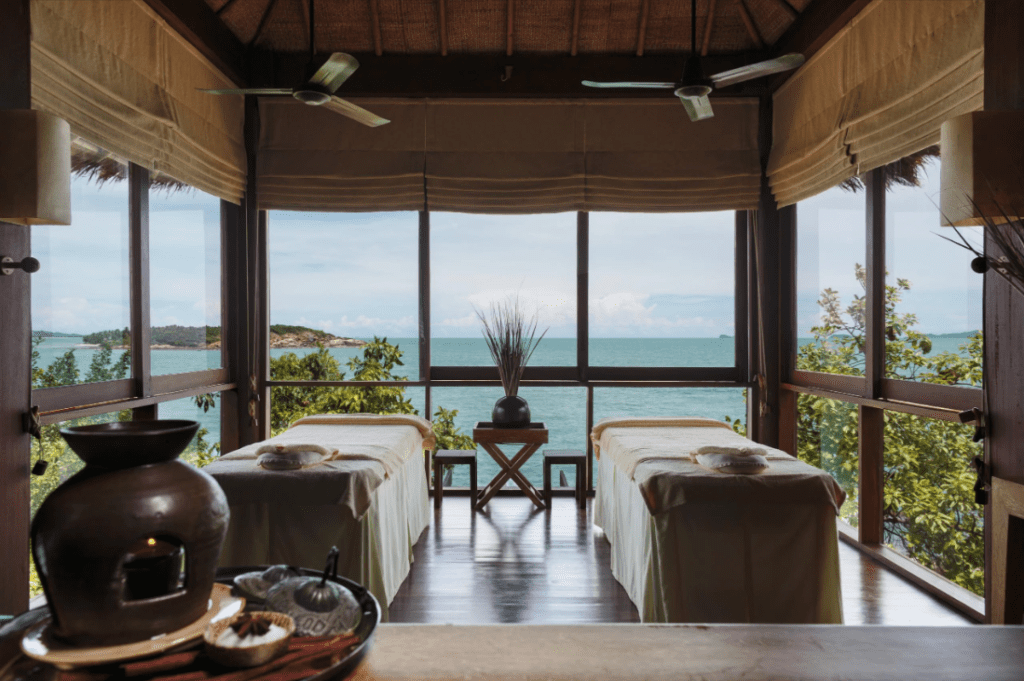 2. Explore the Temples
Koh Samui is home to several beautiful and historic temples, including Wat Phra Yai, which features a giant golden Buddha statue, and Wat Plai Laem, which features colorful paintings and sculptures.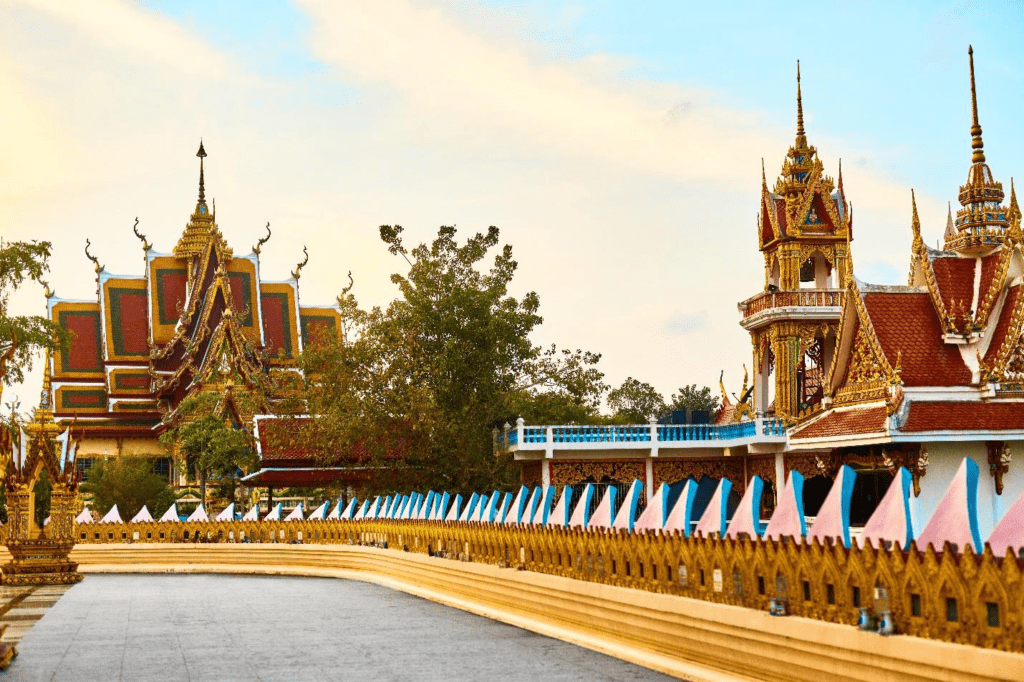 If you choose to explore Wat Phra Yai, for example, there's no doubt that you'll enjoy every moment.
Besides feasting your eyes on the shiny Big Buddha which is regarded as the temple's star attraction, you can climb up to the viewing platform to get breathtaking views of the surrounding beaches and the Northern island of Koh Pha-ngan.
You can also visit the souvenir stands at the temple grounds to buy stuff like silverware and clothing; enter the shops to buy snacks, food and drinks; or visit the fortune telling area for some insight into your future.
3. Visit the Fisherman's Village
Located in Bo Phut, Fisherman's Village is a charming and picturesque area of Samui which, despite its name, is no longer inhabited by fishermen.
At this cherished historical part of the island, there are traditional Thai buildings home to a variety of multi-cuisine restaurants, cafes, exotic shops, boutique stores, and even hotels, all lining the beach road.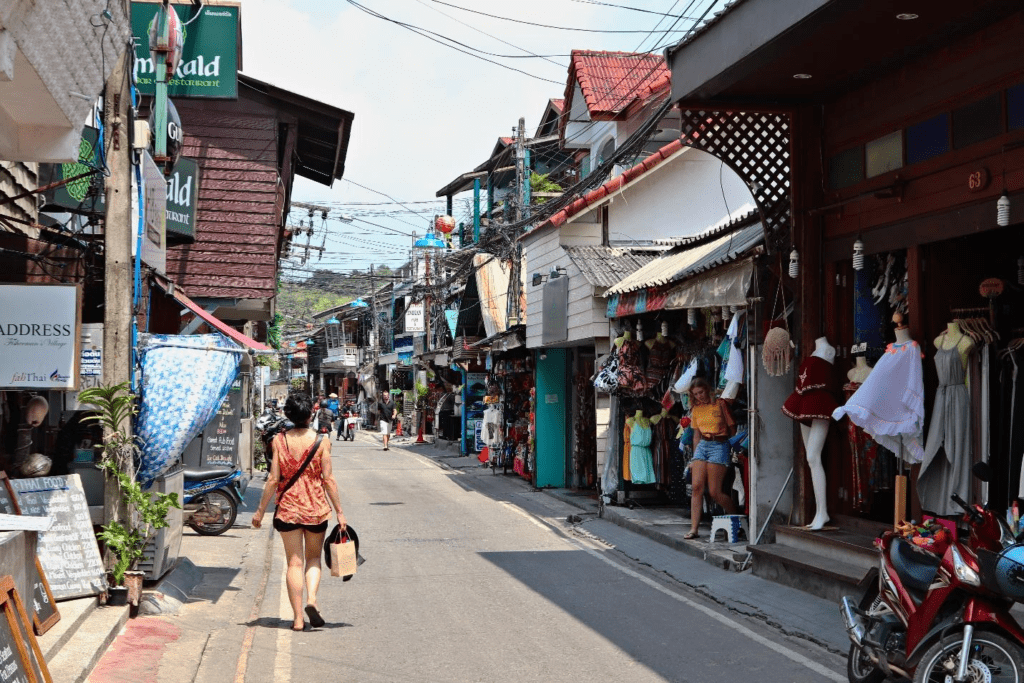 This means there's quite a lot to explore.
The best time to visit this location is on Fridays when it comes alive and turns into a Walking Street market where many tourists from all over the island converge. You can shop, enjoy a meal, dance to great music, or attend art events and performances by local talents.
4. Take a Cooking Class
If you're interested in Thai cuisine, consider taking a cooking class to learn how to prepare some of the country's most famous dishes. Think dishes like tom yum goong (hot & sour shrimp soup), pad Thai (stir-fried noodles), khao soi (Thai coconut noodle soup), and khao pad (Thai fried rice).
At such a class you'll be taught to cook in different ways, sometimes using old-style techniques and handmade tools; you'll also be given opportunities to practice on your own; and by the time you graduate you'll be able to prepare many unique and appetizing Thai dishes – like a pro.
Some cooking classes or schools you can check out in Samui are InFusion Cooking Classes, Island Organics Thai Cooking Class, and Tamarind Tree Cooking School.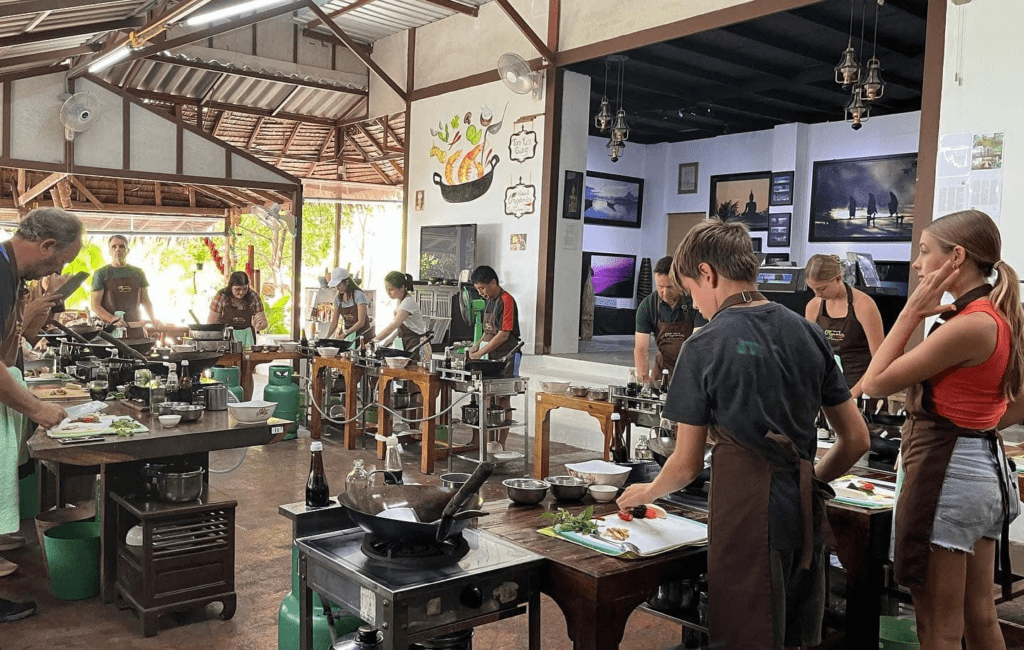 Photo Credit: https://www.facebook.com/islandorganicssamui
5. Visit the Big Buddha
The Big Buddha statue is one of Koh Samui's most recognizable landmarks and is definitely worth a visit, even during the rainy season.
Twelve meters (39 feet) tall and made of Burmese white marble, the statue brilliantly reflects the light of the sun by day, and is intensely lit up by spotlights during the night, causing its silhouette to appear mystical against the night sky.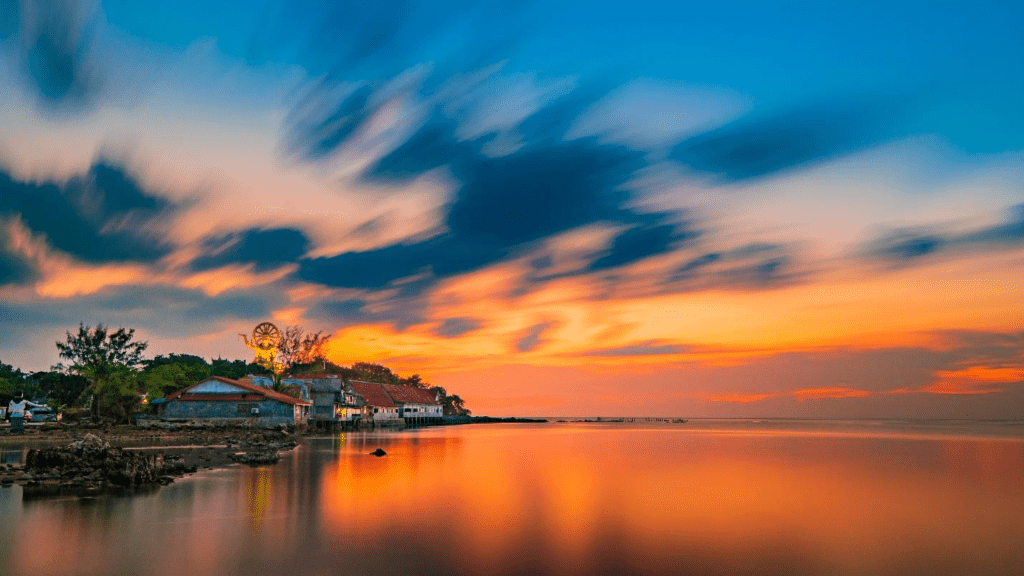 Provided you're on Fan Island you can see the Big Buddha from afar; but to behold this wonderful sight up close, you'd have to climb 72 steps unto a platform which also provides stunning views of the island.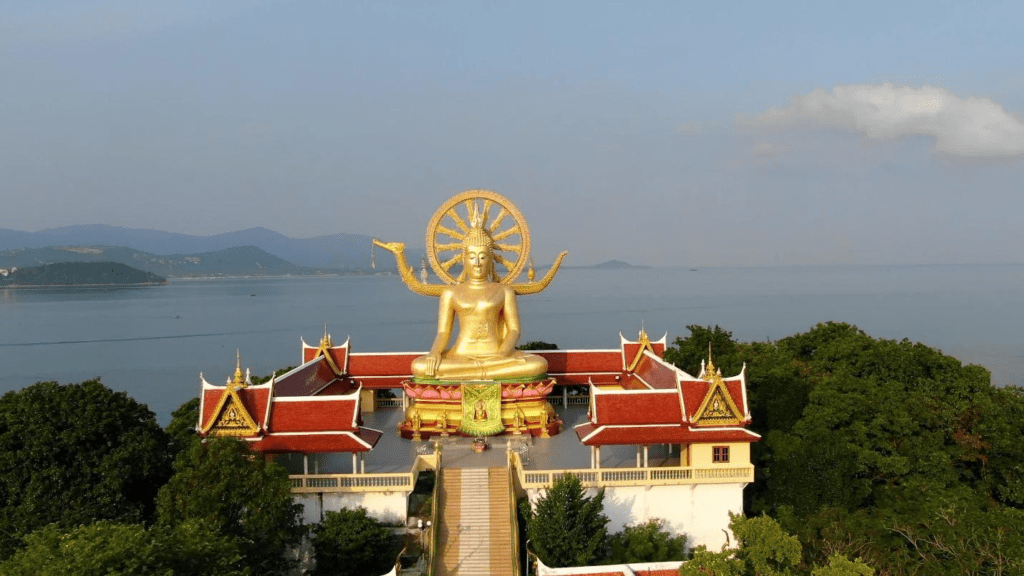 6. Visit the Butterfly Garden
Yet another beautiful and peaceful place to escape from the rain in Samui is the Butterfly Garden.
Located on a seaside hill in Laem NaThian, this scenic park is home to over 30 species of spectacular butterflies spread over an area of 2 acres and enclosed by a net. The December to March of each year – during the morning hours – is the best time to see these butterflies.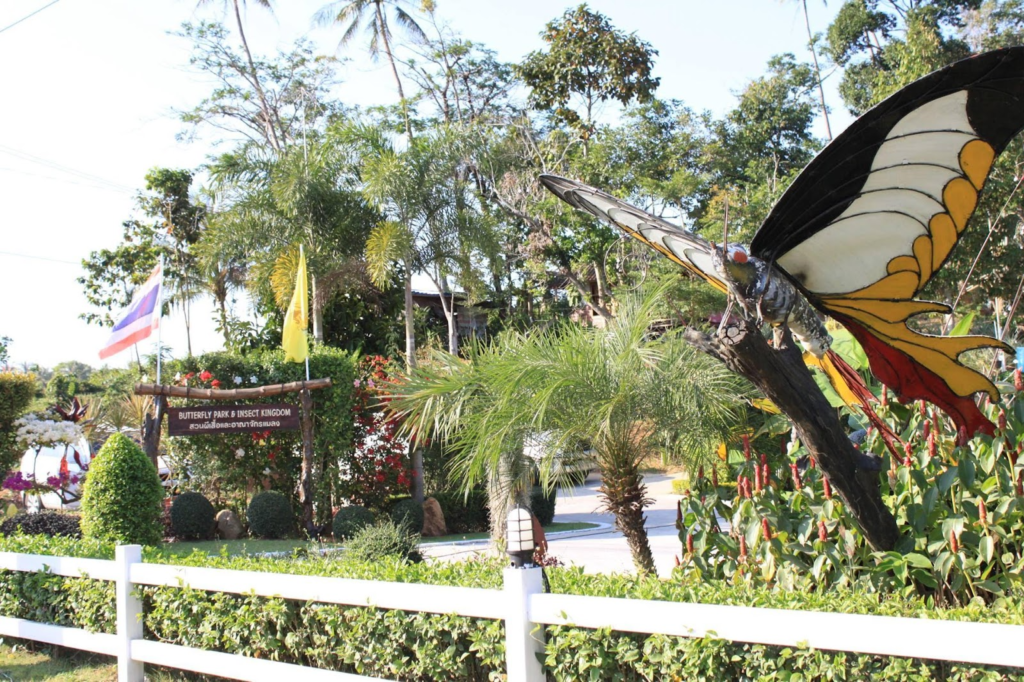 Photo Credit: https://www.facebook.com/Butterfly2515
But there's more to this garden than colorful butterflies.
Other exhibitions/attractions are available, such as an Insect Museum with many rare and common, local and international insects on display; Ban Phueng (Bee House) where the life cycle of bees can be observed in a dark room; a variety of exotic plants, herbs and flowers; as well as a glass-bottom boat and diving equipment for those who'd like to explore the underwater world of the beautiful sea in the vicinity.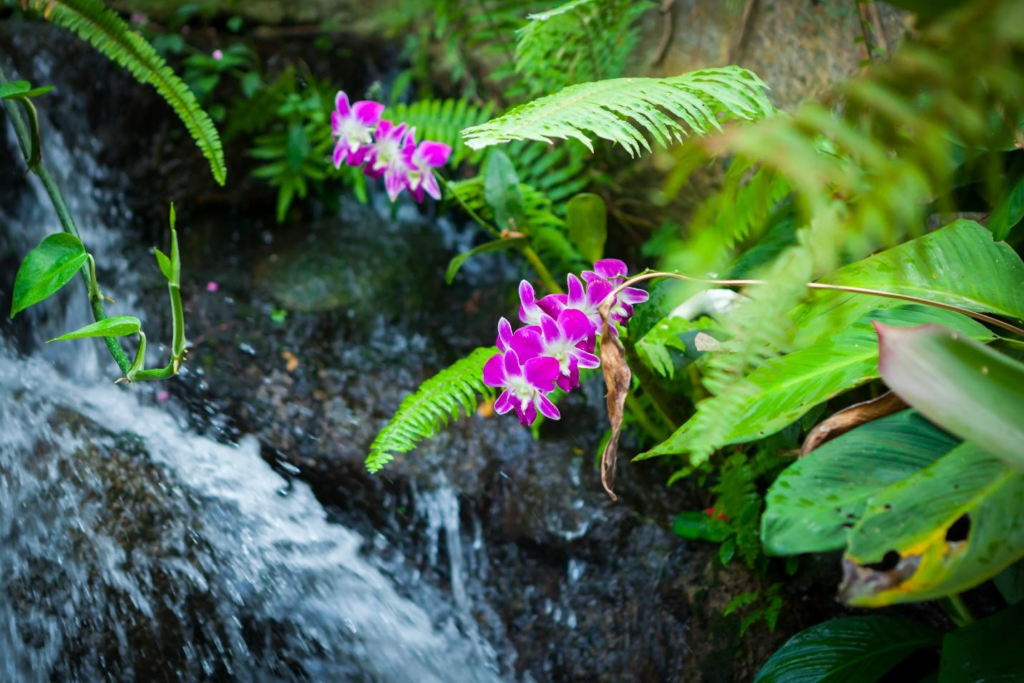 7. Visit the Aquarium
The last but not least of our top things to do in Koh Samui during the rainy season is to visit the Samui Aquarium.
Featuring a wide variety of marine life, including sharks, rays, colorful tropical fish and other undersea creatures collected from the Gulf of Thailand, this facility, though a bit dated, is a great place to spend a few hours during the rain.
You can just relax and observe the fish swim around; or you can amuse yourself further by feeding them with locally bought snacks.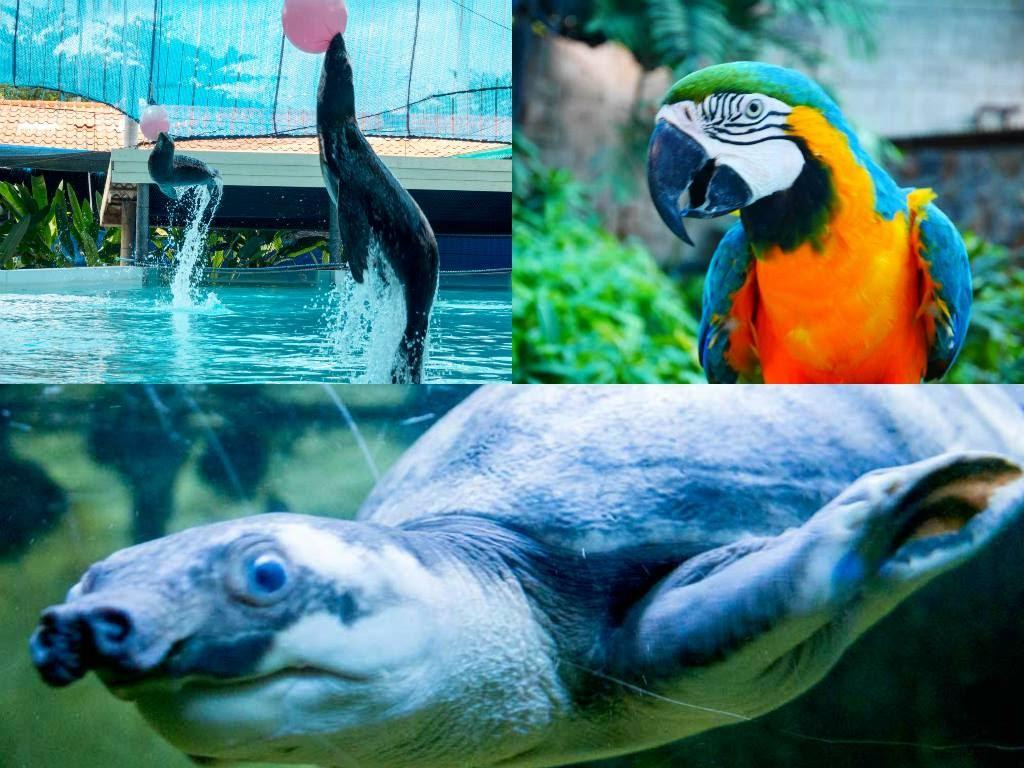 Photo Credit: https://www.facebook.com/SamuiAquariumandTigerZoo
This location further boasts a Tiger zoo which gives you the opportunity to take pictures with real, big tigers in a cage, as well as bottle-feed baby tigers. Other animals like monkeys are also present, and you can have a lot of fun interacting, feeding or taking pictures with them.
These seven activities are just a few out of many you can enjoy throughout the wet season in the beautiful island of Koh Samui which offers plenty to see and do, regardless of the weather.