Loy Krathong – the highly anticipated festival during which Thais release floating lanterns at nightfall into rivers, lakes and canals to thank the Goddess of Water for a year's worth of her abundant supply, apologize for polluting the waters, and pay respect to the Buddha – remains one of the biggest and most popular events in Thailand.
Going by the Western calendar, this Thai Festival of Lights is usually held in November of every year all over Thailand, so you can witness and be part of it wherever you are in the country; however, some locations are more preferable than others when it comes to the richness of the festivities, and that's where we come in.
Want to float (loy or loi) a lotus-shaped, light-bearing basket or boat (krathong) under a full moon, and have some good fun along the way? Here are the best places to celebrate Loy Krathong in 2023.
Top Locations Where to Celebrate Loy Krathong
Celebrate Loy Krathong in Sukhothai
Let's begin right from the birthplace of the Loy Krathong festival. Sukhothai dedicates up to five days or more to this epic event which always takes place in the Sukhothai Historical Park.
We trust you're getting ready, as this year's Loy Krathong in Sukhothai will be celebrated officially on the 28th of November, and there'll be many other exciting things to do in addition to floating lamps in a basket.
Several days before the actual date of the event, celebrations are kicked off in this city. You can look forward to experiencing everything from parades, folk music performances and dramas, to a beauty contest and the gorgeous Sukhothai light and sound show. In addition to these fun activities, you can also witness alms-giving to Buddhist monks.
Tourists prefer to observe Loy Krathong in Sukhothai because of the historical backdrop the location offers, with ancient but beautiful temples and monuments blending with floating lanterns to create an enchanting scene. Some people also believe the city offers the most authentic Loy Krathong experience as it's dominated by locals, unlike the bigger cities where tourists flock to for the event.
Celebrate Loy Krathong in Chiang Mai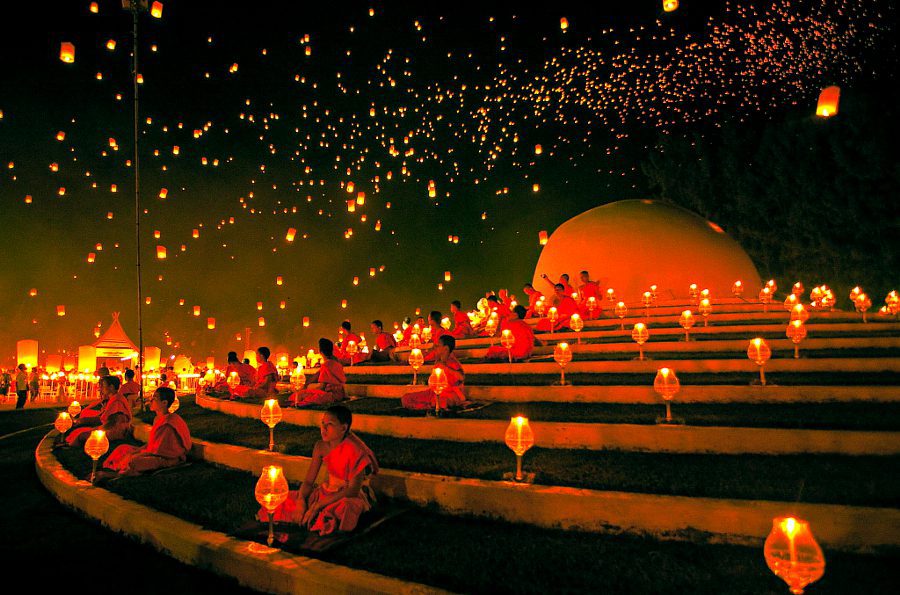 In Chiang Mai, Loy Krathong is paired with another similar, spectacular festival called the Yi Peng Festival (Thailand Sky Lantern Festival); the main difference between both is that while one involves floating lanterns on waterbodies, the other involves flying them in the air. Also, while Loy Krathong is celebrated all over Thailand, Yi Peng, a Lanna tradition, is exclusive to Northern Thailand which was the capital of the former Lanna Kingdom.
This year's edition of both events will take place in Chiang Mai from the 27th to the 28th of November; so if you're seeking a memorable experience, take the opportunity of visiting the city to witness the two festivals side-by-side.
As Chiang Mai is not just one of the best places to celebrate Loy Krathong, but also the second-largest city in Northern Thailand, expect lots of tourist crowds at this location. Beyond the breathtaking scene of lanterns floating in the river and flying in the air, you can anticipate other entertainment, such as traditional dance shows, colorful street parades, exhibitions and fireworks.
Religious services and various other forms of cultural displays take place at this location as well, and all these start several days before Yi Peng, and run all through the day and into the night.
Celebrate Loy Krathong in Bangkok
The capital city of Thailand, with its numerous ponds and waterways, has long been a popular location for the festival of Loy Krathong.
It's likely that this year's event will take place here from the 26th to the 28th of November, and, as you would expect, Bangkok has its own unique take on how Loy Krathong ought to be celebrated.
Celebrants at the Chao Phraya River, for example, like to take a cruise while enjoying the festival; the riverbanks between the Krung Thon and Krung Thep bridge are the most popular here. Those marking the event at the Asiatique shopping centre usually spend a nice time exploring the numerous, well-decorated stores and bars, so brightly lit up as to illuminate the street and riverside.
Some other locations to float a Krathong in Bangkok, like the Wat Saket temple, Lumpini and Benjasiri Parks, are worth checking out. At any of these favorite Loy Krathong spots one can also experience – in addition to Krathong releases – donation ceremonies, blessings, candlelight or prayer processions, awesome fireworks, Thai dances and other traditional festival displays.
If Bangkok sounds like the ideal location for you to observe the festival, be sure to book your accommodation around the Bangkok Old Town where you'll be closest to the pier.
Loy Krathong in Phuket
If you'd like to enjoy the festivities of Loy Krathong while avoiding the usual large crowd it attracts, Phuket is the location for you; it's also the spot for those who wish to combine beach relaxation with Loy Krathong fun.
On the island, celebrations take place at all waterways and beaches – think Patong Beach, Nai Harn Lake, etc.; however, most of the townsfolk converge for the festivities at Karon Beach, Kata Beach, Saphan Hin Park and Suan Luang Park; so if you're seeking a more local experience, those are the spots you want to be at.
As you'd expect, there are a variety of side attractions at these locations. Patong Beach for instance offers the renowned "Most Beautiful Krathong" contest, in addition to the traditional "Nang Noppamas" beauty pageant which you don't want to miss. The actual date for the festival this year in Phuket is the 28th of November.
More reasons why this island city is the favorite of tourists looking to celebrate Loy Krathong is that most resorts and hotels offer Krathong-making classes, and will even help the student float it out to sea. Some hotels also host some sort of in-house celebrations for tourists using their swimming pools.
So what you've just read are four of our best places to celebrate Loy Krathong in Thailand, but are by no means the only places where you can enjoy the festival. Vibrant festivities that include various musical and cultural performances, plus competitions and contests, can be experienced at other locations including Ayutthaya and Tak.