Located in the valley of the Yom River in the lower north of Thailand, Sukhothai Province is an embodiment of ancient Thai history and culture. This city is popular for several reasons, the chief being that it boasts an amazing Historical Park which, in 1991, became a UNESCO World Heritage Site.
Sukhothai is also known to be quite tranquil and scenic, more so during the rainy season.
Today's focus is on the best places you can go to experience its magic during the rainy season. We shall begin with brief comments regarding this season in Sukhothai, and what to include in your luggage.
Preparing to Experience Sukhothai's Rainy Season Magic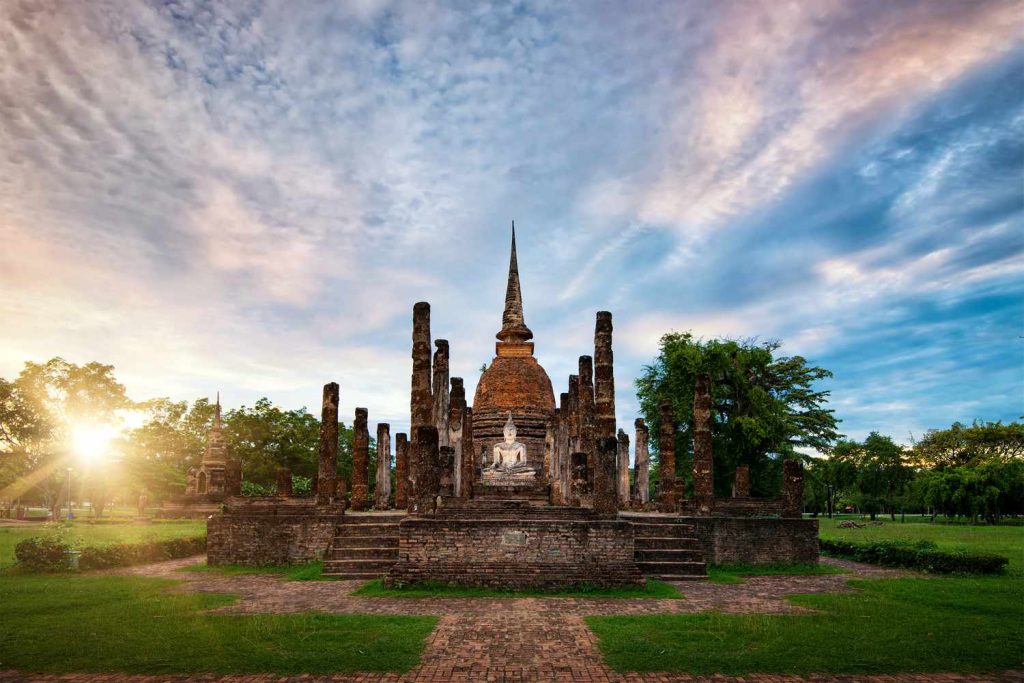 Sukhothai has a tropical climate, so the temperature is hot to varying degrees all year round, and the weather is almost always overcast during its nine-month-long wet season (March to November).
The rains are heaviest between May and September, the peak month, and the cloudiest month is June. On any given day during these months, the chances of rain or snow falling is about 30%; and the average daily temperature is 84 oF or 29oc.
Knowing what to expect during Sukhothai's rainy season, ensure your vacation wardrobe is adequate by including a raincoat for full protection while you move about during a downpour; light and breathable clothes to keep you cool when it's humid; water-resistant footwear; etc.
You can throw in an umbrella for when it's just drizzling, and will find that a water-resistant backpack or handbag is indispensable when it comes to keeping your daily necessities secure and dry when you're out in the rain. Consider a waterproof phone case as well, and be sure to go with a mosquito repellent, as these insects tend to present more of a challenge in humid climates during the rainy season.
We'd also recommend a travel adapter, and a water bottle for when you're out and about, and can't quickly access drinking water.
The Numerous Attractions of Sukhothai during the rainy season
Apart from the already mentioned Historical Park, a significant, must-visit archaeological site in the Old City boasting numerous restored ancient ruins, including that of royal palaces and Buddhist temples, Sukhothai offers many other magical attractions which can be explored in the lush season. The following and more, make this destination worth a visit.
Sukhothai Airport Open-Air Terminal
This Bangkok Airways facility has, unsurprisingly, been described by travelers as "different", "efficient", "charming", "exotic" and "fabulous". 1
The terminal is roofed, but is in the open air surrounded by a neat park. Check-in is smooth and fast; small, open, electric buses are there to take you to/from the plane; complimentary drinks and snacks are served; spotlessly clean restrooms are available; and overall customer service is superb.
Sukhothai Airport Organic Agriculture Project
The surroundings of Sukhothai Airport have undergone transformation, from an empty expanse to a beautiful green zone which is particularly lush during the rainy season.
From transplanting rice seedlings, to gathering vegetables and eggs for meals, travelers can enjoy a real farming experience here. This mixed farming area with a peaceful atmosphere is also a preferred venue for meetings and seminars.
Ban Na Ton Chan Homestay Village
A charming, traditional village in the hills of northern Sukhothai, Ban Na Ton Chan offers an absolutely magical and authentic experience.
Take a sightseeing tour around this scenic destination; learn how to weave like the locals; visit the small local museum, and temple of ironwood construction; buy cheap but nice local products; try tasty local food or snacks; drink from a bamboo tube; and homestay with any of the hospitable locals if you like.
Ramkhamhaeng National Museum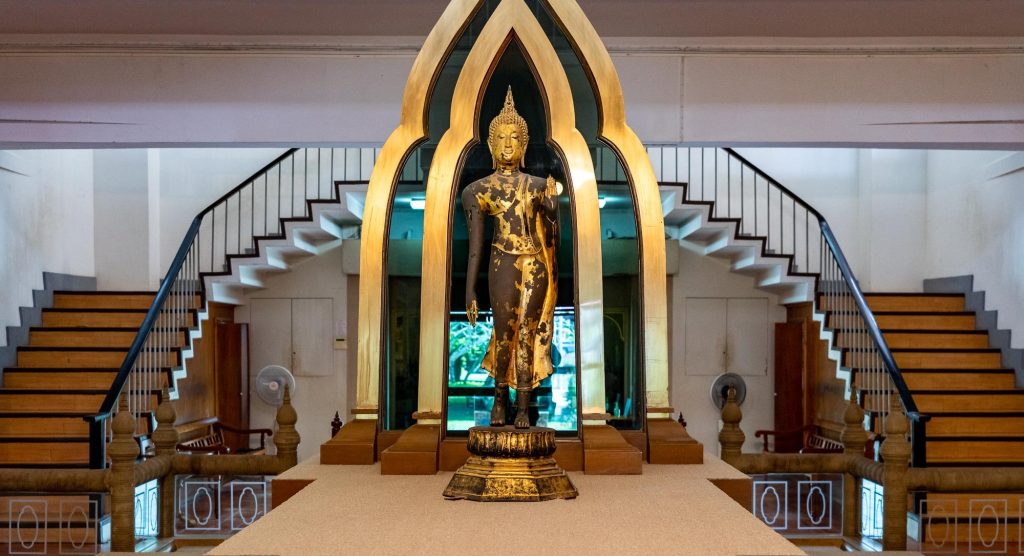 Best visited before a tour of the nearby Historical Park, this well-organized museum features an extensive collection of antiques and art objects of the Sukhothai style; lots of Buddha statues; images of the park's ruins before restoration; an awesome display detailing the evolution of the Thai alphabet; well-presented information on the region's history; and more.
Loy Krathong Festival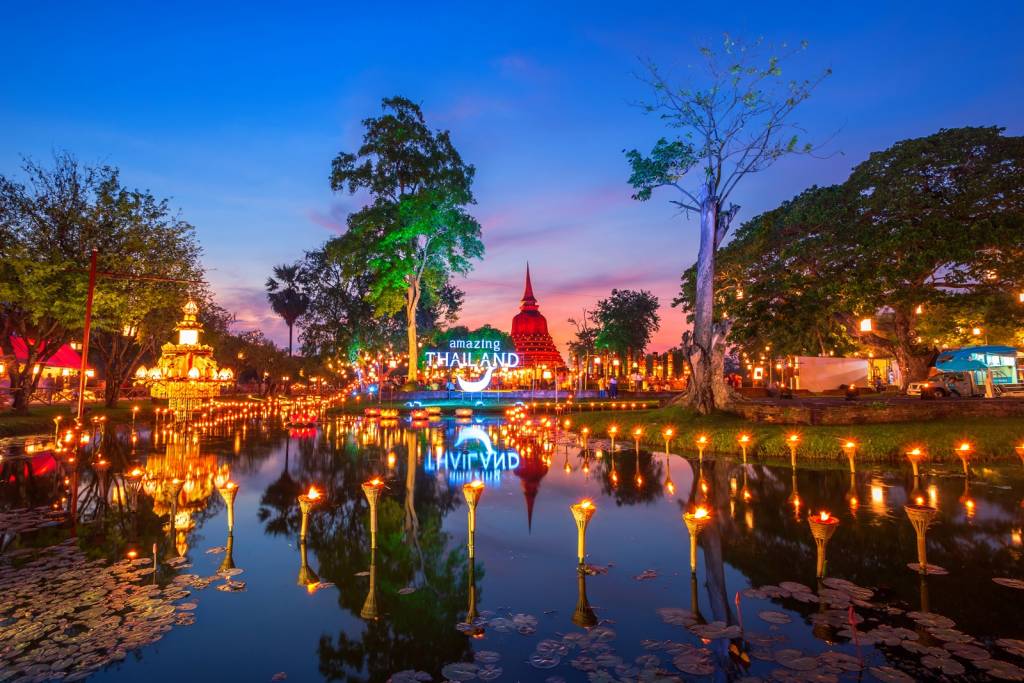 Loy Krathong is an eagerly anticipated, spectacular festival – usually held in November in Sukhothai – during which the locals float lanterns on bodies of water in appreciation to the Water Goddess for an abundant supply throughout the year. 
If you'll be visiting Sukhothai towards the end of the rainy season in November, don't miss this magical experience!
Wat Si Chum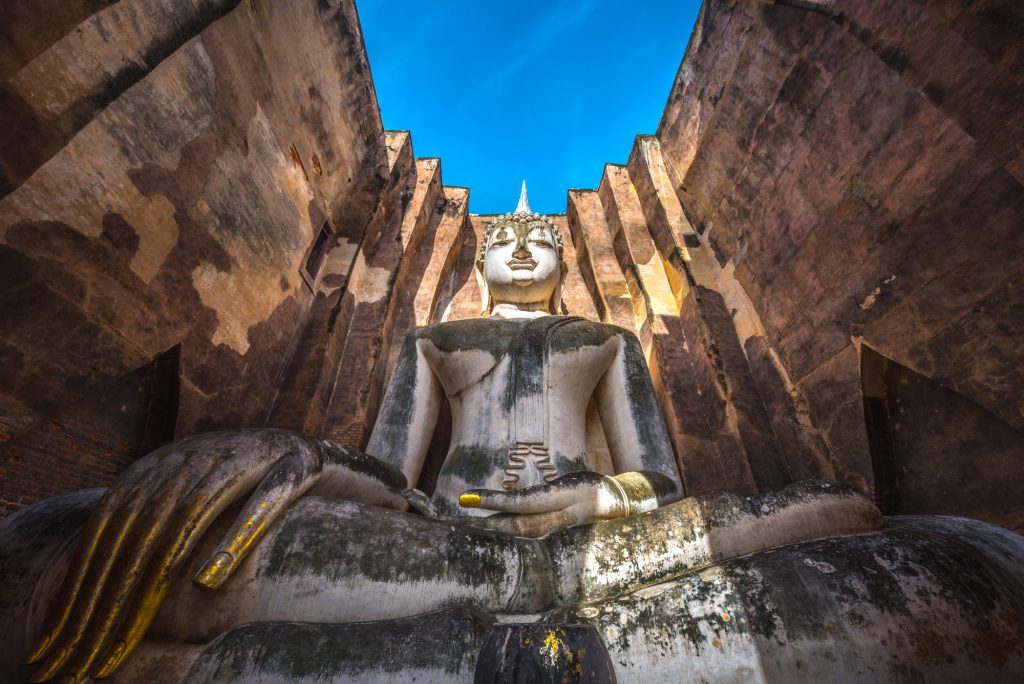 Though rather small, Wat Si Chum is one of the most impressive sites in Sukhothai. Its key highlight is a 15-meter-tall, sitting Buddha statue, with the fingers of its huge right hand reaching downwards.
Adjacent to the temple is a gigantic and eye-catching mango tree, and this site with its memorable scenes makes for cool photos.
Buddhist Votive Tablets Learning Center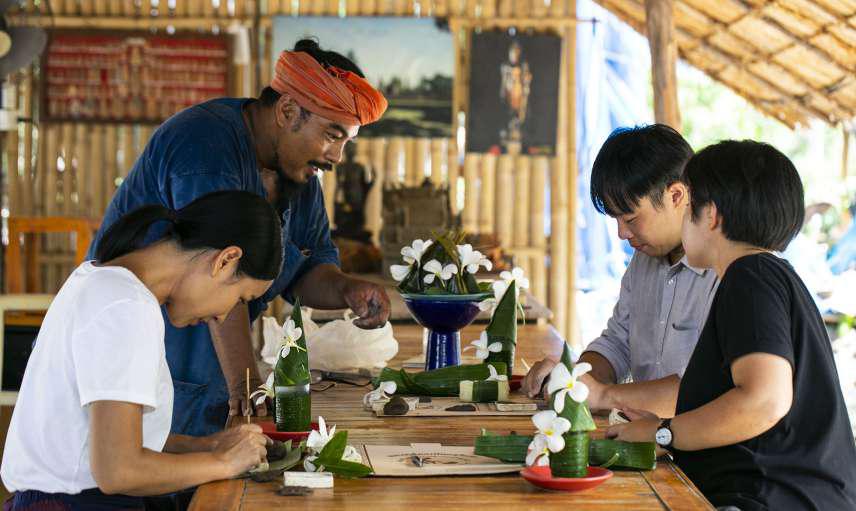 Spend a couple of hours while it rains with the friendly, welcoming and informative family at this votive printing workshop influenced by the Dong Son culture of northern Vietnam which is common with that of Thailand.
This great and unique experience will see you crafting votive tablets you can keep; playing fun games; trying your hands at archery; satisfying your curiosity about Buddhism and Sukhothai's history; and learning about Vietnamese culture.
Sukhothai Bicycle Tour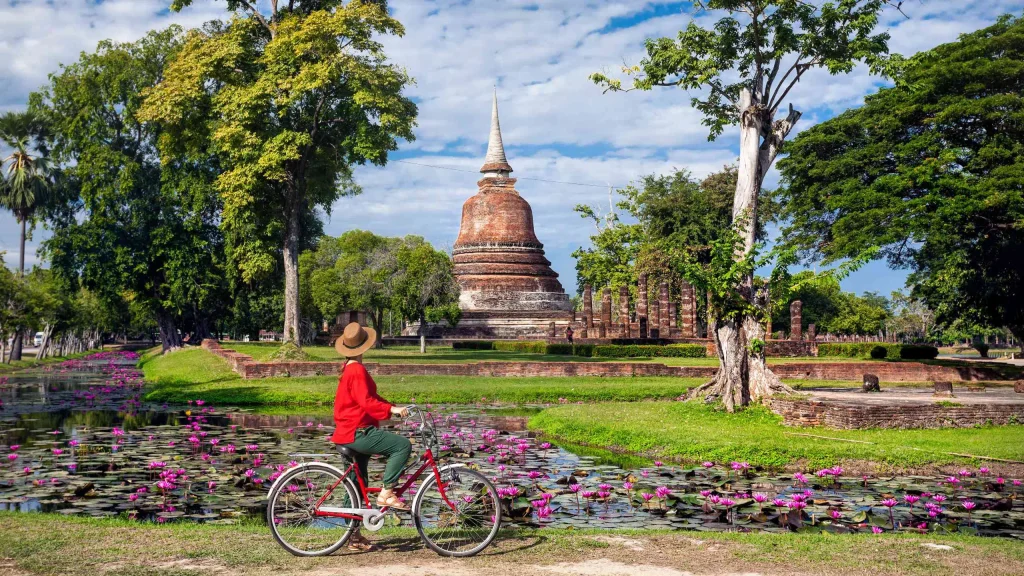 Run by a local Thai family, the Sukhothai Bicycle Tour company provides another not-to-be-missed experience that involves riding on high-quality bikes with a friendly, knowledgeable and English-speaking guide, mostly on flat dirt roads, through rural areas, rice fields, and popular sites like the Historical Park, while enjoying the feel of fresh air and the songs of birds.
Naa Cooking School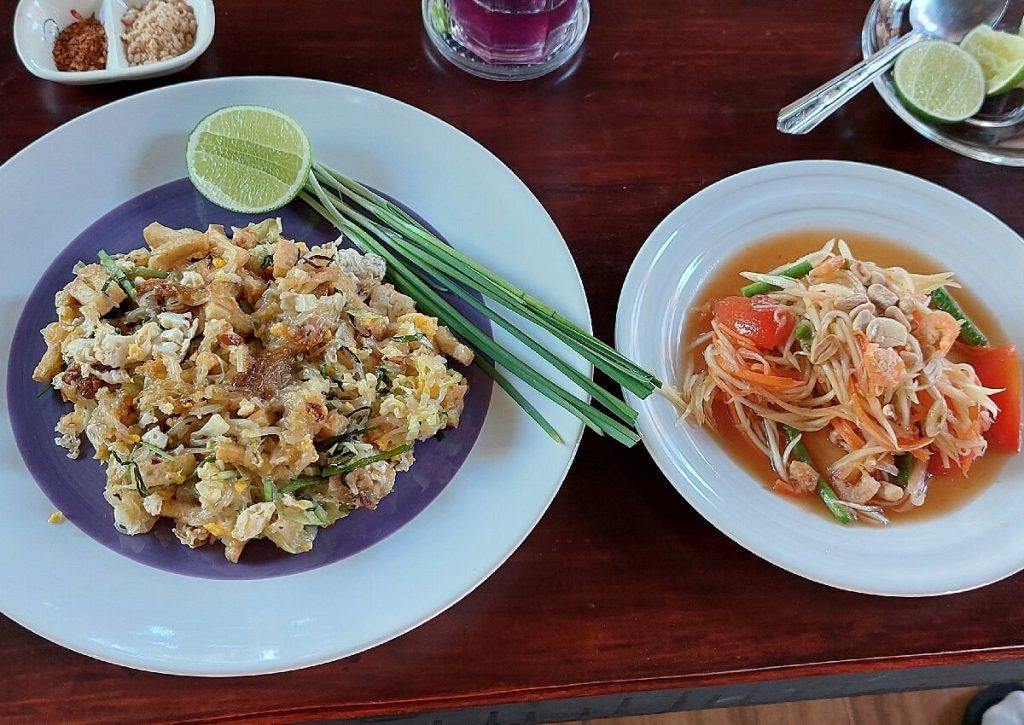 The popular Naa Cooking School gives you the opportunity of learning how to make delicious local food in a tranquil setting during a downpour. Have a fun, educational and satisfying time here helping to prepare the day's featured dishes, which may include yellow curry and papaya salad.
Sukhothai Night Food Market
You don't want to pass up this small but bustling market, an amazing place with lots of kiosks offering a surprising variety of food, fruit, drinks, clothes and stuff. The food here is excellent and reasonably priced, and the vendors are very friendly. You can even catch occasional shows at this spot, like the Miss Grand Sukhothai Pageant.
Suthep Sangkhalok
Visit this family-owned business in Mueang Kao to watch and learn how wonderful, Sangkhalok-style ceramic products are made. Though superb and intricately crafted, the products offered, which include Buddhist paraphernalia, are very reasonably priced, and securely packaged after purchase.