The rainy season is usually not the best time to go on a vacation. The rains could limit your movement, make your outdoor activities less fun, and generally dampen your spirits.
But there are several regions within Thailand, and some of its neighboring countries, which remain bustling, and even become particularly appealing – and therefore worth visiting – during the rains. So if the wet season is the only time you have for a vacation, we've got your back.
Go ahead and take a look at our 10 best places to visit during the rainy season: five of them are domestic destinations, while the other five are international, and Bangkok Airways operates to and from each.
Bear in mind that the rainy season in Thailand varies depending on the region, and is significantly influenced by the monsoon. The rains usually fall from May to October in most regions of the coastal country; but towards the east coast, they start a bit later, peak in November, and fizzle out by early December. Generally speaking, however, the wettest period in Thailand is usually between September and October.
Top Thailand Rainy Season Destinations
Chiang Mai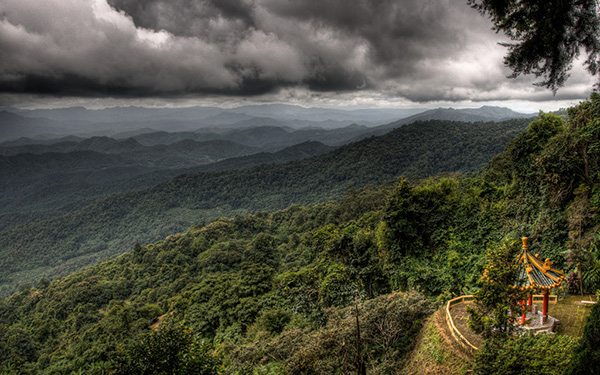 Chiang Mai is at the northern end of Thailand, and its charming hills and valleys become more scenic during the wet monsoon months, as the rains bring the natural vegetation of the region to full-blown bud and bloom. The lush greenery of the cultivated wet rice fields, for example, are a sight to behold.
The downpours here typically start later in the afternoons, and last for a few hours; that gives you enough time in the mornings and early afternoons to explore the city's attractions.
Bangkok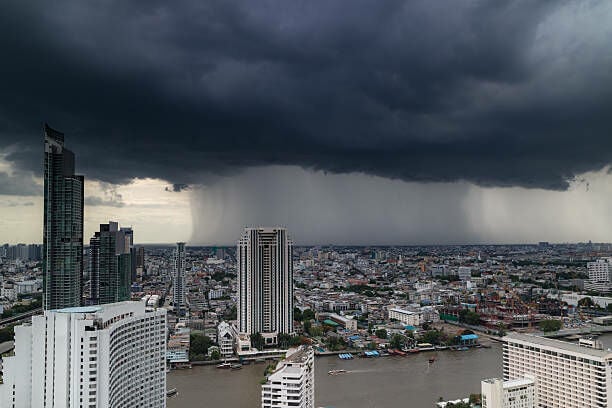 Bangkok, Thailand's capital city, tends to experience daily rainfall during the rainy season; but while the rain falls almost every day here, it doesn't do so all day, and you can enjoy an outdoor activity or two if you plan around the weather.
Though you may be unable to tour the floating market, which is one of the most popular outdoor activities in Bangkok, you can visit the malls, temples, museums, and other indoor attractions, while it's raining.
Sukhothai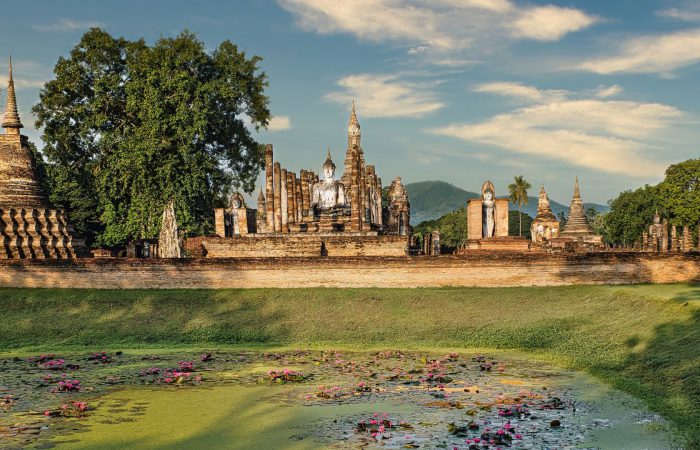 Previously the capital of the old Sukhothai Kingdom, Sukhothai can be especially peaceful and tranquil during the rainy season, with lush gardens dotting the landscape.
A popular tourist destination and a UNESCO World Heritage Site, this historic city in central Thailand offers many attractions to explore when there's a break in the rains. The Sukhothai Historical Park with over 200 ancient ruins is top on the list of such.
Koh Samui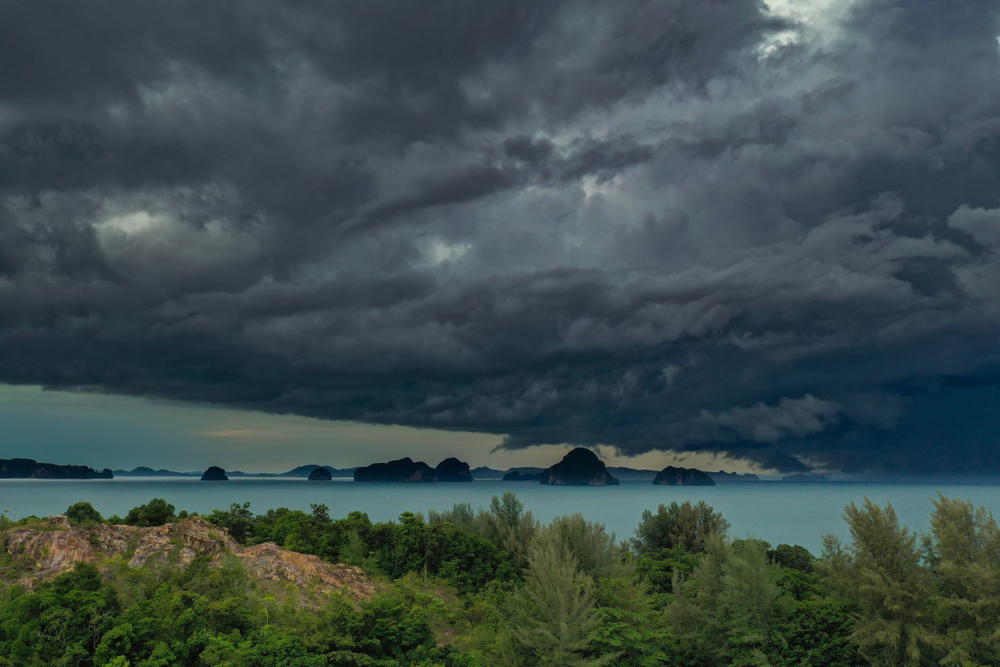 Samui is one of the popular islands off the Lower Gulf Coast, boasting a number of pristine beaches, sparkling waters and luxury resorts.
While it doesn't get that much rain during the wet monsoon season, Samui sees strong winds which are unsuitable for some activities like boat rides and water sports. But if you just want to relax and refresh in relative tranquility, try the beaches and restaurants which tend to be quieter and emptier.
Krabi
In southern Thailand, there's a beautiful coastal town popular with those who love adventure, and this town is called Krabi.
Boasting several spectacular limestone cliffs, beautiful beaches including the Railay Beach that is worth exploring, and more, Krabi stays vibrant during the rainy season, offering opportunities for kayaking, hiking, rock climbing, etc.
Best International Rainy Season Destinations
Outside of Thailand, in neighboring Asian countries, rainy seasons are worth experiencing as well. Here are five international destinations to consider.
Malé, Maldives
Rainy season in the Maldives, an island in the Indian Ocean, starts a bit earlier from mid-May, and lasts till November.
In Malé which is the capital, as well as the gateway to the other islands of the Maldives, nightlife is quite vibrant, and there's enough fun to be had even while it rains. You can start with exploring the National Museum, and visiting some of the many lively cafes and clubs.
Luang Prabang, Laos
Luang Prabang is a unique city in the north central part of Laos, a landlocked country in Southeast Asia.
From June to mid-October, this region goes through a wet season which usually starts off with sporadic rainfall, mostly at nights and early mornings. The landscape becomes more lush and vibrant, and this period is the best time to visit waterfalls – such as the Kuang Si Falls – which regain their full flow. The Luang Prabang National Musuem is also worth checking out.
Krong Siem Reap, Cambodia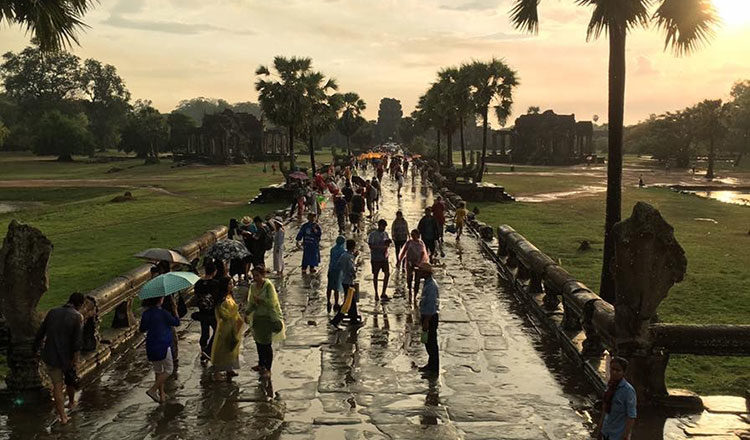 Rainy season in Siem Reap occurs at just about the same period as it does in Luang Prabang.
The rains in this second largest city of Cambodia usually don't last long, but while they do, Siem Reap offers a variety of indoor activities for your entertainment. You can, for instance, drive to the Angkor National Museum and explore; shop at the Old Market which is covered; visit any of the luxury spas for a relaxing massage; take a cooking class; or shop at the Angkor Trade Center, Siem Reap's first and finest shopping mall.
Phnom Penh, Cambodia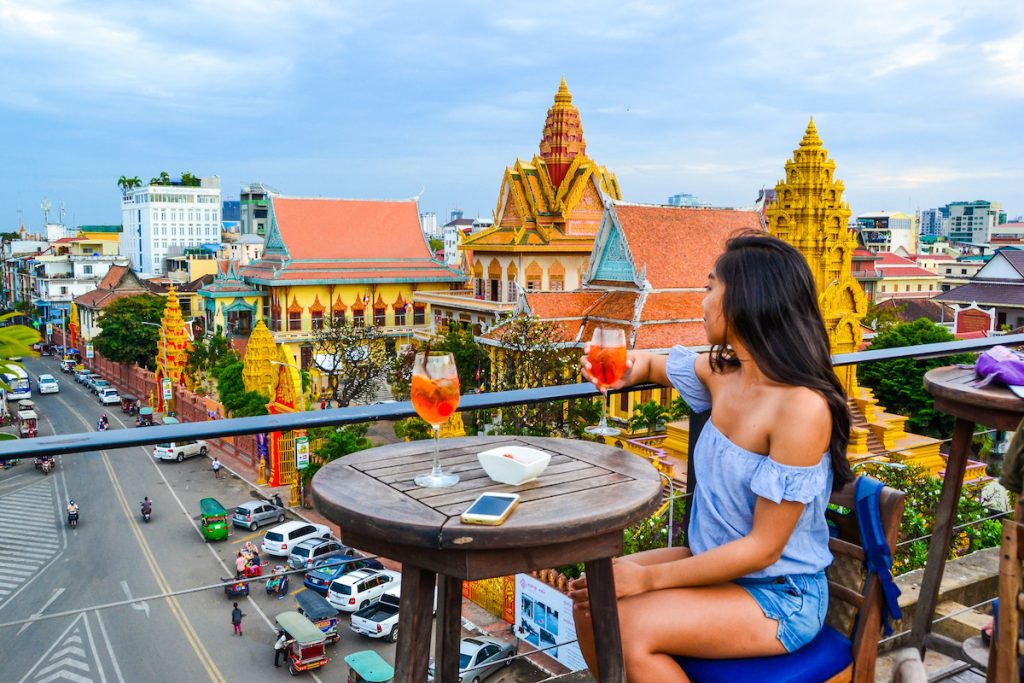 In Cambodia's capital, Phnom Penh, the amount of rainfall during the wet monsoon (June to October) varies expectedly, but most of the rains fall as showers, and do not really deter movement within the city.
For places to visit here, check out the exquisite Royal Palace and Silver Pagoda; the ancient Wat Ounalom which is one of the most important Buddhist temples in Cambodia; the Cambodia National Museum boasting many special artifacts; the Independence Monument that is a symbol of Cambodia's freedom from French rule; and many other attractions.
Singapore City, Singapore
Singapore, an island country in Southeast Asia, also experiences the rainy season between October and March. During this period, thunderstorms are fairly frequent, but these almost always occur in the evenings, and so do not significantly affect tourist activities.
Among the rainy weather attractions here are an underwater world, indoor water slides, virtual reality (VR) worlds, and spas. You can also learn a new skill at a workshop while it pours.
So there you have it – the top places to visit during the rainy season, whether in Thailand or elsewhere. While you can, of course, get around in any of the cities using a vehicle, remember to pack an umbrella, as it will likely come in handy at some point.