For as long as Bangkok has existed, its temples – or Wats as they're called in Thai – have been a prominent feature of the capital. They number over 400, and are not just symbols of centuries-old Buddhist culture and traditions, but many of them are also major tourist attractions, with awe-inspiring architecture as well as eye-catching decorations.
So, you're right to consider Bangkok's temples worth a visit during your tour or vacation. To get you started, here are our top nine best temples to visit in Bangkok for more insights into the history and culture of Thailand.
Dive into the Spiritual Heart of the City: The Most Breathtaking Temples to Visit in Bangkok
1. Wat Phra Kaew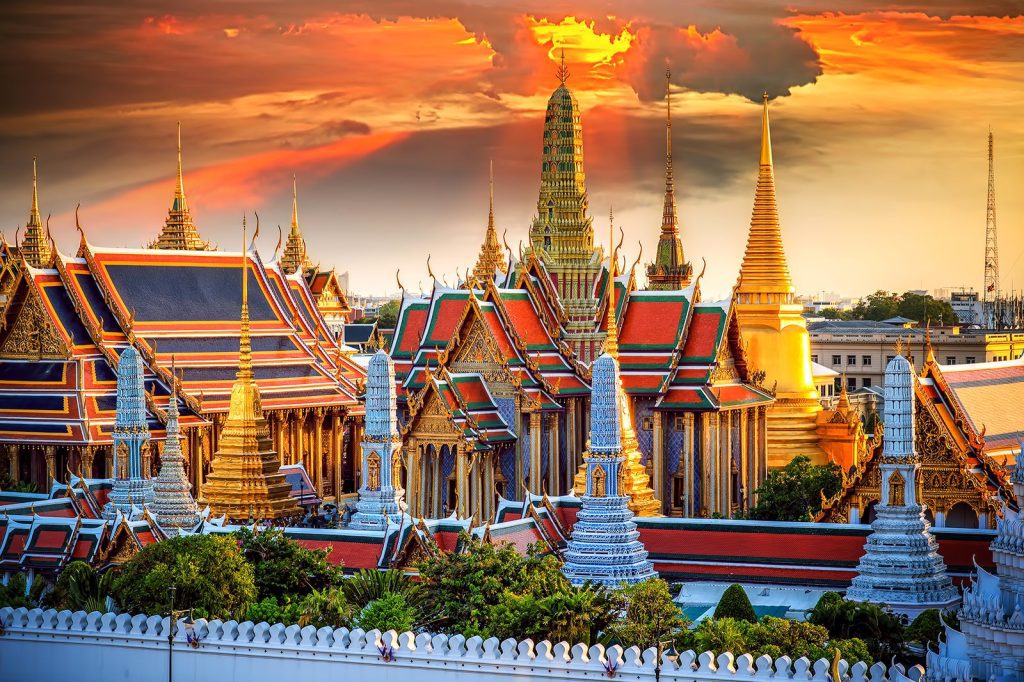 We begin with Wat Phra Kaew due to its status as the most highly regarded temple in Bangkok.
Very popular with tourists, this superb temple features the Emerald Buddha which is an extremely revered icon carved out of a 66 cm tall block of jade. Wat Phra Kaew also features a 2-km-long gallery sporting incredibly detailed mural paintings which depict 178 scenes of the epic story of Ramayana. Tall chedis covered with glazed tiles or gold leaf are among the sights to admire here.
Location: Na Phra Lan Rd, Phra Borom Maha Ratchawang, Phra Nakhon
Open: Daily (8.30 a.m. to 3.30 p.m)
2. Wat Mahathat Yuwaratrangsarit
Strategically located between the capital city's Grand Palace and Royal Palace, Wat Mahathat is one of the 10 royal temples of the highest class in Bangkok, and the preferred venue for royal ceremonies.
The temple grounds are also home to an important centre for the study of Buddhism and meditation, and if you're interested in learning Vipassana Meditation, Wat Mahathat offers some English classes on same.
Location: 3 Maha Rat Rd, Phra Borom Maha Ratchawang, Phra Nakhon
Open: Daily (7 a.m. to 5 p.m.)
3. Wat Traimit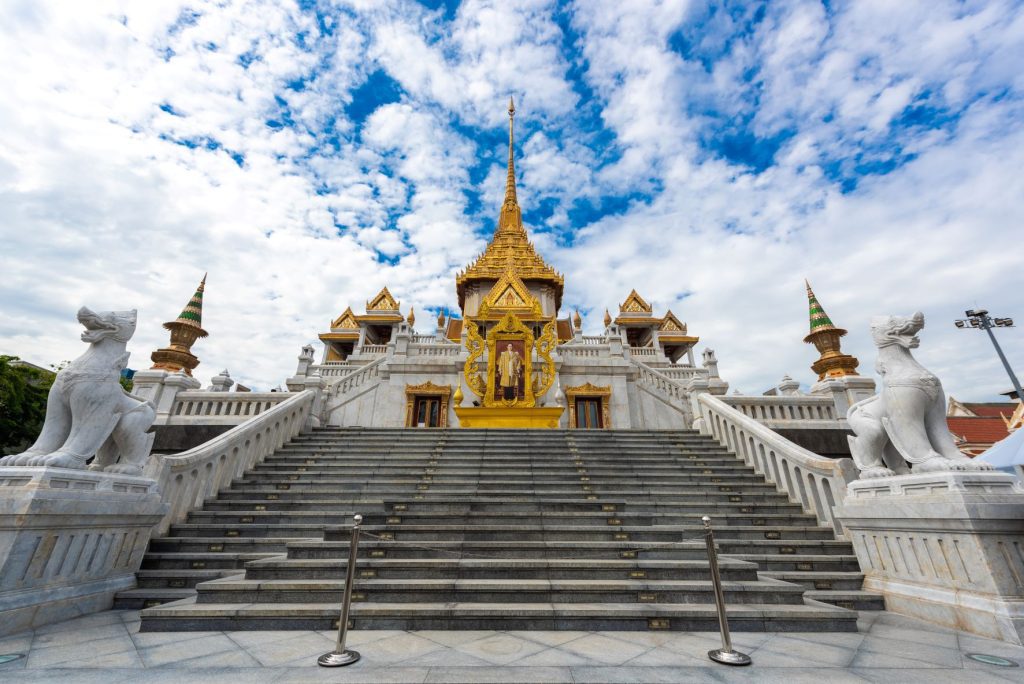 If you'd like to see the largest statue of Buddha in the world, head to Wat Traimit.
This gigantic statue which will leave you in awe happens to be just one of the Temple's major attraction, sits 5-meter-high, weighs 5.5 tons, and is made of solid gold.
Wat Traimit's other main attraction is its architecture; the building which boasts multiple levels, and is painted in white and gold, can only be described as elegant and magnificent.
Location:661 Charoen Krung Rd, Talat Noi, Samphanthawong
Open: Daily (8 a.m. to 5 p.m.)
4. Wat Pho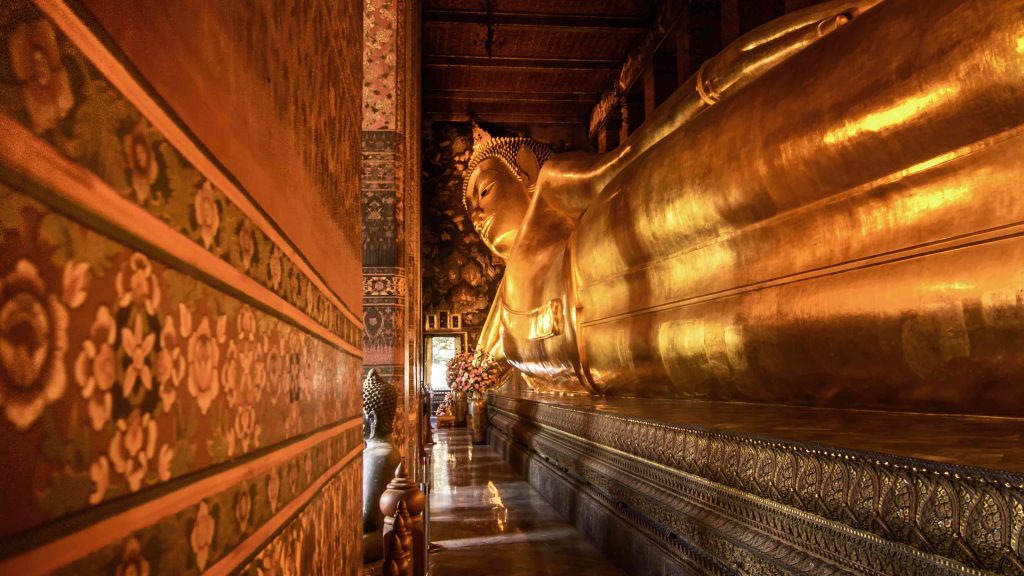 In Bangkok, very old Buddhist temples abound, and one of the oldest is Wat Pho.
Also known as the "Temple of the Reclining Buddha," Wat Pho features within its large complex, a 15-metre-high, 43-metre-long, Buddha image covered with gold leaf, with its 4-metre-long feet decorated using exquisite mother-of-pearls (or nacre); in addition to 1,000 Buddha images and 91 chedis (stupas).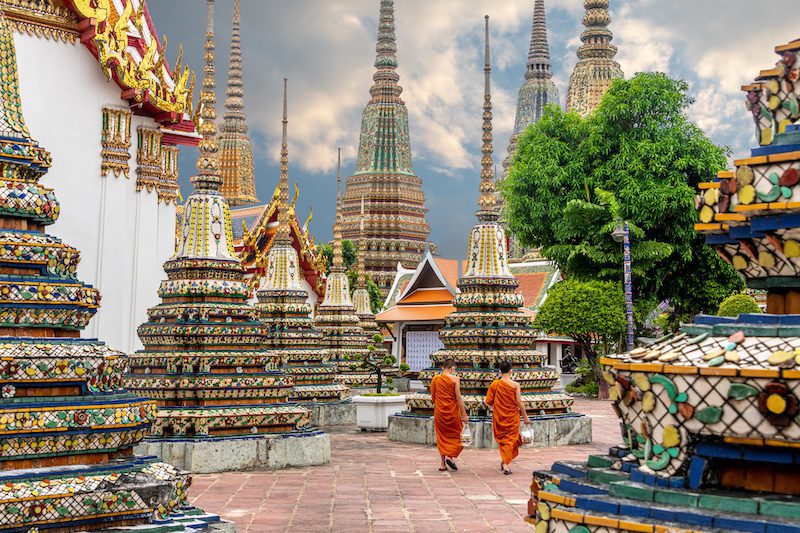 If you'd like to learn Thai massage, Wat Pho also boasts the first Thai massage school at the Traditional Medical Practitioners Association Center, which is just outside the temple in a shophouse.
Location: 2 Sanam Chai Rd, Phra Borom Maha Ratchawang, Phra Nakhon
Open: Daily (8 a.m. to 6.30 p.m.)
5. Wat Arun
Situated almost opposite to Wat Pho and the Grand Palace is the most iconic temple in Bangkok – the Wat Arun.
Also known as the "Temple of the Dawn" even though it arguably looks more spectacular at sunset, Wat Arun has a distinct shape informed by a central prang (a Khmer-style tower) surrounded by 4 smaller towers, all encrusted with faience from plates and potteries.
You can enjoy nice views of the vicinity by climbing the steep stairs to a balcony on the main tower.
Location: 158 Thanon Wang Doem, Wat Arun, Bangkok Yai
Open: Daily (8 a.m. to 5.30 p.m.)
6. Wat Prayoon
Wat Prayoon, or Wat Rua Lek, lies at the foot of the Memorial Bridge, on the western side of the Chao Phraya River.
One unique feature of this temple is what's left of a bright red, 1.5-metre-tall, iron fence fashioned from ancient weapons, including lances, swords and axes. No other temple offers such a fascinating spectacle.
More interesting features of Wat Prayoon include a turtle mountain sheltering spirit houses; a pond where visitors can feed the turtles; and a sizeable, bell-shaped chedi (pagoda) that is inverted.
Location: 24 Prajadhipok Rd, Wat Kanlaya, Thon Buri
Open: Daily (8 a.m. to 5.30 p.m.)
7. Wat Bowon Niwet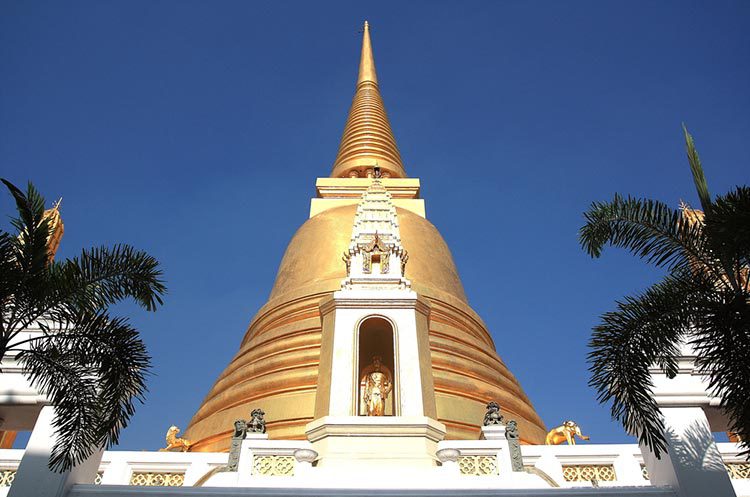 Wat Bowon Niwet is home to several rare and much revered Buddha statues, including a large chedi covered in gold tiles and surrounded by 4 small golden prangs.
The architecture of this temple complex is pleasing to behold, with windows gilded in stucco, doorway arches elaborately carved, and a gable decorated with glazed ceramics.
As it has long-standing connections with the Thai royal court, Thais consider Wat Bowon Niwet a more sacred and important temple.
Location: 248 Phra Sumen Rd, Wat Bowon Niwet, Phra Nakhon
Open: Daily (8 a.m. to 5 p.m.)
8. Wat Benjamabhopit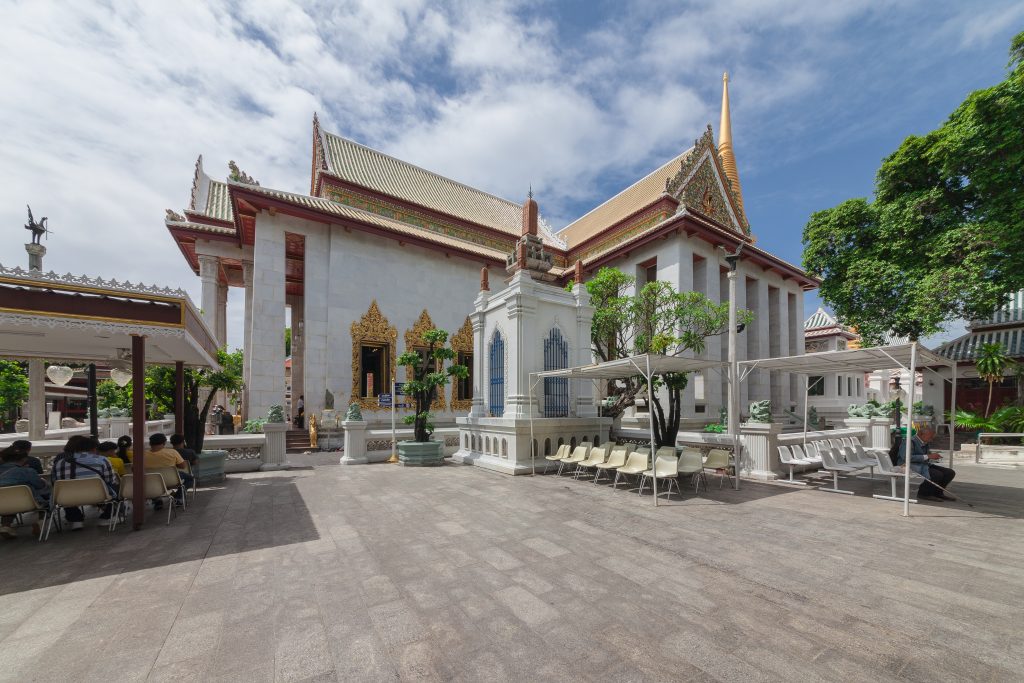 Another highly revered temple in Bangkok is Wat Benjamabhopit (or Wat Benja) located near many government offices and palaces, and often visited by high-ranked officials as a result.
Wat Benja is more famous for two reasons: it's the temple embossed on the back of 5 baht coins; and the main temple has its external walls covered with Italian marble, which is why Wat Benjamabhopit was nicknamed "The Marble Temple."
Location: Rama V Road, 5 Dusit, Dusit District
Open: Daily (8 a.m. to 5.30 p.m.)
9. Wat Suthat Thepwararam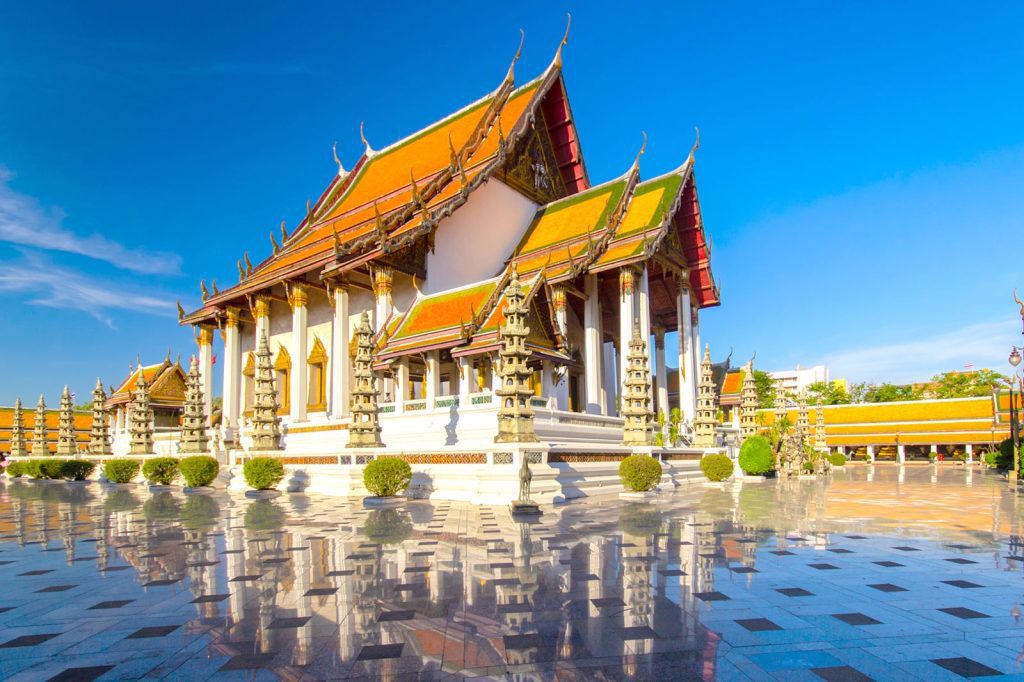 Like Wat Pho, Wat Suthat is one of the oldest temples in Bangkok. It's also one of the most impressive in terms of architecture, featuring exquisite hand-carved teakwood door panels, beautiful wall murals, and an elegant chapel with a sweeping roof.
One unique feature of Wat Suthat is the red Giant Swing that stands at its entrance. On the wall frescoes inside the main prayer hall are detailed the previous 24 incarnations of Buddha; the cloistered courtyard around this hall has around 156 Buddha images; and Chinese stone sculptures plus 8-tier hexagonal pagodas line the outer walls of the temple.
Location: 146 Bamrung Mueang Rd, Wat Ratchabophit, Phra Nakhon
Open: Daily (8.30 a.m. to 9 p.m.)
Note that as Thai temples are sacred places, you must dress appropriately – no shorts or revealing tops – or you won't be allowed in. The best time to visit most temples is in the early morning when they're less crowded and the weather is cooler.