No tourist vacationing in Thailand can fully experience and enjoy this relatively small, yet delightful, country in the center of Southeast Asia, without trying a variety of dishes enjoyed daily by the locals. This is because Thai cuisine is surprisingly diverse, both in form and in flavor.
But we know you like good food, and are up for a gastronomic adventure, so we're more than happy to recommend select dishes for you to savor the tastes of Thailand as you tour the country.
While we can only scratch the surface in this brief discussion of some of Thailand's most delicious foods, we're positive that the following 15 dishes will collectively give you a near-complete experience of Thai cuisine.
Here we go!
Best Dishes in Thailand
Pad Thai
One of Bangkok's most famous dishes, Pad Thai will make your mouth water. This blend of rice noodles stir-fried with dried and/or fresh shrimp, eggs, bean sprouts, tofu, and seasonings like red chili, is typically served with a few stalks of Chinese chives, sliced banana flower, and lime halves. 
Pla Pao
Also delicious is pla pao (salt grilled fish). This is basically fish, like tilapia, stuffed with kaffir lime leaves, lemongrass and basil; coated with salt; and barbecued low and slow over charcoal. To enjoy, you only have to peel back the crust and dip the juicy meat into the accompanying, nicely flavored sauce made with garlic, chillies, lime and coriander root.
Mango Sticky Rice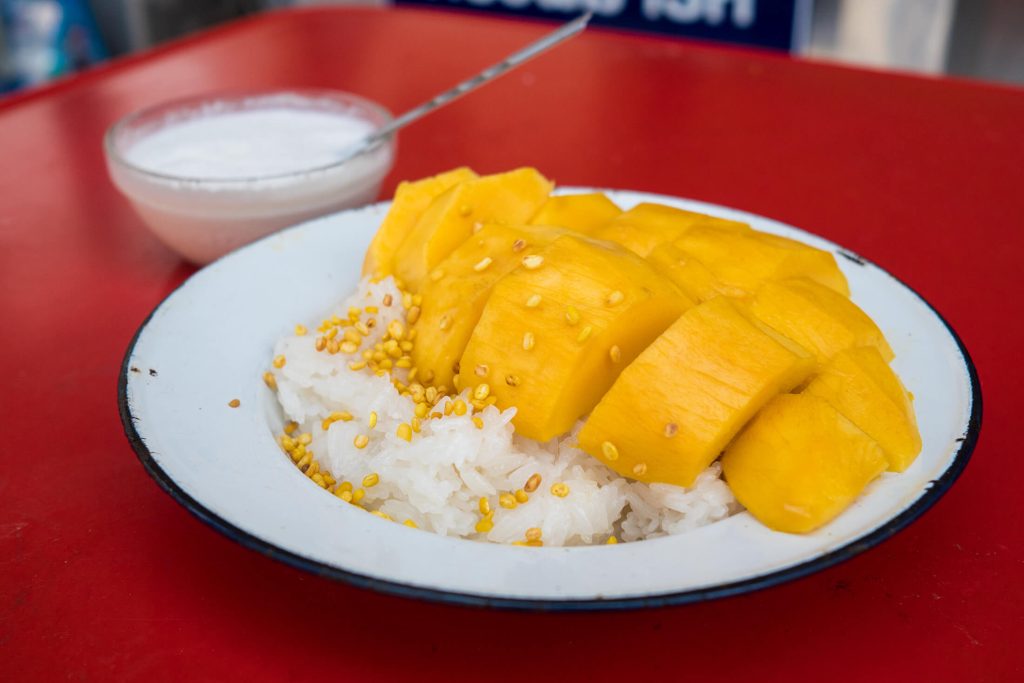 Mango sticky rice is a testament to the fact that food doesn't need to contain many ingredients to be appetizing. This simple, yet very palatable, dish boasts just three main ingredients: glutinous rice, rich coconut cream, and slices of ripe mango flesh. You'd be glad you gave it a try.
Laab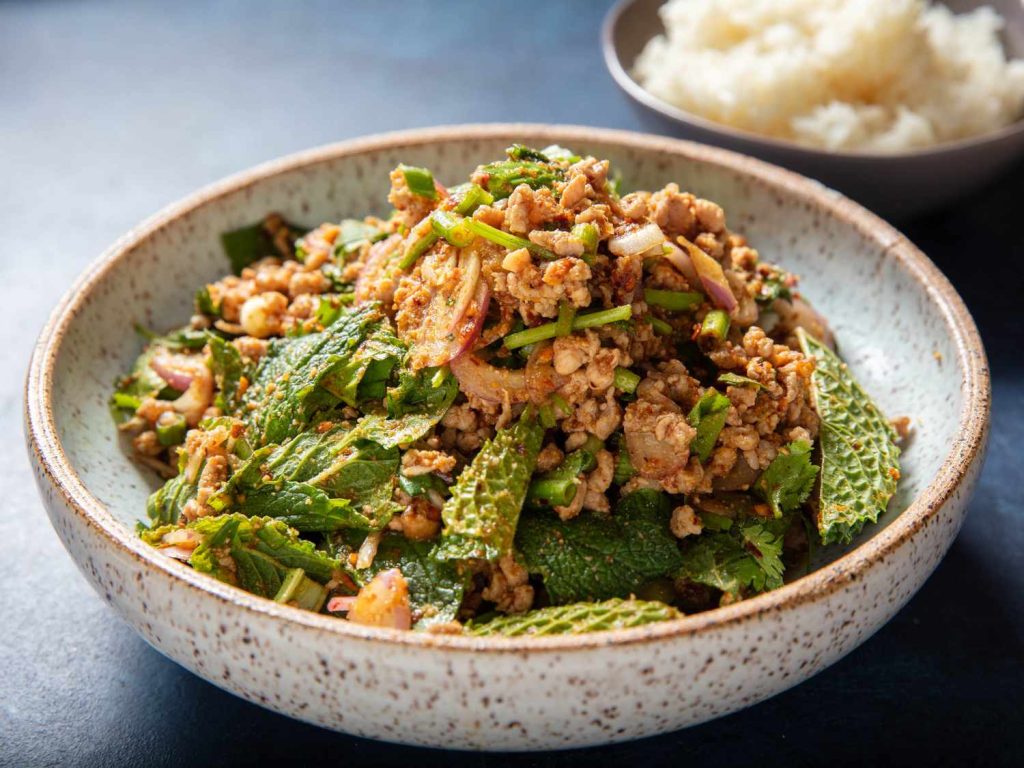 A meat-based salad garnished with fresh herbs, Laab or Larb is most popular in Northeastern and Northern regions of Thailand. Depending on the region where it's made, this dish is prepared with meat from pork, cow, buffalo, duck, chicken, or even fish. What usually remains constant are the herbs, which include scallions, coriander, and lots of mint.
Tom Kha Kai
Tom kha kai, or "chicken in coconut soup", is a savory combination of coconut milk, strips of tender chicken, lemon grass stalks, crushed shallots, young galangal (sliced thinly), hot chillies, and fresh lime leaves. While you can surely enjoy it alone, this dish can also perfectly complement a bowl of steamed rice.
Jok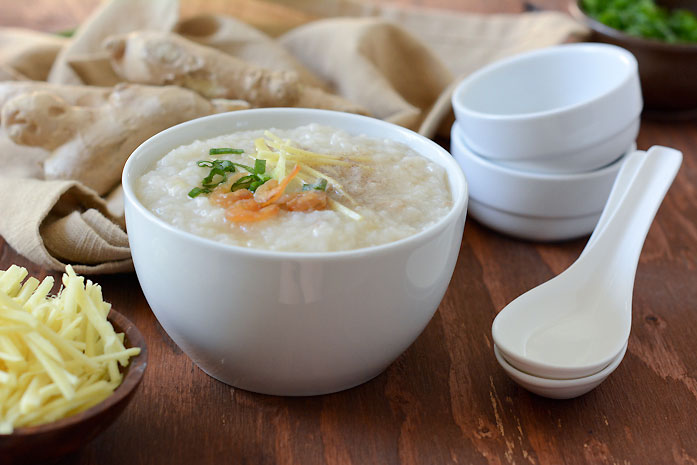 If you'd like to start your morning in a lighter, yet tasty way, think no farther than Jok, a rice porridge usually eaten as breakfast in Bangkok. This rich rice broth garnished with chopped pork, ginger, fried garlic, cilantro, lemon, and chives, will not just excite your taste buds, but will also get you going for the day.
Yum Nua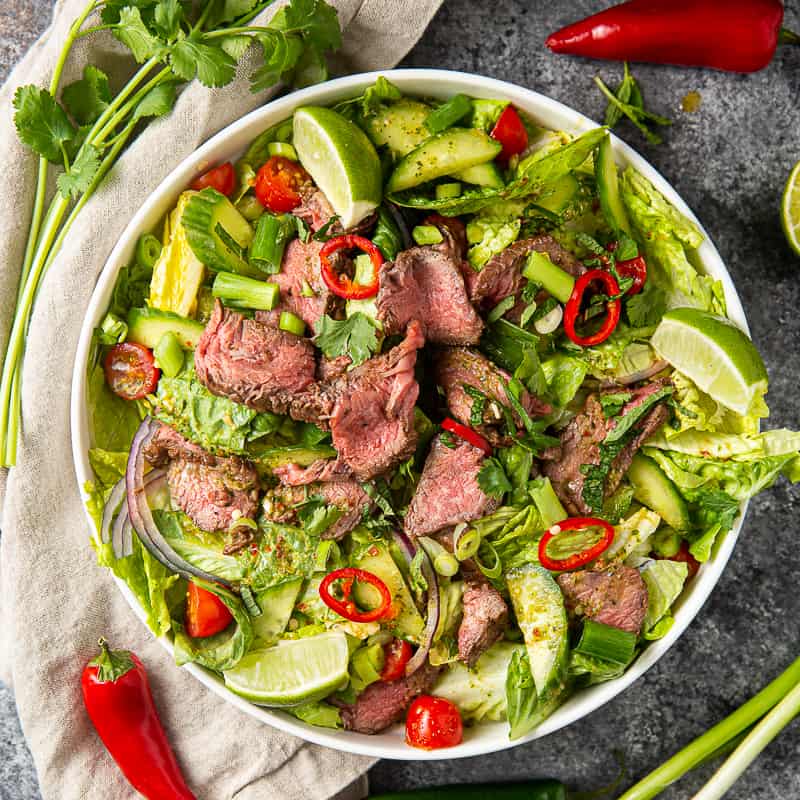 Yum nua is a yummy blend of Thai salad, tender beef, and a rich dressing. The beef is cut into strips and sprinkled onto the salad; then the dressing, which usually contains fish sauce, soy sauce, palm sugar, sesame oil, garlic, ginger, and lime juice, is added in. Once this nourishing lot is stirred together, you're set to have fun.
Kai Pad Med Ma Muang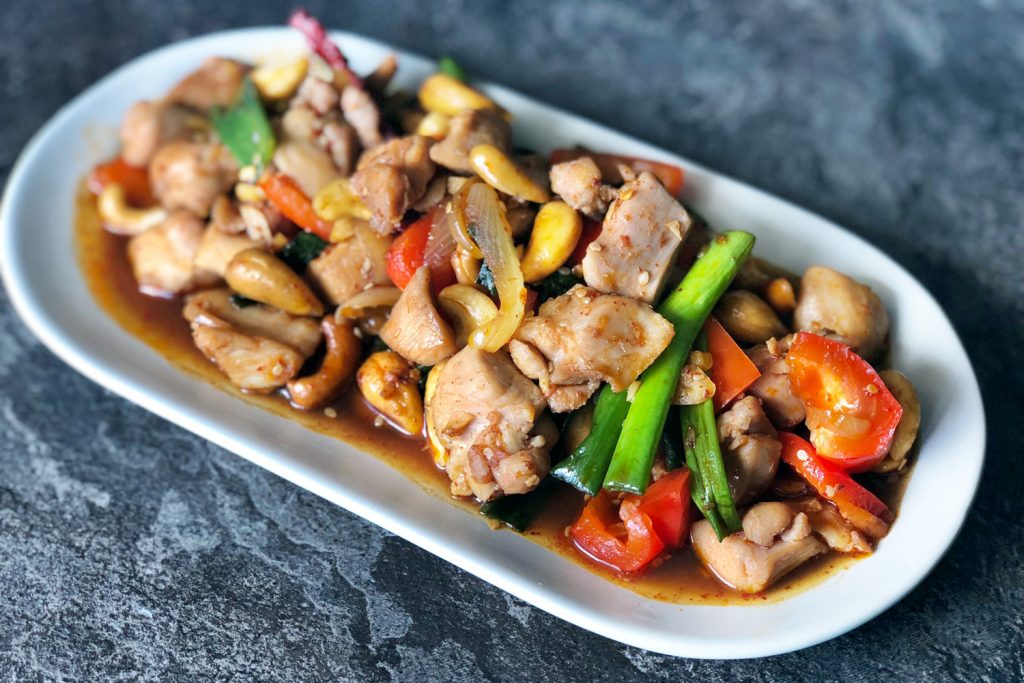 Thai food is always amazing, given the variety of ingredients usually combined, and Kai Pad Med Ma Muang is no exception. At its core is stir-fried chicken with cashew nuts; these are supplemented with onions, honey, soy sauce, chopped vegetables like carrots, and a little amount of chili and pepper, creating a dish that is simply irresistible.
Gaeng Daeng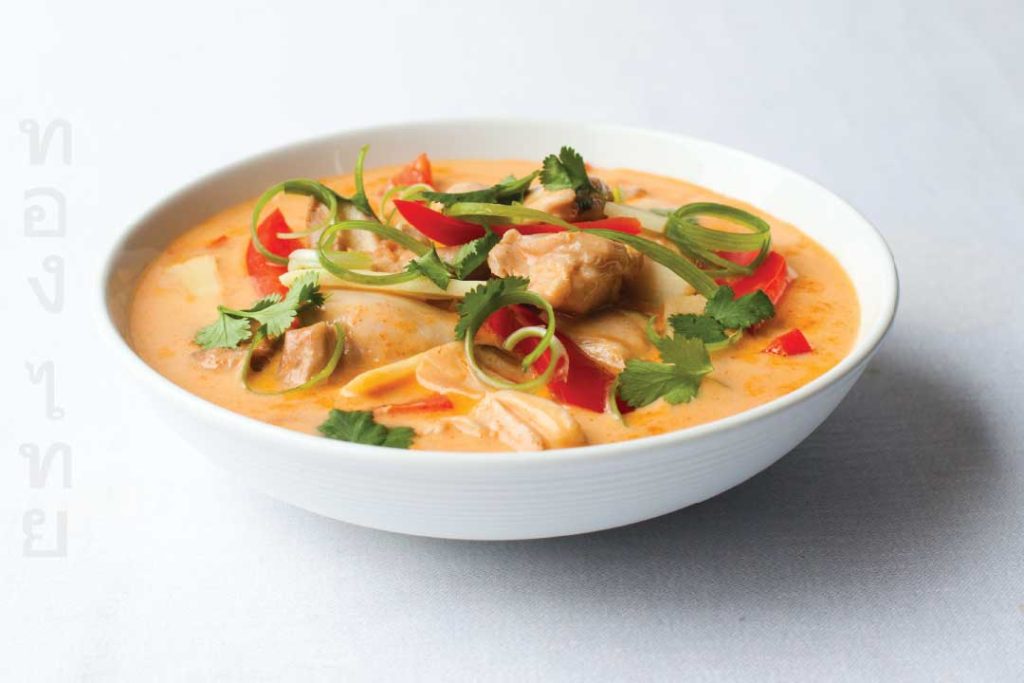 Gaeng Daeng is a dish of aromatic red curry paste garnished with meat, smooth coconut milk, and a few sliced leaves of kaffir lime. To spice the food up, you can request for some fresh chili to be added; you also have the option of substituting the meat with tofu if you're feeling vegetarian.
Som Tam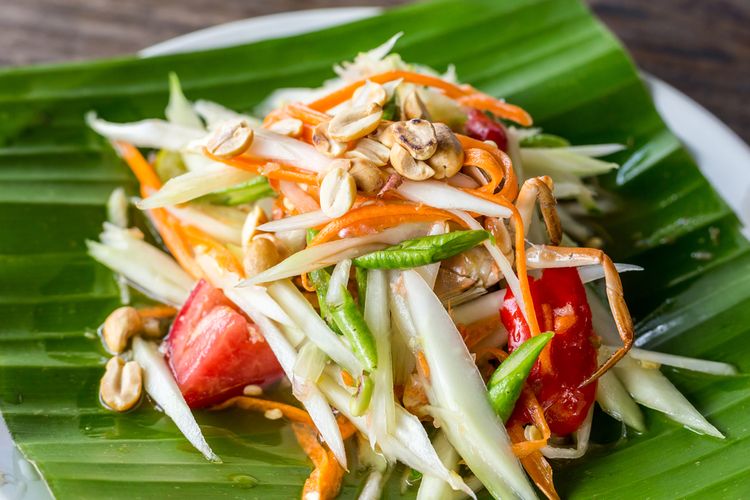 A favorite of the locals in the north-eastern part of Thailand, som tam will stimulate your taste buds. The spicy green papaya salad is based on shredded and pounded raw papaya, which is then enriched with anything from cherry tomatoes and green beans, to dry shrimp, salted crab, and even peanuts, according to which regional variation you go for. Spices like chillies and garlic are constants.
Gai Yang
Many Thai dishes go well with sticky rice, and Gai Yang is definitely one of them. To prepare this simple dish, chicken is marinated and grilled, leaving the skin deliciously crispy, and the meat, unusually juicy; the chicken is then served with sauces by the side. For an even more enjoyable meal, consider ordering some green papaya salad as well.
Hoi Tod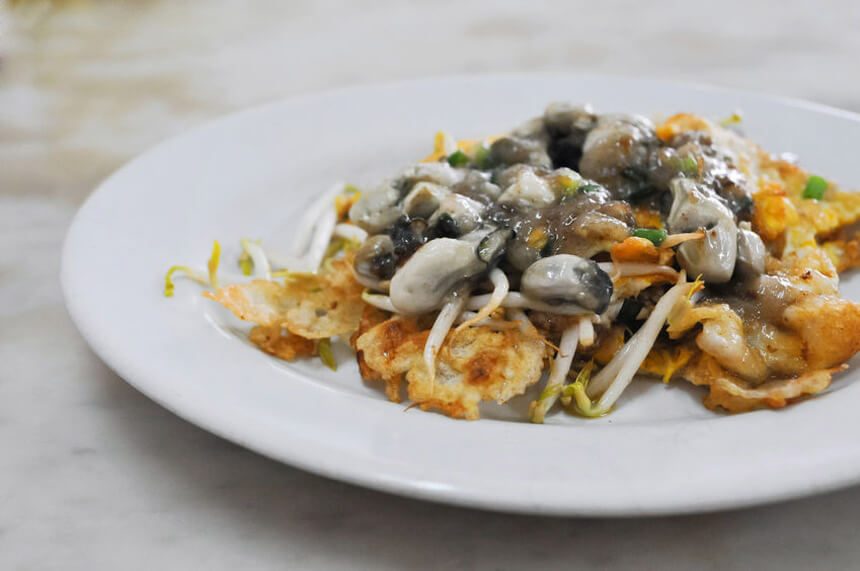 Though of Chinese origin, hoi tod is a quite popular street food in Bangkok. This super crunchy oyster omelet is a combo of oysters, omelet dough, and rice flour which is the reason for its crispness. Some vendors serve hoi tod with mussels instead of oysters, but this makes the dish no less refreshing.
Khao Kha Moo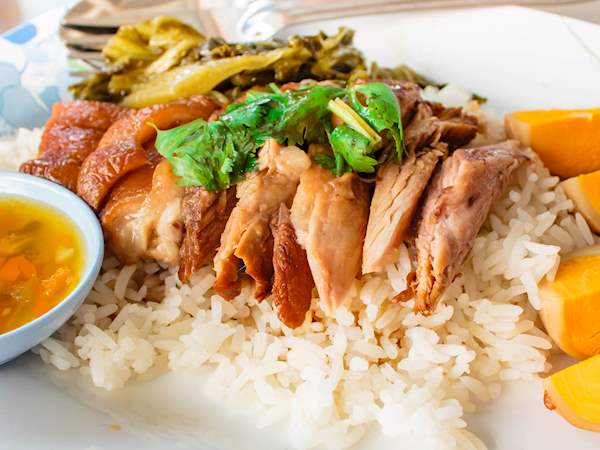 Khao kha moo, or "pork leg with rice", is a traditional Thai food especially popular in Chiang Mai. Think of pork leg slowly braised in a sweet and aromatic broth full of spices. Boiled egg is soaked in the same broth to absorb its flavor and color, and then used, in addition to rice, to supplement the pork leg.
Hor Mok Pla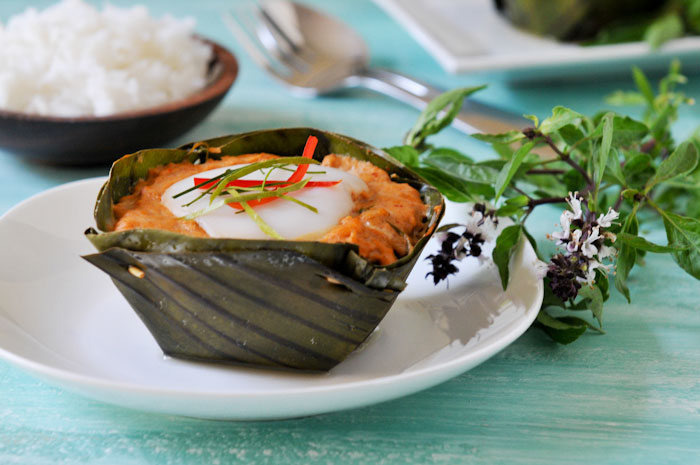 Another authentic Thai food is hor mok pla. This dish of steamed fish curry is somewhat similar to Thai fish cake, but is steamed in banana leaf, and has a firm custard-like consistency. Just the aroma of this dish will trigger your appetite, and the blend of steamed fish, curry paste, kaffir lime and coconut cream will leave you wanting more.
Khao Kluk Kapi
One more dish you can't help but savor is khao kluk kapi. Its highlight is cooked rice sautéed with shrimp paste, then served with a wide variety of ingredients including sweet pork, sweet and sour Chinese sausages, dried shrimp, green beans, egg, omelet, red onion, green mango, coriander, onion and cucumbers. When it comes to texture, flavors, and nutrition, not many dishes are richer than khao kluk kapi.
We'll now leave you to enjoy your gastronomic adventure. With a few directions from the locals, you'll have no problem finding the best spots to sample these – and any other – best foods in Thailand.