Not many foreigners have heard of it, which isn't surprising, as it's a remote, mountainous province in northern Thailand, bordering Myanmar (Burma). But, though far-flung and sparsely populated, it's no place to be overlooked.
We're talking of no other than the beautiful Mae Hong Son Province, with rolling mountains, dense forests, mist-shrouded valleys, very palatable cuisine, as well as locals who live a more traditional Thai lifestyle, and practice a blend of Thai and Burmese culture.
This province, together with its capital, Mae Hong Son City, is home to many hidden gems just waiting to be uncovered, and activities waiting to be enjoyed; so we're going to disclose some of our favorite Mae Hong Son attractions, and things to do when you visit.
But first, let's talk about how to reach Mae Hong Son.
Transport to Mae Hong Son
If you're already in Thailand's capital city, Bangkok, getting to Mae Hong Son is easy, especially now that we've introduced a new route. Simply take a metro to the Suvarnabhumi Airport, then board a Bangkok Airways flight. This flight will layover at Lampang Airport for approximately 40 minutes, after which it will then take off again and fly directly to Mae Hong Son Airport.
Of course, we're also available to take you on your return trip, from Mae Hong Son back to Suvarnabhumi, Bangkok, and the 40-minute layover also applies to this outbound flight. Check out the additional flight information below:
Flight Details
Days of Operation: Mondays, Wednesdays, and Fridays
Flight PG205 (Inbound): Suvarnabhumi – Lampang – Mae Hong Son
Flight PG206 (Outbound): Mae Hong Son – Lampang – Suvarnabhumi
For those in Chiang Mai who desire to visit Mae Hong Son without driving, our services through the new route also provide a convenient travel option. Such travelers only have to get to Lampang Airport and board a Bangkok Air flight, which will then take them directly to Mae Hong Son Airport.
Top Mae Hong Son Attractions
Now that you know how to get to Mae Hong Son and back, let's reveal some of its hidden gems.
Tham Pla (Fish Cave)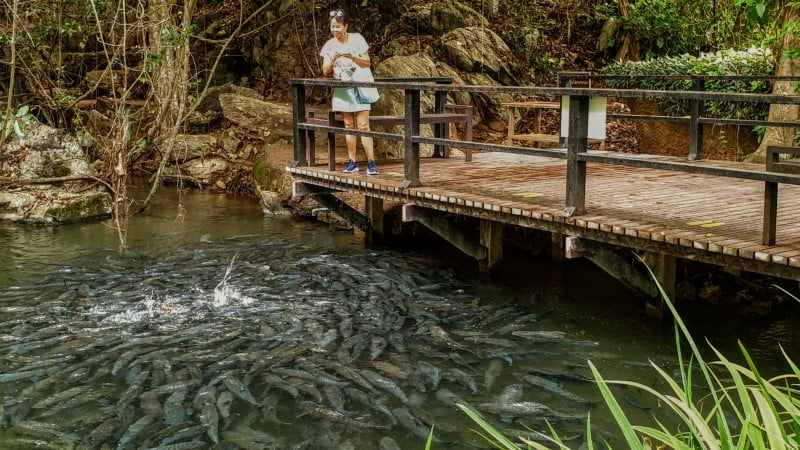 Tham Pla is a small underground pool supplied by an equally small river, and accessed through a nice path sided by large trees. You can think of it as a submerged cave.
This popular tourist attraction, and sacred place for the locals, houses hundreds of giant, bluish brook carp, some of which are over a meter long, plus a Hindu statue said to protect them. These spectacular fish revered by the locals can be viewed through a hole in the ground, right by an altar.
Fun activities here include feeding the fish, hiking the short trail, and refreshing at the nearby food stalls.
Wat Chong Klang & Wat Chong Kham
The most prominent temples of the city, Wat Chong Klang & Wat Chong Kham lie at the bank of Nong Chong Kham reservoir. A beautiful sight awaits you if you visit this location during sunset (6 – 7 p.m.) when both temples are illuminated, marvelously reflecting the calm waters of the reservoir.
Within the temples are impressive Burmese-style structures rare in other parts of Thailand; and the vicinity of Nong Chong Kham turns into an interesting night market offering a variety of delicious street food and souvenirs.
Yun Lai Viewpoint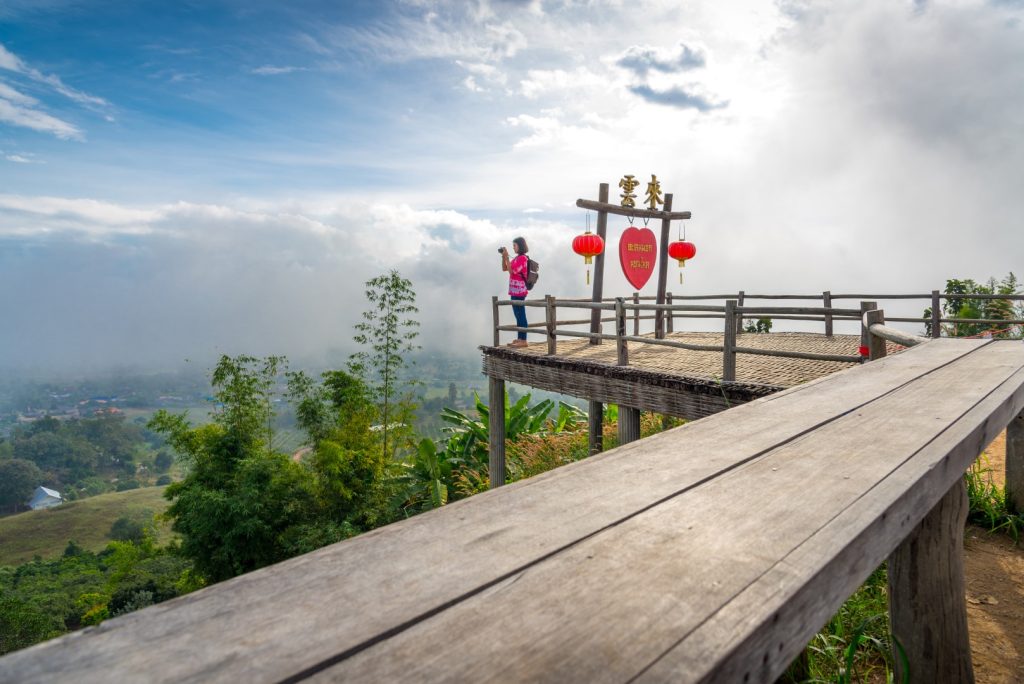 The Yun Lai Viewpoint is among the most worthwhile attractions in the small border town of Pai.
To feed your eyes from this viewpoint, ride a scooter or songthaew taxi to the mountaintop, then follow the trail that crosses a field. This will take you to the viewing platform where – for a token – you'll be handed an entrance ticket plus a refreshing cup of green tea.
While the view over the city and flowering meadows is breathtaking at all times of the day, sunrise (6 a.m.) is the ideal viewing time for many.
Thung Bua Tong Fields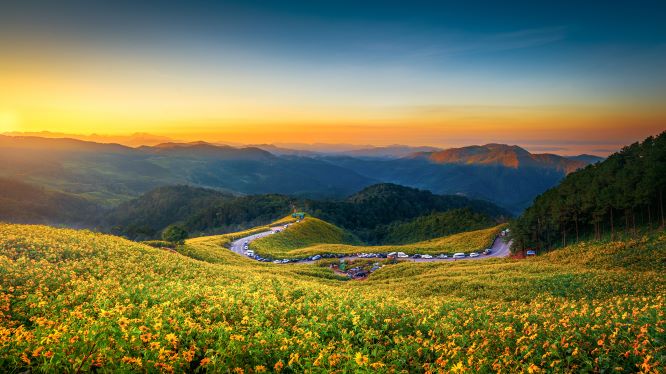 If you're someone who appreciates flowers, the Thung Bua Tong Fields will leave you spellbound. This is a large hilly area covered in bright yellow, Mexican sunflowers.
Wintertime in Thailand (November to February ) is when the eye-catching flowers often reach their full bloom, and you can take in the view from the hilltop where a small pavilion is built to accommodate tourists. Don't forget your camera!
Huay Pu Keng Village
Huay Pu Keng is a village in Mae Hong Son, among the inhabitants of which are the Kayan, one of the four subgroups of the Karenni people. Because they have unusually long necks adorned with brass rings, the Kayan women in particular have become a tourist attraction.
At this fascinating Kayan Long Neck Village, you can take pictures with, and buy cheap trinkets from, the long-necked women if you like; have genuine conversation with the friendly locals; or stroll around and sightsee.
Wat Phra That Doi Kong Mu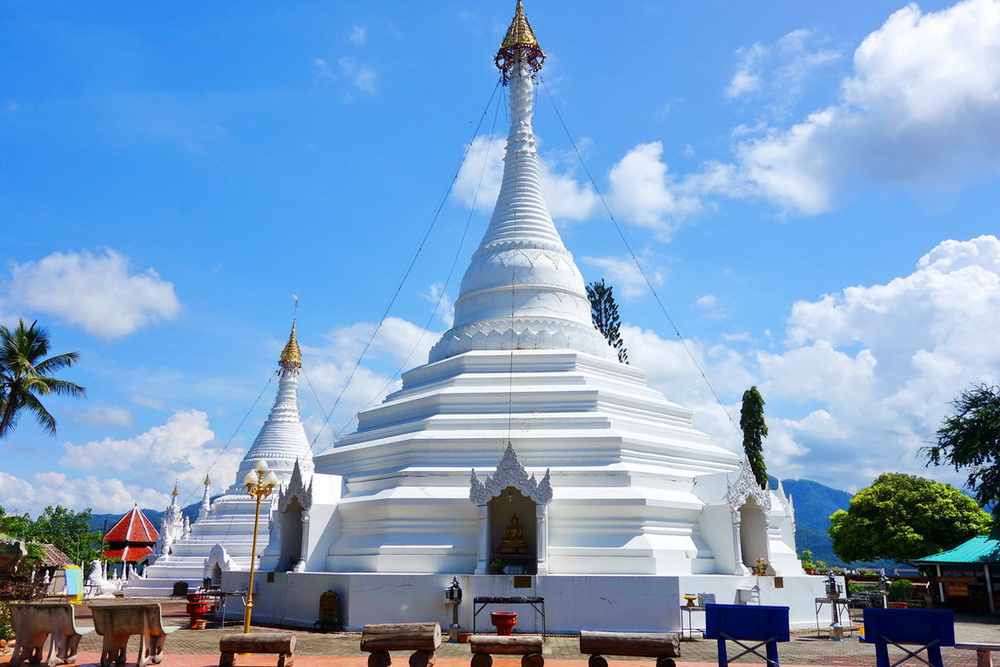 Atop the Doi Kong Mu hill, right at the center of Mae Hong Son City, is the Wat Phra That Doi Kong Mu, the oldest temple in the region, and one of the most significant city landmarks.
Among the highlights of this unique temple are two brilliant white chedis topped by golden spires; an east-facing platform ideal for watching the sunrise around 6 a.m. when the temple looks most beautiful; and two large, Burmese-style lion statues at the ground level.
To access the temple, you can either hike to the top of the hill, or take a motorbike.
Mae Surin National Park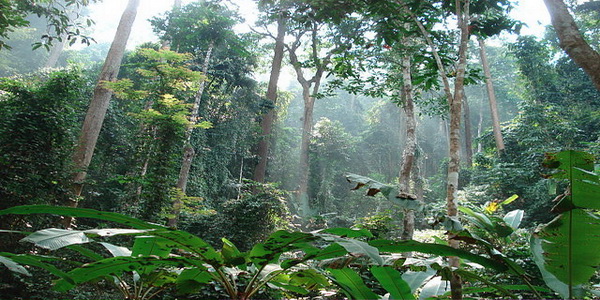 Not far from the Thung Bua Tong Fields is the Mae Surin National Park, a large expanse of land boasting spectacular waterfalls, caves, and the 1700-meter-high Doi Pui mountain.
Of particular interest is the park's major and tallest (100 meters) waterfall, Mae Surin Falls, which is visible from the parking lot of the park, and thus easy to photograph from a distance. Lots of fun can also be had rafting on the Pai River which runs through the park.
Mae Sakut Nature Trail
The Mae Sakut trail, which starts at the Mae Surin Waterfall Checkpoint, is one which hiking enthusiasts will love.
This nature trail will take you through thick forest housing two remote waterfalls, around the mountains of the city, and past 16 stations with a variety of entertaining forest features. A hike on this trail is a great way to get back in touch with nature.