The rich culture, history and tradition of Chiang Mai make it a dream destination for many people during their trip to Thailand. Discovering old temples, ancient city walls and appreciating local craftsman's work are all part of the journey in experiencing the beauty of Chiang Mai. Continue reading as we share with you what you can expect from this city and why you should check out flights to Chiang Mai through Bangkok Airways!
Activities for everyone
You and your family will never get bored exploring the city of Chiang Mai because there are a lot of travel destinations that await you! There are activities for kids and adults that are sure to offer great entertainment. For starters, there is the Chiang Mai Zoo and Night Safari for the kids. Then the Nimmanhaemin Road, the hippest place for teenagers to hangout. Get busy shopping at the buzzling streets of Chiang Mai, and have a break by munching on local goodies or dine on one of the restaurants in the city. Open every Sunday; get your hands on some cultural goods, artworks, souvenirs and many more at ThaePae Road, the oldest walking street in Thailand. While in Chiang Mai, don't forget to visit intricately designed temples or shop fine silverwork at Wualai district.
Natural beauty everywhere you look
There are no words to describe the natural beauty of Chiang Mai. While cruising through the streets, roll your windows down as the mountains and cool breeze welcome you. Enjoy a beautiful sight as you watch pink Sakura trees bloom at Khun Chang Kian or let the sound of waterfalls near DoiInthanon- the highest peak in Thailand, fill your ears with joy. How about some fresh strawberry tasting in Ang Kang, the royal agricultural project? A nature lovers haven, one should not miss a side trip to Mon Cham, a mountain-top that offers stunning panoramic foggy view of the mountains below. One can also expect to see picturesque sky filled with stars at night.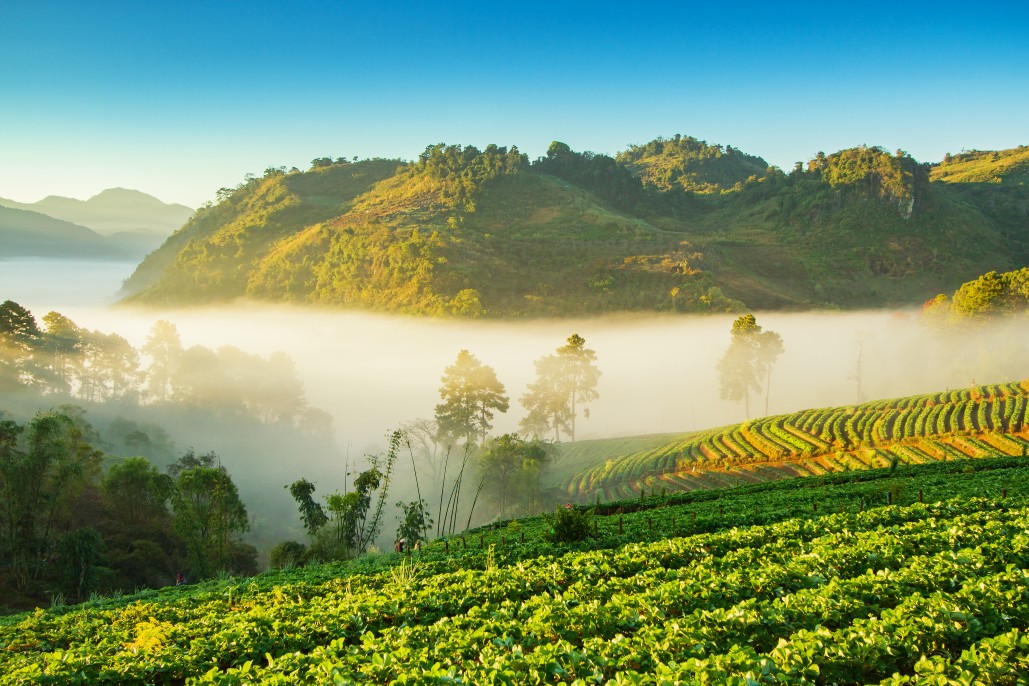 Don't miss out on the delicious dishes
You will never truly experience Chiang Mai if you don't try out its delicious dishes! From appetizers to meals, one can never go wrong when trying out some of the best eats in Chiang Mai.
Start your food journey with kaab moo, a deep fried pork skin, and nam prick noom, some of the famous appetizers in Chiang Mai. For some authentic Thai dining experience, try sai ua (type of sausage) with sticky rice or jasmine.
Definitely a must-try dish in Chiang Mai is Khao Soi noodles, originally a muslim meal with beef or chicken.
For anyone craving for something spicy, better try ghang khae which is made up of acacia, ivy gourd, devil's fig and parsley. Another tasty dish is the gaeng ho where some chefs add on some bamboo shoots, glass noodles, lemongrass and kaffir lime leaves for some aroma.
The best airline service for you
From Bangkok, there are 5 flights to Chiang Mai everyday and 4 flights back to Bangkok. When you choose Bangkok Airways, your 75-minute journey will be nothing but a breeze and we're sure to bring you to Chiang Mai safe and sound.
Our executive lounge with unlimited refreshments of hot and cold beverages awaits you, as well as a WIFI connection to keep you entertained before boarding your plane.
You may also visit other parts of Thailand because aside from having flights to Chiang Mai, there are also direct flights from Bangkok to other parts of Thailand. You may visit the Bangkok Airways website to see amazing travel destinations Bangkok Airways can take you.