Koh Phangan, Samui's neighboring island in the rich Gulf of Thailand, is an attractive holiday destination for fun and adventure seekers, as well as for spiritual seekers who are drawn to its relaxed, rustic charm, and rich natural beauty. 
Not surprisingly, the practice of yoga is popular on the island, with yoga retreats steadily on the rise. If you feel like spending a tranquil holiday reconnecting with yourself and the universe, the yoga Koh Phangan offers beckons you. Read on for all you need to know about yoga retreats on the tropical island.
The History & Essence of Yoga
Dating back to 2700 BC, yoga is one of the oldest sciences in the world, an ancient practice rooted in Indian philosophy. Lord Shiva, according to mythology, was the first one to teach this practice which seeks to promote both the material and spiritual well-being of humanity.
The essence of yoga is that it offers spiritual as well as physical benefits. Spiritual benefits like increased awareness, mental focus and clarity, a calm mind, the mastering of physical senses, and mind-body-spirit alignment; plus, physical benefits like increased flexibility, improved respiration and vitality, a balanced metabolism, weight reduction, and greater muscle strength.
Why a Yoga Retreats in Koh Phangan?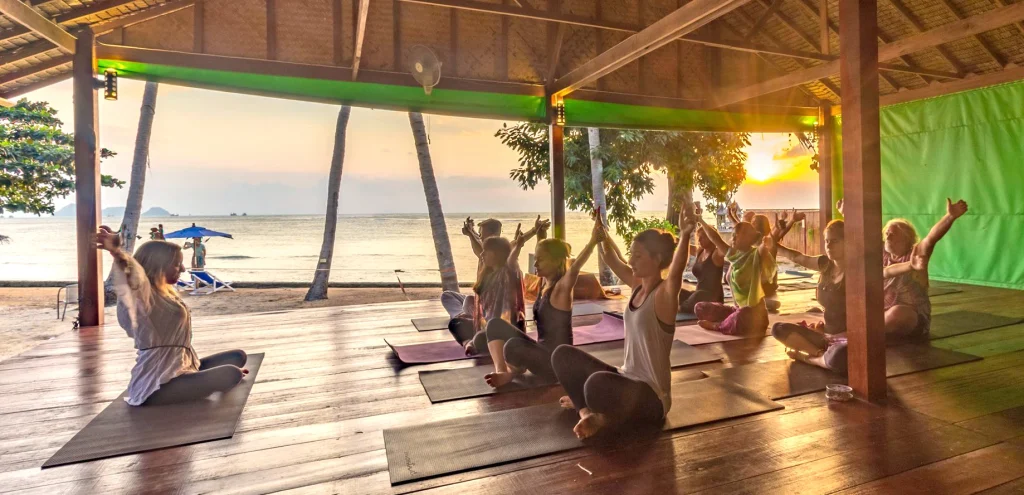 Koh Phangan, with its Buddhist temples, uncrowded and tranquil beaches, as well as lush tropical jungles, has long been a haven for those seeking solace and spiritual growth.
Of note also is the fact that the island's energy, infused with centuries of meditation and prayer, creates the perfect backdrop for a transformative yoga experience. Given all its qualities, you'll hardly find a better place to immerse yourself in all aspects of yoga and the rejuvenating power of nature, than Koh Phangan.
Types of Yoga Retreats in Koh Phangan
The island of Phangan boasts different types of tropical retreats that can cater to everyone, whether they're a beginner, an advanced practitioner, on a budget, or someone seeking to experience yoga with a touch of luxury.
So, from traditional ashrams echoing the teachings of ancient gurus, to luxury resorts blending yoga with spa treatments, there's a retreat for every soul.
Many retreats hold specialized workshops or training programs that offer various yoga courses tailored to the individual, and then issue internationally recognized certifications afterwards.
Top Yoga Retreat Centers in Koh Phangan
Yoga retreats are numerous on the island, but which are the best ones to consider for a more rounded experience of the yoga Koh Phangan offers? The following are our recommendations.
Ananda Yoga & Detox Center
This center shares world-class, time-tested yoga and detox education programs, amidst tropical gardens and modern comforts. Here you can relax and immerse yourself in yoga, as well as cleanse your body and rejuvenate your life. The sunset at Ananda is stunning, and there's beach access, too.
The Sanctuary Thailand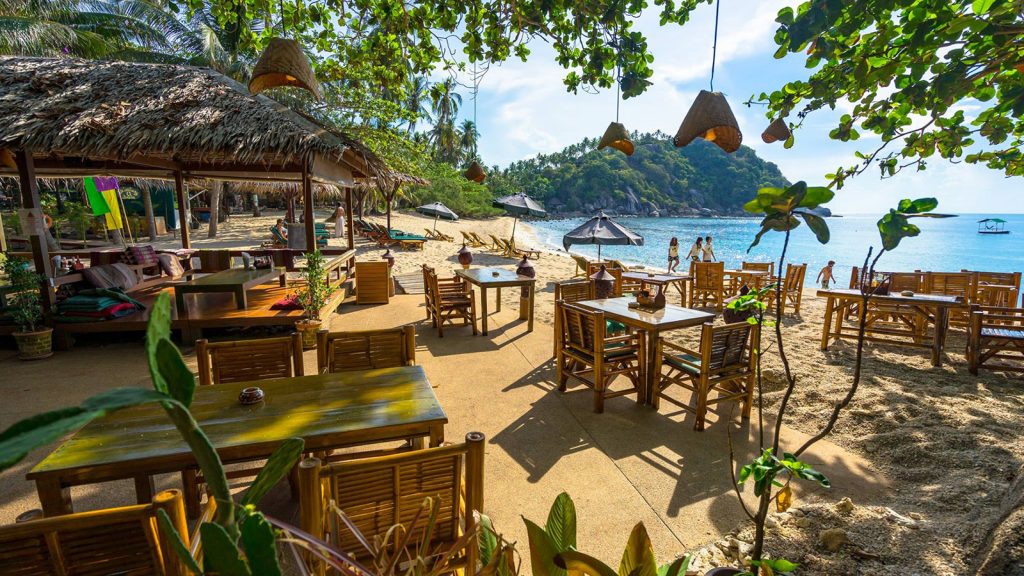 At Sanctuary Thailand, it's all about you. The unique experiences offered here include yoga retreats and classes tailored to your experience and goals, plus detox and wellness regimens that will increase your energy levels, help you recover and heal after an illness, etc.
Wonderland Healing Center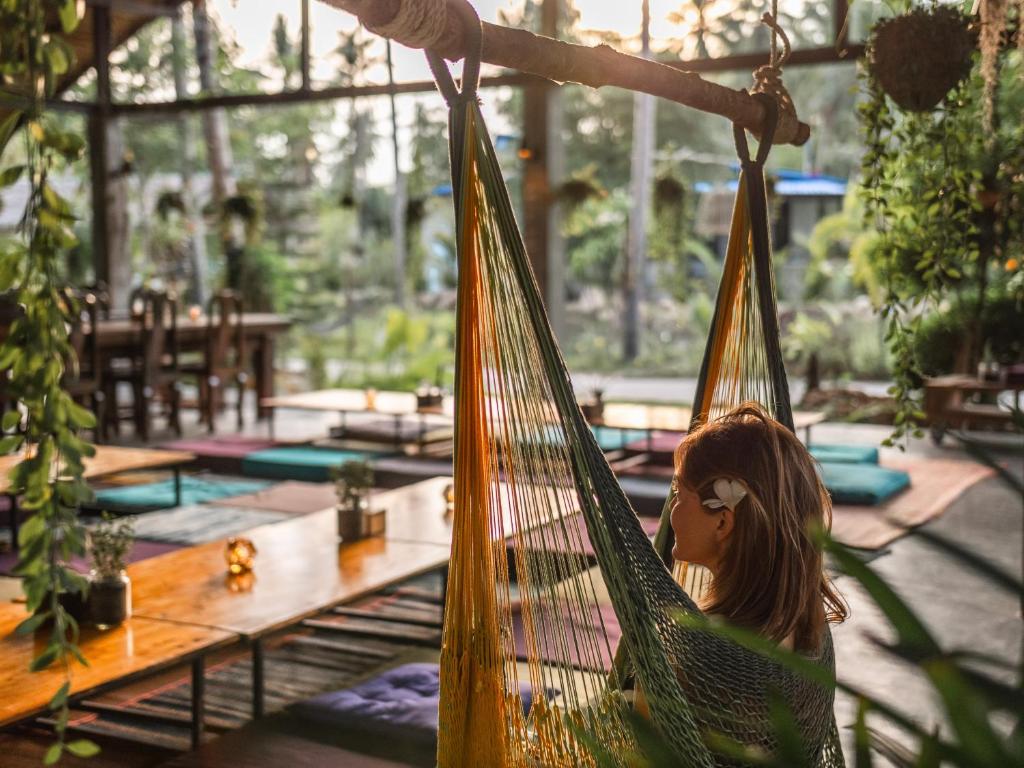 Wonderland is a vegan yoga and meditation retreat surrounded by picturesque natural scenery. This affordable and community-based center offers not just yoga, but also Qi Gong, Tai Chi, and meditation classes for all levels. Their 8-day yoga, meditation and wellness retreat is something to look forward to.
Of course, each of these internationally acclaimed centers has its unique approach, and promises a journey of rejuvenation and self-discovery.
A Day in a Yoga Retreat
Though they're all structured differently, the average yoga retreat offers two to three yoga sessions per day, starting in the morning.
For instance, you could begin your day with a sunrise meditation and an invigorating yoga session in a scenic environment; attend a workshop or two, with a detox session, in the afternoon; then end the day with another yoga session, plus a chant-singing, story-telling gathering with fellow wellness seekers.
Many centers include other optional recreational activities – like cooking classes, hiking and surfing – in their programs so that while not practicing yoga, you can try something new and exciting.
The Benefits of Attending a Yoga Retreat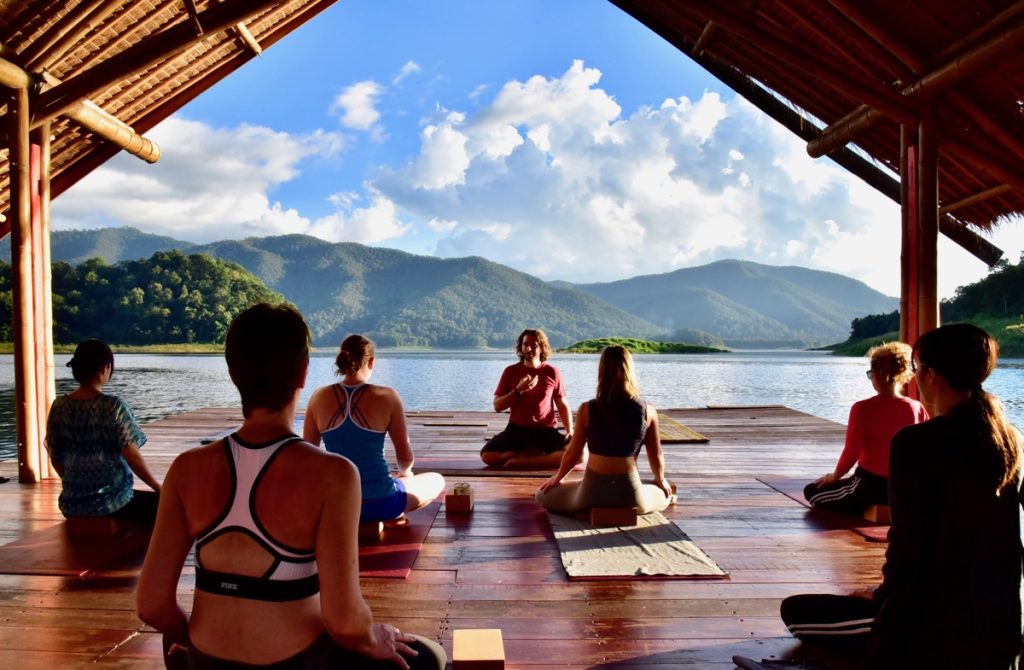 While you can learn the basics of yoga practice without doing so, attending a yoga retreat gives you a holistic or complete experience.
Beyond mastering the asanas, a retreat will give you the opportunity to receive world-class instruction directly from seasoned practitioners; deepen your practice; detoxify your body, mind and soul; disconnect from chaos and negativity; connect with a like-minded community; and surround yourself with positive energy.
Yoga retreats also serve healthy and delicious meals, so attending one is a great way to embrace healthy eating.
Costs & Considerations
While some retreats can be pricey, many offer budget-friendly options without compromising on the experience. A good idea is to make a budget before booking one. Here's a basic formula to help:
Price per Person per Night x Number of Nights x Number of People = First Estimate of the Budget. Then add transportation estimate plus an extra 20% buffer, and you have a final estimate.
It's also essential to research and choose a retreat that aligns with your spiritual goals, style, experience level, location preferences, and, of course, budget. Consider as well, whether a combination retreat (yoga with an activity) will be best for you instead.
Beyond Yoga: Exploring Koh Phangan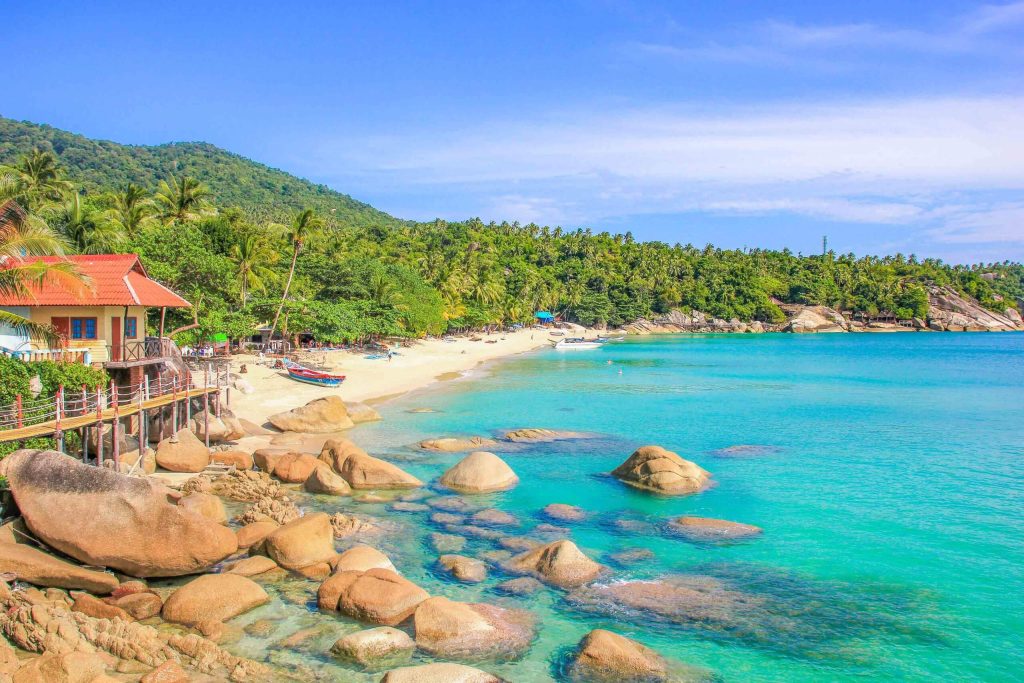 Besides the great experience of yoga Koh Phangan provides, the island also engages visitors with natural, man-made, and cultural attractions, all offering delightful adventure.
Check out the enchanting beaches, including the famous Malibu Beach, Thong Nai Pan and Haad Rin; admire the spectacular waterfalls; tour the national parks; and enjoy surrounding scenery from the viewpoints.
An island with a rich cultural heritage, Koh Phangan also hosts many festivals and parties, of which several are themed around the moon phases. Think the Full Moon Party, and the Half Moon Festival, to mention but a few.
All in all, yoga offers a holistic approach to well-being as, beyond the physical postures, it's a journey of self-discovery and inner peace. So, the transformative power of a yoga retreat cannot be overstated. As you immerse yourself in this ancient practice, in the magical island of Koh Phangan, the new you is sure to emerge!