Asia destinations have long been topping the list of must-visit places in the world. Offering a variety of tropical islands, modern skyscrapers, historical places and rich cultural histories, these destinations in Asia will make you want to hop on the plane and explore the vibrant continent.
Among these places is Vietnam. Ancient traditions and centuries-old history are just some of Vietnam's charming qualities. As one of the fastest growing areas in the country, Da Nang – Vietnam's third largest city boasts beach front attractions, natural wonders and the Han River.
Read through our Vietnam travel guide today as we share with you everything you need to know about Vietnam's Da Nang city and why it has to be included on your Vietnam travel itinerary!
Vietnam attractions in Da Nang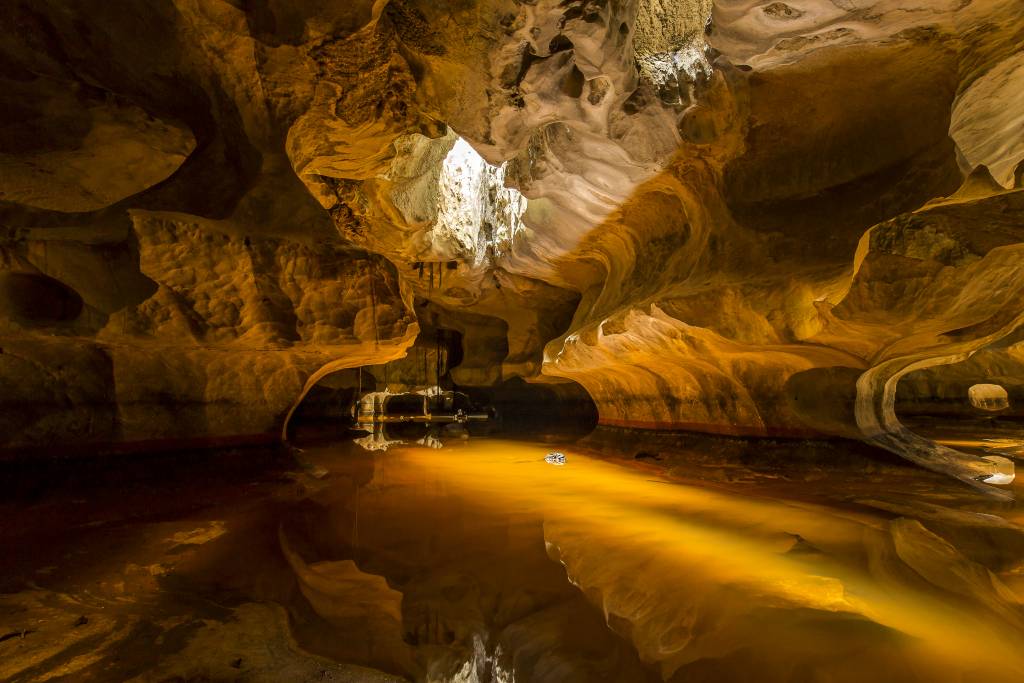 Son Tra (Monkey) Mountain – Standing about 693 meters above sea level, the Son Tra Mountain is one of the famous places to visit in Vietnam. Avid hikers can enjoy the mountain's lush jungles where they can also stumble upon red face monkeys along the way. While the winding roads that go up Son Tra Mountain is a favorite motorcycling spot. Located at the Son Tra Mountain is the Linh Ung Pagoda, a well-known attraction in the city which houses the tallest statue of the Goddess of Mercy.
Marble Mountains – The Marble Mountains in Vietnam is just one of the natural beauties which can be found among the Asia destinations. The cluster of marble and limestone located within 9 km south of Da Nang is a beautiful sight to see. Hundreds of tourists come to pray and have their fortune told in the temples and Buddhist sanctuaries that are spread out across the mountains. Any first time visitors in Da Nang are encouraged to climb up the steps of the mountain as they will be greeted with amazing views of My Khe Beach or the Non Nuoc Beach.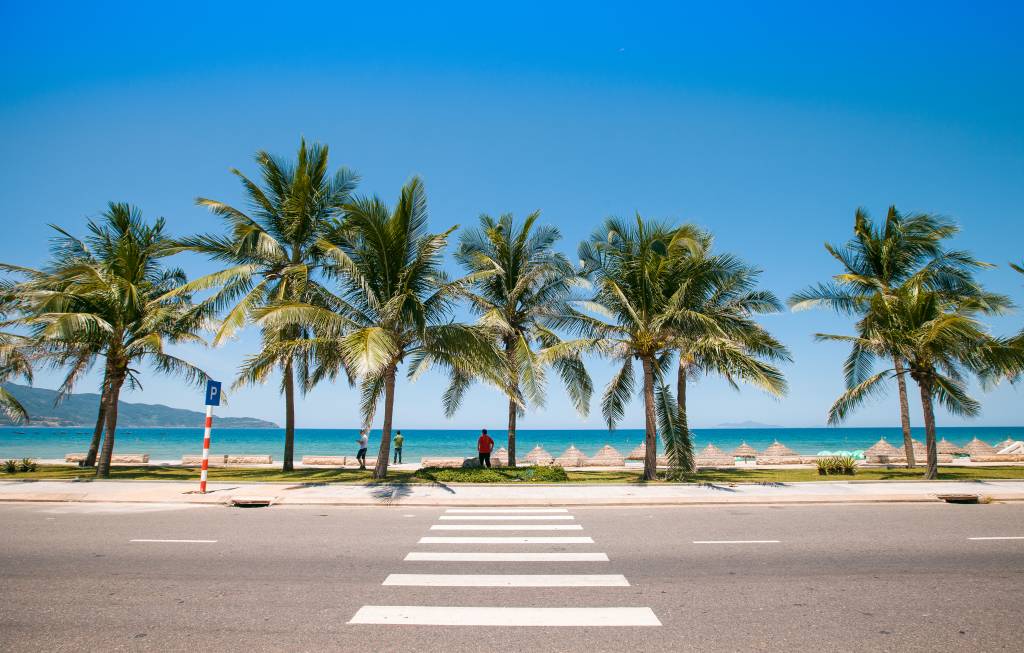 My Khe Beach – Although you can enjoy the view of My Khe Beach when you reach the top of the Marble Mountains, there isn't anything like dipping your toes in the clear blue waters and powdery sand of My Khe Beach. Enjoy a day or two in the lush 20-mile stretch of powdery sand that make up the My Khe Beach – considered to be one of Vietnam's scenic beaches. Spend your time as you choose among the luxury hotels and restaurants, or you can enjoy water-sport activities like snorkeling, swimming, surfing and jet-skiing. Other must-visit attractions in this Asia destination are just a bus ride away – Phong Nga Caves, Hue Imperial City and Hoi An Ancient Town.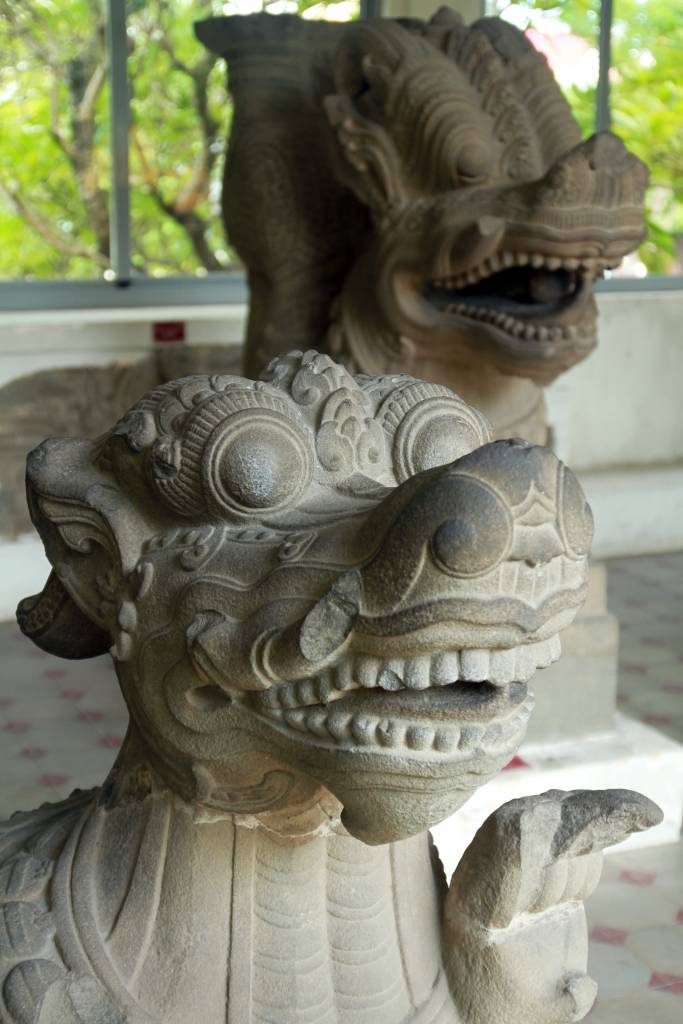 Cham Museum – The Cham Museum in Da Nang is a great representation of Cham tribe's lifestyle, culture and practices. This Vietnam attraction was founded in 1915 during the colonial French rule. Featured here are 7th to 15th century terracotta and stone sculptures. Daily guided tours are also available here at the Cham Museum.
Dragon Bridge – The longest bridge in Vietnam is the Dragon Bridge with a length of 666 meters. The six-lane bridge was designed with the golden dragon's shape which is believed to symbolize good fortune, power and nobility. It crosses the Han River and is usually a favorite spot for photographers. At night, the Dragon Bridge is illuminated with LED lights and transforms more like a dragon as it releases fire and water from 9 p.m. onwards.
Where to shop in Da Nang
Vietnam holidays are not complete without splurging on some shopping spree! And while you're in Da Nang, there are perfect spots where you can shop for local handicrafts that are great souvenir.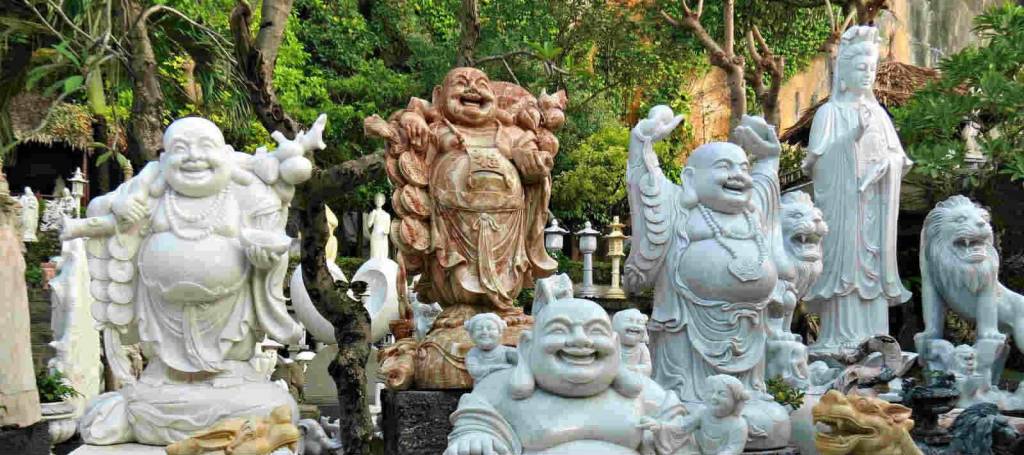 credit: Viet Travel Magazine http://www.viettravelmagazine.com/2016/08/non-nuoc-fine-arts-stone-village.html
Non Nuoc Fine Arts Village
– Handcrafted jewelry such as rings, bracelets, pendants and necklaces are just some of the things you can purchase when you make your way to Non Nuoc Fine Arts Village located at the foot of the Marble Mountains. Most locals come here to buy tombstones, rice mortars and grain grinders, marble goods and sculptures are also sold here.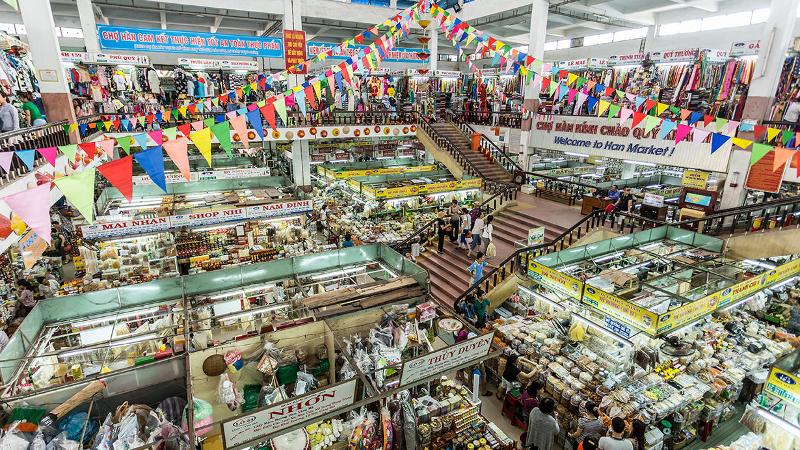 credit: Vietnam Guide http://www.vietnam-guide.com/da-nang/shopping/con-market.htm
Con Market – The Con Market is the busiest and largest wholesale market in Da Nang. Here you can find anything from shirts, handicrafts, dried goods, fresh produce and many more. You can make the most of your shopping adventure here by haggling which is commonly accepted in any market in Vietnam.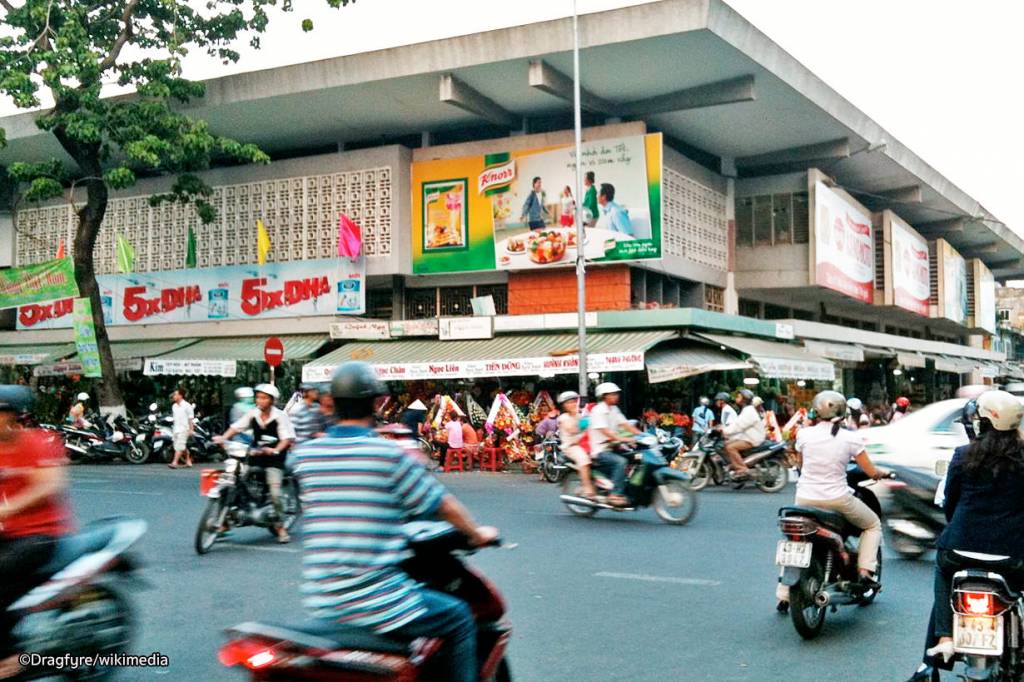 credit: Vietnam Guide http://www.vietnam-guide.com/da-nang/shopping/han-market.htm
Han Market – Located within the intersection of Bach Dang Street, Tran Phu Street, Tran Hung Dao Street and Hung Vuong Street, the Han Market has a significant history in Da Nang, having started operations since 1940's during the French occupancy. Here you'll find hundreds of stalls selling various local products such as shirts, accessories, handicrafts and local produce. There are also fruit stalls located right in front of the Han Market where fresh mangos, bananas, jackfruit and durian are sold.
Nightlife in Da Nang
Just like other Asia destinations such as Bangkok, Manila and Hong Kong, the nightlife in Da Nang is also something to look forward to! There are many Vietnam destinations that range from luxury and rooftop bars to sophisticated lounges, so you can be sure to find a place for you when you feel like experiencing Da Nang's nightlife. Here are few recommended spots: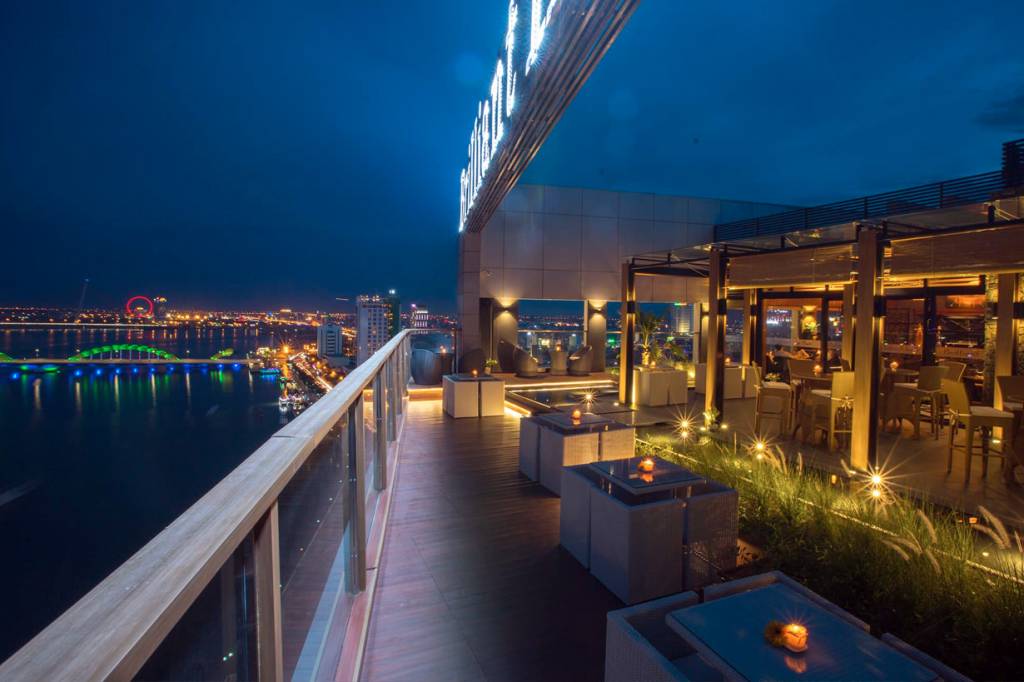 Credit: Vietnam Guide http://www.vietnam-guide.com/da-nang/nightlife/brilliant-top-bar.htm
Brilliant Top Bar – Located at the top of Brilliant Hotel, the Brilliant Top Bar can accommodate 100 guests who are looking for a place for some night cap. While enjoying the incredible views of My Khe Beach, Da Nang City and Han River, you can order from their expansive menu which ranges from western classics, cold beers and snacks.
credit: In Danang http://www.indanang.com/waterfront-restaurant-bar-reviews/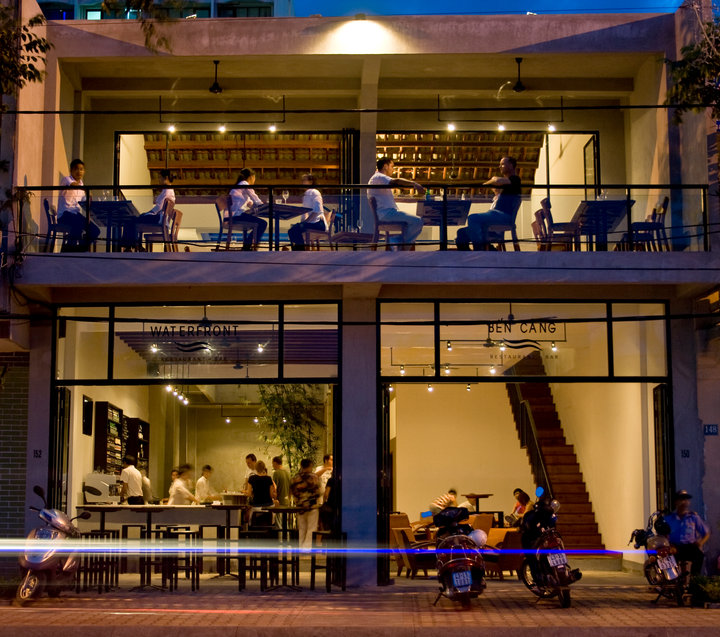 Waterfront Da Nang Restaurant & Bar – The expansive menu of this popular night spot in Da Nang is a collection of the best beers, cocktails, vodkas, wines and whiskies. It has a lively sports bar downstairs and a restaurant serving local Vietnamese, European and Thai dishes. During Fridays, you can enjoy live music performances and their happy hour every day from 5:30 p.m. to 6:30 p.m.
 credit: Bao Danang http://baodanang.vn/english/useful-infomation/drinking-eating/201609/beautiful-coffee-shops-with-amazing-views-2512254/
Sky36 Club at Novotel Danang Premier Han River – One of the more luxurious night spots in the city, Sky36 Club located at the 36th floor of the Novotel Danang Premier Han River welcomes high-end, more affluent guests who party in style. It offers views of the mountains, Bach Dang River and Da Nang City.
Are you ready to experience Da Nang? Book your flights through Bangkok Airways, the best airline to take you to your dream destinations. Also check out their website for other Asia destinations you can fly to with Bangkok Airways!