Beaches are the gem of Koh Samui, Thailand. Some are more popular while others are almost empty. White sand beaches and clear blue water are what made Koh Samui a top Thailand holidays destination. Almost everything that happens on the island revolves around the famous Koh Samui beaches. A lot of Koh Samui hotels and resorts sit right by the beach. Koh Samui nightlife also happens right on the shores. If you're thinking of what to do in Koh Samui, you probably know the answer by now.
While it's true that Koh Samui beaches are worth a holiday visit, it can be overwhelming while planning your Thailand holidays. With the abundance of beautiful beaches, one cannot simply visit each and every one. There are many Koh Samui beaches and they all vary in terms of people they cater. There are Koh Samui beaches specifically for Koh Samui nightlife and also beaches for family visitors with children. This time around, we're talking about Koh Samui beaches that offer activities for the adventurous soul!
Chaweng Beach
Easily the biggest and one of the most popular Koh Samui beaches, Chaweng beach is right up your alley if you're feeling adventurous. One thrilling activity offered here is bungee jumping. If being shot in the air and falling down in a pool is your idea of Thailand holidays, check out Samui Bungee Jump at Soi Reggae, Chaweng Beach. There is no age restriction for this activity although waivers are needed for minors and there are weight restrictions. Bungee jumping is also not recommended for tourists with health conditions. Samui Bungee Jump is open daily from 10:30 a.m. to 6 p.m..
Coral Cove Beach
Coral Cove is one of the Koh Samui Beaches that offers scuba diving. Licensed instructors can be found all over the island because scuba diving is one of the main attractions of Koh Samui Beaches. If you're up for the challenge, Coral Cove is a great place to start. Scuba diving is affordable and is open to everyone even beginners! If adventure is what you're looking for, that's exactly what to do in Koh Samui.
It is also a highly recommended snorkeling spot because of the wide array of corals you can see, hence the name. Under the water are breathtaking sights of schools of fish and other marine wonders. This little beach is located south of Chaweng Noi on the east coast of Koh Samui. snorkeling at Koh Samui Beaches is an underwater experience you wouldn't dare miss!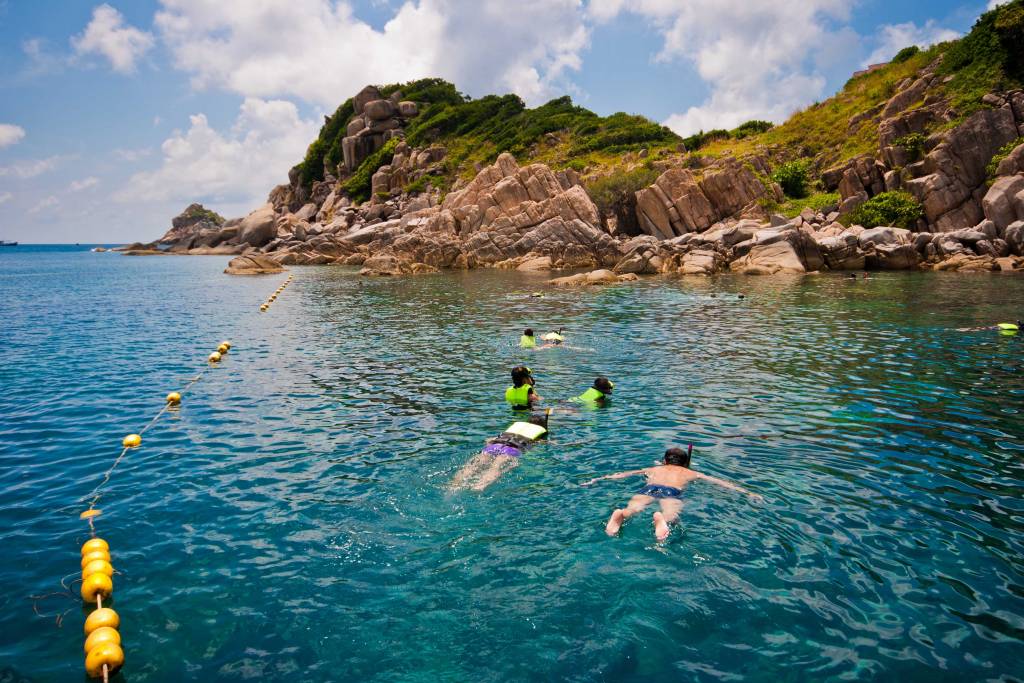 Tourists snorkeling at a Koh Samui Beach
Silver Beach
Another example of Koh Samui beaches that offers snorkeling is Silver Beach. It's one of the more remote Koh Samui beaches so bear in mind that you have to pass some resorts to get to the public beach. But we can assure that the trip will be worth it. Nestled in rocky boulders, Silver Beach is a snorkeling playground. You can get a glimpse of the abundant marine life. Thailand holidays aren't complete without seeing the wonders that lie under those blue waters.
Maenam Beach
Kiteboarding is definitely one for the books if you're in for an adventurous Thailand holidays. Imagine surfing the waves and welcoming the wind that's blowing so hard. All there's left to do is shout triumphantly as you go along. If you can already feel the adrenaline rush, head over to Maenam Beach. It is one of the Koh Samui beaches that offers this unforgettable experience.
Bophut Beach
One of the most popular Koh Samui beaches, Bophut Beach has an exciting attraction. Located on the beach near the west end of Fisherman's Village is Aquapark Bophut! It is a huge inflatable playground for all ages looking for a crazy experience on their Thailand holidays. Equipped with inflatable bridges and trampoline, Koh Samui beaches are made more fun by jumping around and falling on the waters.
Ang Thong Marine National Park              
Technically not a Koh Samui Beach, but Ang Thong Marine National Park is a thrilling adventure you can't miss especially if you're already in Koh Samui! If you're in it for an adventurous experience, try kayaking the open waters at Ang Thong Marine National Park. There's no better way to admire the Gulf on your Thailand holidays. Snorkeling and scuba diving is also a possibility here. Not to mention the insane boat ride to hop one in order to get to the island! A visit to Ang Thong National Park is one of the Thailand travel tips to keep in mind if you're heading to Koh Samui.
Aside from the usual Thailand holidays activities such as sunbathing on the sand and swimming the water, Koh Samui beaches have a lot to offer especially for the adventurous souls and adrenaline junkies out there! Stop wondering what to do in Koh Samui besides getting a tan because this Thailand holidays spot is full of possibilities. If you're up for the Koh Samui beaches challenge, book your flight now at Bangkok Airways for a chance to score cheap flights to Koh Samui. Visit their website here.