The diversity of Thailand makes it both a fun and adventurous Asia destination for the culturally-driven tourists and the adventurous souls. Beyond the ornate Buddhist temples, royal palaces and sumptuous street food, Thailand offers thrill-seeking attractions for non-stop action and adventure. Today, we've listed heart pumping activities to try during your travel in Thailand so buckle up and get ready for a Thailand travel adventure of a lifetime!
Waterfall Abseiling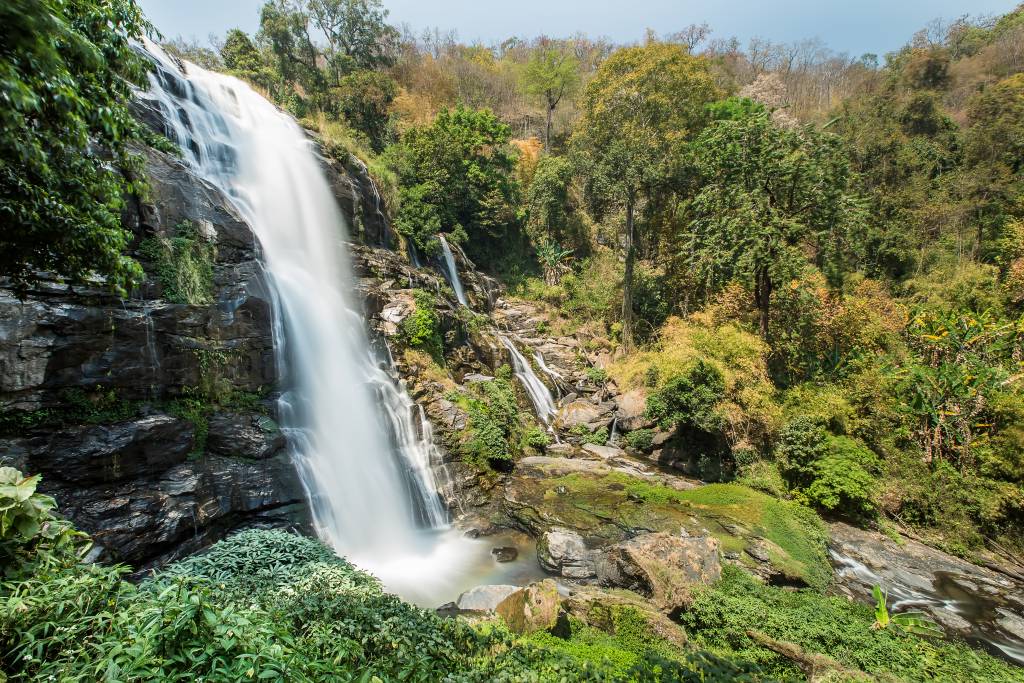 What's more fun in the thrill-seeking activities in Thailand is that they're set within the beautiful natural wonders of this Southeast Asian country. So while you're pushing yourself to the limits and conquering your fears, you are also surrounded by the beauty of nature!
Waterfall abseiling is becoming a popular activity in Thailand, especially in Chiang Mai – one of Thailand's famous tourist places. Located here is Thailand's tallest mountain Doi Inthanon where you'll also find Wachirathan Waterfall. This makes you appreciate nature as you make your way from the top all the way down to the water. Trained guides are there to assist you. Before you begin, you will be asked to wear a helmet and will be strapped into the harness for safety.
Zipline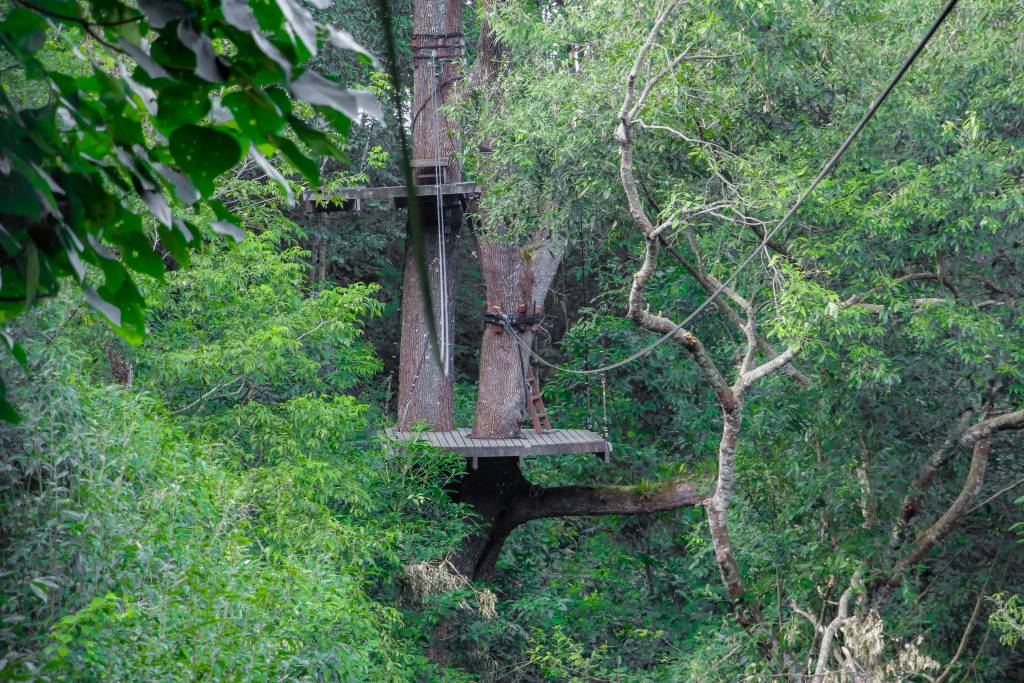 Flight of the Gibbon is an established zipline operator not just in Thailand but in Asia. It was established in 2007 and the Chiang Mai Zipline includes a chance to see a wild gibbon as you are surrounded by the lush rainforest in the beautiful Mae Kampong eco-mountain village. This zipline course in Chiang Mai also includes a little bit of educational background as you make a stop at the nature stations.
White Water Rafting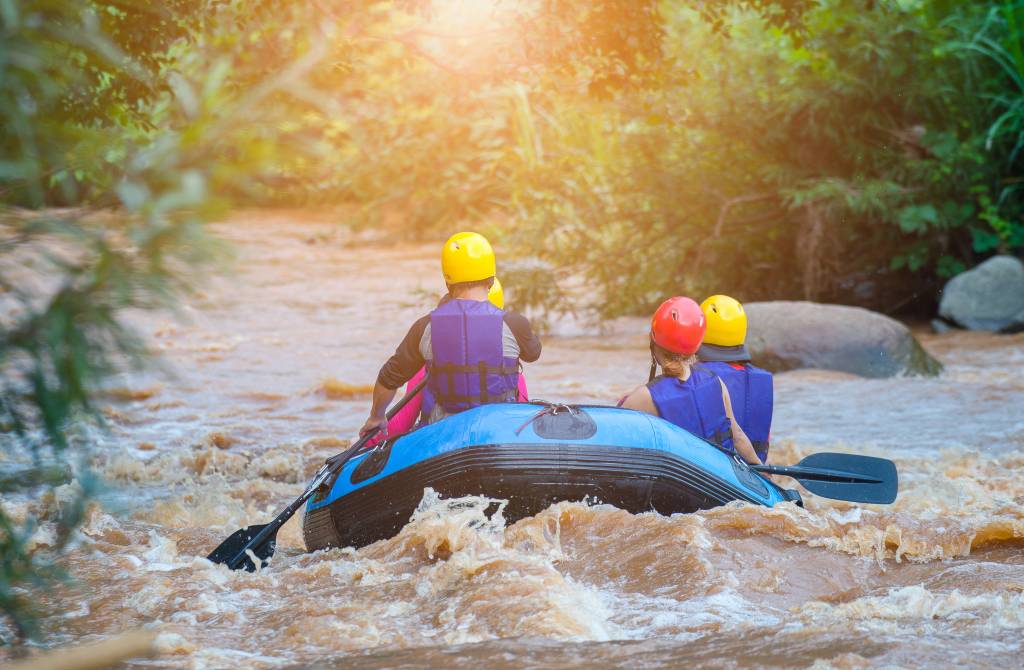 Keep your adrenaline pumping as you go white water rafting when you travel in Thailand! This exciting adventure is relatively new in Krabi but has been among the top of things to do in the city. You'll be navigating through the fast rapids of the Songpraek River armed with a safety helmet and a life jacket. Do take note that there's a minimum age requirement of 6 years old as this is considered an extreme sport.
Snorkeling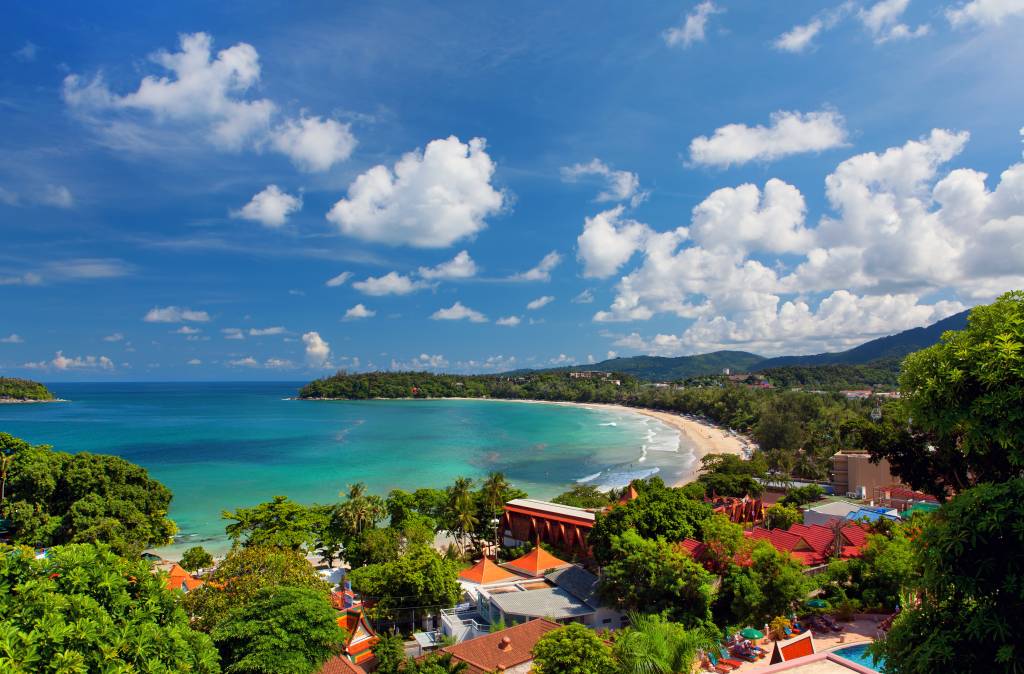 You might already know by now that as one of the world's top tropical destinations, Thailand holds numerous places to visit that are best for snorkeling! Kata Beach in Phuket provides tourists incredible underwater views which make it among the favorite snorkeling sights in Thailand. When taking a break, the white sand beach of Kata Beach awaits you.
Caving (Spelunking)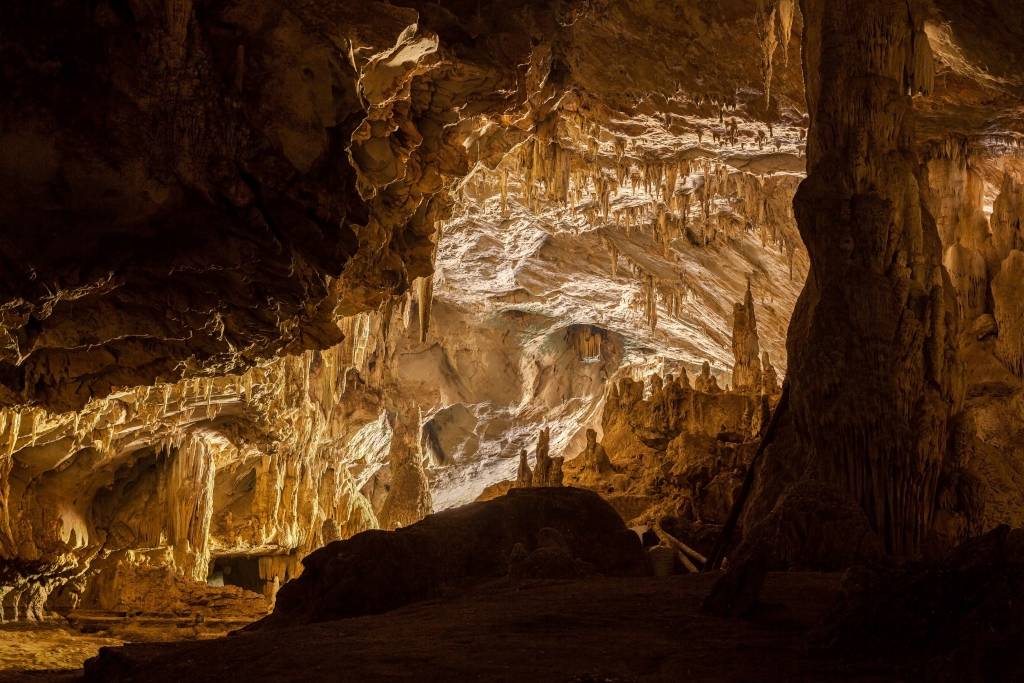 Caving has long been a part of Thai people because of their dependence on natural resources, which is why it is no surprise that it is one of the activities that's also become popular these days. If you are into caving and want to try when you travel in Thailand, you can do so by visiting Mae Hong Son. It is here where Tham Nam Lot is located – a cave filled with stalactites and stalagmites. It is also where Nam Lang River flows through. A local volunteer will guide you inside the cave and the whole tour will take about 2 hours.
Kayaking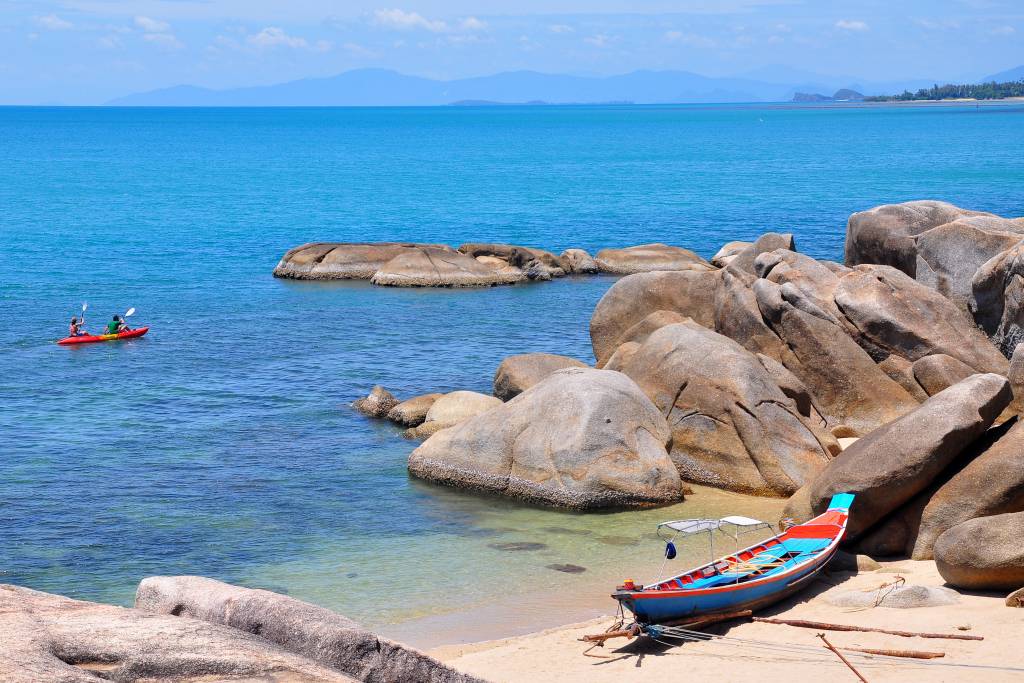 Ang Thong Marine National Park is one of the attractions in Samui and is best explored by kayaking through its beautiful coastline. Hidden lagoons, limestone cliffs, secluded bays and caves await you as you make your way around this amazing natural attraction.
Jungle Trekking
You may already noticed that a lot of these thrilling activities can be done in Chiang Mai, Thailand's province up north. Thanks to its lush greenery, misty mountains and hill tribe villages, Chiang Mai has been an ideal attraction for the adventurous tourists and is usually included in their travel itinerary in Thailand.
For our next activity – jungle trekking, Chiang Mai yet again is our destination! Chiang Dao and Mae Taeng Valley are the popular districts for jungle trekking in Chiang Mai. Thanks to their lush forest and incredible landscapes, the mountain range of Mae Taeng Valley also expands to the Myanmar border and is also the source of Mae Taeng River and Ping River.
Hiking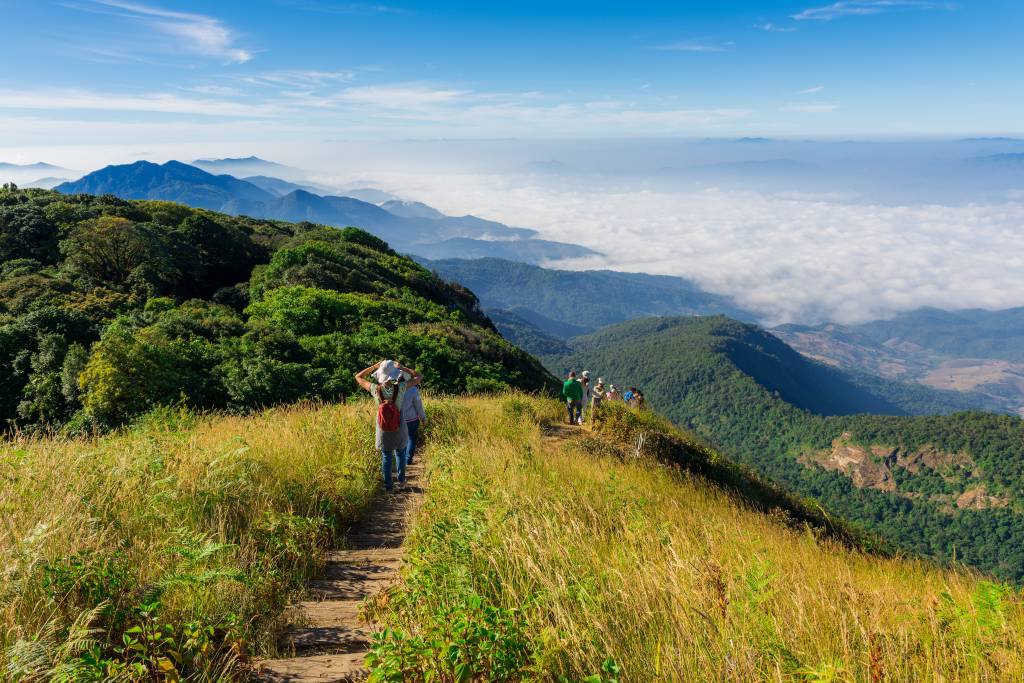 Thailand is blessed with mountain ranges that high up in the sky which offer incredible views from above. Thrill seekers can choose Doi Inthanon – Thailand's highest mountain which is 2,565 meters above sea level. You are not only blessed with a picturesque view from the top, but there is also a stunning nature trail when you reach the top of this summit!
Kitesurfing
Majority of the weather in Thailand is good for beach trips where you can lounge in white sand beaches and swim in clear blue waters. But aside from that, kitesurfing is another activity you can enjoy when you set foot to any of Thailand's island destinations.
Thanks to its popularity which started a couple of years back, there have been a number of kitesurfing schools in Samui where you can try and learn the sport. Although generally, the temperature in Samui doesn't go below 26C, they say the best months to try kitesurfing are between November and February.
Cave Diving
Sra Kaew Cave situated in Krabi, is among the country's popular cave diving spots. It's located within a jungle and is about 2.5 hours from Phuket and is one of the places to visit both by locals and foreign travelers. This fresh water pool drives tourists who are interested in diving because Sra Kaew actually has three caves. Just remember that cave diving is for trained divers only and shouldn't be attempted by beginners.
Are you ready to try these extreme water activities? Plan your travel itinerary for Thailand and book your flight through Bangkok Air!