There are few, if any, sporting activities that can give an adrenaline junkie the thrill of a lifetime, more than bungee jumping. This sport is one of the surest ways to get your adrenaline pumping – some say it's even as thrilling as skydiving!
Of course, part of what makes bungee jumping exhilarating are the views one enjoys while at it. Ever thought of combining the natural thrill of this jump with the stunning views of Phuket? Now's your chance to do so. Our Guide will help you make the most out of your Phuket bungee jumping adventure.
Let's start with a brief history of the sport on the island.
History of Bungee Jumping in Phuket
Bungee (or bungy) jumping – an activity where one jumps from a great height while a large elastic cord is attached to them – began in Phuket in the late 90s.
Back then, many recognized it as a super-fun sport, but weren't bold enough to try it, given its extreme nature; as time went on, however, one could say that the bungee jumping operators which established on the island were able to – due to their professionalism and safety standards – inspire confidence in those interested in the sport. As a result, more and more people, including tourists and locals, began to overcome their fear and enjoy the activity.
Today, bungee jumping has become a must-do activity for brave thrill-seekers visiting the tropical paradise that is Phuket. If you're a first-timer looking to experience it at this destination, the following are some handy preparation and safety tips.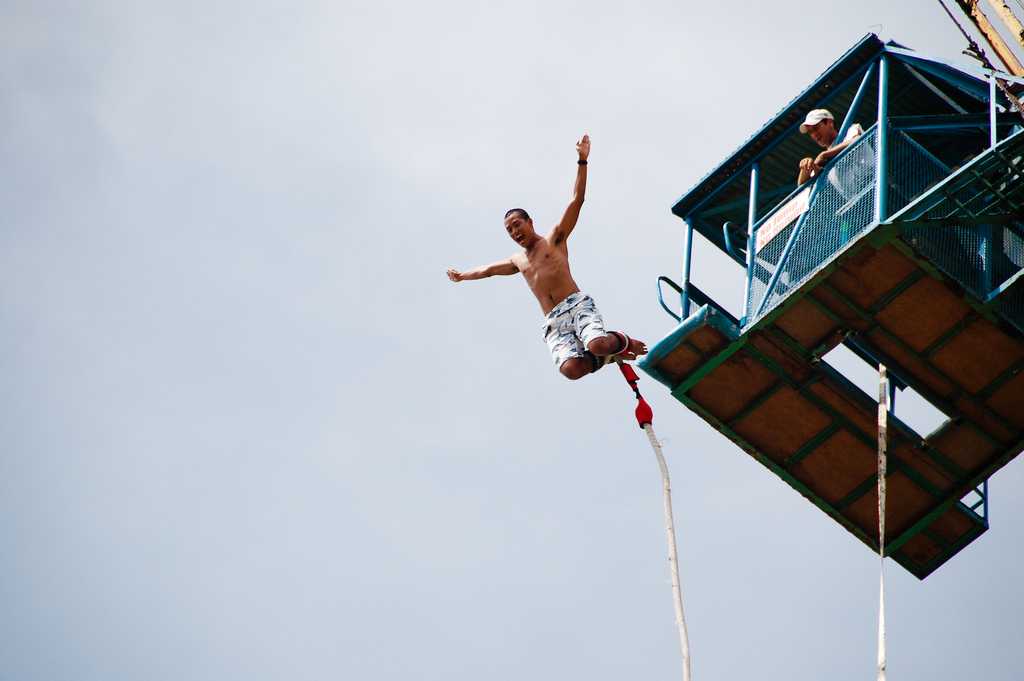 Preparation Tips for First-Timers
Your Phuket bungee jumping adventure will turn out so much better if you prepare for it. Keep these tips in mind as you proceed.
Book your jump in advance, as commercial jumps get overbooked during the peak season.
Dress comfortably for the sport; many jumpers prefer tight-fitting clothing that won't fly up and cover their face.
If you're female, choose clothes that will cover your body properly; shorts and t-shirts are recommended.
Wear comfortable, well-secured shoes.
Before the jump, leave your valuables somewhere safe; your pockets should be empty.
Train your mind to trust the equipment and the instructors, so you'll gain more confidence to leap when it's time.
Safety First: Ensuring a Secure Jump
Certainly, Phuket bungee jumping operators ensure all their equipment are top-notch and regularly maintained, but you have a role to play in ensuring your bungee jump is safe and successful. Thus:
Assess your health, as it's not suitable for one with heart, stomach, or certain other health issues to engage in this sport.
Don't overeat prior to the jump because this may cause you to puke; don't starve yourself either, as this can cause an acid reflux.
Listen and watch carefully while the instructor demonstrates how to hold onto your gear, how to balance your body weight, etc.; also ask questions if necessary.
Don't look down before jumping, as this can make you panic; look forward instead.
Top Phuket Bungee Jumping Spot
The best place we recommend you go for this exhilarating activity is Kathu.
Jungle Bungee Jump at Kathu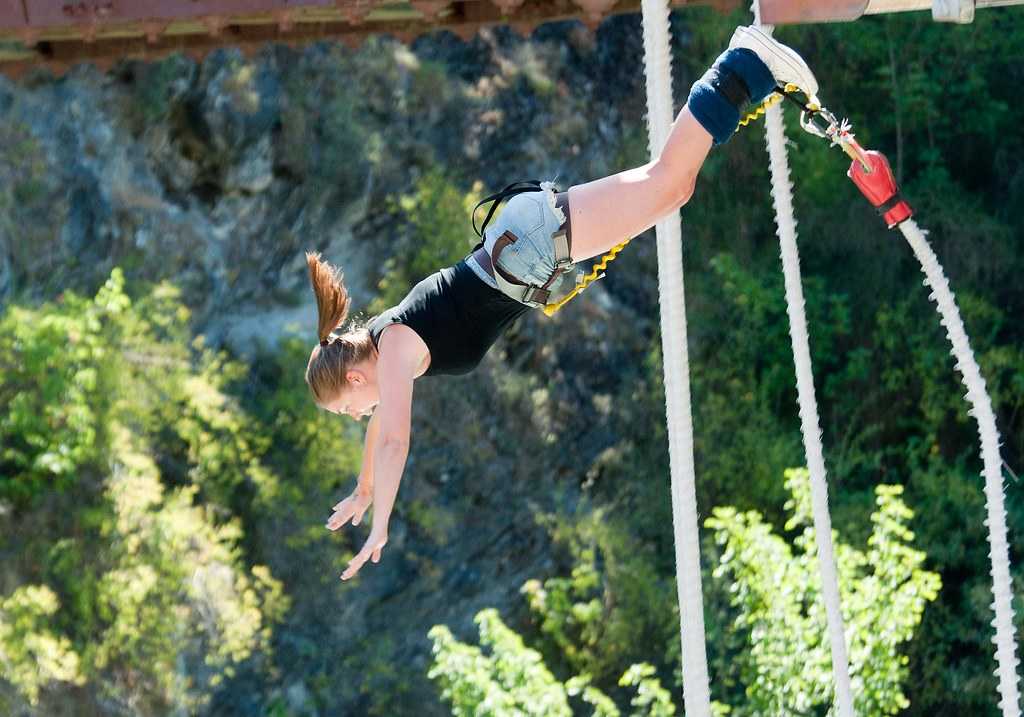 A 50-meter plunge towards a green lake shrouded by lush vegetation, the jump at this location is as thrilling as its challenging. Jungle Bungee Jump is run by a team of professionals from New Zealand, and the company, operating in Phuket since 1992, is fully licensed and insured for this sport in Thailand; so rest assured that your jump(s) at this spot will be safe.
Address: 61/3 Wichitsongkram, Kathu, Kathu District, Phuket
Open: Daily (9 a.m. to 6 p.m.)
Phone: +66 (0)76 321 351
The Experience: What to Expect
Knowing what to expect from your first Phuket bungee jumping experience will help you get prepared mentally.
When you stand by the edge of the platform you're going to jump from, and realize that what'll protect you from fatal harm is just the cord attached to your ankles, waist or shoulders, you'll naturally feel a bit scared. This is normal, and you can overcome the fear.
As you jump and start to free-fall, you'll feel the initial thrill as the wind rushes past, and adrenaline courses through your body; you'll also experience a weightless sensation, and get a brief sinking feeling in your stomach. When the elastic cord jerks upward for a rebound, you may feel light-headed as fluid flows to your head. The trick in all of this is always to keep calm, and enjoy the views and overall experience.
In a short time, the rebounds will cease, then you'll be lowered to the ground and released from the harness. Congrats – you just bungee jumped!
Costs and Packages
Now you know what to expect, we guess you'd also like to know what it may cost to engage in Phuket bungee jumping.
A standard jump might set you back at least 2,000 baht. However, there are often combo deals, group discounts, or early bird offers which you can take advantage of. Some jumping outfits charge more (up to 3,000 baht) for extras like a t-shirt, certificate, digital photos and DVD movie. If you're lucky, they may also throw in a second jump for free.
Capturing the Moment: Photography and Videos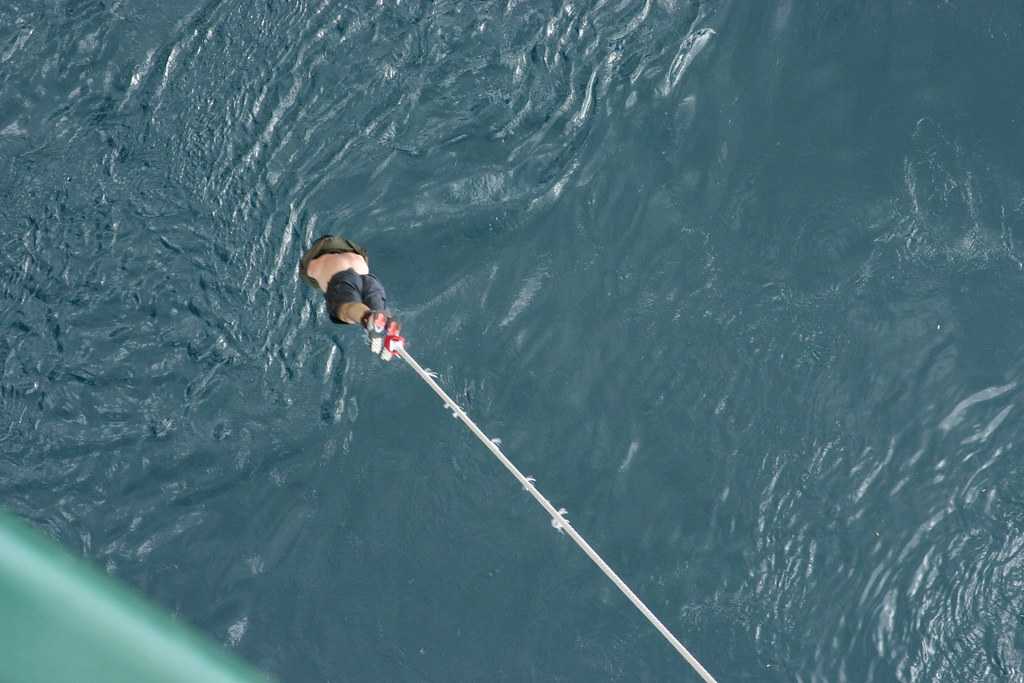 You don't want to take your first bungee jump in Phuket without documenting the moment for the future.
Most spots provide photography services, and these capture your jump from various angles. Some even offer GoPro rentals to record a first-person view of your jump. These services can be quite convenient, especially if you embarked on the trip alone.
If you came to jump with a companion, however, you have the option of equipping them with a camera or video recorder so they can capture your brave moments for you.
Reviews & Testimonials
Here's a bit of what other hardcore adventurers who've enjoyed Phuket bungee jumping have to say:
Taylor: "Very fun, worth a visit, I will come here next time. I went there after the tourist season. I don't have to queue up for anything."
Maria: "The staff was so encouraging, making my first jump a memorable one."
More reviews of this activity in Phuket can be found here.
More than just a sport, Phuket bungee jumping is a pleasant and unique experience not easily forgotten, a story to tell. So, while you enjoy every other thing the island offers, including beautiful beaches and a vibrant nightlife, be sure to take the big leap, too.