Thailand is one country widely known for its rich culture and traditions which, to a significant extent, have been influenced by ethnic groups from India, Cambodia, China, and Southeast Asia. Thais often express this vibrant culture through festivals, and there's no better way to get a glimpse into the heart and soul of the people, than by physically experiencing these joyful and colorful festivals Thailand offers.
So if you're ready, we'll now take you on a journey during which you'll discover the most popular festivals to attend while vacationing in the Land of Smiles.
Songkran Festival
Our discussion of the celebrations Thailand is known for starts with Songkran, the festival which marks the Thai traditional new year.
Often dubbed "the world's biggest water fight," this annual festival officially lasts for 3 days (April 13th to 15th in almost all provinces), but the celebrations actually span a whole week because, while Songkran was originally a time to pay respects to elders and sprinkle water as a blessing, it has today evolved into a mass celebration which highlight is a fun, hilarious nationwide water battle.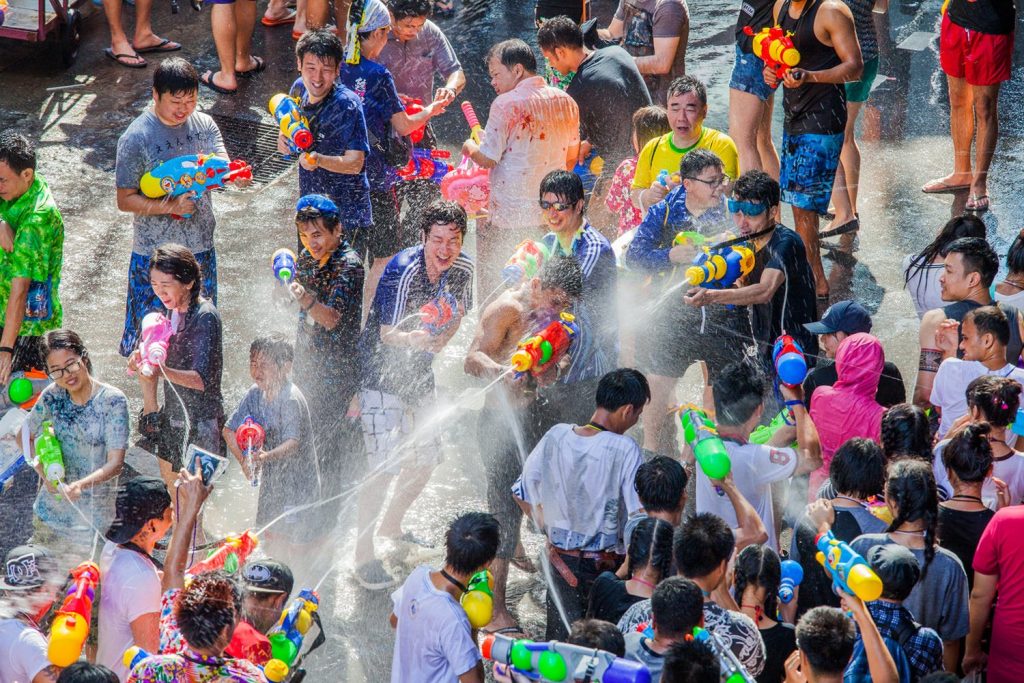 You'll love the wild scenes of exuberance as everyone – locals and tourists alike – gets splashed with water from water guns, buckets, etc., and drenched from head to toe. Of course, there's also music, dancing and drinking.
Loy Krathong and Yi Peng Festivals in Thailand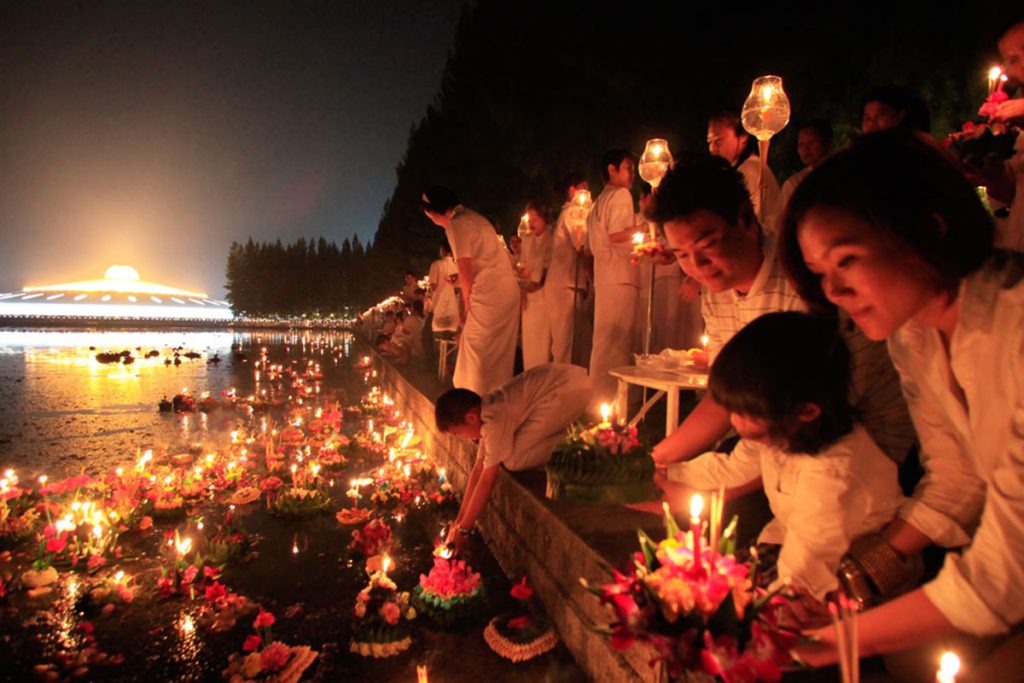 The full moon of the 12th Thai month sees the locals releasing beautiful lotus-shaped, light-bearing baskets (Krathongs) on the water, to symbolize the letting go of negativity, and in gratitude to the Goddess of Water for an abundant supply. This big event is called Loy Krathong.
One of the most spectacular festivals Thailand is visited for, Loy Krathong is usually held in November of every year all over the country, and some of the top locations to witness Loy Krathong include Sukhothai (its birthplace), Bangkok, Phuket and Chiang Mai.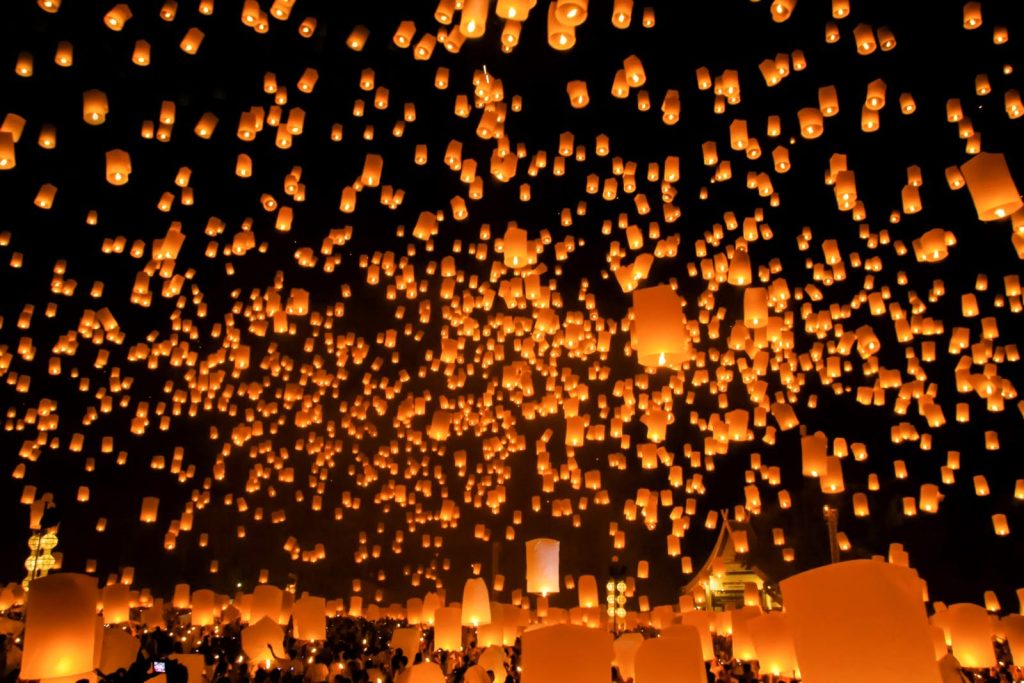 In Chiang Mai, Loy Krathong is celebrated side-by-side with Yi Peng, an equally magical festival where, instead of being floated on water, thousands of lanterns are flown in the air to illuminate the night sky.
Phi Ta Khon (Ghost Festival)
The legend behind Phi Ta Khon, a 3-day festival held sometime between March and July in the small town of Dan Sai, Loei Province, is that while celebrating the return of Prince Vessandorn, Lord Buddha-to-be, to the village after leaving for a long journey, the joyful villagers made such loud noises that it woke the spirits of the dead to join in.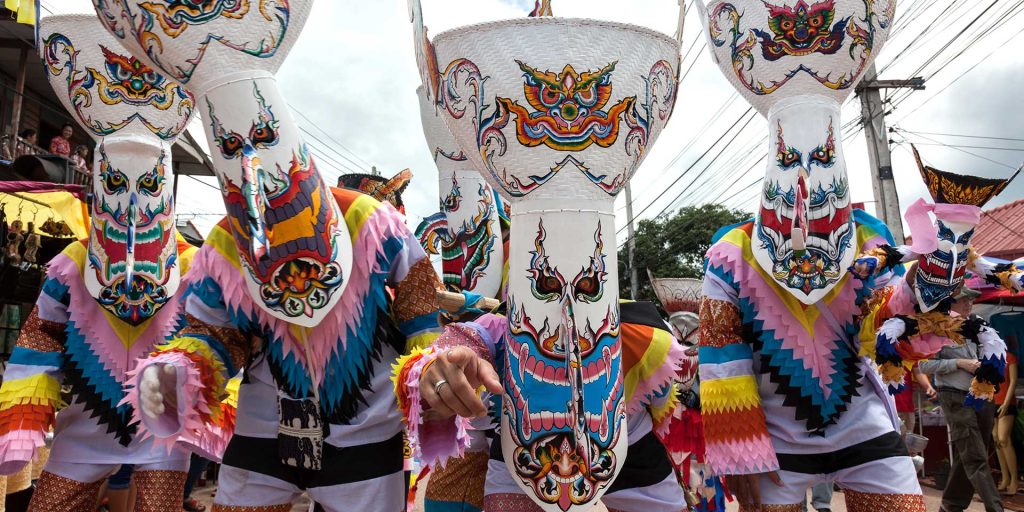 Rooted in Buddhist and animist beliefs, this event which is Thailand's version of Halloween is highlighted by a lively parade of the villagers in very colorful attires and ghost masks, accompanied by loud music, dancing, merry-making, performances, and more.
Ubon Ratchathani Candle Festival
Buddhists customarily observe a period of Lent with the onset of the rainy season, and in Ubon Ratchathani, in the northeastern part of Thailand, this is marked with a procession on the morning of Wan Kao Pansa.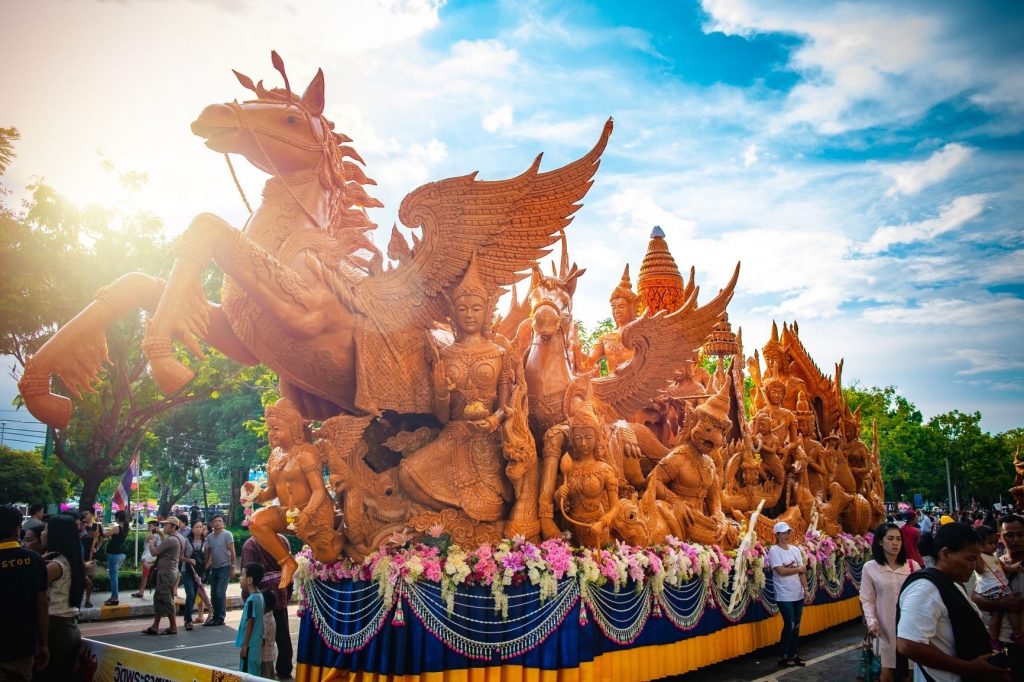 During this elaborate event, giant, intricately carved candles are paraded through the city center on floats, accompanied by dancers or musicians in traditional dress. These beeswax candles are also used to make sculptures which display mind-blowing artistry, some depicting characters and entire scenes from Buddhist myths and folklores.
Rounding out the event is the usual paraphernalia of feasting and games which are always part and parcel of Thai festivals.
Surin Elephant Round-up
Elephants are highly regarded in Thai culture, and the Surin Elephant Round-up is an annual cultural festival usually held by the people of Surin Province, Thailand, during the weekend of the third week of November, to celebrate these gentle giants, and showcase the bond between them and their trainers.
As you'd expect, this grand festival is fun-filled, featuring an elephant breakfast where many fruit and buffet tables are laid out for the enjoyment of the royal animals. Also spicing up this event are elephant races, tug-of-wars, a parade procession, other shows, and even soccer matches!
Chiang Mai Flower Festival
One of the most colorful celebrations Thailand offers is the 3-day Flower Festival held in Chiang Mai every first week of February, as the region bursts into bloom.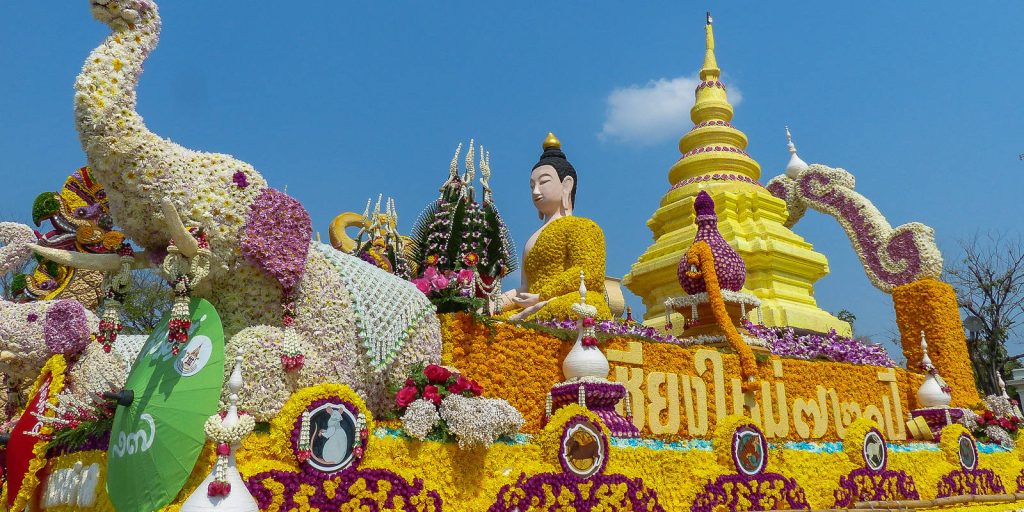 A favorite of floral enthusiasts, this festival celebrates and showcases the natural beauty of Chiang Mai's flowers and ornamental plants with a vibrant parade, elaborate floral floats, live music performances, and a beauty pageant contested by many of the girls to be seen atop the decorated floats and carriages during the flower parade.
Yellow and white chrysanthemums, plus damask roses – a variety of flowers unique to Chiang Mai – are displayed, and the fragrant air is an additional treat for the senses.
Bangkok International Film Festival
Are you a film buff? Then don't miss the international film festival which takes place in Bangkok every year.
A celebration of storytelling, creativity, and the magic of movies, this highly anticipated event is attended by thousands of visitors, tourists plus locals, and gives you the opportunity of sampling over eighty films of creators from all over the world.
Showcased are a mix of international blockbusters, indie films, and the best of Thai cinema. The festival also features a unique competition of films produced in South East Asia countries; there's no dull moment whatsoever!
Vegetarian Festival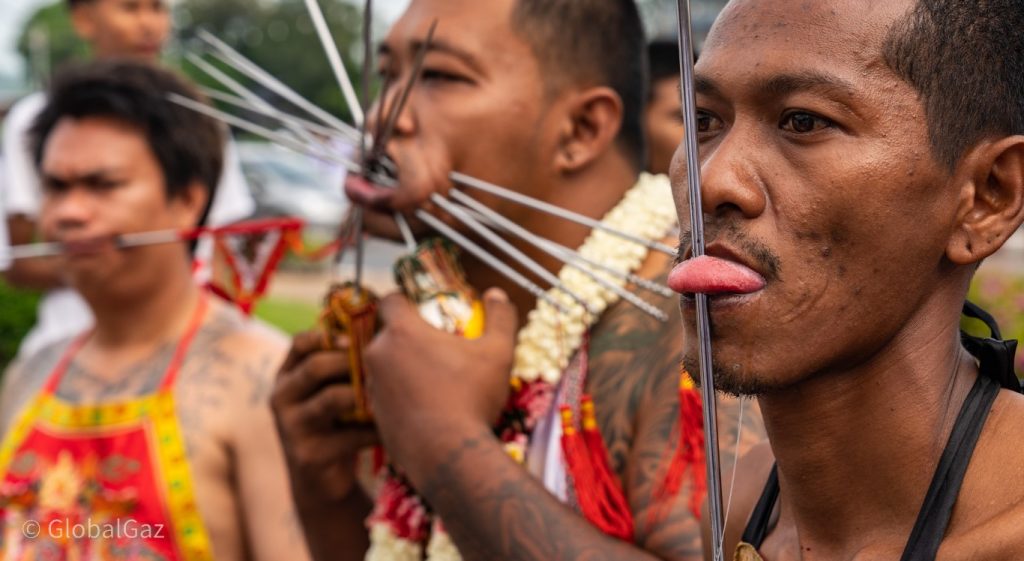 We conclude our journey with an annual event considered by many to be the most extreme and bizarre, out of all the festivals Thailand is known for – the Phuket Vegetarian Festival.  
This festival takes place on the 9th lunar month of the Chinese calendar, usually in September or October; and, despite its name, it isn't just about abstaining from meat. Its highlight is the intense but spectacular street processions during which participants engage in acts of self-mortification, like fire-walking and body piercing – daring acts believed to invoke the gods and trigger spiritual cleansing.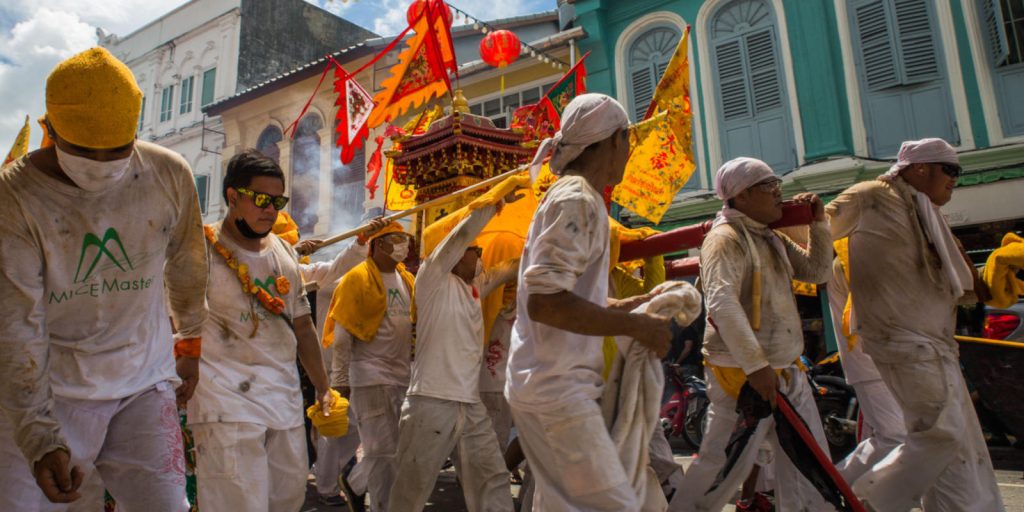 Overall, the event is a test of faith which celebrates the Chinese community's belief that abstinence from meat and various stimulants are necessary for achieving good health and peace of mind.
So here we are. The celebrations Thailand locals hold dear are all a rich mix of vibrant colors, sounds, emotions, plus memorable experiences. By participating, you will gain first-hand insights into the age-old traditions that keep the Thais united. There's simply no reason not to attend any of them!